How it Works
Here's how our 30-day challenge works:
We'll give you a different workout every day, 4 to 5 times a week
At the beginning, we'll have you do an AMRAP fitness test (you'll complete as many reps as possible of the given exercises in 15 minutes) to determine your level of fitness
Based on the results of this test, you will follow the appropriate path for your fitness level
We'll also give your our nutrition course to follow along with the program.
Results
30 days is a short period. We're not going to make you empty promises, you probably won't get ripped in only 30 days. However, in the past we've seen students achieve the following:
5 to 10lbs in weight loss
Many students achieved their first series of 10 push-ups.
Students going from 10-minute run maximums to 40-minute runs.
F.A.Qs
Is the challenge suitable for beginners?
Yes, all the workouts are adaptable to your fitness level. At the very beginning, you'll do a fitness level to determine the difficulty of your workouts. Based on that, you will do 1 of 3 possible workouts varying from beginner to advanced.
What equipment do I need?
We recommend getting at least one kettlebell in the 15lb to 25lb range. If you don't have one, you can use a dumbbell or some other weight as a replacement.
How long are the workouts?
Workouts vary in length. The shorter ones are only 20 minutes, the longer ones can go up to 45 minutes
Can I modify the workouts if I have injuries or physical limitations?
Of course. We have different workouts available based on conditioning and are always available to suggest alternative exercises via email support.
Will I lose weight on the challenge?
Every student is different. Metabolisms and lifestyles vary. However, if you stick to our workout routines and follow our dietary advice, there is a very high chance that you will lose weight.
What kind of support is available throughout the challenge?
Your instructor, Chris Higgins, will be available to answer any questions within 48 hours via email
Will I need to change my diet while doing the challenge?
We highly recommend that you do. Nutrition plays a huge part of weight loss, muscle building and health. We've included our nutrition course and highly recommend that you follow it for best results
Can I do the challenge at home or do I need to go to a gym?
No gym is needed. All exercises are designed so that you can do them at home. However, if you don't have kettlebells or any form of weight at home, you might want to pop in a gym for some of the workouts.
What does a normal workout look like?
Here's a sample workout from day 5 and 6 of the program.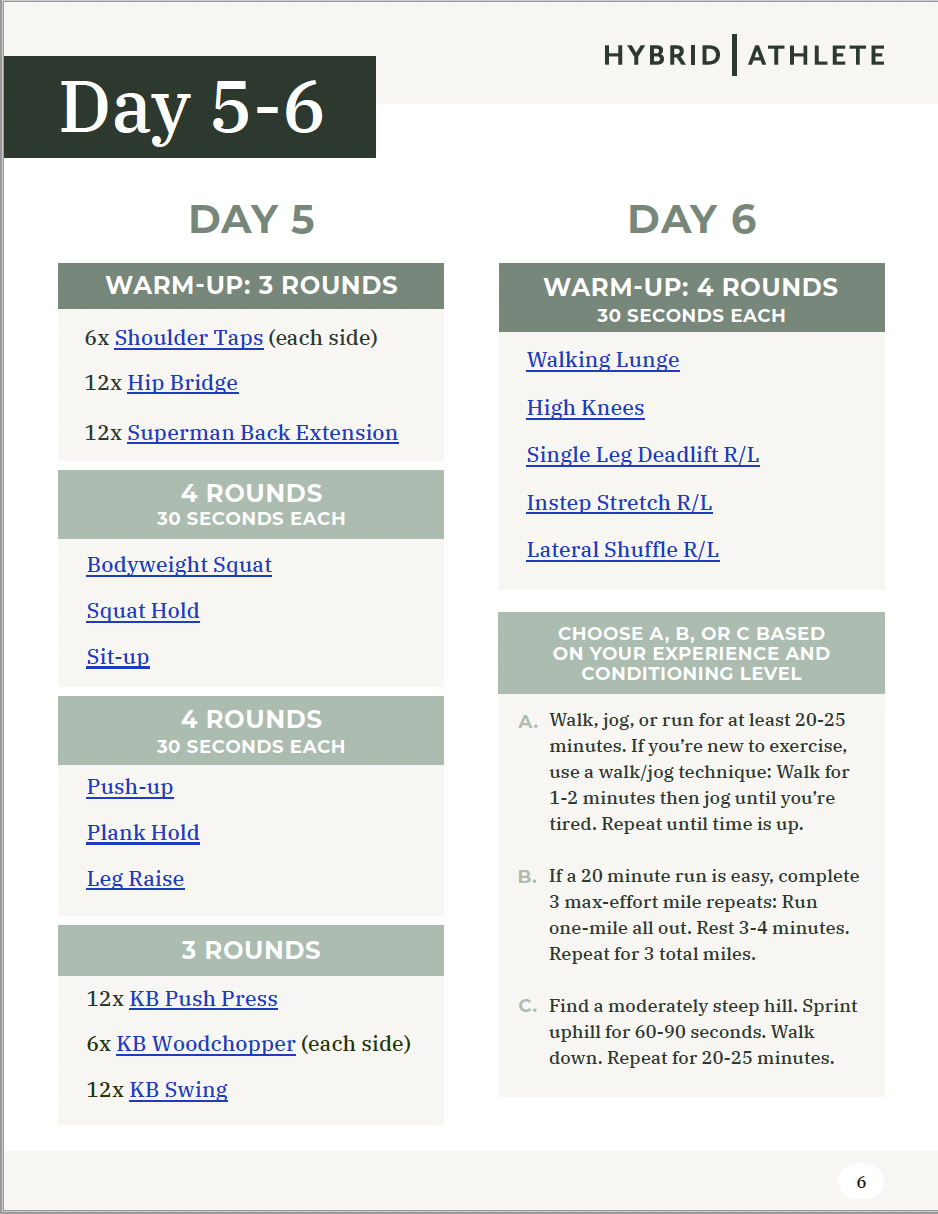 Almost a year of workouts using only bodyweight and kettlebell exercises. Bundle up and save 50% vs buying each program individually.