If you're like most people, the one arm pull-up likely seems like an impossible exercise.
Being a more advanced version of an already tricky move (the pull-up is often listed as one of the more difficult common exercises) has put the one arm pull-up on a pedestal.
It has become more of a showoff move than something to strive toward.
This is a shame, because one armed pull-ups remain one of the best (if not the best) ways of overcoming that great hurdle of calisthenics: increasing resistance.
And greater resistance leads to—you guessed it—a better workout session.
Forget about weighted vests or playing with leverage; this is the pinnacle of progressive overload.
As you've probably guessed by now, the subject of today's article will be the one arm pull-up. Or more precisely, a system of progressions meant to help you work your way up to that mythical move.
Before You Start
For an advanced exercise, the one arm pull-up doesn't have a long list of prerequisites. If you've got a good pull-up game going, you should be ready to start with one-armers.
What does this mean, you ask? Try doing 15 to 20 unassisted pull-ups with no wind up. If it is manageable, you're good to push further. If not, we recommend that you focus on the basics for a couple weeks. Just do pull-ups every other day, increasing the number of reps until you're ready to move on.
Just don't forget to warm up beforehand. Better safe than sorry.
Step One: One Arm Dead Hang
Dead hangs are a viable (if often overlooked) way of training grip strength and shoulders, and one-armed dead hangs are better.
If you think these are easy, think again. They will seriously put your upper body to the test.
Starting out will probably be hard, but don't get discouraged. You may only be able to hold a couple seconds at first, but this will gradually increase with perseverance and repetition.
Once you reach 30 seconds, consider yourself ready to move on. If you like to play it safe, go for 40.
In terms of technique, there's not much say. Just hang in there… With one hand. The video below illustrates:
Step Two: Flex hangs and Negative One Arm Pull-ups
This is a one-armed variant of the "flex hang into negative pull-up" step that has led many toward their own first pull-up.
Start by lifting yourself up to the top of the bar as you would with a regular pull-up.
Once on top, release one hand and hold that position.
This is called a flex hang, and will engage your arm, chest, lats, and most of the core. Don't worry if you fall on the first bunch of tries; that is perfectly normal. Keep at it until you can maintain hold for at least a few seconds.
MPCalisthencis made a good video tutorial on this move:
Once you've conquered that, it's time for the negative one arm pull-up. This is merely the second half, or the eccentric movement, of the one-armer, done with as little momentum as possible.
As with the flex hang, be prepared for gravity to overcome you and make you drop.
In fact, this being the more difficult half of step two, be ready to drop a lot! But with practice comes advancement, and eventually you will be able to lower yourself closer and closer to the one-armed dead hang.
This will keep getting more difficult, but you should resist the urge to accelerate over to the next step until you've fully mastered this one.
Step Three: The Archer Pull-up
Start as if you would a wide grip pull-up. Then, as you raise yourself up, pull your whole body toward one hand, with your chin resting roughly above it while you're at the top. Like this.
Archer pull-ups place more weight on one hand while still leaving you with the security of a secondary grip. They are hard, but not nearly as tough as what's in store.
Step Four: The Assisted One Arm Pull-up
Our last stop. This is what you'll be working on until you can do a proper one-armer.
So what you want to do is grip the bar with your main arm (the one doing most of the work in this set), and grab that arm by the wrist with the other. This way you can give yourself some additional pull with each rep.
What's nice about this is the possibility of fine tuning the difficulty; the lower you grip, the harder it will get. And the harder the reps you can do, the closer you are to doing proper one arm pull-ups.
Closing Advice
Neither the one arm pull-ups nor any of the previously mentioned steps are something you should take lightly. Done with proper care (with a good warm-up and by easing yourself into the initial move) they will be quite safe, but getting overzealous can be harsh on your ligaments. Just keep in mind that what you are doing is an advanced move (or preparation for one), and you should be alright.
Also, be careful not to over-train. This goes for just about any program, but with this one it goes double. You don't want to mess up your elbows and tendons, so keep it down to two workout sessions per week. If you've been at it for a month and can't seem to advance, bump it up to three per week, and never go over.
Eventually you will do that one-armer, and you will find that it opens a number of new workout possibilities!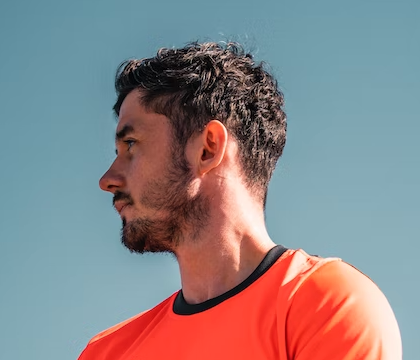 Chris is an experienced Calisthenics practitioner focused on isometric exercises and street workout. He founded thehybridathlete.com in 2017, which was subsequently acquired by theyhybridathlete.com
He is based in Portland and has been working out using solely his own body weight and bars for the past 6 years.