Home fitness is changing faster and faster with every advancement in technology.
With smartphones and tablets now able to stream all of your workout needs in your home, office, or local park, there is no longer a need to plan your day around gym times or group classes.
But with so many products on the market, it can be tedious to find the one that is perfect for you.
Continuing with your review of fitness products and programs, in this article, we dissect Daily Burn, a home fitness app that incorporates video workouts into a customizable program to suit your individual needs.
From "Total Cardio" to "Beautiful Belly" for maternity yoga, there is a range of video programs to suit a wide variety of fitness needs.
Along with fitness videos, Daily Burn also offers nutritional support through resources, tutorials, and online coaches that are available outside of regular hours to answer your questions and concerns. A library set up to track your workouts provides users with useful statistics to show progress and stalls and offers changes in routine to promote results.
Following our review of the flagship program Daily Burn At Home, we will cover the Running by Daily Burn, Yoga Workouts by Daily Burn and HIIT Workouts by Daily Burn, three new programs added to the brand.
About Daily Burn: Free Trial and Sign Up
Founded in 2007 as "Gyminee" by Stephen Blankenship and Andy Smith, Daily Burn has gone through a few tweaking periods to grow into a 2.5 million user base of clients. In its beginnings, it was designed to fill a gap in the market, and it continues to stay one step ahead of many programs by continuing to provide consumers with new apps, new programs, and industry-leading technology.
Available to use with ease on smartphones, computers, Apple TVs, and most other smart devices, Daily Burn has made their product accessible to everyone across various platforms.
For those looking to get started with the program, there is a 30-day free trial that requires a credit card sign up, but can be canceled before billing. Inside these 30 days, customers have access to over 1,000 workouts ranging from cardio to yoga, around the clock access to fitness support and community forums, and a new workout posted daily with Daily Burn 365.
Upon signing up for your free trial, you will be led through a quick series of questions that will tailor a workout program based on your goals and your current fitness level. Outside of the algorithm-recommended trainer and fitness program, it will also give you a chance to try out one of the many themed packaged programs ranging from 2-8 weeks.
Following your 30-day trial period, customers are billed automatically for the Daily Burn Premium membership, which costs $26.95 per month and continues with all the features in the free trial. For those who wish to downgrade to the basic membership at $14.95 per month, they will get access to Daily Burn 365 fitness classes as well as over 300 videos in a variety of exercise programs. They make it much more appealing to continue with the premium membership as downgrading to the basic will take features away from those completing their free trial.
Daily Burn Workouts: Types of Workouts to Expect
One of the most popular features of Daily Burn is the Daily Burn 365 workouts. Every day there is a new 30-minute live group workout that airs at 9:00 am eastern time. If members miss the release, it can be viewed on-demand at any time from the archive.
This feature of the program makes it unique, as it injects a sense of community into the workouts, with users having the ability to communicate with each other throughout the workout. For those who want to have the accountability and group mentality that comes with classes, but don't want to struggle with planning around gym time, Daily Burn 365 is a great alternative.
On top of the Daily Burn 365, there are also hundreds of pre-recorded videos for customers to peruse through at their own time. As Daily Burn likes to take the hassle of planning workouts away from clients, these videos are often part or packaged programs that range in length and theme. We provide a brief description of some of the most popular programs below:
Using the latest in heart-rate monitoring, trainers and coaches will take clients through this 4-week program focusing on cardiovascular changes, heart-rate zones, and workout efficiency. You will learn the importance of cooldowns, warm-ups, and recoveries, and how to use each effectively to get the most out of your workouts. Perfect for those who analyze numbers and enjoy using themselves as a science experiment.
This three-month cardio program breaks down into three 4-week phases: Foundational building, advancing exercises, and finally, a month of full-on training. This program aims to build cardio while targeting specific muscles to encourage tone and muscle gain.
In this advanced 60-day program, celebrity trainer Bob Harper will lead you through high-intensity training meant to push your body to its limits. Focusing on full-body movements and a wide variety of high-intensity moves, this program is guaranteed to activate muscles you never knew you had.
This 16-day program will cover the basics for those interested in incorporating yoga into your daily workout. With six workouts a week, customers will develop the fundamentals with yoga expert Briohny Smyth.
A four-week course that uses bodyweight training to improve core strength, stability, and balance. The movements are dynamic with a focus to increase your range of motion and flexibility while still increasing cardio tolerance. Led by professional snowboarder Cody Storey.
Summary of Daily Burn:
As one of the top home fitness workout programs on the market, Daily Burn keeps its customers engaged, motivated, and supported. For those looking for a community-minded program that managed to inject energy into your daily workouts through a virtual platform, Daily Burn is undoubtedly an excellent place to start.
For those who are looking to establish more than just an at-home fitness routine, Daily Burn has expanded their expertise by releasing a few notable "specialty" applications that we briefly review below.
Additional Program: Running by Daily Burn
Released in 2019, Running by Daily Burn is a standalone app that can be downloaded onto your smart device to provide a community of support to help those who desire to achieve individual running goals. The concept behind the application was that users would be able to share stories of their runs and help others of similar levels to accomplish their goals. Set up as a way to both track your results and receive guidance, the application sports these unique features that make use of industry-leading tools.
Guided Audio Runs:
This feature enables one of Daily Burns world-class running trainers to lead you on a pre-recorded run, guiding your tempo, and talking you through your pace and intervals. These audio-guided runs are categorized by difficulty level.
Warm-up and cool-down videos:
Trainer-led videos help runners to have proper pre and post-run stretching and cool-downs to avoid injury and encourage steady progress.
Music Playlists:
Find the perfect Daily Burn running playlist using their Feed.fm, or sync up your Apple Music to integrate your own playlists into your run.
Customized Running Plans:
Weekly programs are set up according to your personal running goals. Programs provide a balance or training, recovery, and fun to keep you motivated and on track.
GPS Tracking and Community Support:
With an account set up, users are able to upload pictures, comment on other runners' stories, and engage in community forums for advice or encouragement.
GPS tracking allows you to share your run with the community as well as track exact distance and pacing to be used as future reference.
Summary and Review of Running by Daily Burn
As this program is relatively new, there have not been a significant number of reviews as a stand-alone product. As the product was being released, there was a 7-day free trial that was offered followed by a monthly fee of $4.99. This would be additional to any other Daily Burn program you may already have purchased. The product is currently only available on the Apple Store for Apple products.
Even though the product is marketed at runners of all levels, most people who would give this app a try would be beginners looking to start up their running career, or runners who are interested in the community around them. As the community continues to build, this motive might prove more effective.
With so many running apps on the market, many of which are free, this app does not necessarily offer anything incredibly unique. Instead, it looks to integrate and draw from its existing customer base.
Additional Program: Yoga Workouts by Daily Burn
Released in February 2019, Yoga Workouts by Daily Burn was created to instill the same sense of one-on-one video training as felt with the Daily Burn Home program, but to apply it instead to yoga lovers. It follows a similar model of delivery, creating customized weekly plans tailored to individual training goals. Program goals focus on different options such as getting stronger, getting more flexible or learning how to destress. Users can progress from absolute beginner through to advanced poses and postures, all with the help of professional trainers. Features of the Yoga Workouts by Daily Burn application include:
Weekly programs tailored to individual goals and levels.
Explore function that allows users to find individual yoga workouts based on their daily mood or goal.
Community function similar to Running by Daily Burn where members are able to motivate and inspire each other through sharing goals, routines, and resources.
A full breakdown of all yoga postures in order to ensure users have adequate foundational knowledge and proper routine as they progress through the levels.
Ability to track workouts, see individual progress, and customize your routine based on what you do or do not like.
As close as you can get to one-on-one training through guided videos, with professional yoga instructors there to lead users through every posture.
Summary and Review of Yoga Workouts by Daily Burn
The free trial that is offered for Yoga Workouts is a whopping 30 days which allows users to adequately explore the offerings before committing to a $59.99 per year price tag ($9.99 monthly). Yoga Workouts is also only available from the Apple Store, and only compatible with Apple products.
Reviews of this product have been a little all over the place, which in some ways is to be expected with the number of free yoga applications and resources all over the internet. For many, the cost of the product is not worth the comparative value.
Similar to other Daily Burn programs, the emphasis is put on premium video tutorials taught by the best. Unlike running, however, the yoga market is flooded with personalities that can provide quality resources to their fans for free using alternative business models such as online advertising. Daily Burn might have a tougher time establishing themselves in the yoga market, but even if they gain some traction from their existing fitness base, this product could prove it's value.
Another common theme in customer reviews was how some of the programs touted to be "beginner-friendly" were in fact too fast to follow. For those who are completely new to yoga, there will never be a true substitute for "hands-on" progression that an in-person instructor can help with. If you feel you would fit into the above category, learning the basics at a local yoga school could set a solid foundation that could then be applied to an online program such as Yoga Workouts.
Daily Burn continues to evolve and grow to its customers' demands. In the last few years, these additional products such as Running by Daily Burn and Yoga Workouts have provided athletes with even more choice and versatility. Expansion of this kind is what we have learned to expect from the company.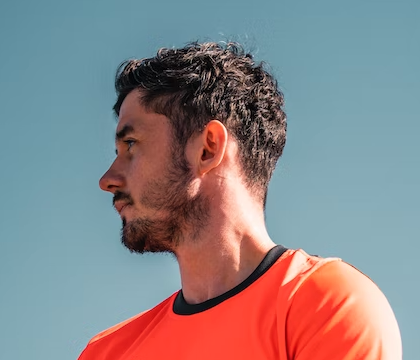 Chris is an experienced Calisthenics practitioner focused on isometric exercises and street workout. He founded thehybridathlete.com in 2017, which was subsequently acquired by theyhybridathlete.com
He is based in Portland and has been working out using solely his own body weight and bars for the past 6 years.