Love it or hate it, there's no denying the importance of cardio.
A regular routine is just too useful in all aspects of life to be ignored. It sheds pounds, makes getting around easier, and even extends your life. But current times aren't kind on the old-school idea of running.
Scheduling conflicts, the need for lengthy preparation, as well as the possible absence of decent running space, all work against us getting our fix of outdoors cardio. So we turn to the next best thing: indoor cardio equipment!
However, a bad choice can take up a good chunk of your living area. In this case, bigger isn't always better, and there's a large demand for compact cardio machines.
And with demand comes supply, so finding the best portable cardio equipment has become quite the ordeal.
Luckily, we've done the research so you don't have to!
In this article we will go over the best compact cardio equipment for your home, as well as a selection of exceptional models you can buy!
Folding Treadmills—Run Far, Stay at Home
Whenever someone mentions cardio, a treadmill is sure to pop into the conversation sooner or later. Can't spare the time to go outside? A treadmill will take care of your needs!
But what takes up less living less space than a treadmill? Why, a folding treadmill of course!
Unless you're training for the Olympics, one of these babies will last you a long time. And when you're done or simply need the extra space, you can easily (as the name says) fold it and shelve it out of reach and sight.
Most of the better models come with a display (usually LCD), which is how you set up your desired speed and get information on distance travelled, your heart rate, calories burnt for that session, and whatever else the designers happened to remember to include.
Everything has a downside, and these treadmills have two.
First off, most foldable treadmills tend to skip once you get to the highest speeds. The best ones don't, but that brings us to the second downside: the cost.
A foldable treadmill will almost always be more expensive than its more grounded counterpart.
Recommended Models:
Sturdy, the motor is silent, and doesn't skip. Unfortunately, it's expensive even by folding treadmill standards.
Cheaper than the MaxKare one, and comes with speakers for you to play music from either a flash drive or phone. Sadly not as reliable, and the Stop/Go buttons are on the handles, which can get awkward.
Foldable Exercise Bikes—the Cycling Equivalent of Treadmills
Prefer cycling to running? Exercise bikes are an old invention, and the formula has been pretty much perfected by this point.
Larger variants can be seen in most any gym (this goes for treadmills as well), and there's a reason for their popularity.
Cycling, either on one of these things or outside, increases cardiovascular health (like all cardio), does wonders for your legs, and even improves posture.
And if you spend a good amount of time on heavy acceleration (the thing that sprinters do where they raise their rear off the seat and start pedaling like mad) you will work out your glutes as well. Good stuff!
The models we recommend below come with a display, adjustable resistance levels, and are constructed from sturdy materials. This doesn't affect their portability; they can be folded and put away when not in use, or you need the additional space.
Recommended Models:
Can hold up to 400 lbs on a very comfortable seat. 8 levels of resistance. A proven, reliable choice.
A somewhat cheaper and lighter alternative. Nothing wrong with it. If appearances are important to you, comes in six different colors.
Pedal Exercisers—Ride a Bike, From Your Chair
A pedal exerciser is essentially a much smaller version of an exercise bike.
It does most of the same, with the difference that you kind of figure out your own place to sit on. This admittedly doesn't force you into proper posture like a bike would, but the machine takes up a lot less space.
Most come with a display, which shows you everything you might want to know, and all have a system for setting up the amount of resistance you want.
Everything considered, working out with a pedal exerciser is effective, comfortable, and space-efficient.
Unfortunately, it doesn't really feel like a workout. Your legs may burn, but the comfortable position you will assume during the exercise session will likely rob that feeling of accomplishment that follows other methods. Also, you can't really go into heavy acceleration mode in order to work your glutes.
Recommended Models:
Easy and very comfortable to use. Made for physical therapy and exercise, but lacks the highest resistance settings.
Takes up even less space, sturdy, and stable. Can be jerky on the higher settings when you start, so it may need to get "broken in" with some use.
Twist Steppers—Small Machines, Whole Body Exercise
Want an all-in-one package? Here's an all-in-one package!
A twist stepper is a set of pedals with an optional pair of resistance bands for your arms.
Working out on one of these is productive, sweaty, and (unlike the pedal exercisers mentioned above) never fails to deliver that feeling of accomplishment.
Most are heavily adjustable—aside from using or not using the bands, they tend to let you set up step height according to your preferences. A display is a standard feature, showing you everything we've already gone over. The decent models tend to be sturdy—they have to be, given how much abuse they are expected to take!
Unfortunately, this sturdiness does have its limits, and overworking an inexpensive model can lead to overheating and increased wear and tear. Getting a more expensive variant fixes this issue, but can be harsh on your wallet.
Recommended Models
A great value product that will give you a strong workout, and won't break easily. Downside is that going over the recommended 15-minute session can drastically shorten its lifespan.
A larger (yet still compact) machine that can handle just about anything you do to it. Sadly, it is one of the more expensive models on the market.
Jump Rope—an Undying Staple of Cardio
Taking up about as much space as your TV's remote control, this little gem will undoubtedly give you the highest value when you count in every factor: price, performance, and size.
There's a reason every MMA fighter out there jumps rope for a good part of their workout: it gets the blood flowing like little else out there, and hits your whole body. And the faster, fitter, and more durable you get, the further you can keep pushing it.
When it comes to jumping rope, it is you who determines the ceiling, if one even exists.
Speaking of ceilings, the one in your apartment definitely does exist, and if it is low, it might render a jump rope session difficult or even impossible.
Please take this factor into account, along with your own height.
Recommended Models:
It's heavy, so it is meant for high-speed skipping. Comes with a workout program. Affordable price for such a high quality speed rope.
Don't want a speed rope, or just want a lighter product? This one is cheap, adjustable, and gives overall great value.
Rowing Machines—A Little Bigger, But a Lot More Effective
When unpacked and deployed, a rowing machine is likely to take up more space than anything on this list—at least lengthwise.
However, it is also going to give you the kind of whole-body workout you can only dream of, and as an added bonus, it's going to be more than pure cardio!
For an interesting bit of data, rowing is an activity that puts to use a whopping 84% of the total muscles in your body!
Thus, when you row or use a rowing machine, you are using your exercise time in one of the most effective ways possible.
To top it all off, you can fine tune your workout to what suits you at the moment: more cardio (via lowering resistance and doing faster reps) or more strength training (by upping the resistance).
All things considered, a rowing machine may in fact be the best compact cardio machine you can buy.
They come in two variants: hydraulic piston rowing machines, and magnetic resistance rowing machines. The former ones tend to be cheaper, more compact, and allow for greater freedom of arm motion. The latter ones often outperform them by a wide margin, but are more expensive, and will take up more space. We will mention one of each kind.
Recommended Models:
A hydraulic rower with a nifty function that notes and compares your progress over time. One of the best of its kind.
Pretty much everything you may want from a rower. Plus it's magnetic, and at a decent price.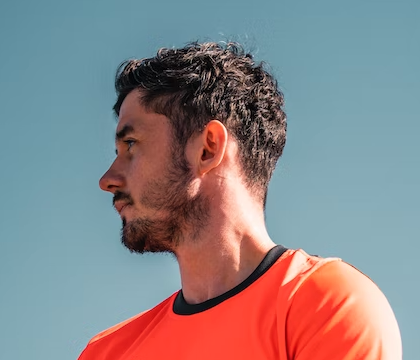 Chris is an experienced Calisthenics practitioner focused on isometric exercises and street workout. He founded thehybridathlete.com in 2017, which was subsequently acquired by theyhybridathlete.com
He is based in Portland and has been working out using solely his own body weight and bars for the past 6 years.