Cons:

Limited Range of exercises

Pros:

Good Range of Exercises

Easy to setup

Cons:

Requires Large Wall Above Door

Pros:

More Stable

Wider Range of Motion

Wider Range of Exercises

Pros:

More Stable

Wider Range of Motion

Cons:

Limited Range of Exercises

Pros:

Wider Range of Exercise

Easy Setup

Type:

Portable Pull Up and Dip Bar

Pros:

Easy to set up

Portable: Can be setup in a tree, lamp post, or wall.

Wider Range of Exercise
09/23/2023 03:50 pm GMT
The pull-up bar is perhaps the most important piece of equipment in the calisthenics training scene.
In fact, if you can only buy one piece of calisthenics equipment, pull up bars should be your priority. They are relatively cheap, and can give you hundreds of exercises.
From chin-ups to levers, and even dips, this humble piece of equipment will open a universe of possibilities. It is not only an upper body workout tool, but can also be used for core and legs.
And here's the best news;
You can install your very own pull bar at home without spending tones of money and energy. There are several options, that can be mounted without laying a single nail.
Home pull up bars are usually mounted directly to the wall, on doorways, or as a standalone structure.
You can also go the DIY route, which we'll certainly cover in a later post, but if you don't want to spend a lot of time and money, here are our recommendations:
Calisthenics Portable pull up bars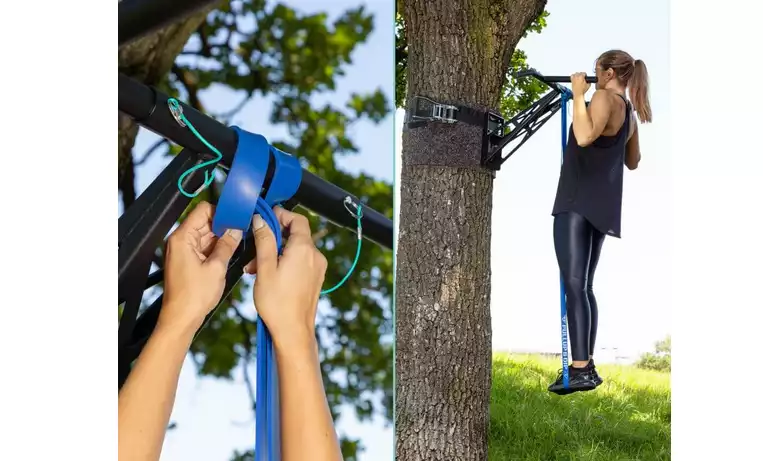 Use Discount Code CALISTHENICSGEAR for 5% Off
We'll start with our favourite pull-up bar: The pullup-dip portable bar.
Our favourite thing about this bar is that it is super easy to setup and is portable. You can take it to the park and set it up on a tree or street lamp.
It is super robust and for the quality offered, it is actually pretty affordable.
This bar will completely change the way you workout and will allow you to work on muscle-ups, dips, pull-ups, chin-ups, and many other exercises wherever you want.
Calisthenics doorway pull up bar
The doorway bar is probably our favorite option for beginners as it is cheap, reliable, and practical.
There are two or three basic variations of this model, with the most common one relying on wedging the bar between the two sides of the top of the doorway.
There is also a spring based bar model, which we don't recommend using as in our experience, it deteriorates quickly with time.
They are more than enough to train basic exercises such as pull-ups, chin-ups, l-sits, and front and back levers, but you will struggle if you try to do muscle ups, and dips.
A word of caution: Make sure that your doorway is solid and that the wood is in good condition. Also, putting a sponge or a plastic between the bar and the wall might be a good idea if you're worried about damaging the wall.
Pros
Easy to install
Relatively cheap
Can be installed in any house with doors
Relatively portable
Cons
May limit your ability to train the muscle-up, dips, and other more dynamic exercises.
Potential doorway damage.
From our own experience, these are the top 3 doorway calisthenics pull up bars:
1- Happyfit Pull up bar (editor's choice)
For this price, you can't go wrong. We have had the opportunity to personally try this piece of calisthenics equipment and it was fine. Not mind blowing, but does the job, and it does it well.
Happy Fit Total Upper Body Workout Bar
Ideal for ab exercises, dips, push-ups, pull-ups, and core strengthening
3 grip positions available for a range of exercises
Securely holds up to 300lbs
Works with all standard door frames
Simply to assemble and install
We earn a commission if you make a purchase, at no additional cost to you.
09/23/2023 03:50 pm GMT
2-
Ultimate Body Press XL Doorway Pull Up Bar
Much like the prosource bar, the ultimate body press xl comes with different grips. As a bonus point, the length is adjustable. The only minor issue is the price, which is slightly higher than what we'd like to pay: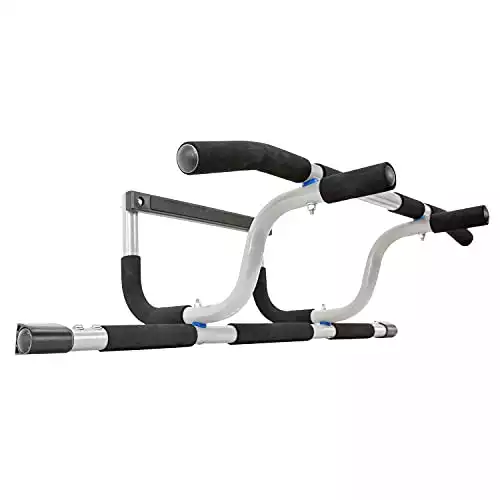 Ultimate Body Press XL Doorway Pull Up Bar with Elevated Bar & Adjustable Width
Fit doorways 24" to 36" wide with molding up to 3.5" wide

Holds up to 300 pounds

30 day return policy
We earn a commission if you make a purchase, at no additional cost to you.
09/23/2023 07:05 pm GMT
Calisthenics wall mounted pull up bar
The wall mounted calisthenics bar will require a higher level of technical skills as it requires drilling the walls and then nailing the bar.
We don't recommend this option if you're not ready to get your hands, and your walls, dirty.
However, having said that, it is a great alternative as you can install it at any height you wish and it will allow for a great range of movement than the doorway bar.
Pros
More stable than doorway bars
Higher range of movements than doorway bars; Muscle ups can also be trained
Relatively cheap
Cons
If the distance between the bars and the wall isn't at least 1 meter, you might struggle to train muscle-ups.
Require drilling and nailing
Wall damage
Our favorite models in this category are:
1- Titan Fitness Multi Grip Bar:
Due to the variety of exercises it allows for, the multi grip bar is our choice in wall mounted bars. You can easily do a one hour workout on the pull up variations alone!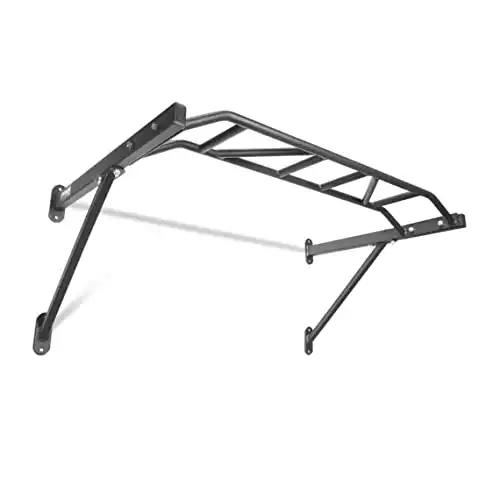 Titan Fitness HD Multi-Grip Wall Mounted Pull-Up Bar
Unlimited grip choices for wide and narrow pull-ups, chin-ups, or neutral grip exercises.
Heavy-duty construction is perfect for garage and pro gyms.
We earn a commission if you make a purchase, at no additional cost to you.
09/23/2023 07:11 pm GMT
2- Titan Fitness Normal Grip Bar:
If budget is a concern, we recommend the normal grip bar, which is more than enough for a basic home calisthenics training.
Titan Fitness Wall Mounted Pull Up Chin Up Bar Training Fitness Heavy Duty
500 lbs - Can be installed vertically or horizontally.
Can be mounted via 16" wood studs for custom widths at 16", 32" or 52" apart.
We earn a commission if you make a purchase, at no additional cost to you.
09/23/2023 07:19 pm GMT
Calisthenics Standalone pull up bar station
The standalone pull-up bar station is the ultimate piece of gear for a home gym. However, it is more expensive and can be a hassle to mount.
It will allow you to train all the movements you want, including muscle-ups, dips, levers, and even jumps such as backflips from the bar.
This piece of gear is more appropriate for street workout geeks who like to swing around and do some cool tricks.
A word of advice: Make sure the bar is securely nailed to the floor as this is the most common source of injury for these types of bars.
 Pros
Full range of movements: Train any bar exercise you want.
Other add-ons possible: Parallel bars, ab station, etc
Control the height
Cons
Higher cost usually involved.
Complex setup
Not portable
Disaster risk
In this category, you can go all out and buy stations with loads of extra, or keep it simple. Here are all our favourite options:
1- CAP Power Rack
This is the most basic and affordable pull up station for home gyms.
It serves its function well but may require additional weights/bindings at base for extra stabilityl

CAP Barbell FM-905Q Color Series Power Rack Exercise Stand, Carbon
Durable powder coat finish and industrial zinc hardware provide exceptional maintenance free durability.
maximum weight capacity of 500 pounds.
We earn a commission if you make a purchase, at no additional cost to you.
09/23/2023 07:24 pm GMT
2- Happy Buy Pull Up Station
For a more complete range of exercises, including ab exercises, the Happy Buy station is an affordable option.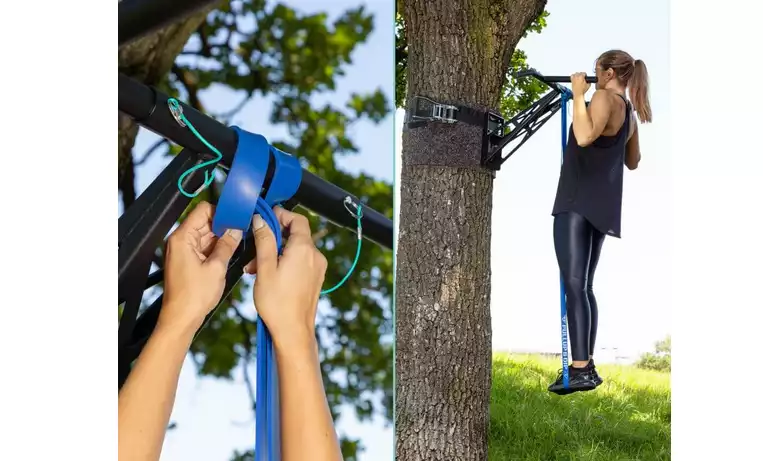 Dip Bar and Pull-Up Bar for indoor and outdoor
For train indoors and or outdoors
Over 35 different exercises
Premium quality
Used in over 50 countries worldwide
We earn a commission if you make a purchase, at no additional cost to you.
And that's about it. If you have any further recommendations, feel free to drop a line below.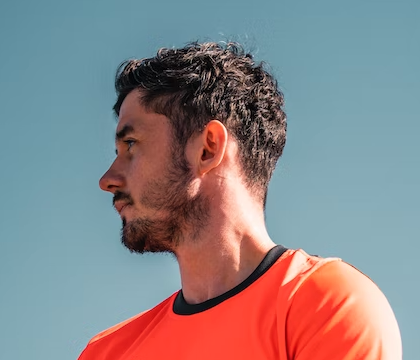 Chris is an experienced Calisthenics practitioner focused on isometric exercises and street workout. He founded thehybridathlete.com in 2017, which was subsequently acquired by theyhybridathlete.com
He is based in Portland and has been working out using solely his own body weight and bars for the past 6 years.