Is it just us, or is workout gear your favorite kind of clothing? It's comfortable, and it makes you feel excellent because you accomplished some great things in those clothes.
When it comes to calisthenics clothing, find something to wear that gives you confidence and allows you to move and exercise without being overly restrictive or too loose.
There are many different options for your training needs when it comes to clothes, so we thought we would fill you in on some of the best calisthenics clothing options. Right this way, please.
Critical Factors to Consider
Your calisthenics workout gear needs to be tight without being restrictive, so your clothing doesn't preclude you from performing exercises correctly.
It's essential to find a material that absorbs sweat but is quick to dry.
Avoid things that are 100% cotton as they take forever to dry. Many people tend to wear as little as possible during calisthenics due to the nature of the exercises.
The less that is in your way, the more you can show off those muscles and perform without hindrance. Let's take a look at some other vital elements to consider.
Price
If you've bought workout clothing before, you know there is a massive price range.
While it's unnecessary to always buy top-of-the-line calisthenics clothing, it's vital to find clothing that works best for your particular body type.
Anything too cheap will wear down quickly or have an uncomfortable fit. It might not absorb sweat or dry soon either.
Anything too expensive might be out of reach for our budgets. Find a happy middle ground and try different brands.
Someone might love Nike while another calisthenics enthusiast lives and breathes Adidas. Also, sales are everything. Keep an eye out for those.
Comfort
We can't stress this topic enough. If you are uncomfortable with what you are wearing, it throws off your entire day.
Are we right? When you feel comfortable, especially in your exercise clothing, it brings your training to the next level.
When you feel good, you perform better. Not only that, tight clothing needs to have a soft material to avoid chafing your skin.
Some brands have seamless clothing, which increases the comfort and the feel on your skin too. Look for comfort first and foremost when it comes to clothing.
Material
We referred to this, but the material needs to feel comfortable against your skin.
You don't want a shirt that scratches your skin. Do you sweat a lot? It's essential to find material that absorbs sweat and dries fast.
There is nothing worse than being drenched in sweat and then getting cold because it takes forever for your clothes to dry.
The material should also be durable and flexible.
Your training is intense, and your clothing needs to be made of something that can withstand the challenge.
Fit
Like we said before, if you are comfortable in your gear, you will perform with more confidence.
The right fit of your clothing can make or break a training session.
Ensure you wear something form-fitting so you can ensure proper form during your exercise.
Also, avoid loose clothing that can get in the way, especially during calisthenic holds.
Best Calisthenics Clothing
We've given you the main research topics, so you know what to look for when purchasing all that workout clothing.
Are you ready for the better news? We did some of the research for you and came up with some of our favorites.
Get ready to shop, friends.
If wearing compression shorts isn't your thing because you don't like to just strut your stuff in them, these are the shorts for you.
They have an underlayer that is compression, but the outer shell is mesh, so they look like regular shorts. Not only that, they are breathable, quick-drying, and comfortable.
Keep your phone secure in one of the pockets, along with a headphone jack to listen to tunes during your training.
It's the best of both worlds with these shorts.
Pinkbomb Men's 2 in 1 Running Shorts
Gym Workout Quick Dry Mens Shorts with Phone Pocket
Pros:
An affordable option at only $22.99.
Made with material that is excellent quality
Several pockets for your phone, keys, wallet, etc.
Compression shorts and mesh shorts all in one.
Cons:
The pockets have zippers that tend to get stuck sometimes.
User Reviews: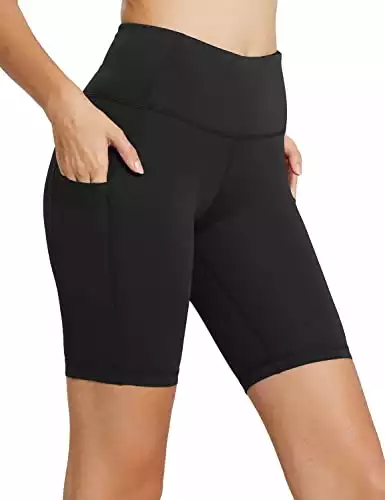 Made with 87% polyester and 13% spandex, these shorts are made from material sure to keep you comfortable and dry.
The high waist is a fan favorite with the ladies for full coverage.
They offer your body a full range of motion without causing skin chaffing and are excellent for those with larger quad muscles.
Ready for the best part? It comes with a hidden pocket for a key and side pockets for your phone. Winning!!!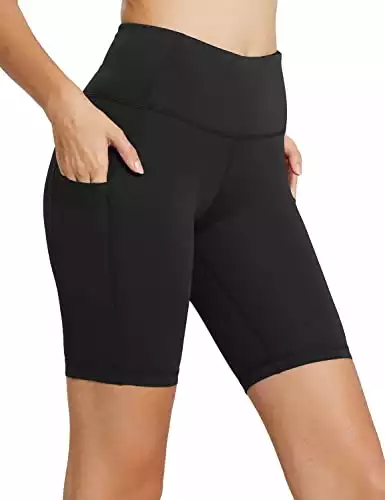 BALEAF Women's 8"/ 7"/ 5" High Waist Biker Shorts
Yoga Workout Running Compression Exercise Shorts Side Pockets
Pros:
Highly comfortable fit
Very durable for all of your bodyweight exercises
Pockets for keys and phone
Stitching on the shorts offers comfort and prevents chaffing
Cons:
Watch the sizing as they tend to run small.
User Reviews:
Don't be put off by the 65% cotton as the extra 35% are made of elastic fiber enabling these sweatpants to dry quickly.
Find extreme comfort with the drawstring top and elastic cuffs at the bottom. You might just want to lie on the couch in these after your workouts.
The side pockets that zip make them ideal for a sport like running or biking. They are durable and stretchy for the ultimate range of motion during your calisthenics workouts.
At $24.99, the price is excellent too.
GANSANRO Mens Joggers Sweatpants
Slim Fit Mens Athletic Jogger Pants, Sweatpants for Men with Zipper Pockets
Pros:
The slim feet makes them form fitting, which is nice
Get a full range of motion with these sweatpants due to the cotton/elastic fiber combination
Comfortable to wear casually
Zipper pockets are an excellent option, especially for particular sports.
Material withstands many washes
Cons:
They are known to be tight in the crotch area so keep that in mind.
User Reviews:
Let's talk leggings, ladies. These high-waisted, ultra-stretch, non-see-through leggings are your new best friend.
Wear them to the gym or casually around the house.
They are comfortable and made with a material that cools the skin as you start to sweat. It's like these leggings know you.
They are well-made, affordable (ranging from $19.95 to $42.95), have pockets, and offer a 30-day money-back guarantee.
IUGA High Waist Yoga Pants with Pockets
Tummy Control, Workout Pants for Women 4 Way Stretch Yoga Leggings with Pockets
Pros:
We love pockets!
Not expensive and yet durable
Comfortable
Excellent thickness for those squats
Cons:
Long legs might need another option as these are known for being shorter.
User Reviews:
Under Armour knows what's up when it comes to workout gear, and this shirt is no exception.
It fits like a compression shirt but allows for ventilation with the breathable fabric underneath the arms.
It's known for its high quality, so no worries about having to wash it often.
The stretch allows for a full range of motion, making it a calisthenics dream.
Under Armour Men's HeatGear Armour Short Sleeve Compression T-Shirt
Stretch-mesh underarm panels deliver strategic ventilation
Pros:
Quality is excellent due to Under Armour's high standards
Heatgear means you are kept cool throughout the day
Dries quickly
Excellent value for the $50 price
Cons:
The neck area is known for being tight
User Reviews: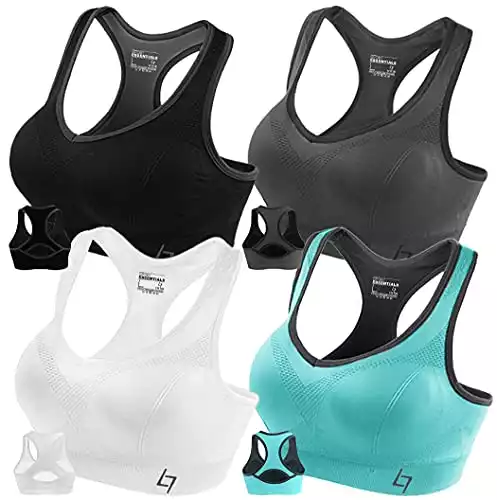 Where are our ladies? We all know that an excellent sports bra is essential to your training, even if it's not high intensity.
The search could go forever, trying to find one that works with your figure.
Good thing we looked for you and found this pull-on sports bra that has tight support with removable pads and dry-wicking capabilities.
There's nothing like a sports bra that fits comfortably and is affordable, and the FITTIN Racerback is both of those things. They believe in their product so much that it comes with a 30-day money-back guarantee.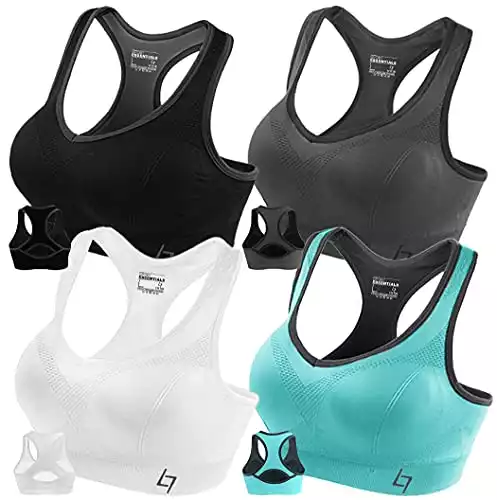 FITTIN Racerback Sports Bras for Women
Padded Seamless High Impact Support for Yoga Gym Workout Fitness
Pros:
Fantastic coverage for all body types
Excellent ventilation and comfort
The pads are removable
Cons:
With anything white, there is a chance you can see through it.
User Reviews: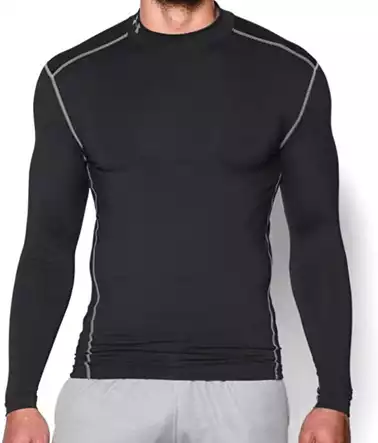 If you are performing resistance training in colder climates, this is the shirt for you.
It provides a dual-layer fabric so that you never get cold. That said, once the sweat starts, it provides a quick dry effect.
The seamless shirt construction allows this shirt to fit comfortably without chaffing or irritating your skin.
Plus, it has a tight fit which is perfect for body weight training and showing off those muscles.
Available on Amazon and ranging in price from $33 to $83, this shirt is worth the extra cash to keep you comfortable during your training sessions.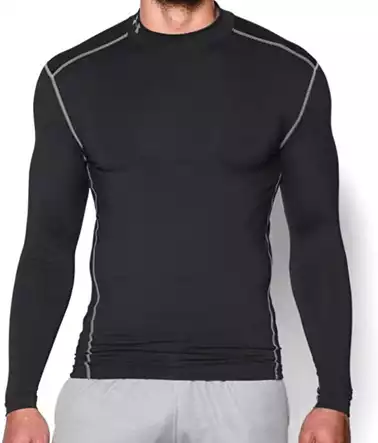 Under Armour Men's ColdGear Armour Compression Mock Long-Sleeve T-Shirt
Dual-layer fabric with an ultra-warm, brushed interior & a smooth, fast-drying exterior
Pros:
Wears extremely well with time
A cold-climate fan favorite
Has compression, but still breathes and regulates temperature changes as you exercise
Dries quickly once you get sweaty
Cons:
More expensive than other options
User Reviews: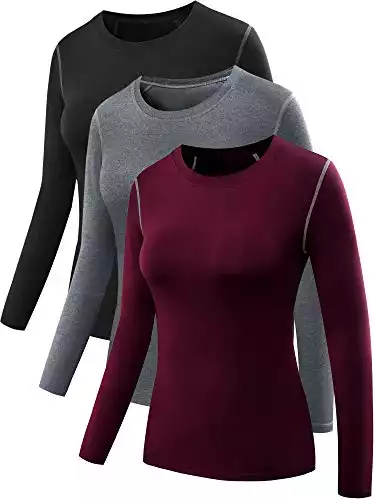 Don't worry ladies. We didn't forget about you when it comes to long-sleeve compression tops.
While a tank top is great when the weather is warmer, a long-sleeve top goes a long way once winter starts.
The Neleus top fits extremely tight and the seamless design means no irritation of the skin. It breathes well and is moisture-wicking to avoid sitting in your sweat for long periods after your workout.
If you want a less tight fit, the manufacturer recommends ordering a size larger than normal.
At $32.96 on Amazon, it not only feels good, but looks great.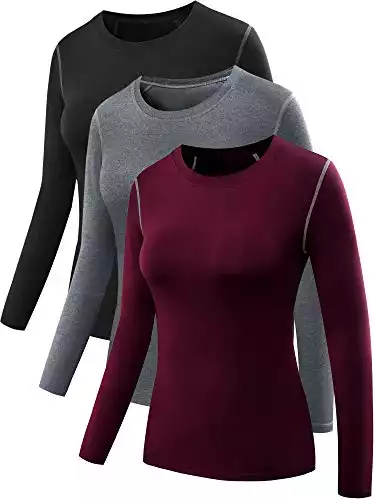 Neleus Women's 3 Pack Dry Fit Athletic Compression Long Sleeve T Shirt
Suitable for all sports indoors and outdoors,such like:yoga,running,basketball,cross training and etc
Pros:
Less expensive than other competitors
Excellent for cold environments
Tight fitting, but not uncomfortable
Wears well with time and multiple washes
The long length of the sleeves and torso is a great feature
Cons:
Since the sizing runs small, must buy a larger size to ensure proper fit
User Reviews:
Time to Shop
Now that you read all of that, aren't you excited to buy some new calisthenics clothing?
No matter what kind of budget you have, there is something for everyone. It's time to give your workout clothes a makeover.
Durable, comfortable, and dry-wicking clothes mean you set the bar high for your confidence level and therefore perform better in your training.
Clothes matter, people.