Relaxation right at home sounds like a good deal.
While COVID is hopefully on its way out and things are opening up, some of us are more skeptical than others about going to a spa for relaxation. What if we told you that a float tank at home might be just what you need?
If you haven't floated before, we encourage you to get out there and try it first.
Once you find out that you love the sensory deprivation and zen-like feel of a float tank, come on back and read this article.
We'll give you the best there is and then some. Let's get our float on.
What is a Flotation Tank?
So maybe you should keep reading even if you haven't floated before because we give you a lot of great information here at Calisthenics-Gear. That's why you love us, right?
A flotation tank is a sensory deprivation structure filled with less than a foot of water mixed with Epsom salt.
The saltwater is heated to your body's temperature for complete relaxation.
A float tank provides REST or restricted environmental stimulation therapy. By using sensory deprivation, a person can fully relax without any distractions.
Flotation tanks have even caused hallucinations in some cases, as that is a side effect of the brain being in such a relaxed state.
A study showed that hallucinations usually occurred when the subject was more prone to having them.
Benefits of a Float Tank
Float tanks or tents can bring a variety of benefits to your overall health.
Studies have shown that people who suffered from post-traumatic stress, anxiety, panic attacks, and agoraphobia (fear of being in a situation that you cannot escape) could significantly improve their symptoms after using a float tank.
Participants noted that their anxiety and depression levels were reduced after using a float tank for only one hour.
They felt happier and had enhanced overall well-being after REST. That's pretty incredible, right?
In addition to the benefits above, people have felt less stress and slept better after a session in a sensory deprivation tank.
Another main benefit is a reduction in pain. Many people who suffer from chronic pain have turned to float tanks for relief.
They have been pleasantly surprised by the results as muscle relaxation helps relieve pain throughout the body and promotes faster recovery from training sessions.
Can I Build My Own Sensory Deprivation Float Tank?
Look at you getting big and bold.
Are you wondering if you can just throw some Epsom salt into a lukewarm bath and reap the benefits? Well, it's not that easy.
Some of the most significant benefits from the float tank come from the sensory deprivation aspect.
You need to have complete darkness, no sound or touch other than the water around you. To achieve that by building it yourself, the cost will be higher than you would think.
You are looking at spending about $2000 to $3,000 to develop your personal float tank. The price will depend on how fancy you want your float to be.
Best Home Float Tanks
Now that we have an idea of what a float tank is and what it can do for your health and well-being let's look at some of the best products on the market.
It's time to float away from that stress, people.
The Zen Float Tent was the original model from the Zen brand when it started back in 2014.
It is still just as popular as ever.
The beauty of the Zen Float Tent is that it takes up less space in your house but still brings all of the benefits that a regular float tank would. Also, even though it is smaller, you can still float comfortably in it since it is 8' long and 4' wide.
The pyramid design enables condensation to run down the sides of the tent. There is nothing worse than having your float ruined by water dripping down from the ceiling onto your face.
Also, it's one of the more affordable options when it comes to float tanks.
It is $1,700 for the complete package option, and it comes with a one-year warranty covering manufacturing defects and mechanical parts.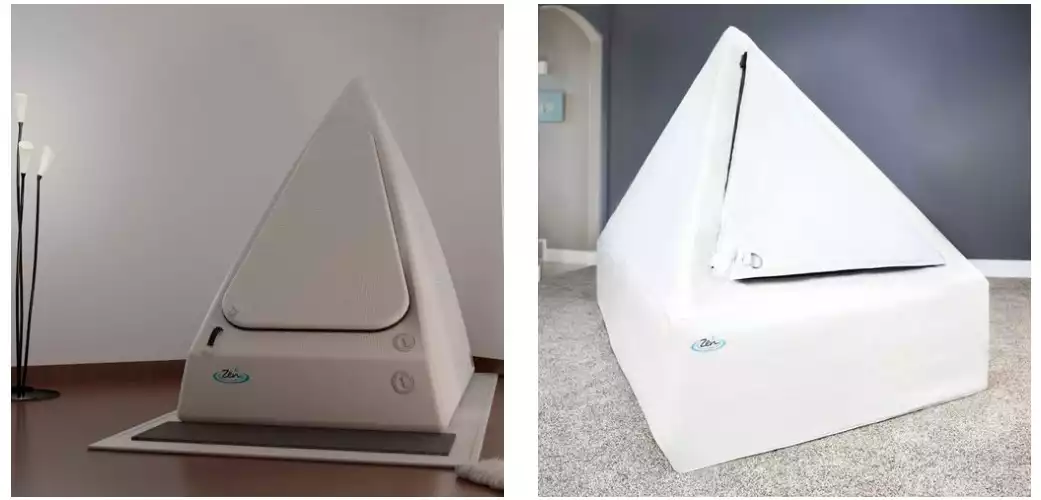 Quality Float Tanks For Home Use – The Zen Float Company
Starting at $2200 + shipping
Zen Float Tent -

The Most Affordable, Original Model

Zen Float Tank -

The New, Version 2.5 Model
Pros
Very affordable float tent
Featured on numerous popular publications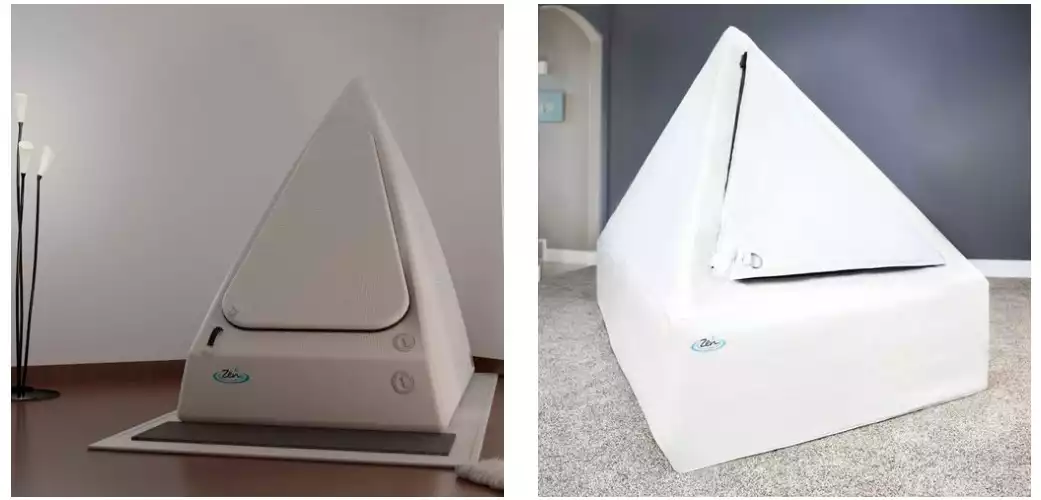 Now, if you want to have one of the best floatation tanks that your money can buy, then the Zen Float Tank is the one to purchase.
Also, made by the Zen brand, this sensory deprivation tank is 8' 10" long by 4' 11" wide. That gives you more space inside without making it too big for your home.
The Zen Float Tank's walls are made out of drop-stitch material similar to what you would find with an inflatable stand-up paddleboard.
The technology provides full sound-proofing and heat insulation. Made like the tent, the pyramid shape allows condensation to fall down the walls instead of onto you during your float.
There are many different models of the Zen Float Tank.
The newest is the V2.5 option which is $5,249 for the complete package.
Pros:
More advanced structure for a better sensory deprivation float experience
Available to pay with monthly plans
Cons:
Way more expensive than the original Zen Float Tent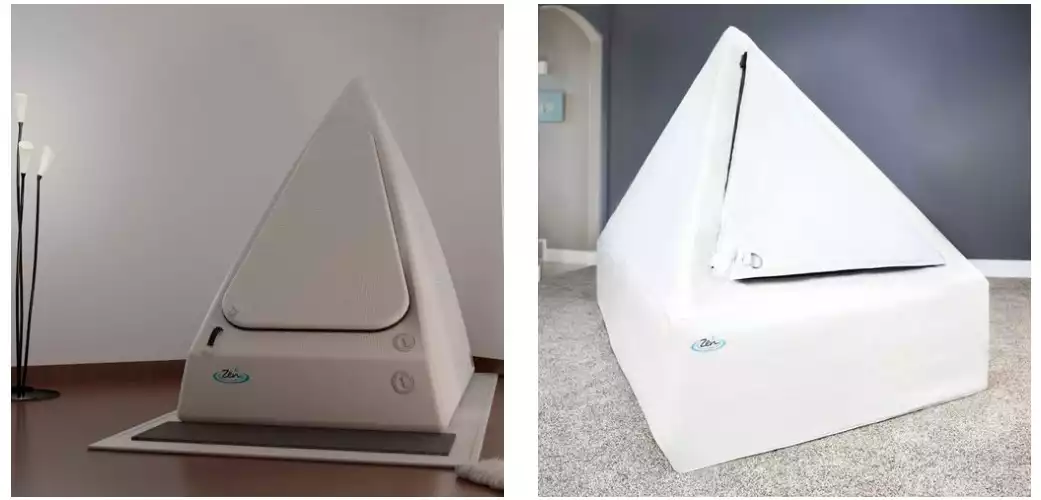 Quality Float Tanks For Home Use – The Zen Float Company
Starting at $2200 + shipping
Zen Float Tent -

The Most Affordable, Original Model

Zen Float Tank -

The New, Version 2.5 Model
If you want to pretend like you are floating in a futuristic floatation tank, the modern design of the Dream Pod Float Tank is just right for you.
They offer several different options to consumers for a float pod that is big enough for even the tallest person.
We'll look at a few of their most popular choices below to give you a better idea of just what they have to offer.
These float tanks are manufactured worldwide, so it's easy to get a Dream Pod no matter where you are located.
From the USA to Norway to Malaysia, they have you covered. Let's dive into the different options Dream Pod offers.
One of the most popular tanks that Dream Pod offers, the Home Pro, is making waves in the float tank industry because it's a commercial product without the hefty price tag.
Dream Pod took their most popular commercial tank and streamlined it to make it great for home use and more affordable.
Get the same sleek design and durable fiberglass structure that looks fantastic and is easy to maintain. The solid foam core allows for better retention of heat and soundproofing for the best possible float.
While a floatation tank usually comes in multiple pieces, the Home Pro is one piece with a cover. Put it where it needs to go, and you are ready to float.
It also has a cool LED light inside that can be turned on or off while you float.
We think it looks pretty cool and adds to the modern feel that is the Dream Pod brand.
It also comes with a control panel that is easy to use to change your settings depending on your needs.
Add a top-notch filtration system to ensure it is properly sanitized, and this is our new favorite float tank.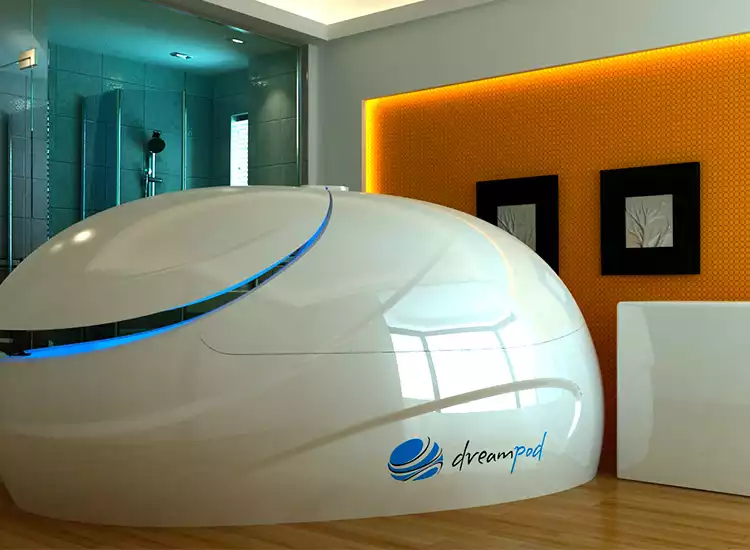 Amazing Float Tanks | Dreampod
Our entire lineup of Dreampod products includes excellent control software to make running your float center, wellness centre, gym or spa at a hotel smooth and profitable and they can also be used in home settings.
Have you seen professional athletes using ice baths for their recovery?
If so, maybe you are intrigued by them and how they can help. Not only do they promote faster muscle recovery, but they can also help with overall health.
Once you exit the ice bath, your body begins to reheat, and your blood vessels contract and expand. This can lead to lower blood pressure and an increase in circulation all over the body.
The Dream Pod Ice Bath gives you all of that right in your own home.
This popular model features all things "auto." It has an auto mode to keep the temperature exactly where you need it.
The auto filtration system works to keep the water clean, while the automatic dosing system allows you to schedule the correct chemicals at a preset time.
That way, you never forget to treat the water, and it's always sanitized.
If that weren't enough, it comes with an auto RGB (red, green, blue) light for some ambiance during your soak and an automatic timer. Automatic for the win!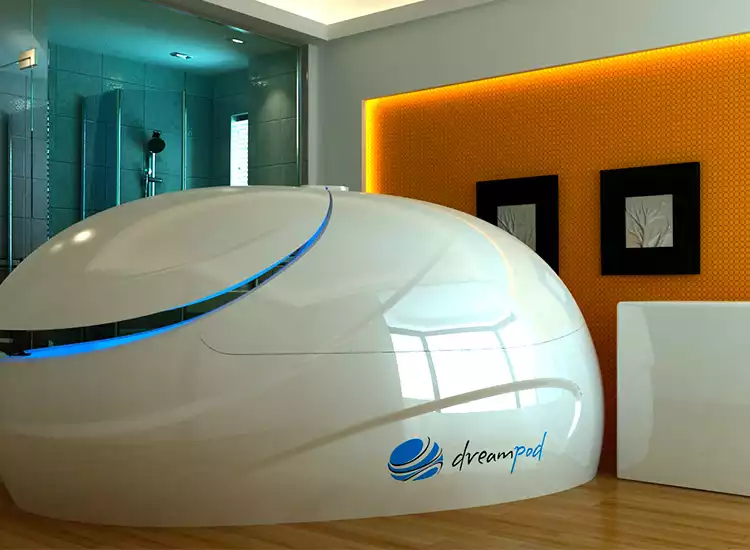 Amazing Float Tanks | Dreampod
Our entire lineup of Dreampod products includes excellent control software to make running your float center, wellness centre, gym or spa at a hotel smooth and profitable and they can also be used in home settings.
Pros:
Tanks feature a sleek, modern design
Design is exceptionally durable
Cons:
The products are more expensive than competitors
Floating at Home – Yes, Please!
Whether you are looking for an isolation tank or tent, any of the options above are an excellent choice for a floating at home experience.
Get a commercial float without having to step out of your home.
We highly recommend the Zen Float Tent or Tank and the Dream Pod models for a durable float experience without leaving your home.
Float therapy has proven to lower stress, decrease chronic pain, speed up muscle recovery, and lower anxiety.
Prepare a float room in your house, purchase one of these fantastic products, and relax. You have earned it!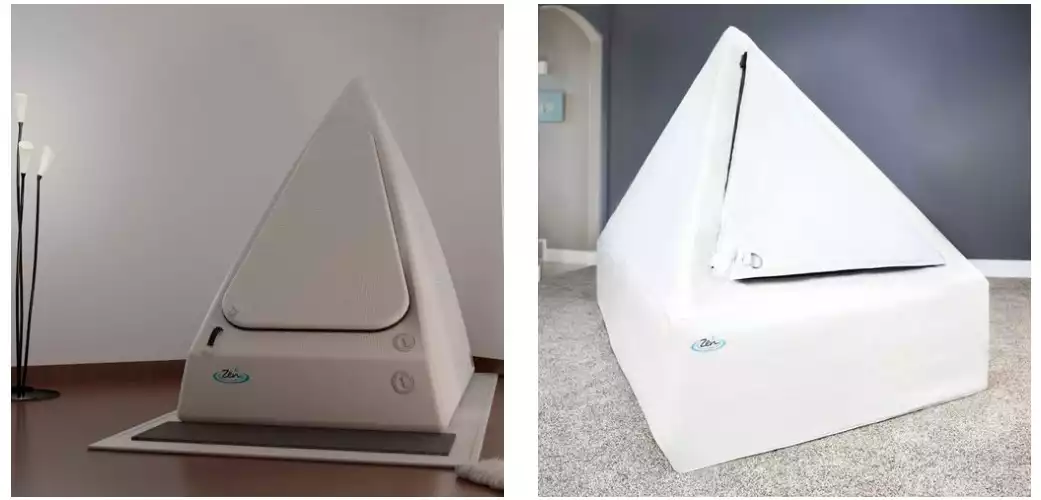 Quality Float Tanks For Home Use – The Zen Float Company
Starting at $2200 + shipping
Zen Float Tent -

The Most Affordable, Original Model

Zen Float Tank -

The New, Version 2.5 Model