2022 is the year of ab workouts. Did you not get that memo? Well, it is, and the best part of your ab workout is there is an app for that.
Summer is coming, y'all, and you want to showcase that six-pack and get rid of that belly fat. Get started by finding an app personalized to your exact needs.
We've done the research and found your list of apps to get you those abs of steel.
You could do that whole thing where you tell someone to punch you in the stomach. Do it.
After doing these workout apps, you won't even feel the punch because you are rock solid.
Calisthenics for the win!
Working your core is a calisthenics workout.
Whether you are doing planks or crunches, you use your body weight to get those sculpted abs.
We went over the best calisthenics programs, and we introduced you to the Movement Athlete, where you could get your calisthenics workout done at home.
Since we are working out at home more, it's never been a better time to try some of the core workout apps to up your calisthenics game.
Abs are made in the kitchen so maybe get your workouts done right next to the stove. Oh wait, that's not what they mean by that? Our bad.
Can I get a Six-Pack in 30 days?
Look at you having excellent goals. That is a surefire way to success. How fast you get your six-pack abs depends on a lot of different factors.
For instance, if someone already has a lean physique, it's possible to see some six-pack abs after 30 days of intense training. It always depends on your weight and body composition before you start a new program.
Some people have better muscle definition than others based on genetics, so don't get discouraged if you aren't seeing a ripped six-pack in 30 days.
What you are going to notice is a loss in fat replaced by muscle.
Your clothes are fitting better, and you are feeling more confident in your skin.
That is a goal worth striving to achieve.
Core Work Fast
You are going on vacation in t-minus 30 days. You need to get some core work in fast for a flat stomach.
Also, can we go on vacation with you? Asking for a friend.
Anyway, how intensely you work out your core and how often you do it will factor into how fast your core gets solid. The ever-popular plank is an excellent ab workout to start kicking your core into gear.
This abs workout engages your rectus abdominal muscles (upper abs) when done on your forearms and your oblique muscles (side abdominals) when done on your side.
If you think lunges and squats are only good for your glutes and quads, think again. When performing lunges, you need a strong core to keep your upper body still and your shoulders back and down.
Your core always engages with lunges to stabilize as you step back into the lunge. Never underestimate how often these abs workouts are engaged as they support other muscles.
Everyone's favorite exercise, the burpee, is an excellent ab workout. Say what now?
There is a plank involved in a burpee, despite how quickly you do it. You are coming down to the floor, pushing your legs straight out behind you, and pushing out into a plank.
All of the burpee movement has the abs engaged, but the plank even more so. Also, burpees are difficult. Tell us something we don't know.
Intense workouts mean fat shedding. The more fat we shed, the more we can see that muscle definition, aka six-pack abs heaven.
The best part of all is that these can be incorporated into your home workout.
Get that flat stomach that you have always wanted right at home in only a few minutes a day.
Will an Ab Workout App work for me?
Whether or not an abs workout app will work for you depends on you and the app.
If you are committed to getting that flat stomach and ready to put in the work, success will be in your future. However, some apps aren't useful and won't get you shredded.
You need to ensure that you are picking an app maintained by fitness professionals certified in their field.
Remember, working your abs is way more than lying down and doing some crunches.
It's best to find an app that allows you to personalize your abs workout to your specific needs.
With some dedication and the right ab workout app, success is inevitable.
The Best Core Workout App
When we reviewed the Movement Athlete, we were impressed with the premium experience you get.
We will go through it again in this article, but some highlights are that it is customizable according to your body mass index (BMI), age, and other specific factors.
Customization is key to your daily ab workouts. Set your goals and start with their free trial.
If you are looking for a good abs workout app that is free to get started, the FitOn is an excellent option.
It has a lot to offer for different ab workouts, and you can workout free. We like free.
Let's Review those Ab Workout Apps
Are you excited? Like always, we did our research on some of the best core workout apps, and we want to show you what we found. Say goodbye to belly fat as you get a personal trainer right on your phone. Let's go.
The Movement Athlete
Get ready for the most personalized app out there. It's not beginner or intermediate. It's all about you specifically.
Personalize your ab workout with a free assessment process. Once that is calculated, you will have a personal trainer right on your phone to help you tone your abs.
If the app isn't your favorite, there is an option to go to the Movement Athlete web browser and do your ab workout from there.
Being able to get to your workouts from anywhere increases your success rate. The app also provides you with a game-like experience.
Abs workouts can be fun, people. Level up and grab some achievements along the way.
Pros:
Access on smartphones, tablets, or computers
Consistent tracking of progress
Features a game-like experience that makes abs workouts fun
Focuses on the principles of calisthenics
Cons:
It only comes with a free trial that lasts seven days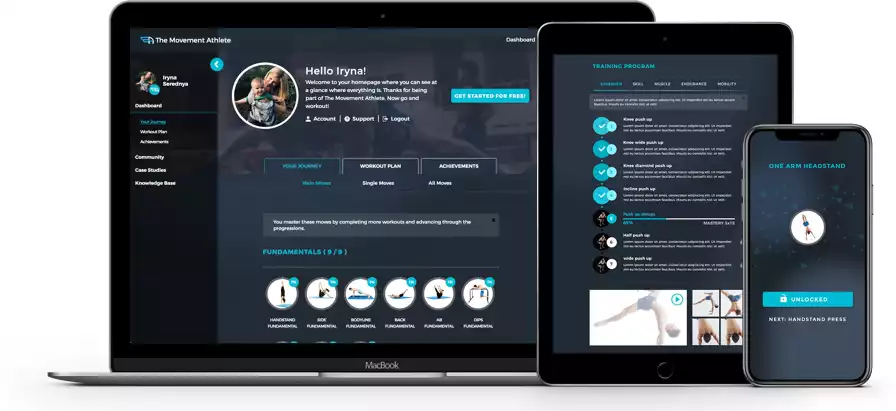 The Movement Athlete
LIFELONG, PROGRESSIVE, EFFECTIVE | BODYWEIGHT STRENGTH TRAINING PROGRAM
Adjust Your Training Based on Your Performance
Help You Make Lifelong Changes
USE THE DISCOUNT CODE calisthenicsgear30 for 30% off FOREVER!
Adidas Runtastic
Don't be fooled by the title. This app isn't just for runners.
Adidas has developed an app that focuses on getting you healthy and losing that belly fat through various exercises.
This app works to give you some new ways to train your body to increase core strength while working other parts of the body.
Using timers and week-by-week tracking features, you will ensure you are successful using this app.
Pros:
Made by a recognized name in the fitness industry
People of any level can use it
It helps the users build strength
Full tracking features to monitor progress
Cons:
Paid plans might be too expensive for some
Only a few features are available without a paid subscription
adidas Runtastic | adidas Training apps
REASONS TO LOVE ADIDAS RUNNING
Built-in GPS tracking
Track duration, distance, calories burned, and monitor heart rate data.
The ultimate sports app: choose yoga, hiking, cycling, and more.
Take on Virtual Races to race with athletes around the world.
Score activity Records when you hit a new milestone
Distance, duration or consistency: choose a personal goal for the sport of your choice.
We earn a commission if you make a purchase, at no additional cost to you.
7 Minute Workout
Made by Johnson & Johnson, this abs workout app is designed for people too busy to visit the gym. Let your personal trainer come to you.
All of the videos provided give you step-by-step instructions on how your daily ab workouts should be performed. It also comes with a timer for you to start and stop your workout.
The customized app allows you to create a workout that is specific to you. A bonus is being able to jam to music while you burn that belly fat.
Also, 7 minute abs are as low as you can go according to There's Something About Mary. 7 minutes a day is just right.
Pros:
It only requires a 7-minute workout per session
Compatible with Android and iOS devices
Workouts are easy to follow
More than 3 million downloads and counting
Cons:
Workout may be too basic for some people
A 7-minute workout may not be long enough to get the results the user is expecting
Official 7 Minute Workout | Johnson & Johnson
7 Minute Workout App is the fast, simple, science-based way to work out anywhere, anytime.
Workout Library contains 22 preset workouts, varying in intensity and duration.
Workouts are designed to fit your schedule, ranging from 7 to 32 minutes.
72 exercises and 22 workouts you can customize to create over 1,000 variations – from easy to hard.
We earn a commission if you make a purchase, at no additional cost to you.
FitOn
Videos galore is what you will get with this ab workout app.
Select your daily ab workout from a massive range of videos that include cardio, high-intensity interval training (HIIT), toning, stretching, yoga, strength, calisthenics, and pilates.
Pretty impressive, don't you think? Based on your abs workout goals, you can pick what activity will work best for you.
In addition to those workouts, there are meditation exercises that help you to focus your mind.
Get your daily ab workout and some much needed mental relief all in one place.
Pros:
Free version available
Celebrity trainers present several exercises on the app
An expansive library of workouts in video format
Many different categories to choose from
Cons:
Not as personalized as some of the alternatives
Nike Fitness Club
First of all, we love us some Nike.
This app is excellent for athletes pushing themselves to the next level and beginners who are just starting their fitness journey.
The high and low-intensity workouts offered allow you to choose the one that suits your fitness level.
The good news is that there is a free version if you are just getting started.
If you are ready for more, choose the paid option, which allows you access to some premium features with the Nike personal trainers for your workout.
Pros:
Existing athletes can use it
Award-winning app
Nike Master Trainers provide the programs
Customized workout to fit into the user's schedule
Cons:
The free plan is restrictive
Nike Training Club
NTC is perfect for training at home, in the gym or on the road, with everything from bodyweight-only to full-equipment workouts for everyone at all fitness levels.
We earn a commission if you make a purchase, at no additional cost to you.
JEFIT
Ready to manage your fitness?
Get your daily ab workout in with a program that allows you to track your progress and manage your fitness regimen.
Not only that, there is a large variety of different fitness workouts available. Track your progress using your smartphone or your computer.
Also, the option of a smartphone watch app is available to ensure you never miss tracking your progress.
Burn that belly fat and get those six-pack abs in no time.
Pros:
Complete fitness tracking platform
It helps the user manage their workout
Easy to adjust based on the user's schedule
Available for all major smartphone brands
Cons:
Limited exercise options available on the app
Additional workout plans cost extra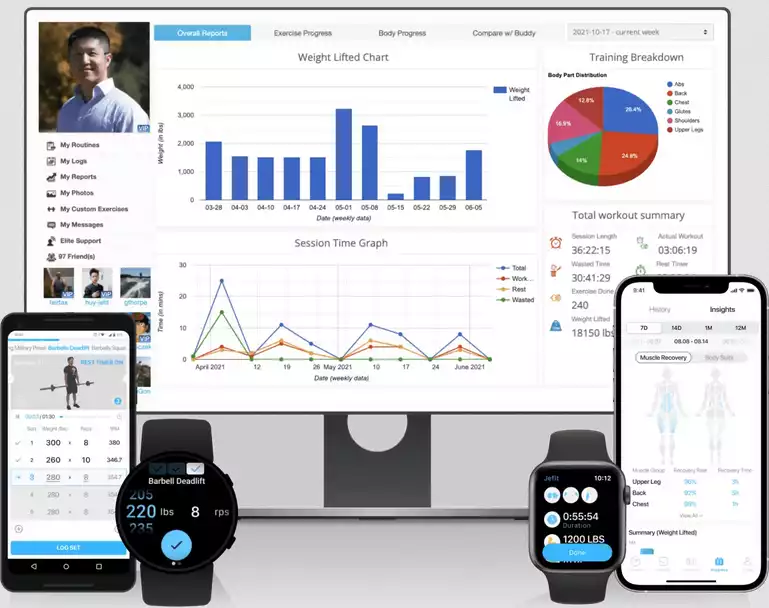 Jefit - workout app
1400+ exercises with instructions
Pro-designed workout plans
Support custom exercises
Flexible workout planning tool
We earn a commission if you make a purchase, at no additional cost to you.
Have any of these Workout Apps been Studied?
There have been several studies that have looked at the effectiveness of abs workout apps and their benefits.
One study showed that after five months of using a fitness app, there were improvements in health for some of the participants.
The app's usefulness weighed in on how much the people continued to use it to workout and the difficulty level.
If the exercise program was too complicated, it deterred the participants from continuing the exercises.
Ab workout apps that give you a range of difficulty levels or completely personalized your workouts are superior based on this study's findings.
Another study looked at fitness apps and how they promoted healthy eating habits for the younger generation.
The researchers found that some apps did not give appropriate information about eating habits and workouts.
The researchers cautioned people to make sure they choose an app developed with its clients' health and safety in mind.
Crash diets are never good, and any app that promotes such diets should not be used.
Six-Pack Abs Delivered
You are now ready to get your six-pack started with an abs workout app that will bring a personal trainer right to your home workout.
Go through our research and find the best app for your fitness level.
2021 is the year of the ab, after all.
You wouldn't want to disappoint yours by not working on them, right?