Your shoes matter. It's true.
Whether you need running shoes, cross-training shoes, or shoes for everyday life, they can make a huge difference in your performance and the wear and tear on your body.
We wrote about calisthenics gear before and all about the importance of tight-fitting clothing that stays put during your workouts.
Now it's time to discuss the importance of your workout shoes while performing calisthenics.
Some people might tell you that it's best to perform calisthenics without shoes.
We hear you there as some moves and holds can be more restrictive if you wear shoes.
However, specific environments require shoes for your safety.
That said, we are here to help you navigate the best calisthenic training shoes so that you can look and feel your best.
Calisthenic Shoe's Considerations

For calisthenics training, you need a lightweight, flexible shoe.
Avoiding bulky shoes with heavy soles is essential for calisthenics. You need to move your foot in different directions, and certain shoes can prohibit movement.
The best shoes for calisthenics are malleable and provide support without bulk.
They are comfortable and durable while absorbing impact. It gives the feel of being barefoot without being barefoot.
Make sense?
Since cost is an essential variable, looking for a cross-training shoe to run or weightlift helps you in all of your training activities. Wear shoes for calisthenics, knowing they will work for your runs or everyday use.
Best Cross Training Shoes For Calisthenics
We have an idea of what we need for the best shoes for calisthenics.
Now it's time to sit back and enjoy while we show you the research for minimalist shoes that pack a punch for your workouts.
These shoes come in both men's and women's sizes. We'll link in both for each shoe so you can get there quickly to make your purchase.
This 100% synthetic shoe features a midsole rubber support that adds to the comfort and flexibility of this cross-trainer.
Minimalist shoes are always the best as they come with durable construction and excellent liners, so you can wear them without socks and still be comfortable.
The top of the shoe has mesh that allows your feet to breathe and get rid of that stinky smell of feet.
Made with Vibram rubber, it helps you keep your toes apart to create the stable stance you need for calisthenics training.
Find the men's or women's version of the shoe on Amazon from $108.52-$160.98, depending on the size. This is our favorite cross-trainer.
New Balance Men's Minimus TR V1 Cross Trainer
The New Balance Minimus TR women's training shoe is designed to help you reach peak performance, whether you're lifting weights or moving through a HIIT circuit.
Pros
Soles are made with durable Vibram
Feel is natural and like being barefoot
Highly functional for calisthenics workouts
Comfortable
Cons
People with wider feet might think these are too tight
Some reviews state that they run small
User Reviews: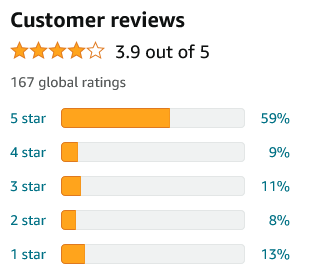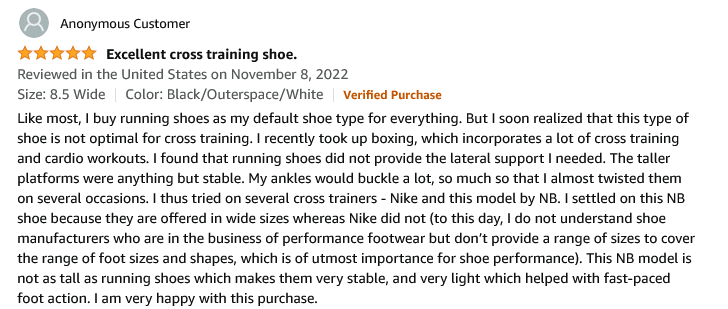 Ladies, this cross-training shoe comes in purple. Need we say more? Don't worry, guys.
The men's shoe looks cool too. After you get over the fantastic look of this shoe, there's a breathable shoe that keeps your feet cool and a durable rubber sole that allows movement and features stability.
It comes with a Hyperlife insert that can be removed.
We like this one best for weighted calisthenics with a durable structure that withstands heavyweight.
It runs between $161.50-$249 on Amazon.

Nike Women's Fitness Shoes
Extra stability for heavy lifting, traction for speed and durability wherever you need it.
It even contains a hyperlift insert that is compatible with all previous versions of the Metcon.
Pros
Did you not hear the color options? They are amazing!
The shoe is lightweight yet supportive
Durable for weighted calisthenics training
Cons
More expensive than some competitors
Sizing runs small, according to some reviews
User Reviews: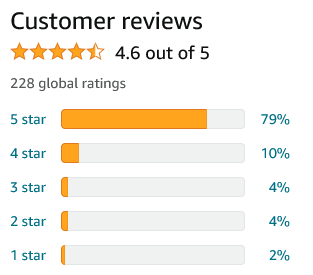 You may have seen these cross-training shoes on people and wondered why it looks that way in the toe box.
Each toe is separated in this shoe for natural foot biomechanics to feel barefoot but still have the support of a shoe.
These minimalist shoes are made with Vibram rubber soles for durability.
Need to wash your shoes? No problem with the Vibrams KSO EVO since it's made of fabric and is completely machine washable.
Ranging in price from $67.64-$130.75 depending on the color and men's vs. women's option, we love this shoe for its barefoot feel.
Vibram Men's KSO EVO Cross Training Shoe
VIBRAM creates innovative performance products that inspire people to experience the world.
Pros
It feels like you are barefoot
Has natural foot biomechanics with flexion through the toes
Excellent traction on any surface
Less expensive than some competitors
Cons
Some reviews are concerned with the durability of this shoe
User Reviews: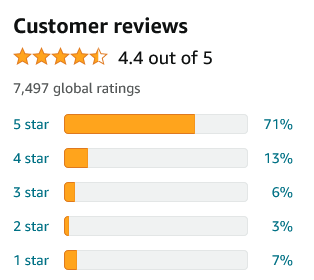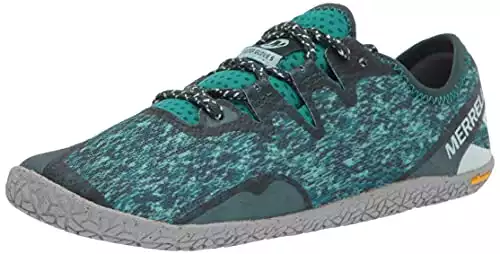 This is one of the best shoes because it has a spearmint color. What else do you need in life?
If you are looking for a shoe made from recycled materials, this is your jam.
Everything from the laces to the top mesh lining to the insole is made with recycled materials.
It's a perfect minimalist shoe that follows the curve of your foot for a natural, barefoot feel.
It's super easy to get off and on and features a rubber sole for traction.
Starting at $79.95 for both men's and women's, we enjoy this cross trainer for its breathability.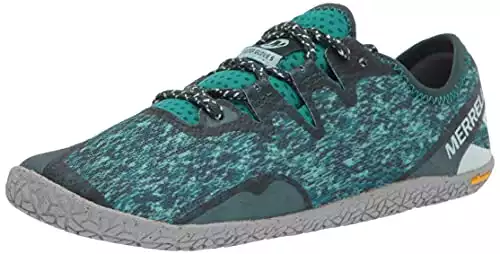 Merrell Women's Vapor Glove 5 Sneaker
The 5th version of our famous barely-there minimalist shoe is designed to mimic the shape of the human foot, keeping it in the position it would be in without shoes.
Pros
One of the best shoes for all of your training purposes
It helps to improve your posture and form during exercises
Comfortable while having a minimalist approach
Extremely breathable for a cooler foot
Not too expensive
User Reviews: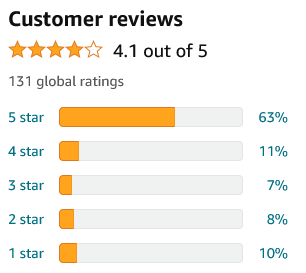 For calisthenics, the shoe needs to be low to the ground so you can anchor yourself and get stability.
The Xero Prio has non-elevated heels with a rubber sole to give you that low center of gravity. These workout shoes are thin, so you feel barefoot.
The wide toe box allows you to spread your toes for excellent balance.
Perform your push-ups and pull-ups knowing you have the support, proper posture, and balance that you need.
These workout shoes are made in the USA and are vegan friendly.
Get them on Amazon for $94.99 for men or women.
Xero Shoes Men's Prio Cross Training Shoe
Slip on your Prio, you'll be comfortable running on the road, taking a trail run, hiking or walking, tackling a Crossfit workout or weightlifting session, or anything else you do on your feet.
Pros
Helps for balance and better posture
The low heels give a barefoot feel
Optional insole insert is provided
Excellent no matter how broad or narrow your foot is
Cons
Some reviews questioned the durability of the shoe
User Reviews: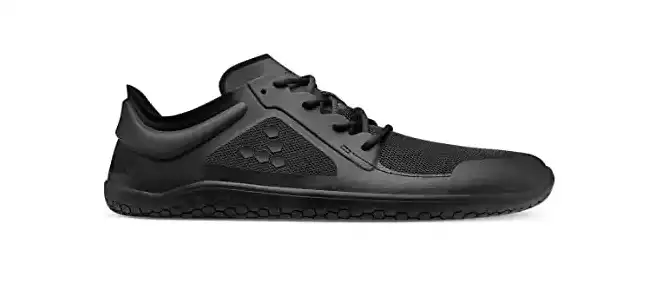 This one comes in various colors. Can I get an Amen? Added to that, this cross trainer is water repellant.
Exercise outdoors and never worry about your shoes getting moldy.
The V-web technology of the Vivobarefoot Primus Lite III V-web technology means you'll get the best shoes for bodyweight exercises with proper support and natural foot mechanics.
Feel barefoot, but enjoy the support.
The materials are made from recycled materials, so that's a nice bonus feature. Get this men's or women's show on Amazon for $160.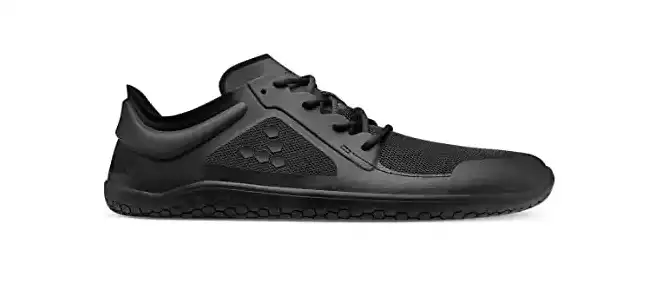 Vivobarefoot Primus Lite III
Womens Vegan Light Breathable Shoe with Barefoot Sole
Pros:
Mesh offers extreme breathability
Excellent drainage for those outdoor conditions
Sizing is great
The flat sole features a barefoot feel
Cons:
User Reviews:
We know that this Adidas shoe is a running shoe, but hear us out on this one.
Adidas is known for its durability when it comes to shoes. This shoe is no different. Perform bodyweight exercises on a Cloudfoam midsole for ultimate comfort and excellent cushion.
They have a mesh breathing system and feature a durable rubber sole. Use the for calisthenics exercises like pull-ups or push-ups or go for a much-needed run.
Whatever training you need is exactly what this shoe provides. The range in price is steeper with this shoe depending on color, size, or men's vs. women's. These running shoes start at $37.20 but go as high as $145.
adidas Men's Duramo 9 Running Shoe
The breathable mesh upper has print overlays for targeted support. Plush midsole cushioning offers step-in ease.
Pros:
Excellent running and bodyweight training shoe
The cushion is extremely comfortable
Color options galore
An affordable shoe that is still durable
Cons:
It doesn't have the natural barefoot feel of competitors
No flat sole
User Reviews: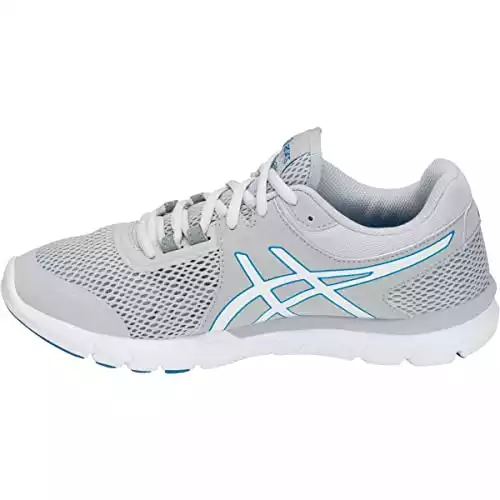 The Asics Gel-Craze TR4 features a gel-cushioning system. Sounds pretty comfortable, right?
It allows you to have comfort and support all at once by eliminating the shock during high-impact movements. It features high abrasion rubber that extends the life of the shoe.
The midsole is lightweight so you don't have a heavy shoe pulling on you during your bodyweight training.
The price ranges from $99.95-$113.95 for both the men's and women's shoes. We love this shoe for your high-impact calisthenics exercises.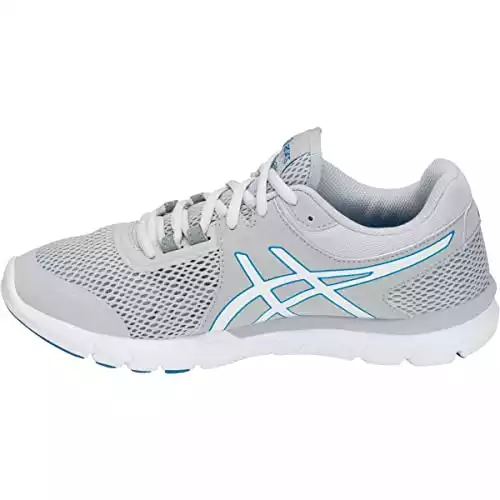 ASICS Women's Gel-Craze TR 4 Training Shoe
Rearfoot GEL technology cushioning system - Attenuates shock during impact phase and allows for a smooth transition to midstance.
Pros:
Made with lightweight rubber and cushion
Excellent shoe for support
Comfortable
Breathable
Cons:
Some reviews are unhappy with the shoe's tongue since it is attached to the inside of the entire shoe.
User Reviews:
The Inov-8 Bare-XF 210 V3 shoe is excellent for control for bodyweight training. It features "zero drop," which is no lift in the shoe, so you feel like you are barefoot.
This allows you to feel steady as you do weighted calisthenics. A wide toe box allows you to spread your toes for added stability.
It has a sticky rubber grip to keep you from falling.
This minimalist shoe has little cushion to ensure you feel balanced and free of weight and bulk. The best shoes for calisthenics offer little to no cushion to achieve that lightweight, barefoot feeling.
The men's and women's shoes range from $78-$120.
Inov-8 Men's Bare-xf 210 V3 Sneaker
The inov-8® Bare-XF™ 210 V3 is a super lightweight, close to the ground design to ensure the shoe moves freely with the foot in motion.
Pros:
No arch for a barefoot feel
Minimalist shoe
Allows you to be flexible in your workouts
Lightweight and stylish
Cons:
Some reviews suggested they liked the V2 version better
User Reviews:
Final Musings on the Best Calisthenics Shoes
No matter what calisthenics exercises you prefer, the best shoes for calisthenics will add value to your workouts.
Having a stable base with a lightweight shoe can transform your calisthenics workouts and help you achieve your goals.
If being barefoot isn't an option, check out the best shoes for calisthenics that feature toe protection, foot control, flexibility, and look fantastic.
With better foot control, you will be surprised at how much easier training is with your calisthenics equipment.
Don't take our word for it. Get you a pair and try them out for yourself. You won't be sorry.