Summer is almost here, and with it brings lots of opportunities to get outside for your daily workouts.
We have previously covered some awesome outdoor options like jumping rope and tearing through some Pike Push-ups, but in this article we go old school and talk about the tried and tested pullup.
We will discuss why pullups are so ridiculously effective, the benefits of moving your pullup workout outside into the fresh air, and the top-rated outdoor pull-up systems of 2020.
You have a ton of useful information coming your way.
Why Pullups are so Ridiculously Effective
Have you ever shared gym space with a rock climber? If you have, you might find yourself marveling at his or her ability to fly through a set of 20 pullups with seemingly no discomfort.
Pullups strengthen your back, chest, shoulders and arms, and result in a terrifyingly strong grip.
Even if you are not into rock climbing, these exercises build incredible core strength and increase mobility through functional movement.
They are a one-stop-shop for full-body workouts, and the pinnacle of strength and resistance training.
Alongside other high-intensity exercises, pullups have been shown to quickly burn fat, increase bone development, and of course, promote an endless number of mental benefits from reducing anxiety to increasing sense of self-worth.
If these health benefits don't sell you on the exercise, let's look at practicality.
Pullups are cheap, easy to vary throughout a routine, and great to modify for more or less challenge.
To summarize, they don't get boring, a great feature for those of us who tire of routines easily.
Moving your Exercise Outdoors
An essential part of any exercise routine is to make sure you continue to enjoy it!
With the sun shining it can be challenging to be stuck in the gym, so we encourage you to take your routine outside.
Pullups provide an effective and easy outdoor workout, provided you have the proper equipment.
We go over the best outdoor systems below, but before we do let's talk about some of the obvious (and not so obvious) benefits of taking your pull-ups outdoors.
Fresh Air
Obvious of course, but often overlooked.
Exercising outside gives you a sense of altered perception, a placebo of the mind, that makes intense exercise easier.
It is often the case that our mind tells us to stop working out long before our body, and one way to maintain progress is to give the mind something else to focus on.
Pullups in the park can mean less sweat, more enjoyment, and more ease.
The Sun
Feeling the heat of the sun on our face is relaxing, motivating and peaceful. During a workout, we can benefit from all of these things.
Even more convincing than simple observations are facts. People with a higher level of Vitamin D have been shown to have natural boosts of energy while working out.
That's right, not only will being outside in the sun make your workout seem like it is easier, it will actually make it easier! NO excuses now.
Fewer Excuses to be Made
We are all guilty of it. We make excuses for not working out more often, or for not continuing our workout routine as planned.
We say the gym is too crowded, or too hot, or my muscles need more rest.
Maybe we tell ourselves that we can't afford the proper equipment, or don't have the time to commit.
Getting outside takes care of half the battle, and often just breathing the fresh air will create a sense of invigoration that promotes exercise. And when the outdoors can be your jungle gym, it makes working out more fun.
So now that you are motivated to get outside and spend the summer building strength and confidence, let's look at some of the options you have for daily outdoor pullups.
5 Great User Rated Outdoor Pullup Systems at a Glance
Below we have listed the six top-rated outdoor pullup systems available for purchase. As to not bury our readers under piles of technical details, we give simple pros and cons for each and provide you with a link to learn more.
Pros: This all-in-one fitness center not only has a comfortably built pullup bar but sports a multi-grip assembly of bars that allow you to perform most body weight exercises from situps and pushups to knee raises.
It is built to be weather and corrosion-resistant and has a UV protective layer to prevent fade from the sun. With some models over 4 feet in width, it is sturdy and powerful
Cons: This model is at the higher end of the cost spectrum, and also does not allow for much portability. Perfect for the backyard gym, but not ideal to move around.
User Reviews:
Pros: The least expensive option on the list, this non-slip galvanized steel pullup bar comes as a standalone.
For those who are handy, creative and don't mind a bit of extra setup, this bar is for you. See here for tips on how to build a pullup bar yourself.
Cons: The bar needs to be attached to pillars or posts, and once done is not easily portable. And while there are multiple options for bars (curved, shorter length), it is a pullup bar only.
Pros: With a creative design, this portable stand pullup system can be folded up and moved easily. It provides a great balance between structural support and accessibility. This product is well built with strong alloy steel.
Cons: Expensive, and designed as a pullup bar only. While it is movable, it is still quite large. Can be used easily outside, but as it is not weather coated like other outdoor systems, it should not be left outside.
Pros: This versatile bar can be mounted indoors or outdoors, and can be used for a variety of bodyweight exercises. Once mounted, it can be moved with relative ease. It also has an affordable price tag.
Cons: The only obvious con to this model is the fact that it is not completely standalone and is required to be mounted on a wall, on a tree or on a pillar. Other than this, the PULLUP & DIP is quite the product.
Pros: A slightly different option than the rest, the gym ring system can be easily moved outside to the park, and used for a variety of exercises. It is versatile, affordable and fun!
Cons: Gym rings are truly a full-body workout and require a certain amount of balance, thus presenting more difficulty to brand new beginners. Unlike the complete stand-alone fitness systems, they can also require a bit of creativity to set up. They are also not meant to be left outside in all weather.
Summary
Make sure to get out in the fresh air this summer and keep your routine varied.
Investing in an outdoor pull-up system is a cost-effective way to provide versatility, creativity and fun while still indulging in results-driven strength training.
Get your Vitamin D, breath the fresh air, and take your workouts to the next level.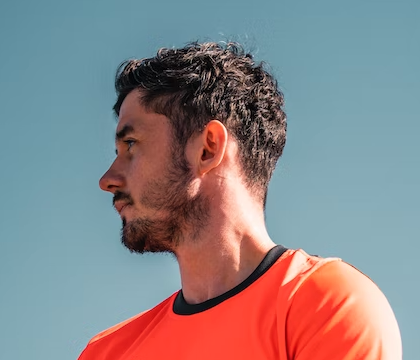 Chris is an experienced Calisthenics practitioner focused on isometric exercises and street workout. He founded thehybridathlete.com in 2017, which was subsequently acquired by theyhybridathlete.com
He is based in Portland and has been working out using solely his own body weight and bars for the past 6 years.