While kettlebells were once viewed as quite a new and novel bit of fitness equipment, in 2023 they are now seen as a core piece of kit in any top gym. Used in a variety of different disciplines and styles of training, they can be an extremely useful tool to diversify your training and help you hit your goals.
Despite the recent surge in popularity though, kettlebells still lag far behind traditional bits of kit like barbells and dumbbells when it comes to the average person's knowledge of how to use them. As a result, people are consistently leaving incredible gains in the gym solely due to a lack of knowledge.
This is true even of many fitness professionals, which is why kettlebell courses have started to rise in popularity. Designed to train people in how to get the most out of the equipment they have at their disposal, kettlebell courses can be equally useful whether you want to train clients or just yourself.
The issue is, if you aren't already a master of the kettlebell, how can you possibly know what course is the best choice to help you become one? Well, that is where we come in, as our guide to the best kettlebell instructor courses to take in 2023 will ensure that you can find just the right one for you.
The Benefits Of Kettlebell Training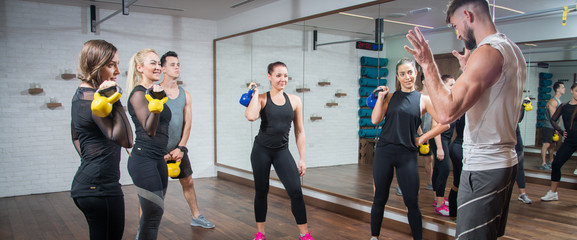 The main reason for the current kettlebell boom that the fitness industry is experiencing is the sheer number of benefits they are able to offer. Before we get to looking at the top courses, let's first take a quick look at the various benefits of kettlebell training, to show you just why this kit is worth using.
Low-Impact Cardio
Kettlebell exercises, circuits, flows, and routines are all great for working with submaximal loads and using all parts of your body to perform powerful, explosive movements.
This makes them a perfect choice for when you want to do HIIT (high-intensity interval training) or low-impact cardiovascular training that won't put any strain on your joints, connective tissues, and bones like things such as running would.
Full-Body Strength
The vast majority of kettlebell exercises require you to use a wide selection of muscles from head to toe in order to perform them properly. As a result, they are extremely effective for building muscular strength and mass throughout the entire body at the same time.
Their emphasis on using the core for stability is especially useful for overall strength gains as well.
Coordination and Mobility
The dynamic nature of most kettlebell exercises means that, unlike traditional bodybuilding or powerlifting, your body will be in constant motion throughout your workout.
This requires a high level of coordination and mobility to pull off effectively, making it a great way to help you develop better hip mobility and full-body coordination.
Training Versatility
A Kettlebell is an extremely versatile training option that can allow you to perform full-body workouts virtually anywhere and with minimal equipment, making it an extremely functional type of training.
They also allow you to use new movement patterns that will challenge your body in different ways, which will stimulate growth and strength in new areas, help you to become more athletic, and even just keep you engaged and motivated, as your workouts will be more varied and enjoyable.
Fight Imbalances & Asymmetries
Most kettlebell exercises can be done with either one or two hands at a time. This means you have a range of training options open to you that can help you address strength and muscle asymmetries.
Power Development
As we previously mentioned, the majority of the staple kettlebell lifts are quick, explosive movements that will help you develop a great deal of force, power, and strength.
This can then be directly translated to traditional disciplines like powerlifting, Olympic lifting, and other sports that use explosive strength, to help improve your overall performance in those as well.
Grip Strength
Kettlebell training can often involve timed circuits or explosive movements that produce a great deal of momentum. This will challenge both your grip and endurance, as you will have to really focus on keeping the kettlebell under control, leading to big gains in grip strength and forearm development.
Is Kettlebell Certification Worth It?
So, is kettlebell training worth it? Well, if you only want to throw an exercise or two in here and there perhaps not. However, if you want to do anything beyond that, it can be a very beneficial investment.
Whether you only want to train yourself or if you are a personal trainer trying to add another string to your bow, it will provide a structured and comprehensive approach to kettlebell training.
A good kettlebell course will include techniques, progressions, and programs that help you develop your skills and knowledge of kettlebell training. This will ensure you can design and execute effective and safe training routines, whether you are using them yourself or delivering them to clients.
Looking specifically at fitness professionals, it is also an extra qualification that boosts your credibility and makes you more marketable to potential clients and employers. It also enables you to earn more money, as specialist certifications often command higher rates and increase your earning potential.
A Kettlebell certification also provides a career path for trainers who want to become a specialist in kettlebell training. This can create unique opportunities for you, whether you work in a commercial gym, private training studio, corporate fitness centre, or specialist facility, such as a CrossFit gym.
Finally, a kettlebell course offers ongoing education and professional development opportunities. Not only will this help expand your knowledge and keep you up to date with current research and trends in kettlebell training, but trainers also need to take enough new courses a year to stay certified.
How To Choose The Best Kettlebell Instructor Courses

When it comes to picking the right kettlebell instructor course to take, it is important you consider a few essential criteria. First and foremost, there are two core principles that must be covered in a top kettlebell training course, the fundamental movement abilities and movement coaching abilities.
Fundamental movement abilities means being able to identify and address the movement abilities of a client and any possible movement restrictions, to determine their readiness for kettlebell training.
Movement coaching abilities then involve helping you to develop an expert-level skill set in coaching kettlebell movements, which will separate those with basic knowledge from the kettlebell masters.
Beyond that, a good kettlebell course should also focus heavily on the safety of both the trainer and the client. This is done by placing an emphasis on using safe training practices, such as starting clients at appropriate levels, teaching them to use proper form, and incorporating sensible progressions.
They should also teach you how to determine if a person's movement pattern is correct and suitable for kettlebell training and include corrective exercise strategies that you can put people who fail this screening through to rectify the issue before they start their kettlebell training.
Teaching users about regressions and exercise breakdowns is also extremely important and should be part of any foundational kettlebell training course, as it will guarantee correct form and effective development throughout every part of both each exercise and your kettlebell training as a whole.
When it comes to trainers picking the right course for them, their current level of knowledge and experience will also be a factor.
Those with extensive experience in advanced forms of training and coaching will likely have a shorter learning curve and may not need the most in-depth course. Meanwhile, those who are newer to the industry will need extra time studying, learning, and practicing before using kettlebells with a client.
Kettlebells are often linked to a higher degree of risk than traditional resistance training options, due to the dynamic, explosive movements you use with them. However, they should not be thought of as intimidating, as, if used correctly, they are extremely safe.
Going through a sophisticated and well-designed kettlebell training course may not only help you to become a better kettlebell trainer but overcoming this fear will also make you a better trainer overall.
The Best Kettlebell Instructor Courses In 2023
By this point, you should know all that you need to about kettlebells to be ready to select a kettlebell course. We will now take you through the four best kettlebell courses on the market in 2023 and do an in-depth breakdown of each, to make sure that you are able to select the perfect one for you.
1. RKC
RKC Kettlebell is a kettlebell course made by Dragon Door that is one of the best value on the market.
It is designed to help you reduce anxiety and stress, restore your energy and sense of well-being, regain your confidence, re-sculpt your physique, retain your athleticism and competitive edge, and reward and protect your body, mind, and immune system on a daily basis.
The RKC curriculum teaches people the six main kettlebell exercises; the kettlebell swing, kettlebell get up, kettlebell clean, kettlebell front squat, kettlebell snatch, and kettlebell military press.
It goes into great detail on each exercise, teaching not only each aspect of its perfect form, but also various ancillary drills, corrective cues, and all appropriate progressions and regressions. It will also show you how to build them into a program and includes ladders, sets, loads, series, and variations.
The course also includes a set of non-tested but extremely valuable exercises, as well as a mobility complex, which contains 10 high-yield drills that will help both you and your clients perform better and stay safer.
The RKC Manual is considered by many to be the gold standard for kettlebell instructor certification manuals, as it contains 127 pages filled with highly practical, user-friendly information.
Course users will be helped to master the world's premier, cutting-edge strength and conditioning system. They will start off by being given the fundamentals of kettlebell training and will then progress on to explore the deeper secrets of elite kettlebell performance and development.
Instructors will go through powerful, instructor-led workouts, giving them the chance to get a first-hand experience of different training techniques and the endless variations of kettlebell exercises. They'll also be shown a range of unique remedial drills to correct major and minor form issues.
This all makes RKC Kettlebell a perfect course for fitness professionals looking to expand both their knowledge and skill set in kettlebell training. It is also industry-approved and will qualify fitness professionals who complete it for 2.5 ACE CECs and 1.9 NASM CEUs.
Even if you aren't worried about qualifications or expanding your client base, it is a great choice for people who want to learn proper kettlebell exercises and techniques, improve their overall fitness, or take their first steps toward a career in the fitness industry.
Pros
RKC Kettlebell is one of the most recognized and respected kettlebell certifications
Ideal for both new and experienced fitness instructors, as well as just casual trainers
Provides users with an unparalleled level of personalized critique, feedback, and instruction
Develops your kettlebell skills quickly and teaches you how to evaluate, correct, and fine-tune the form of others
Includes an extensive range of coaching cues, analogies, and drills
Linked to the RKC community, which is designed to help you set up your coaching business
Cons
One of the most expensive seminars, costing between $1,500 and $2,300 for the certification
Gets even pricier when you factor in travel expenses, prep materials, and prep lessons
Very physically demanding, as it consists of two full 10-hour days of heavy lifting
Can take 1 to 6 months to prepare for the certification, depending on your strength, general physical conditioning, and both your kettlebell-specific and overall coaching experience.
2. SFG
SFG by the Strong First School Of Strength is an unequaled strength and conditioning system that, like RKC Kettlebell, is designed to show you how to perform and teach all six of the foundational kettlebell exercises (swings, get-ups, cleans, presses, snatches, and squats) with perfect form.
It includes a range of regressions and progressions that are designed to make it suitable for every type of student, from a couch potato to a world-class athlete or tier-one military operator.
Delivered as a 3-day event that demands serious preparation by trained athletes, including its creator, world-famous kettlebell trainer Pavel Tsatulouine, it includes powerful programming based on hard science and is extremely easy to implement if you follow your teachings.
Its rigorous testing has a 30% failure rate on average, so it isn't for the faint of heart, but those who are willing to really push themselves to pass will know that they are better prepared than virtually everyone else and will get a lifetime membership to a global brotherhood and sisterhood of strength.
This makes SFG a perfect choice for those who want to pursue a career in the fitness industry or get a recognized certification.
It is also a great option for warfighters seeking a PT method that is simple and effective, dedicated fitness enthusiasts who are seeking their next challenge, fans of Pavel Tsatulouine, and anyone who wants to master the basics of kettlebell training and improve their foundational movements.
Pros
Created by a world-famous kettlebell instructor
Based entirely on evidence-based and respected training materials that prioritize safety
Provides passing students with a lifetime membership to the Strong First Community
The training weekend gives you the chance to learn from and with the best in the industry
The instructors are all patient and engaging and will provide many personal hints and tips
Cons
A 30% failure rate is common even among well-prepared candidates, as it is a very difficult program
While the certification is very detailed, it focuses on only a few movements
The training weekend is extremely physically and mentally challenging
Certification is only valid for two years, at which point you will need to repass to maintain the credential
3. IKFF
IKFF (International Kettlebell and Fitness Foundation) is one of the largest kettlebell organizations in the world and provides the well-known Certified Kettlebell Trainer Level 1 & 2 certifications around the globe.
The IKFF kettlebell course gives users a chance to get an internationally recognized kettlebell trainer certification while being trained by Barry Andre, an IKFF certified Kettlebell Master Trainer Level 2.
The course includes all of the classic kettlebell lifts and is suitable for beginners, advanced lifters, new and elite personal trainers fitness professionals, and pro athletes. It provides technical depth on kettlebell movements and includes guidance, tools, tips, programming, stretches, and extra exercises.
The IKFF Level 1 certification focuses on mastery of the basics and coaching skills and covers all of the fundamental kettlebell exercises, variations, and key physical training principles.
Successful candidates will need to pass a tough test that consists of hand-to-hand swings, clean and push presses and jerks, snatches, and front squats or goblet squats. They must also do this without a rest or break between exercises, and with specific kettlebell weights based on their age and gender.
The IKFF kettlebell course is a particularly good choice for fitness professionals with a specific interest in kettlebell sport lifting, as well as any individuals wanting to improve their technique in sport lifting.
However, it is not a great choice for those looking for a more general fitness certification or who have no interest in kettlebell sport lifting.
Pros
Focuses on technique and kettlebell sport lifting, which can improve performance and prevent injury.
A globally recognised certification that can enhance your reputation and open up a great range of job opportunities in the fitness industry
The IKFF provides ongoing education and support to its members, which can help you to keep growing and developing throughout your career in the fitness industry
Cons
Has a very narrow focus on kettlebell sport lifting and doesn't provide a well-rounded education in other areas of fitness
Is a very expensive and time-consuming certification to obtain
Only really suitable for people who learn in a specific way and are intensely driven
4. DV8
DV8 Fitness kettlebell courses focus on teaching newcomers how to use kettlebells and put a great deal of emphasis on helping their students develop self-correction and troubleshooting skills.
It is a very affordable course that provides a completely different perspective on teaching kettlebell exercises than other popular certifications, such as Strong First and RKC. This includes things like focusing on beginner tips, such as elevating the bell behind the heels, to force a better initial hinge.
It also does plenty of other things differently to most courses, such as teaching the kettlebell swing after the kettlebell clean and snatch and providing instruction on the use of basic Indian club swings to help you warm up and improve your mobility before a kettlebell session.
The DV8 Fitness course starts with a strength and conditioning test that involves 20 clean push-presses in a row using double bells one bell size down from your strict press 5RM (rep max). This is a great way to ensure that your training starts at the perfect point, based on your own abilities.
You will then receive personal attention and one-on-one instruction throughout, which allows for in-depth discussion and questioning, to ensure your experience is perfectly tailored to your own needs.
This all makes DV8 Fitness kettlebell courses ideal for those who are after a cost-effective kettlebell certification, prefer a self-correction and troubleshooting approach to learning, want personalised attention and one on one instruction, or want constant beginner tips along the way.
It is also a great choice for trainers seeking a different perspective on teaching kettlebell exercises, wanting to learn how to use Indian club swings for warm-up and mobility, or wanting to learn the swing after the clean and snatch.
Pros
DV8 Fitness kettlebell courses are among the most cost-effective on the market
Focusing on self-correction and troubleshooting empowers students to perform the exercises correctly on their own in short order
Is very effective for teaching people how to use the proper hinging technique
Covers the use of Indian club swings for warm-up and upper body mobility
Provides a framework for personal trainers to effectively teach and correct errors
One-on-one instruction provides a personal experience and gives you the instructor's full attention, as well as the opportunity to ask them any questions that you may have
Cons
The DV8 Fitness website is poorly designed and not very user-friendly
The DV8 start kettlebell course may cause some students to hinge too deeply
DV8 courses don't have the same level of recognition as other certifications in the industry
Final Thoughts On The Best Kettlebell Course To Take In 2023
Kettlebell training is a great way to boost many aspects of physical fitness. It can be used to enhance your cardiovascular health, improve your full-body strength, and aid your coordination, mobility, grip strength, and explosive power, all of which will greatly elevate your physical performance and ability.
Getting a kettlebell certification can be especially beneficial for fitness professionals, as it offers them comprehensive training, increases their credibility, provides numerous professional development opportunities, and opens up a great number of potential job opportunities.
When choosing a kettlebell instructor course, everyone should prioritize safety, movement screening, and evaluation, as well as exercise breakdowns and regressions. Beyond this, each course will have its own unique selling points, which will make it slightly better suited to a specific type of person.
This guide should have helped you to decide which kettlebell course is the right one for you, whether you want to design a dedicated kettlebell training program or simply add some new exercises to your normal workout program. All that's left to do now is pick your preferred option and give it a go.