Calisthenics is rapidly becoming one of the most popular methods of working out, as it can be done anywhere and without any equipment.
This means it is a discipline absolutely everyone can get involved in.
YouTube is a fabulous way to learn the ropes or gain new ideas in the world of calisthenics, as you get in depth explanations and can see what things should look like first-hand.
However, as anyone can have their own YouTube channel, it is hard to gauge the quality of the videos you are watching or know who to trust.
That's why today I am going to show you our pick of the best calisthenic YouTube channels.
This will help you determine the best places to seek advice and inspiration from, that you know are going to help you achieve results.
Calisthenicmovement is run by Cali Move, the originators of the calisthenic method of training.
Considered the world leaders in the industry, you are guaranteed to get content of the highest quality, capable of producing incredible results.
With over 3.5 million subscribers and a catalogue of 264+ videos, you will discover a rich library of everything from workouts and training tips to examples of the ideal diet and nutrition to supplement your training.
The channel is also linked to their official website, where you will find even more great resources, as well as merch that you can buy to make you look as good as you feel while training.
Chris Heria is a 30-year-old YouTuber from Miami, Florida, who has built his brand based around simple street workouts.
He never forgets his roots, making clear he comes from a city that features consistently high temperatures but many residents earning well below the national average.
He has endeavoured to not only show how you can make something out of nothing, but also to provide workouts absolutely anyone is capable of taking part in.
His goal is to motivate people to spend time outside in the sun, exercising in locations as simple as a park.
With 3.4 million subscribers and over 200 videos, he has a dedicated following and a library full of videos that are exciting yet that you will be able to replicate.
Due to the explosion of his brand, he has also branched out into the fashion industry.
His website is linked to the channel, offering you a wide range of stylish clothing to purchase, either to train in or simply to wear when you want to feel and look good.
Hybrid Calisthenics is the top channel that appears when you search for calisthenics on YouTube.
Run by a man called Hampton, the channel has exploded since he was crowned YouTube's "Creator On The Rise" in September 2020, now featuring more than 2.3 million subscribers.
The channel features 180+ videos which, in addition to calisthenics, includes videos dedicated to life philosophy, motivation, and comedy.
His goal is to help people cultivate long-term health and fitness plans and routines, using calisthenics as a foundation.
He goes out of his way to try and respond to as many questions and comments as he can, to show he really is less about business and that his main focus is on helping people.
That said, the success of the Hybrid Calisthenics brand has led to him producing a fabulous range of clothing and equipment, with humorous and stylish designs, so you can try and bring a smile to other people's faces, just like he is trying to do himself.
Frank Medrano is a fitness trainer from Long Beach, California, who has been featured in numerous publications around the world, including the iconic Muscle & Fitness.
He is a calisthenics bodyweight expert, who uses his channel to motivate people to build muscle, lose fat, and increase strength, using nothing but your own body as resistance.
He aims to make the workouts as fun and functional as he can, to inspire as many people as possible to get involved.
With more than 1.3 million subscribers and 80+ videos, the channel is a fun way to get started on calisthenics, knowing you are getting advice from someone you can trust.
For those who want to take things even further, the channel also links to his personal website.
Here you can purchase custom workout and diet plans, as well as gain access to a library of instructional videos that are updated each month.
There is also a private group chat, where you can discuss ideas and seek help from likeminded individuals.
FitnessFAQs features one of the biggest libraries of calisthenics videos on YouTube, with 440 videos and counting, which it shares with its 1.3 million subscribers.
The channel is run by Daniel Vadnal, a man in his late 20's, who shows transformation videos spanning over a decade, using himself as a guinea pig.
He goes into great detail to show people how following the principles of calisthenics can not only lead to impressive physical gains but can also benefit you mentally as well, provided you are willing to put in the hard work and be disciplined and consistent.
With links to a number of calisthenics workout routines, the channel is a great place to come for anyone who wants a guide through their entire journey, from beginning to end.
The Calisthenics & Weight Training channel is run by an athlete and personal trainer called Kris, who has more than 20 years of experience in the industry.
He provides videos from locations like the park and his home, as well as a gym, to offer options that everyone can get involved in.
In addition to calisthenics and bodyweight training, the channel also features videos on plyometrics, weight training, hybrid training, and general fitness.
This slightly broader approach allows his 678 thousand subscribers to make gains in multiple disciplines, each of which will benefit the other.
Kris strives to make the videos on his channel equally effective and enjoyable. This way people will have fun while working out but will still achieve the results required to keep them coming back.
As he himself states, "long term consistency, dedication, and discipline" are the best ways to achieve joy and passion in life.
For those who want to take things a step further, he also accepts private bookings, where he can help you achieve your goals on a one-to-one basis.
CALISTHENICS FAMILY is a channel run by two brothers from the Netherlands, who want to inspire people with their transformation as "two skinny kids" who made incredible improvements switching from traditional gym workouts to calisthenics.
In addition to their catalogue of 240+ calisthenics videos, they also supply their 128 thousand subscribers with free workout plans and eBooks, to inspire, motivate, and educate people on how to achieve their dream body through calisthenics.
You will also find links to their website, where you can purchase things like equipment and personal courses and coaching, where the brothers will personally help you take the next step on your journey.
School Of Calisthenics is one of the most popular calisthenics channels on YouTube, with a library of 400+ videos and more than a hundred thousand subscribers.
The idea is to take things back to basics and rely on the sorts of movements the human body is naturally designed for.
They apply exercise science to principles including calisthenics, strength, and conditioning, to give anyone a perfect way to start their bodyweight training journey.
Beyond their videos, the channel has a virtual classroom you can enrol in.
Here you will find courses, workouts, personal coaching, training programs, workshops, and a community of likeminded individuals who can help and support each other.
If you are unsure about taking the plunge, they offer a 7-day free trail of the facility, as well as free calisthenics eBooks and beginners guides for you to get stuck into.
Their website also offers a range of branded clothing, as well as accessories and equipment.
Things such as sweatshirts, resistance bands, rings, and massage balls allow you to show your support of the brand, as well as fulfil all of your fitness needs.
Calisthenics Twins is a channel run by twins from the Philippines, Lewis and Louise Kaith.
With more than 100 videos, they show their 97 thousand plus subscribers how to achieve the impossible with very little.
Coming from a poor background, both brothers have developed incredible physiques, using nothing but their bodyweight and surroundings, as well as the support of one another.
Now you can use that support to try and replicate their results yourself.
Unlike most YouTube channels, you won't find links to any websites or paid for services they offer.
That will provide many with a comfort that they aren't hiding their best work behind a paywall.
You can therefore be confident that their techniques are going to work, as they rely solely on people watching and sharing their videos.
Run by a group of Italian athletes, Calisthenics Nation is a channel for people who are passionate about calisthenics, by people who are passionate about calisthenics.
They strive to put out only the highest quality content, with a library of more than 100 videos.
In them they show you how to perform some of the most common moves and give you the skills to increase your strength, as well as offering more entertainment-oriented videos, such as seeing people react to their incredible moves.
They also promote a community of avid calisthenics fans, who can interact with one another and exchange tips and trips to further your success.
They even have a link to their website, where you can purchase branded clothing, as well as equipment such as resistance bands, belts, grips, gloves, wraps, and a whole heap of other gear.
Anyone who visits their channel will also receive a 10% on anything they purchase from the store.
The Calisthenicskingz channel is run by an organisation of fitness experts who strive to teach their 85 thousand plus subscribers how to perform calisthenics to the very highest level.
Their 100+ videos are based on their Four D System, which focuses on dedication, determination, drive, and discipline.
They encourage people to apply these principles to not only their workouts but to every aspect of their daily lives.
The mission goal "challenge YOU to challenge yourself" hopes to get people in the mindset that you only have to compete against yourself, so don't worry about what anyone else is doing.
Links to their website will allow the most dedicated followers to book private coaching sessions with one of their instructors, as well as buy clothing and equipment to help you look and perform like the best you that you could possibly be.
Street Workout & Calisthenics Motivation features one of the greatest libraries of calisthenics videos on YouTube, currently standing at more than 430.
Run by fitness fanatics out of Russia, they currently have over 69 thousand subscribers.
What makes this a unique channel is that while calisthenics is at the heart of their videos, they also cover a much broader range of training and performance techniques.
Throughout their library you will find videos that include cardio, street workouts, insanity training, yoga, muscle split training, motivational videos, suggestions on the best workout music to get you pumped, and even videos specifically targeted at women.
Subscribers will also enjoy a 10% discount on anything purchased from the store on their website.
This is a great place to pick up items like male and female branded clothing, as well as training aids and accessories, such as belts, gloves, grips, and wraps.
SAIBOV CALISTHENICS is a unique channel, as it is dedicated to both calisthenics and travel.
In the collection of over 140 videos, Ruslan Saibov travels around the world, performing calisthenic workouts and challenges in beautiful, unusual surroundings.
While it may seem like a strange combination at first glance, maintaining your training while travelling is actually a challenge many people will have to face and explains why he has more than 29 thousand subscribers.
People can use these videos as a guide to give them tips and ideas to follow when they are on the move.
With you being able to easily access the videos on a smartphone or tablet, it makes worrying about losing your hard-earned gains when you go on vacation a thing of the past.
People who are keen on this way of training will also find links to his website.
Here you will be able to purchase more dedicated programs, as well as read his story in greater depth.
Conclusion
YouTube has thousands of channels dedicated to calisthenics, plenty of which feature videos that have loads to offer.
While this selection may seem like the tip of the iceberg, they provide the best collections of tried and tested videos, that are guaranteed to help you achieve results.
Whether you want training ideas for your home or the park, personal one to one coaching, or assistance with nutrition to support your training, you will find no end of options on these channels.
They even include a great range of products, both to help you train and to show your support for your favourite.
So, while we may be finished here, it is time for you to get started on the real journey.
Head out and start checking out the channels you feel are best suited to you, so you can see how quickly you can achieve results you would only have dreamed of before, using nothing but the weight of your own body.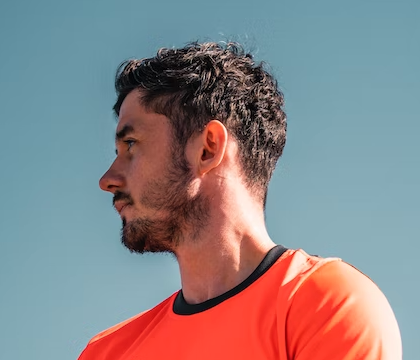 Chris is an experienced Calisthenics practitioner focused on isometric exercises and street workout. He founded thehybridathlete.com in 2017, which was subsequently acquired by theyhybridathlete.com
He is based in Portland and has been working out using solely his own body weight and bars for the past 6 years.