Training for a rock-climbing expedition can be difficult if you don't live in the mountains and let's face it: most people don't!
Luckily, there are tons of different, unique ways to train for a rock-climbing expedition with simple, inexpensive equipment that you can find at your local gym or purchase online.
Before you pack up your house and move to a place with more rocks, check out these pull-up bars and how they can help you train right at home!
How to Train for Rock Climbing on a Pull-Up Bar
If you don't have a mountain or rock wall in your backyard, it can be hard to feel like you're adequately training for a rock climbing adventure.
Never fear!
There are some simple ways that you can incorporate typical gym equipment into your training regimen to be ready for the next adventure.
Schedule Your Training
No one wants to spend all their time at the gym and if you're doing a lot of your training at home it can be tempting to let a few sessions slide.
After all, it's much more enjoyable to sit down with a big bowl of popcorn and binge some Netflix!
Schedule your indoor and at-home training and stick to it!
Take the time to understand why you're doing the exercises prescribed by your workout and how they are then useful to your time out rock climbing.
This gives a whole new meaning to the workout you're doing at home and you'll be able to throw yourself into it with a lot more enthusiasm.
Stick to short sessions that happen frequently during the week.
Rather than drag yourself through a longer workout session that's filled with pointless exercises, stick to quality workouts that pertain to your overall rock climbing goal.
Work with a Trainer
These exercises, even done in the comfort of your own home, can be dangerous if done incorrectly.
Work with a trainer who has lots of experience in this area to get started so you can be sure you're doing all the moves correctly and with the most efficiency.
Trainers will also encourage you to discover and explore different books that pertain to this type of workout so you'll have lots of different perspectives.
Get all the knowledge you can when it comes to training at home for rock climbing so you'll be sure to be fit and safe!
Dead Hangs
Once you've got your pull-up bar, you've done your research, and consulted with a trainer, you're ready to get started with specific exercises.
These all relate to the way you'll end up rock climbing on your next adventure so focus on your form and how it will apply to your expedition.
Dead hangs focus on developing the muscles in your forearms and fingers so you'll be able to pull your bodyweight up with ease. As you progress through this exercise, you'll want to add a weight belt or vest to give your body time to adapt.
Change up the variations of the dead hang to give your body more flexibility.
Work the dead hang with your hands farther apart, one hand versus the other, and switching hands on your hold. All of these will give you more strength and increased flexibility.
Pull-Ups
Lifting your entire body weight with a pull-up is one of the biggest flexes you can do when you're at the gym or trying to show off to your friends.
Being able to do them easily while out on a mountain might be the difference between injury and safety!
Practicing pull-ups along with your dead hangs gives you tons of practice for bigger holds. The key to this move is to focus on proper technique through the motion.
You may need to back yourself up and do negatives for a while before progressing on to the full pull-up. Practice makes perfect and allows you time to adjust to the motion before you progress through something new.
Core Exercises
You're going to end up using more than just your arms when you're out climbing and your core is what you should be focusing on.
Believe it or not, you can do some insane core exercises with a pull-up bar and get your body ready for climbing.
Take a cue from calisthenics and gymnastic workout fanatics and start progressing to and through the front lever and other core exercises.
You'll just need the bar and some space to stretch out but you won't regret working on your core before setting out to climb.
There's a good chance you won't be able to do the front lever perfectly the first time you try. It's an advanced move that takes lots of patience and plenty of progressions!
Best Ways to Modify a Door Pull-Up Bar for Rock Climbing
There isn't much you need to do when it comes to modifying your home set up for rock climbing training.
Be sure you have plenty of room around your pull-up bar so you can start to practice and progress through front levers and other core exercises.
Door pull-up bars should have a sturdy place for them to latch onto the frame or studs so your entire setup is firm.
You also want to be sure you have plenty of room below your feet so you can adequately do a dead hang.
To do other types of exercises that specifically strengthen your forearm and grip, you can add attachments to a quality pull-up bar with ease.
Keep this in mind when you're shopping for a bar but don't let it sway you from a sturdy, quality pull-up bar that offers some simple basics.
The Best Rock Climbing Pull-Up Systems
Let's get to the good stuff! The best rock climbing pull-up systems are often simple and rely on your training and expertise to get the job done right.
Be sure that your entire setup is sturdy and reliable and that you have a workout regimen laid out!
FITactic Rock Climbing Solid Training Cannonball Bomb Power Pull Up Ball Hold Grips
Straps for Finger, Forearm, Biceps, Back Muscles
We earn a commission if you make a purchase, at no additional cost to you.
12/03/2023 05:15 am GMT
When you want a set of grips that can do it all, this is one of your best options.
You can quickly and easily attach these to any pull-up bar you have at home, a workout station, or even on outdoor workout equipment at a park.
The grips themselves are ball-shaped which makes it easy for them to fit inside your hands.
The material that they're created out of gives you a high-quality grip so you can build up your strength before heading out on the rocks. Included with the grips are straps that make it easy to attach to your bar.
No need to have any extra equipment or tools to get the job done! There are three sizes to choose from 3-inch, 3.5 inches, and 4-inch diameter.
Choose between the black or red option for the final design and enjoy the nylon webbing that makes them extra durable for long use.
This is a great option if you already have a pull-up bar you like at home but need some different options when it comes to training for your rock climbing expedition.
The downside is that you do need to have a bar so if you're just starting and want some basic equipment, you'll need to buy a different bar to complete the set.
Pros:
Durable ball-shape and high-quality material
Can be used with any existing bar
Cons:
The actual pull-up bar isn't included in the kit
User Reviews: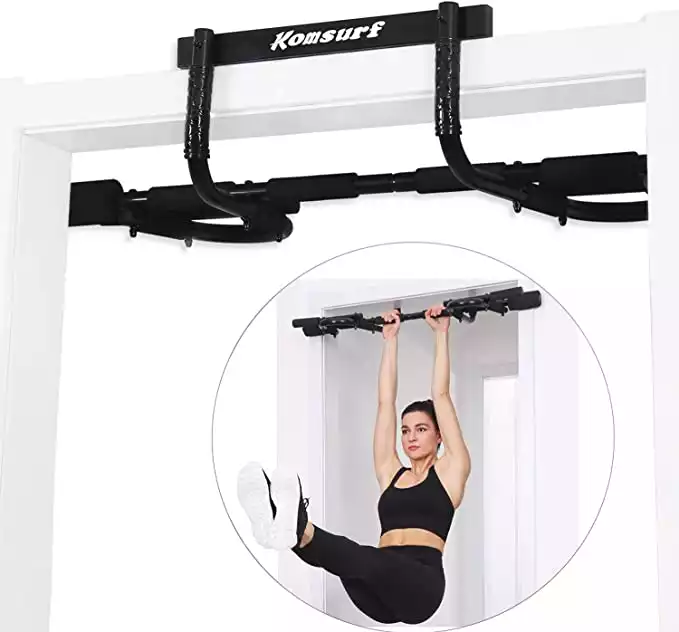 KOMSURF Pull up Bar for Doorway Door Pullup Chin up Bar Home
Heavy-duty steel construction for max stability and durability, the door pull up bar features two high quality steel pole prevents the bar from loosening and spinning when you are doing pulling up.
We earn a commission if you make a purchase, at no additional cost to you.
12/03/2023 10:00 pm GMT
Designed with your at-home workout in mind, the home chin-up bar works in big houses or tiny apartments so no matter where you live, you'll be able to train adequately!
This bar is simple and attaches directly to the door frame in your home.
The bar size can be adjusted so it will end up fitting most frames regardless of size. Included in the kit is a grip strengthener which gives you a firm position on the frame.
With the added grip strengthener, you'll eliminate the fear of falling.
Overall this is a simple design and can accommodate most workout fanatics. Some weight restrictions may limit the use when you compare this to other models.
But if you're just getting started with training or you want to up your game entirely, you can get the job done with this Home Chin-Up Bar.
Pros:
Works well with limited space areas like small apartments
Usable with most door frames inside the house
Grip strengthener included
Cons:
Max weight is more restrictive than other models
User Reviews:
letsgood Wooden Pull Up Climbing Hold Grips
1 Pair Hand Grips Strengthener Exerciser Training Tools for Grip Strength, Kettlebells, Workout, Bouldering, Ninja Warrior
We earn a commission if you make a purchase, at no additional cost to you.
12/03/2023 09:39 pm GMT
When you're searching for something to train on, two of your main concerns are going to be the overall quality and the basic functionality of the product.
These climbing hold grips fulfill both of those requirements!
This product is easily used on any type of structure from outdoor home gym towers to workout centers. The wooden handles have a smooth grip that makes them easy to hold and keep a tight grip on throughout your intended workout.
The entire package includes a pair of grips so you can get started right away without having to wait for another package to arrive.
All of the straps that are attached to the grips can be adjusted to make it fit your needs and keep a secure fit on the bar at all times.
The grips also work with different types of equipment!
Transfer them from your pull-up bar to kettlebells or any other workout equipment to get a quality exercise routine completed.
The ability to adjust these grips gives you tons of flexibility when it comes to your workout and training regimen.
You'll also be able to move away from the bar for some exercises and work with a different equipment without sacrificing your newfound grip strength.
There are a few bars where the straps will end up being too small but those seem to be few and far between. Just be aware of how thick your bar is before you start with the straps.
Pros:
The comfortable grip that is easy to maintain and keep a hold on
Straps that come included are made of a durable material
Comes with two grips in the package
Cons:
Straps may end up being too small for some bars
User Reviews: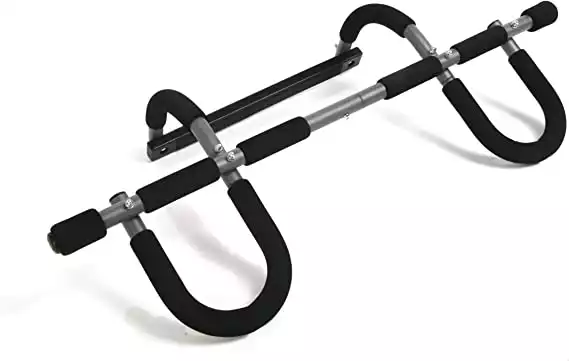 Stamina Door Gyms
Professional quality, heavy duty training tool supports up to 250 pounds, Sturdy steel construction
We earn a commission if you make a purchase, at no additional cost to you.
Even in small apartments, you're bound to have at least one doorframe where you can attach a pull-up home gym system like Stamina Door Gyms.
Whether you're living in a mansion or a tiny box apartment, this gym can help you train like a pro without the unnecessary expense!
The entire system is primarily made out of steel which gives it a lot of strength and durability for any size user.
You'll be able to train on it and manipulate your bodyweight for a quality workout without having to worry about anything breaking.
The handles are padded with a thick layer of foam so you can keep a comfortable grip without tearing up your hands.
You'll also be able to maintain a solid grip on the bar itself while performing moves without slipping or sliding along it unnecessarily.
Being able to work out and train well even in a small apartment is crucial if you want to head out rock climbing. This system gives you plenty of options when it comes to creating a workout that fits your overall goals.
There's plenty of wiggle room when it comes to adjusting the bar system but it still may not fit some doorframes in different homes.
Double-check and measure the size of your frames before ordering or picking up this system for yourself or your home.
Pros:
Grip position can be customized to suit your needs
Offers a unique grip system for rock climbing training
Simple and easy to assemble
Cons:
It may not fit on some doorframes
User Reviews: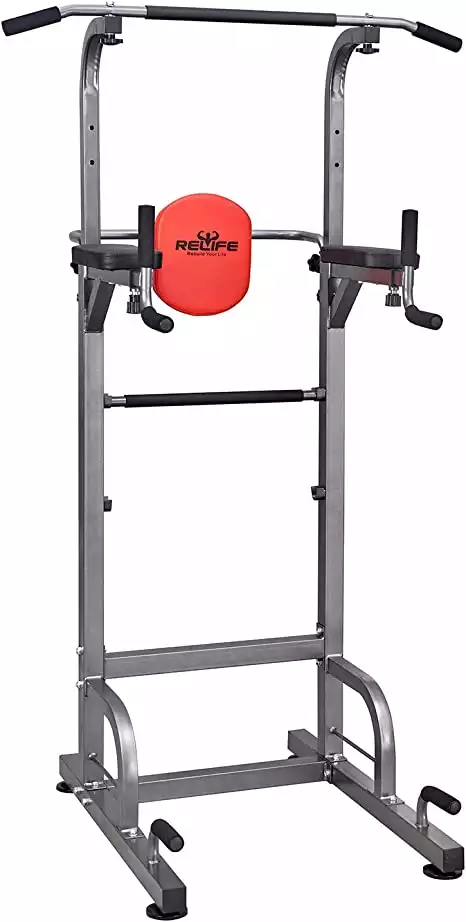 RELIFE REBUILD YOUR LIFE | Power Tower Workout Dip Station for Home Gym
The dip station can support many kinds of exercise routines. Build triceps, chest and shoulder muscles along with incredible upper body strength.
We earn a commission if you make a purchase, at no additional cost to you.
12/03/2023 09:05 pm GMT
Rather than simply settle into the exercises that a pull-up bar can provide, the RELIFE REBUILD Power Tower offers you a wide range of different exercises and the setup to pull them off!
Don't limit yourself but expand your workout and training horizons with a complete workout set.
The entire system gives you plenty of options when it comes to training starting with a top bar that's perfect for pull-ups and dead hangs.
Sidebars offer an option for you to be able to perform dips as well so you can work different areas of your body without leaving your house.
The framework for the power tower is made of a durable steel design that keeps the system going for a long time and through many workouts.
The maximum support weight for this system is 330 pounds which is a higher level than others on the market. Since the tower is free-standing, there's a large amount of stability provided as well.
If you're taller or shorter, you can adjust the height of the system with nine different levels to choose from.
With plenty of options and lots of different adjustments you can make, this system can take a beating and still keep working.
While it offers lots of different perks, it does take up a lot more room in your house or apartment. If you're living in a smaller space, this can end up taking over your living room or bedroom in a hurry.
Pros:
Full multipurpose station
Use for dips and pull-ups as well as other exercises
High-quality steel construction
Cons:
The free-standing station can take up a lot more space in your home
User Reviews:
Frequently Asked Questions
The FAQ section won't be able to replace a highly-trained rock climbing trainer but before you decide to invest in a new set of equipment, it's best to get some basic questions out of the way!
Even if you decide not to go rock climbing, you'll still be able to train on some pull-ups and show off at the gym.
Are Pull-Ups Good Training for Rock Climbing?
When you head out to go rock climbing, you're going to be using your upper body almost exclusively.
Pull-ups, while still engaging large areas of your body, targets the upper body specifically the muscles you'll be using to accomplish your rock climbing feats.
Pull-ups in general give you great lock-off strength and boost your endurance making it a great exercise for anyone wanting to get climbing.
How Many Pull-Ups can Rock Climbers Do?
If you've been climbing rocks for a while, there's a good chance that you'll be able to school everyone else at your gym in a pull-up competition!
Rock climbers focus on their arms and core when climbing which are the exact muscles necessary to do an insane number of pull-ups.
They're also more flexible and often have a higher level of endurance from years of climbing.
Is Rock Wall Climbing a Good Workout?
Just like any type of workout, it all depends on your health and fitness levels.
If you're already a little bit fit and you don't have any physical injuries or limitations, going rock wall climbing might be a great way to test yourself and get out of your comfort zone.
If you're not quite as fit as you'd like to be or you have some sort of limitation, rock wall climbing might be better left for a different time.
Rock wall climbing ends up working your entire body and is a great choice for anyone who wants to drop a few pounds!
Know your limits and work within them. There's no benefit to pushing your body too far and not being able to recover afterward.
How Old is too Old to Start Rock Climbing?
You're never too old to start rock climbing!
This type of exercise isn't something someone is born with but is instead a learned and conditioned behavior and exercise.
You can start training and rock climbing at any age and push yourself to be great. Be sure to check with your doctor or medical professional before you start training intensely to ensure that you're well enough to be able to perform all the necessary training.
Takeaway
Being out in nature, climbing, and clinging to rocks far above the surface is a feeling that few get to experience. But to reach that mountaintop and those beautiful views, there's a lot of training that needs to happen.
Training with a pull-up bar for rock climbing is one of the most tried and true ways of being ready to hit the mountain and be completely safe while you're climbing.
Through dead hangs and pull-ups along with core exercises, working a pull-up bar in the comfort of your own home will quickly prepare you for the intensity that is rock climbing.
Even if you live in a small apartment, you can still train for your next rock climbing adventure!
With several options for door frame pull-up bars like the Stamina Door Gym, you can do plenty of pull-ups right in your house.
You won't need to clutter up your already tiny living room with a full workout tower to get the benefits.
If you're ready to start training intensely for your next big adventure, adding a pull-up bar to your door frame or a workout station in your home is a great way to get started.
With plenty of different exercises and quality design, all of the choices on our list would make a great addition to your workout plan.
Get started and get training! The world is out there just waiting for you to explore it!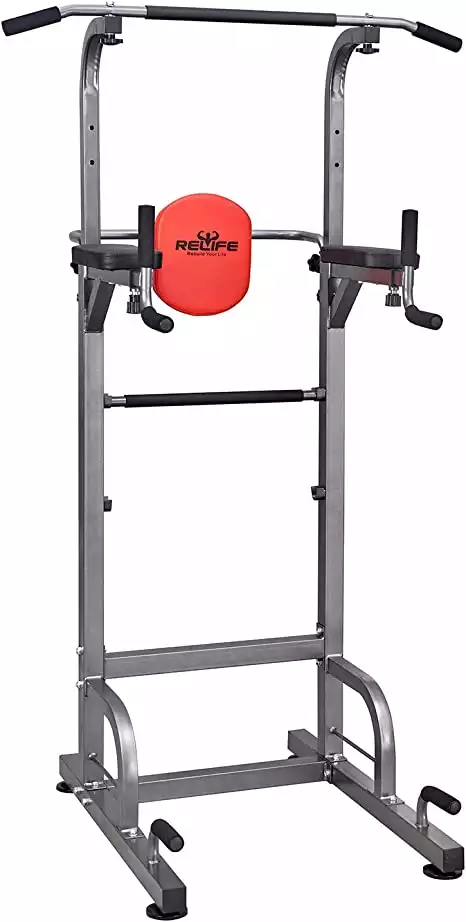 RELIFE REBUILD YOUR LIFE | Power Tower Workout Dip Station for Home Gym
The dip station can support many kinds of exercise routines. Build triceps, chest and shoulder muscles along with incredible upper body strength.
We earn a commission if you make a purchase, at no additional cost to you.
12/03/2023 09:05 pm GMT