Your favorite activity demands that you dedicate your time, energy, and passion to your craft.
Boxing is a passionate pursuit and in addition to great coaching, classes, and practice, you want the best equipment available.
Revgear is one of the top boxing brands on the market and there are plenty of different boxing gloves available in their line-up.
Your boxing gloves are part of your uniform and you're the first line of defense when you're in a fight.
Choosing them carefully and with great thought is important when you're getting equipped so before you make that final choice, you'll want to compare each set of Revgear gloves.
How to Choose Boxing Gloves
One of the main things you'll need to choose when you're looking at boxing gloves is the size.
All boxing gloves are sold in ounces rather than specific sizes. The sizes run from 10 oz. to 16 oz.
The lighter ones like the 10 oz. are best for heavy bag workouts and everything else going up is great for sparring.
The size is eventually determined by the amount of padding inside the glove itself. With the heavier weights, you'll have more protection for your hands inside the glove.
This heavier weight offers a greater amount of protection but it will slow down your punching speed when you want to go fast.
Beginners choose bigger boxing gloves to keep their hands safe and then work down toward lighter competition sizes.
The overall purpose of your workout and your body weight end up determining the final size of your boxing glove.
You'll want to make sure your boxing gloves offer a snug and comfortable fit and your fingertips should just graze the top of your gloves.
Put on your hand wraps before you try on gloves and ensure that the gloves are snug but not tight. They should allow plenty of room for you to make a fist inside the glove.
Types of Boxing Gloves
Every different area of your boxing workout needs a different type of glove! When you know your purpose and the result you want from your gloves, you can choose the ones that fit your purpose.
Training Gloves
This is the multipurpose glove you'll end up using for any number of activities. If you're just starting, these are a great option! If you're planning on doing a mix of sparring and bag work, these work great, and if you're doing lots of different types of boxing like Thai boxing.
Bag Gloves
Doing bag work is an important part of any training session when you're trying to get in shape for boxing. Bag gloves are designed specifically to be used during this type of bag work and work well if you're planning to spend your time training at home and not doing any sparring.
These are usually training gloves with more padding which ends up protecting your hand well against the heavy bag.
Velcro vs. Laces
Laces are going to give you a much tighter fit and more wrist support but they're hard to use practically when you're doing things on your own. You can't tie the laces on your own as you're getting ready to practice.
Laces work great if you've got plenty of people around you to help lace up but if you're working on your own, it's impossible to get them tied. Velcro can get almost as tight as laces and you can undo it on your own!
Leather vs. Vinyl
Choosing between leather and vinyl will end up impacting your comfort and the cost of your gloves. Vinyl boxing gloves end up being the cheaper option when you're trying to keep your budget on track during training.
Leather gloves will be more expensive but they offer a much better choice if you're boxing regularly. Leather will be more comfortable and end up being more durable in the long run.
Vinyl is not as breathable so your hands may get hot and sweaty when you're doing a long workout. There's a good chance that vinyl will break down more quickly than leather and you'll need to buy more gloves in a shorter amount of time. Leather gloves end up molding to your hands and will fit better and better the longer you wear them!
Revgear Boxing Gloves
There are plenty of different styles of boxing gloves on the market and Revgear offers some of the best for beginners and experts alike!
When you're sorting through each of the different options there are plenty of different things to think about and we're here to run through them with you.
Revgear is the original martial arts company and they offer three different options for boxing gloves: professional, mid-range, and starter.
Each of these offers some of the finest made gloves in the world and there are both Velcro and lace fastenings, several different styles fits, and glove options for sparring, bag work, competition, and aerobic workouts.
These gloves are made for any type of training from heavy to speed bags and sparring and shadow boxing.
Each glove is made with a leather base and a vinyl palm. You get the best of both leather and vinyl with this option!
Within the glove, itself is a grip bar that helps you make a tight fist when you need to keep things moving in your training. The closure for each glove is made with a hook and loop which then supports your wrist and keeps things secure as you start to move fast.
The thumb is attached which makes this a great, safe option for anyone just getting started. Even though the palm is vinyl, the entire thing is ventilated so you won't end up sweating your palms off with each workout.
These gloves are available in every size from 10 oz.-16oz. so whatever you decide to do, you'll be able to get the job done with these training gloves.
The overall cost for a pair of these gloves is low at just $49.99 but you can make payments in installments.
Each installment is $12.50 so no matter where you're at in your stage of life, you'll be able to get the best gloves for your next training session.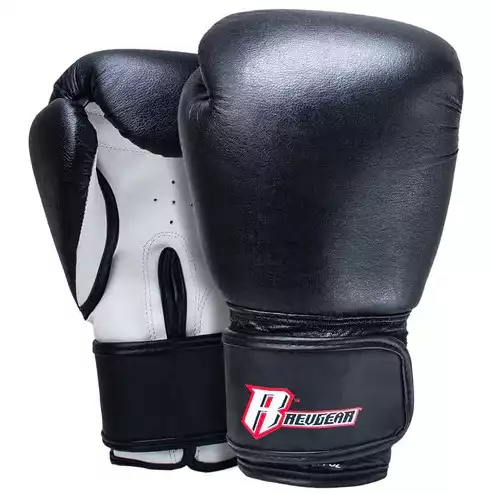 Revgear | PRO LEATHER TRAINING GLOVES
Pros:
Durable with a mix of vinyl and leather
Comfortable for anyone
Plenty of sizes
Great for beginners and an all-around glove
Made with real leather
Cons:
Complaints that padding may not be even
There are a lot of things that make these gloves stand out in the competition!
They've long been touted for their comfort, durability, and importantly, the overall feel they give to the user. The leather is a special SOFTech leather that includes an interior multi-layered gel foam.
This gel foam makes it easier to protect your hands and still gives you plenty of tactile feedback as you strike or spar.
You'll be able to feel what's going on outside of your gloves with each punch as the SOFTech gel absorbs the shock but keeps you feeling what you need.
The entire glove is made with premium leather which offers great durability even as you keep working on your technique. The wrist structure is ridged which gives you great protection and an easy lace-up each time you head out to work out.
Inside your glove is sculpted which gives you the ability to make a perfect fist. This is one of the best options that professional fighters use at each training and fight.
Professional fighters like the laces and these gloves offer this as an option for anyone wanting to keep their wrists in line.
There are three different colors available so you can choose what you need to fit your outfit and go along with your style!
There are plenty of different sizes and this one starts at 8 oz. rather than the standard 10 oz. The sizes then go all the way up to 16 oz.!
These gloves come up as a bit more expensive at $89.99.
There is an option as well to make some interest-free installments so you can get the best of the best no matter where you are in your life!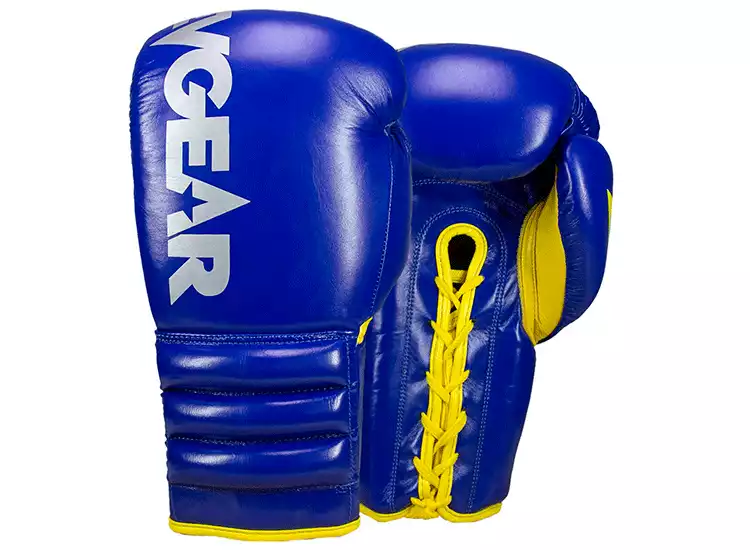 Revgear S4 Sentinel Lace Pro Leather Gel Boxing Gloves
Pros:
Comfortable for anyone and any fighting style
Protects your hands well
Great for sparring
Laces instead of Velcro for additional wrist support
Cons:
The way boxing gloves perform when fitted on women rather than men doesn't change much from person to person or style to style. But there are some key points of fit that change from men to women to make things safer and more comfortable.
Women tend to have smaller hands and gloves designed specifically for them have smaller hand cages to ensure there's plenty of support when you're working out.
With the specially designed cage, the bone structure is well supported and protected when sparring or punching.
The big draw of these gloves is that they're designed especially for women. The entire glove is made of leather and the thumb is attached for additional safety.
Each one is made with a hook and loop closure which gives you even more support and a better fit.
There's only one size available with these gloves at just 10 oz. and the cost is much lower than men's gloves at only $29.99.
With Revgear you can also do the payment plan for even this small amount at just $7.50 for 4 interest-free installments. When you need quality gear, Revgear offers great options for everyone and anyone!
Revgear | Leather Gloves for Women
NORMALLY: $69.99
YOUR PRICE: $29.99
(YOU SAVE $40.00 )
Pros:
Excellent quality for boxing gloves
Lightweight
Durable
Affordable after a discount
Cons:
Only available in one size and weight
Thai boxing style has you using your gloves and fists in a wide range of different styles so you need gloves that can respond and take on the impact of each move.
Traditional boxing gloves offer a certain stiffness and shock absorption when you're working out but with Muay Thai boxing styles you'll need to make sure that you can grip and grab your opponent.
These gloves offer a wider fingertip profile and an open palm for that clinch that will seal a Muay Thai match. The padding configuration is also unique and gives you a huge amount of protection as you're fighting.
Each glove is outfitted with a wrap-around Ultra-Lock hook and loop wristband that gives you an amazing amount of comfort and support.
Each glove has a pre-curved high-impact foam over your knuckles that give you more protection so you can keep going hard with each training session.
These gloves are made of leather which makes them ultra durable. 4 different sizes are starting at 10 oz. and going up to 16 oz.
This is a more expensive pair of gloves with the all-leather design coming in at $89.99 or 4 interest-free installments of $22.50. You'll need to make plenty of room in your budget for these beauties!
Revgear | Thai Style Boxing Gloves
Pros:
Offers great protection when you're striking
Well-made with a high-quality level
Great style and fit
Built specifically for Muay Thai fighting
Cons:
Complaints about the inner lining coming undone quickly
When UFC fighters set out to buy a new set of gloves, they often turn to this series of gloves. Everyone from Erik Paulson to Andy Young has used these gloves when heading out to fight.
The gloves themselves are made of full cowhide leather with plenty of layers of padding.
This is an excellent crossover glove so you can use it for both grappling and standup training. There's no need to stop a session and swap out your gloves with this one in use.
The contoured finger loops inside make it even easier to make a fist and the leather is flexible so you'll be able to get things done easily.
The gloves are made with a pre-curved shape so your break-in period is shorter.
In addition to giving you a great look and excellent comfort, the cowhide leather is already broken in so you can have great protection and an already-broken-in feel.
Over the entire punching area, the gloves feature a multi-layered RAM force technology padding that gives you great protection with each punch. This protection extends not just to you and your fists but also your partner!
Each of these gloves is designed to last for a long time and the reinforced stitching ensures that it can take a pounding throughout each workout.
Even if you're a heavy hitter, you'll be able to find a size that fits you and stands up to the test of time. These gloves are made from XS to XXL so you can choose the ones that fit you best.
The cost for these gloves is in the middle of the market at just $59.99 or 4 interest-free installments of $15.
You'll be able to get these gloves and start taking your training seriously without breaking the bank!
Revgear | Pro Series MS1 MMA Training and Sparring Glove
Pros:
Extremely comfortable
Great protection for both striker and partner
Affordable for just about anyone
Good for both bags and sparring
Cons:
Sizing can be a bit small and might be hard to find the right size
Frequently Asked Questions
Your boxing gloves are an important part of your workout equipment and when you're doing something as intense as boxing or any other style, you want to make sure you've got the right stuff!
By taking the time to make sure your questions are answered, you'll be able to choose the right gloves for your next task.
Is Revgear A Good Brand?
Revgear has started to be recognized as a brand that will stand the test of time.
Big-name boxers have started using Revgear when they work out and head out for a match.
There are plenty of different styles and options that make it a great choice for anyone who wants to mix up their workout or just get started with boxing and other MMA-style workouts.
Why Are Casanova Boxing Gloves Illegal?
After being initially produced in 1948, Casanova boxing gloves became the favorite for a Mexican boxer. Martial artists liked this glove due to its resilience.
The cushion was designed for flexible portability specifically that the position will change after each point and then return to its original state after that.
The gloves cushioning was soon seen as a way to make punches heavier and that began to be seen as a huge danger.
Many countries banned the use of Casanova boxing gloves that to keep boxers and sparring partners safe.
What Gloves does Mayweather Use?
Floyd Mayweather has been known as one of the best boxers in the world and part of his secret to success is the type of gloves he uses.
Mayweather uses Grant gloves that are 10 oz.
These gloves reduce his punch intensity by 40% when compared to a bare fist and they're ideal for the welterweight class which is where Mayweather fights currently.
Takeaway
Choosing your boxing gloves and all your other equipment can be the difference between injury and success.
Revgear has long been one of the best boxing gloves on the market and they now offer a whole host of different styles, weights, and colors to suit your needs and your style.
You'll need to choose your boxing gloves based on the style of fighting you'll be doing, the weight of gloves you'll need, and the type of fighting you'll be doing.
If you're going to be working the bag or sparring, you'll need a different set of gloves.
Whatever type of glove you need, Revgear has you covered!