Usual gym-goers can be divided into two groups – those who love pull-ups and those who don't – and hate it for life.
The main cause of this phenomenon is that pull up is a compound exercise that engages plenty of different muscles – arms, back, chest, abs, and occasionally, legs.
Your average non gym goer isn't strong enough to perform it, so it is easy to feel. However, with the help of a few useful accessories, you can overcome your weaknesses and pave the way for a nice, clean and effortless pull-up.
For an overview of the best calisthenics pull-up accessories, check the table below:
How to do a proper Pull-up
Before you start discussing the accessories, first you should understand how to perform a proper pull up.
This will diminish the risk of injury, which is a frequent occurrence with beginner athletes.
First, choose the grip you prefer – you can either put your hand over the bar or under the bar. The former one is called a "pull-up", while the latter one a "chin-up".
The main difference is that for the beginners it might be easier to do chin-ups, as the biceps is engaged more heavily.
Once you choose the grip, you need to determine the width of your grip that should be slightly wider than the width of your shoulders.
Keep in mind that during the initial phase of the exercise you should hang freely in so-called "hollow position". Your shoulders should be retracted so you can feel the tension between your shoulder blades.
Pull yourself up so that the chin is above the bar- it guarantees full muscle tension during the exercise.
When you lower your body you should do it in a slow, controlled motion until you reach your initial position of the hollow body.
The video below gives a quick illustration:
The Best Pull-up Accessories
Now as you know what a perfect pull up should look like, we can deal with the accessories that will help you out to obtain a perfect and clean form.
Power Bands
[tcb-script type="text/javascript"] amzn_assoc_tracking_id = "pmoor04-20";
amzn_assoc_ad_mode = "manual";
amzn_assoc_ad_type = "smart";
amzn_assoc_marketplace = "amazon";
amzn_assoc_region = "US";
amzn_assoc_design = "enhanced_links";
amzn_assoc_asins = "B078JNPPMT";
amzn_assoc_placement = "adunit";
amzn_assoc_linkid = "e65653d9670c0f3aed2e58e1c58267b8";
[/tcb-script]
[tcb-script src="//z-na.amazon-adsystem.com/widgets/onejs?MarketPlace=US"][/tcb-script]
A first choice would be a power band.
In the past, we've dedicated a whole article on this product, which you can check out here.
The power band is a closed-loop band made of rubber that helps you to take off some of your body weight so that you can focus on a proper technique. Simply put there are 5 types of resistance bands:
extra light (blue; pull force up to 7,5 kg)
light (red; pull force up to 15 kg),
medium (black; pull force up to 30 kg),
strong (purple; pull force up to 60 kg),
extra strong (green; pull force up to 100 kg).
Here you need to perform a quick and easy test that will allow you to pick the right power band tailored to your abilities.
If you can't do any pull up on your own, you should go for a green or purple one (depends on your weight!). If you can do a couple, take a purple or black one.
If you are doing quite well, but you would like to improve your technique, anyone from black, red and blue will be a good choice. You can obviously buy any color you want as the bands can be incorporated to different types of exercises as a resistance (triceps, biceps bends, squats etc.), but it's not a necessity – you can e.g. buy red and purple bands and use both at the same time during pull-ups.
Hand Grip Strengthener
[tcb-script type="text/javascript"] amzn_assoc_tracking_id = "pmoor04-20";
amzn_assoc_ad_mode = "manual";
amzn_assoc_ad_type = "smart";
amzn_assoc_marketplace = "amazon";
amzn_assoc_region = "US";
amzn_assoc_design = "enhanced_links";
amzn_assoc_asins = "B077ZG4X56";
amzn_assoc_placement = "adunit";
amzn_assoc_linkid = "0dba274eda1d08d0f07681b423a09017";
[/tcb-script]
[tcb-script src="//z-na.amazon-adsystem.com/widgets/onejs?MarketPlace=US"][/tcb-script]
Our second choice is a hand grip strengthener.
Your pull up performance is highly correlated with the strength of your hand grip. If you struggle to hang on the bar, this little device is the perfect choice.
The main benefit of it is that you not only strengthen your grip but also your forearms that are heavily used during pull-ups.
We can distinguish standard and adjustable hand grip strengtheners. If you are a beginner, a normal one would be enough for you.
The main idea is to squeeze this device using all of your fingers in specified sets and repetitions.
You can try to squeeze and hold (isometric strength), max repetitions in a specified time or do standard sets with a defined number of repetitions. Find the best solution for you and get ready for an easy pull-up!
Cannonball Grips
[tcb-script type="text/javascript"] amzn_assoc_tracking_id = "pmoor04-20";
amzn_assoc_ad_mode = "manual";
amzn_assoc_ad_type = "smart";
amzn_assoc_marketplace = "amazon";
amzn_assoc_region = "US";
amzn_assoc_design = "enhanced_links";
amzn_assoc_asins = "B0754LTKRQ";
amzn_assoc_placement = "adunit";
amzn_assoc_linkid = "4690a07602397a830704420501ef7089";
[/tcb-script]
[tcb-script src="//z-na.amazon-adsystem.com/widgets/onejs?MarketPlace=US"][/tcb-script]
Our third choice are cannonball grips. This type of device is dedicated to intermediates that can perform clean pull-ups, but they want to improve their grip strength.
They can combine this device with grip strengtheners, but cannonballs are a step further. Here the whole grip focuses on fingers and allows you to adapt your support muscles during the pull-up. It's definitely not an easy exercise, so it's advisable to use some ground support in progression.
Weighted Vest
[tcb-script type="text/javascript"] amzn_assoc_tracking_id = "pmoor04-20";
amzn_assoc_ad_mode = "manual";
amzn_assoc_ad_type = "smart";
amzn_assoc_marketplace = "amazon";
amzn_assoc_region = "US";
amzn_assoc_design = "enhanced_links";
amzn_assoc_asins = "B002P60ZZC";
amzn_assoc_placement = "adunit";
amzn_assoc_linkid = "b9550bc545d3a8ce7cc742a7643031ea";
[/tcb-script]
[tcb-script src="//z-na.amazon-adsystem.com/widgets/onejs?MarketPlace=US"][/tcb-script]
The last choice would be a weighted vest. Once again, we have already dedicated a whole article on the subject, you can read it here.
It's a nice (and more practical) alternative to a standard belt with a bunch of heavy plates on chain bruising your legs.
The vest is meant to be worn by advanced who can perform multiple pull up repetitions.
Usually, it's purpose is to build the pull-up strength and explosiveness that is impossible with just the bodyweight. Weighted vests have adjustable ballast (ranging from 1 to 100kg!) and differ in their design and weight distribution.
If you are planning to use it for other purposes such as running or crossfit, then you should consider getting the one that won't be problematic during high-intensity training.
Final Thoughts
To sum up, pull-ups don't have to be a nightmare as some people might think. It's a lot of fun and almost effortless experience provided that you use necessary accessories.
You shouldn't get discouraged quickly, but appreciate every little progress. In case you have been wondering – did you know that the vast majority of people cannot do a pull-up? Even some regular gym rats can't do 5 repetitions, as they are discouraged by the compound nature of this exercise.
Do you feel motivated now? Overcome all your fears and join the elite group of pull up experts!
Thank you for reading our article. We hope that you found it helpful. If you have any questions, feel free to ask us in comments down below and we will help you out. Till the next time!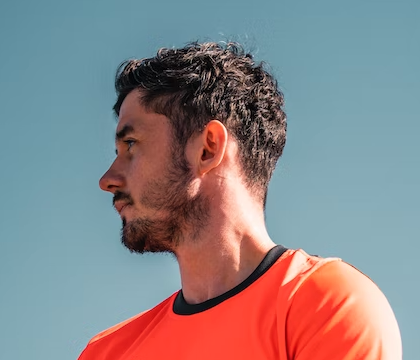 Chris is an experienced Calisthenics practitioner focused on isometric exercises and street workout. He founded thehybridathlete.com in 2017, which was subsequently acquired by theyhybridathlete.com
He is based in Portland and has been working out using solely his own body weight and bars for the past 6 years.