Designed to be beginner-friendly, this guide highlights valuable principles for anyone looking to start strength training or level up. 
Comprehensive in nature, we'll give you the foundation you need to progress at your own speed and sustain your strength training habit over the long term.
Why Everyone Should Strength Train
Strength training is for everyone. No matter who you are, what your age is, or what your goals are, strength training has something beneficial to offer. Here are just a few:
Increased strength and lean muscle mass

Greater resilience and lower injury risk

Better posture and body alignment

Positive body image

Preserving muscle mass during fat loss

Greater performance in virtually any athletic endeavor

Healthy aging 

More independence and less risk of falls for senior citizens
While everyone's bodies and goals are different from one another, the underlying principles of strength training are universal for human beings.
And regardless of which goal is your primary focus, strength training still brings you many additional benefits, making it an excellent use of your time.
While the goal you choose might seem short-term, the best perspective on strength training is to view it as a lifelong journey that pays off with higher quality of life and the rewards of hard-earned progress over many years.
With the correct long-term perspective, you'll avoid rushing, making mistakes, or looking for quick fixes.
The Big Picture
Strength training, or resistance exercise, is any type of exercise designed to make you stronger using progressive overload. Progressive overload is simply a method of creating beneficial adaptations in your body by adding more weight, resistance, and repetitions over time.
Lifting free weights is probably the best-known form of resistance exercise, but as you'll read more about shortly, other forms like machines, bodyweight movements, and resistance bands also count.
During a strength training session, your central nervous system (CNS) and muscle fibers are stimulated and fatigued. As you recover from the mental and physical fatigue, your strength and fitness levels slowly improve.
As time goes on, repeated strength training sessions result in increased strength and power. 
What to Expect from Strength Training
Different people start at different strength levels. Though, it doesn't matter where you start compared to others because the healthiest mindset is to compete against yourself. 
Fortunately, the very beginning of your training is an exciting time—rapid strength gains can be expected for at least a few months (and sometimes a year or longer). As long as you don't get injured or interfere with the recovery process (such as not sleeping enough or eating very little), nearly any training method can allow you to add strength and muscle early on.
But, that doesn't mean that you should pick any random training method. Think of your first few months of training as the time to lay a foundation for the rest of your strength training career. In other words, it's a time to educate yourself mentally and physically, and to prepare your body for long-term training success.
Because you'll get stronger with nearly any method initially, the wisest approach is to: 
Start with extremely simple training methods

Ensure you train your entire body to get stronger without neglecting any movement or muscle group
The same concepts also apply if you've trained in the past but have taken a few months off or longer.
For most people, it's possible to add weight to the bar (or pick up heavier free weights, etc.) at every session for at least a few months, and sometimes, even for a full year after starting. This type of progression is known as linear progression. As the simplest form of training progression, you'll add the same amount of weight at the same interval of time for as long as possible.
But logically speaking, linear progression has to stop at some point. For example, if you start off squatting 55 pounds and add five pounds every week, you may be squatting 315 pounds on your first training anniversary.
However, the chances that you'll be squatting 575 pounds after two years are low because of limits on the human body. In other words, at some point, you'll have to find a different mode of progression besides linear progression.
If you want the best overall results, use linear progression and ultra-simple training methods as long as possible. Then, when those methods stop working, it's time to introduce some variation or novelty. At this key point, you'll have graduated from beginner to novice.
At the end of this guide, you'll find two training programs that work well for people of all experience levels, including first-timers. But you'll have to understand how it works first.
Strength Training vs. Other Types of Training and Fitness
Being strong is helpful for nearly any physical activity. Strength also contributes to speed, power, explosiveness, and even muscular endurance. If you want to be as fit as possible, you should certainly spend plenty of time strength training.
That said, the practice of training to be as strong as possible can conflict in the short term with other types of fitness training, or with training for sports:
Building aerobic endurance, in particular, is difficult to do while also building strength—you can be aerobically fit and strong at the same time, but combining the two forms of training may diminish your progress in one or the other.

If you play sports or do other activities that tax your recovery, you may gain strength more slowly than you would otherwise.

Past a certain threshold of physical activity, the risk of overreaching, overtraining, and injury increase.
If you'd rather prioritize other activities or fitness qualities, cut back to one or two strength training days each week and look to maintain your strength levels for the time being as you build those other areas. You can also combine moderate amounts of different activities—like one or two aerobic endurance sessions—at lower intensities to get the best of both worlds without overdoing it. 
Even if strength is your primary training focus, going for walks or hikes and including some very gentle aerobic exercise (such as swimming or cycling) is good for your body composition, heart health, and stress levels, and can even help you recover better from strength training.
Joining a Gym vs. Home Workouts
If you're brand new to strength training, you'll need to decide whether to join a commercial gym or train at home. 
In some cases, the decision is easy, such as if a gym membership is included through work or school, or you have access to high-quality equipment at no additional cost.
But gyms and home training setups can both vary, and everyone's preferences are different. 
Pros and Cons of Joining A Gym
Pros:
Potentially lower short-term costs to join a gym—depending on how much equipment you need, it can add up

Greater variety of equipment than you can reasonably keep at home

Being around other people with similar goals can be inspiring and help with accountability

Mentorship on form and other aspects of training (only a pro if it's good mentorship)

Recovery amenities like hot tubs, cold tubs, saunas, or steam rooms
Cons:
Travel times

Crowding and lines for equipment (depending on what time of day you train)

Rules (some gyms don't allow heavy lifting!)

Distractions from focused lifting, like socializing or TVs
Pros and Cons of Home Gym
Pros:
Easy accessibility without the wait or travel times

May save you money in the long run

Full control over your environment 

Ability to set your home gym up with specialized or preferred equipment
Cons:
Cost (depending on what type of home gym you want, it could cost you thousands of dollars)

Space (many homes or apartments don't have room for a full setup)

Portability (complex home gyms are difficult to move)

Lack of mentorship or inspiration
Whichever option you lean toward, take time to consider all the possibilities. Getting a guest pass to a few nearby gyms is wise before joining one. And if you think a home gym setup would be a good idea for you, start by considering your budget and other constraints (like space) before you begin purchasing. 
As the COVID-19 pandemic has shifted most people into the home, personal setups have become a forced reality. However, it's not as bleak as it sounds. 
At the lower end of the budget and available space, one or two kettlebells or a used Olympic barbell and weight set (you might even get a bench in the deal if you're lucky) could be between $60–200, and a doorway chin-up bar is inexpensive. Add some budget-priced suspension training straps for good measure and you can perform hundreds of movement variations at home.
Machines vs. Free Weights vs. Other Methods
The truth is, different types of equipment and methods all have their positives and negatives. Try to avoid the temptation of wedding yourself to one single strength training method. Diversifying can have a positive effect on your results.
Oftentimes, beginners are attracted to machines because of their apparent ease and safety. However, with the correct approach to free weight training (ideally, finding a trustworthy mentor, coach, or online guide), anyone can safely use free weights, too.
If possible, doing most of your training with free weights (barbells, dumbbells, kettlebells, and other heavy objects you can lift) builds more skill, body awareness, and, ultimately, strength than other methods. However, cables and other types of resistance machines still have their place in any training regimen.
Pros and Cons of Free Weights
Pros
:
Allow for primal and fundamental movements that have greater carryover to real-world activities (athletics, manual labor, etc.)

More time-efficient due to involving more joints and muscle groups

Infinite movement variations for any body type or goal
Cons:
Takes longer to learn

Greater need for mentorship or supervision during learning

Higher risk of injury with improper form
Pros and Cons of Machines
Pros:
Less time to set up or learn

Relative ease of use

Most machines have built-in safety features that prevent catastrophic injuries
Cables and similar machines allow for easy adjustment and can offer angles and ranges of motion not possible with free weights 
Cons:
Less natural and doesn't result in as much body awareness or movement skill increase

Less carryover to real-world activities

Less time-efficient because most machines don't recruit as many muscle groups

Some machines are unnecessary for your strength goals

Possible increased risk of overuse injury due to lack of variation
Other Methods
Different free weight options like barbells, dumbbells, kettlebells, and irregular objects all have pros and cons, too (such as cost, efficiency, portability, body awareness, athleticism, and more). 
Note that bodyweight movements fall under the category of free weight movements, especially if you add resistance in the form of external loading (like wearing a weight vest or holding a dumbbell between your knees during chin-ups or dips). 
Resistance bands and similar methods also have their uses (and are among the most inexpensive and portable options) but are nowhere near as effective as compound free weight and machine movements as a standalone method for building strength or movement proficiency.
The best approach is to do your best with what you have, and always be open to using the best available equipment to get the job done. Mastery of strength training requires learning and practicing form for your entire lifetime, so you may as well embrace all available methods while you're at it.
Building Strength vs. Building Muscle
Strength training not only helps you build strength but can also increase your lean muscle mass. Both goals are synergistic, meaning that adding strength helps you build muscle, and building lean muscle mass also makes increasing strength easier over time. There are some clear differences, though. 
An optimal muscle-building program usually includes higher overall volume, shorter rest periods, and other methods to force muscle fiber adaptations. Building muscle also requires a more specific focus on nutrition compared to increasing strength performance. 
Getting stronger is necessary to build muscle, but it may not be sufficient by itself. To ensure you build muscle, you'll need to focus on training with sufficient volume and intensity, as well as a smart approach to nutrition.
There's also a common misconception that those who train for muscular size are relatively weak. While it's true that bodybuilding and many muscle-building programs emphasize muscular size rather than max strength, the truth is that most bodybuilders and other muscular people are very strong.
Many times, bodybuilders use higher volume, machine training, and intensification methods (such as drop sets) that are different from methods used for building max strength, but no one gets muscular without becoming significantly stronger in the process—even if the rep ranges and methods are different from conventional strength training.
Understanding the difference between changes in your nervous system and muscle fibers, covered in the next section, is also helpful for understanding how strength training (vs. bodybuilding) works and setting appropriate goals to progress.
Central Nervous System vs. Muscular Adaptations
All strength training works through a combination of central nervous system (CNS) and muscle fiber adaptations, the beneficial changes that occur due to training.
Training programs and working sets with lower volume emphasize CNS changes more, while higher volume programs and sets emphasize muscle fiber changes, but all strength training includes elements of both.
CNS adaptation refers to the process of your brain and body learning to get better at a movement, just like developing any physical skill. For the most part, CNS adaptations relate to greater efficiency, or using your body more effectively to lift weights. 
As your body awareness and coordination increase simply by practicing strength movements, you'll also get measurably stronger.
Examples include learning how to keep your body aligned more effectively during lifts, activating muscles differently for better support or stability, or recruiting muscle fibers faster and more efficiently to increase force production.
To some extent, you need to use progressively heavier weights to achieve CNS adaptations, but early in your training journey, you'll be able to get excellent strength gains by practicing correct form with relatively light weights.
Regardless of how experienced or accomplished you become, paying close attention to form is always a necessary part of getting stronger. Even world-class strength athletes prioritize refining and rehearsing form constantly to gain a competitive edge.
Muscular or metabolic adaptations usually occur simultaneously along with CNS adaptations, but they take place in your muscles rather than your nervous system.
When your muscle fibers are mechanically overloaded or damaged (that's how it works), cellular and hormonal changes occur that encourage them to grow bigger. Paired with CNS adaptations, bigger muscles also allow you to lift far heavier weights over time.
Again, for most people, pursuing both types of adaptations equally makes the most sense. When you focus on building strength and increasing muscle fiber size at the same time, the two goals are synergistic and allow for better long-term results, especially if you find balance with the five primary movement patterns.
The Five Human Movements
As far as your brain and body are concerned, training equipment, individual muscle groups, and even specific lifts are secondary to overall movement patterns. 
Focusing primarily on fundamental compound movements is the key to developing your body's full strength potential. Plus, you can still focus on particular muscle groups and lifts as needed within the big-picture context of movement-based training.
The five human movements that are most important for strength training are:
Push:

upper-body pressing movements including overhead presses, dips, push-ups, and bench press variations.

Pull:

upper-body movements including rows, pull-ups, and chin-ups.

Squat:

all variants.

Hinge:

any compound movement that involves generating force primarily by changing the angle of the trunk through hip extension, including all variations of deadlifts, swings, cleans, and snatches.

Loaded Carry:

walking while carrying weight, like farmer's walks, suitcase carries, waiter walks, rack carries, and other options like carrying irregular objects, rucking, or hiking with a pack.
These basic movement patterns each have dozens or even hundreds of variations that you can spend years exploring. 
The best approach, though, is to start with basic versions before turning to obscure variants. You'll get better results early on that way and can use lesser-known variations to introduce novelty and get continued progress later on.
Another essential practice is to strike a balance between the different types of compound movements in your training programs, which you'll learn more about in a later section.
How to Avoid Muscular Imbalances
Make sure to avoid the mistake of over-specializing in one movement pattern and neglecting others. The most common example is focusing on pushing and neglecting pulling, which may increase the risk of shoulder injuries.
To keep your body in balance, do at least as much pulling volume as pushing volume (many people can even benefit from doing up to twice as much pulling as pushing, which can unlock better posture).
Likewise, make sure you do at least as much hinge volume as squat volume to ensure even lower-body development and to prevent muscular imbalances.
What About Other Movement Patterns?
Just because an exercise doesn't fit into the five human movement categories doesn't make it worthless. Things like assisted and isolated movements can find a home in some training programs.
Of course, there are also plenty more primal human movements that are beneficial to practice for their own sake—such as running, sprinting, swimming, climbing, crawling, tumbling, and grappling, to name a few—but most of the rest aren't part of resistance training and are unlikely to make you significantly stronger.
The originator of the five human movements concept, master coach Dan John, also recommends "ground work" as a sixth human movement for inclusion in strength training programs. His reasoning is that ground-based movements like get-ups (Turkish get-ups and other variations) and tumbling can condition your body and brain to be more coordinated and resilient, helping to prevent falls and other accidents, especially as you grow older.
If you like that idea, you can include ground work as part of your warm-up routine, in between other strength training sets, or at other times.
With your training program, especially as it relates to the five, it all comes down to balance.
Understanding Total Training Volume: Frequency, Sets, and Rep Ranges
Strength training allows for a lot of flexibility in terms of training schedule, frequency, and volume.
Ultimately, personal preference and experimentation over time are the best ways to decide how often and how much you should train.
Frequency
Thinking about your preferred training frequency is a good place to start. Fortunately, you don't have to dedicate many hours each week to training to make great progress.
For most people, the most effective frequency for weight training or other forms of strength training is two to five times per week, with each session approximately an hour or less (sometimes as little as 20–30 minutes including a brief warm-up). This frequency range allows for an appropriate balance of fatigue and recovery and generally delivers the best results.
However, strength training less than once a week is unlikely to stimulate your body enough for significant improvement or health benefits. Even if you don't spend very long training, try to show up at least once a week.
Meanwhile, training seven days a week (every single day) isn't optimal because it tends to result in insufficient recovery. More isn't always better, and a single rest day can make a world of difference in boosting progress and preventing injury and burnout.
When it comes to training volume, though, frequency is only one piece of the puzzle. Sets, reps, and frequency of training together account for your overall training volume, so it's necessary to view them as part of a whole.
Sets, Reps, and Total Reps
The optimal way to arrange your sets, and the rep ranges you choose, relate to your current training intensity and overall training goals.
Rather than laying down hard and fast rules, this section will focus on best practices and general guidelines for understanding sets and reps.
Instead of trying to decipher the perfect number of sets and reps, thinking in terms of total volume or total reps first can simplify your decisions. This can be done per movement, per workout, and per week.
The "Rule of Ten"
For heavy, compound movements performed at high intensities, some lifters follow the "rule of ten," which means keeping the total volume on heavy lifts right around 10 reps, for example:
2×5 (2 sets

x

5 reps)

3

x

3

5

x

2

5,3,2
10 total reps per lift is an excellent volume for lifting heavy, building max strength, and recruiting large, fast-twitch muscle fibers. However, this volume isn't optimal for increasing muscle mass by itself because the total reps are too low to adequately fatigue sufficient numbers of muscle fibers.
The advantages of following the Rule of Ten are that you can focus on quality over quantity and also recover faster compared to lifting heavy with high volume.
However, it would be difficult for most lifters to accommodate more than one to three heavy lifts per workout while following the Rule of Ten—your body would reach a limit and your strength performance and movement quality would likely break down past that point.
Most of the time, along with one or two lifts that follow the Rule of Ten, you should also include some additional movements with volume in the sweet spot of building strength and muscle together, which you'll learn about below.
Strength and Muscle Sweet Spot
Many of the most popular rep ranges for strength and muscle building fall between 24–50 total reps per exercise. 
The following combinations of sets and reps are popular because they're highly effective for building strength and muscle using compound or isolation lifts:
5

x

5

3

x

8 (also 4

x

8, 5

x

8)

3

x

10 (also 4

x

10, 5

x

10)

10

x

3 (also 10

x

4, 10

x

5)

2,3,5 or 2,3,5,10 (repeated for a total of 25–50 or more reps)
Of course, there are many different ways to achieve 24–50 total reps, and you can certainly explore other combinations of sets and reps on your own.
There's also no reason you can't go above 50 total reps per movement, but for your overall goals, you may be better served by adding in another related movement variation instead of reaching that volume on a single movement.
Training With Higher Volumes: Tradeoffs and Diminishing Returns
Ultra-high-volume training has limited utility for gaining strength because there are ultimately tradeoffs between volume and loading. At the most basic level, you can't lift as much when fatigue sets in on prolonged sets or higher-volume workouts.
There are also similar tradeoffs with movement quality—high volume, heavy movements often result in poor movement quality as form breaks down, increasing injury risk.
Another tradeoff becomes more apparent over time, as recovery limits your ability to train with sufficient loading and very high volume. Training with very high overall volumes can work well for building muscle, even using less loading, but it eventually makes recovery difficult for most people.
Regardless, in most cases, there's a point of diminishing returns when you go above a certain number of reps per exercise and per workout. 
While you may discover your body does better with lower or higher volume than average, you should probably start with standard training volumes (per workout, per exercise, and per set) and go from there.
The Best Strength Training Rep Ranges
The loading, intensity, and total volume of your movements are more important than nearly any other variable (aside from exercise selection, form, and movement quality), but the specific rep ranges you use also matter.
In a nutshell, the vast majority of your sets should consist of 1–20 reps for increasing strength or building muscle. 
Sets with 1–5 reps are the best choice for building strength and also recruit the greatest variety of muscle fibers, including large, strong "fast-twitch" fibers as well as some smaller, "slow-twitch" (or endurance) fibers.
As reps per set increase, the effectiveness for building max strength diminishes somewhat. Sets over 20 reps tend to offer very little strength benefit unless you perform them at extreme intensities but can still be useful for increasing blood flow and nutrient delivery, rehabilitating injuries, or increasing muscular endurance.
Understanding Tempos
Lifting tempo is a way of counting the length of time (in seconds) you take to lower and raise a weight (or your body for bodyweight exercises), as well as any time you spend pausing at the bottom or top of the rep.
You don't always need to count tempos, but they're a good way to build body control and help introduce consistency to your training programs.
For extremely heavy lifts, including max attempts, don't try to count tempos in seconds at all. Instead, simply lower under control, then explode up. A very brief, nearly undetectable, pause at the bottom and top can also ensure you don't bounce from the bottom and fully lock out to complete the rep, which are important habits to build.
In a training program, a tempo would be written out like this: 
C-0-X (C stands for controlled, the 0 is the time in seconds, X stands for explosive)
As a note, explosive means "as fast as you can safely move the weight." In other words, you should attempt to accelerate the weight as much as possible from the bottom to the top of the rep but still give yourself time to lock out safely and under control.
Tempos and their use cases:
For heavy and moderate lifts that aren't max attempts, a C-0-X tempo is fine, but a 1-0-X (one second lowering, brief or no pause, explode up) is often a better choice because it allows greater muscle fiber recruitment on the eccentric (lowering phase).

Longer eccentric or lowering tempos, between two to four seconds (2-0-X, 3-0-X, 4-0-X), should mainly be used for moderate or lighter weight assistance lifts. They increase time under tension and muscle fiber breakdown
Adding a one- to four-second pause at the bottom of bench presses or squats (such as 1-1-X, 1-2-X, 1-3-X, or 1-4-X) can help if you find yourself struggling with that portion of the lift often.
Ultimately, these are all tools in your toolbox for when novelty and variation are required.
Progression and Plateaus
As you've already learned, linear progression is usually possible from anywhere from a few months to around a year when you first start lifting. But whether you're a beginner or not, it's wise to progress relatively slowly. 
Any progress is a sign of training success, so you shouldn't need change anything if you're making progress. (Switching from one program to another when you're still making progress is a common beginner mistake.)
Regardless, at some point, you're likely to hit a plateau. In other words, on one or more lifts, or perhaps across the board, you'll stall and be unable to continue progressing as before. Plateaus are a normal and expected part of training, but the correct way to manage them can vary.
Along with progression and recovery, your body also requires novelty, or periodic changes, for continued progress over time. Novelty can be a new movement, several new movements, or a completely different training program. Sometimes, the novelty of a new training program is the perfect antidote to a lack of progress.
Also realize that the longer you train and the more progress you make, the less linear and consistent your progress will be. As you move into the intermediate and advanced stages of your lifting journey, you're likely to experience bursts of progress followed by slower periods, virtually no matter what you do.
In some cases, if you've made a lot of strength progress recently, your body simply won't allow you to progress at the same rate, so your best bet is to bide your time for a few weeks or months with a less intense program (instead focusing on form, movement quality, and other fundamentals) rather than try to force progress by increasing intensity and volume past a certain point.
Over time, you'll develop the ability to gauge the appropriate type of training for each situation based on how your body is responding. Here's a flow chart you can use to decide what to do any time you hit a training plateau: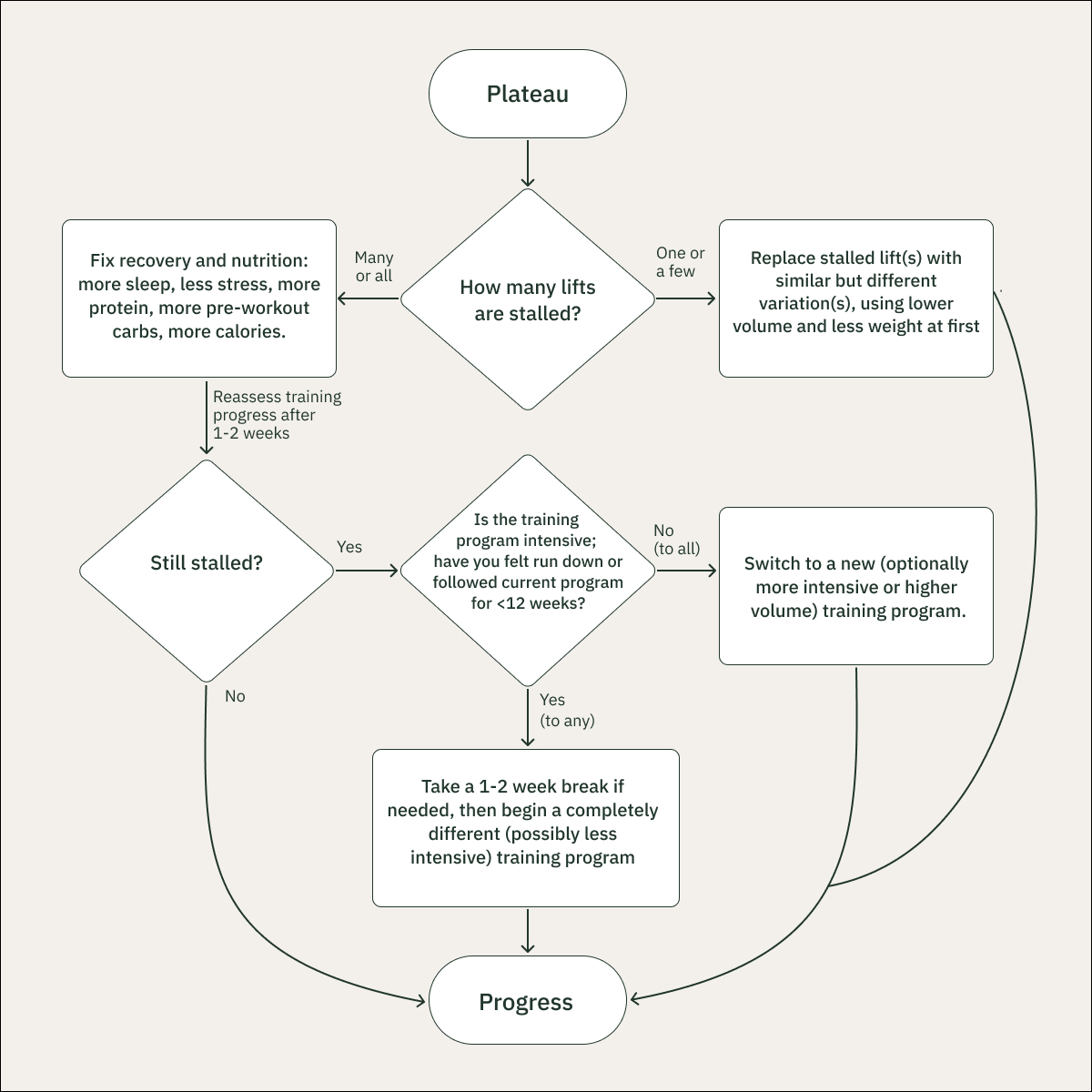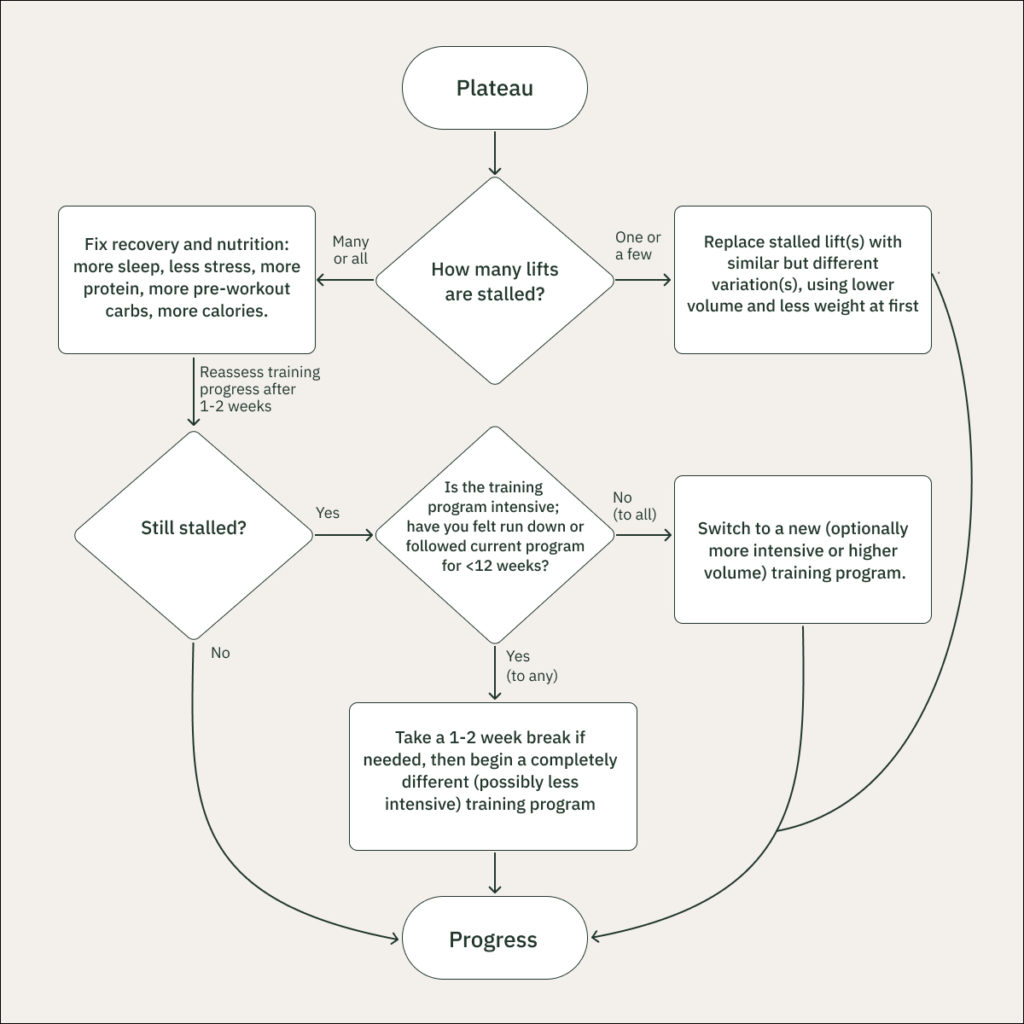 Warming Up: Dos and Don'ts
Your warm-up should prepare your muscles and nervous system to lift heavy weights and reduce your injury risk as efficiently as possible.
Prolonged warm-ups aren't necessarily more effective than shorter warm-ups and may even decrease your performance by fatiguing you before training. Also, the more active you are during the day, the less time you should generally spend warming up. For example, a manual laborer has less need for warming up than an office worker who sits all day.
Contrary to popular belief, aerobic exercise is generally a poor choice for strength training warm-ups. If you feel it benefits you, try limiting yourself to three to five minutes of easy aerobic exercise during warm-ups, and certainly no more than 10 minutes.
Static stretching is another common warm-up mistake. While stretching may feel good, evidence suggests that it decreases your power output and may even increase injury risk before strength training. If you want to static stretch, do it after workouts or on days you aren't training.
Most of the time, the best way to warm up for lifting is by performing lighter sets of your first few exercises.
Using Compound Lift Warm-Ups to Work Up to Heavier Weights
Using compound lifts to warm up works well because:
Your warm-up is 100% specific to your training that day

You get extra opportunities to practice using perfect form before lifting at higher intensities

Based on how strong and ready you feel (or not), you can also perform additional warm-up sets if needed
Note that compound lifts for warming up shouldn't be performed at high intensity but also don't necessarily need to be lightweight. Something so light to the point of ease won't prepare your nervous system and muscles to lift your working sets.
Try using two or more sets of your first one to two lifts to warm up. Perform 1–3 reps per lift, adding some weight each time. 
The loading should be heavy enough that you're aware of your muscles engaging and focus on form, without being overly challenging. If you're not sure where to begin, try 60–70% of your first working set, then go up from there.
For example, if you're planning on overhead pressing 135 pounds for a heavy triple, you might warm up like this first:
95 lb x 3

105 lb x 2

115 lb x 1

125 lb x 1
You can also include extra movements during your warm-up for injury prevention or muscle activation if you wish, but be sure you perform them at low intensities and relatively low volumes to avoid reducing your workout performance.
Alternative Warm-Ups
If you feel stiff or sore before training, there are better options than static stretching (that are also supported by peer-reviewed research).
Self-myofascial release (SMR), such as foam rolling or using a tennis or lacrosse ball to work on "trigger points," can help increase mobility, reduce soreness, and may help increase performance.
Another option for mobility is dynamic stretching, a type of stretching where you move joints through a range of motion without pausing. Unlike static stretching, dynamic stretching doesn't diminish performance and may decrease the risk of injury.
But remember: the purpose of warming up is simply to support excellent strength performance and reduce injury risk.
Preventing Injuries
Some people lift heavy weights for their whole lifetime and manage to avoid any serious injuries, while others have to take time off every year for injuries, or even experience career-ending injuries.
Factors That Increase Injury Risk
Gross human error (faulty equipment, lack of protective safety mechanisms, lack of trustworthy spotters on max attempts)

"Training through the pain" and ignoring other warning signs

Using inconsistent or less than perfect form (in training and during max attempts or competition), especially to lift heavier weights than usual

Muscular imbalances

Overspecialization and lack of variation in training movement patterns

Poor recovery

Training with high intensity or high volume or both, especially for prolonged periods without enough time off or scheduling less-intensive phases

Rushing and impatience
Factors That Reduce Injury Risk
Checking equipment for problems, using mechanical safety precautions, utilizing spotters who are trustworthy when needed

Paying attention to pain and other warning signs, stopping and making form and loading adjustments as needed

Prioritizing form and movement quality over numbers, especially in regular training

Focus on balanced muscular development and movement patterns

Variation in training movement patterns, including activation and "prehab" movements as needed

Adequate recovery

Time off and scheduling less-intensive training cycles to break up intensive phases

Patience and long-term thinking
Injuries make you weaker and reduce your ability to train, so it's wise to do everything in your power to avoid them—even if you sometimes feel disappointed at having to adjust your training plans.
Getting Started: Two Training Programs
If you've never strength trained before, or you've gotten disappointing results due to following the wrong programs, you can use either of these programs to start off the right way. They also illustrate many of the principles from other sections, so you can use them as practical examples for learning.
The first program, the Beginner Training Program, is designed to emphasize form and body awareness without overly taxing recovery. It's the best choice for people who are less confident in their abilities or who are busy with other priorities.
The second program, the Novice Training Program, is similar to the first but uses a more aggressive approach to ensure faster adaptation. The focus is still on form and learning, but the volume and mode of progression demand more recovery.
You can start with the second program if you desire faster progress and are fairly confident in your current fitness levels. Another option is to start with the first program, then move to the second when your progress slows.
You can also alternate between the Beginner program and Novice program. Use Novice Training to make more rapid progress, and switch back to Beginner Training if you're short on time or feel run down. 
The minimum recommended duration for either program is eight to 12 weeks, but you can also use the Beginner program for as little as three to four weeks between more intensive strength training programs.
Both programs primarily use sets of two, three, five, and 10 reps for simplicity. The second program also introduces some sets of 20–30 reps to increase blood flow and overall muscle fiber growth.
Tempo note (both programs): Use a C-0-X or 1-0-X tempo for heavy compound lifts with 5 reps or fewer, a 1-0-X tempo for compound movements with 6–10 reps, and a 2-0-X tempo for all assistance or isolation movements and all lifts with more than 10 reps.
Progression note: If you're new or coming back after extended time off, start either program with the minimal number of sets and reps and the lowest possible intensity from all the ranges provided (even your "heavy" and "daily maxes" should be on the conservative, lighter side). 
Then, gradually add sets, reps, or weight each week as you continue training. If you do, either program will give you excellent progress for three to six months or longer.
Also, for the heaviest set of the first movement in each workout, if you find that you're no longer able to progress linearly by adding weight each week, you can work reps upward within the ranges provided before adding additional weight, then drop reps to the bottom of the range each time you add weight. 
For example:
Novice Training Workout B, Barbell Bench Press:
Week 1: 185 lb x 3 reps

Week 2: 185 lb x 4 reps

Week 3: 185 lb x 5 reps

Week 4: 190 lb x 3 reps
Don't worry about progressing with reps, sets, or weight on every lift, every single workout. 
You can add volume or weight any time a lift feels easy, but as long as you're making any progress in one or more heavy compound lifts each workout (or even each week), your results will progress as well.
And if you're using the Simple Program as a refresher between more intensive programs (or during times of high stress), don't worry about getting stronger at all. Instead, focus on movement quality and refining your form while using a lower intensity that allows you to feel fresh and energized when you finish your workouts.
Exercise pairing note: In the workouts above, exercises meant to be paired in a superset are denoted by letter-number combos, like B1 and B2. In strength training, a superset is when you complete sets of two different exercises with no rest in between. Research suggests that supersets can burn more calories than traditional resistance training, and picking two exercises that work the same muscle group can up the intensity and volume.
Exercise selection note: Use the recommended exercises at first whenever possible, but you can also use whatever equipment is available to you. Don't let equipment or other limitations prevent you from training. 
Over time, whenever you hit a plateau in a specific lift, you can change it out for another movement (for example, replacing one squat variation with another type of squat). 
Any time you substitute in a new lift, begin at the minimal end of the volume range (sets and reps) and less weight than before so you can work your way back up with volume and intensity over time.
Free Sample Training Programs
Takeaway
Strength training is an effective protocol that everyone can employ for greater overall health and well-being. All humans need to have strength, and building it safely, effectively, and progressively can yield countless physical, mental, and emotional benefits.
Using this knowledge to train for strength and having the skills to consistently improve will ensure that your training program is something you can maintain for life. Because personal strength will never not be valuable.
If you've progressed past beginner and novice levels (which we hope you'll achieve), or if you need more variety to bust through plateaus, check our library of training plans.