The paleo diet has grown in popularity over the past 10 years or so and continues to gain traction as more people jump on board. 
As is true with most diets, there's a lot of information out there about how to follow a paleo lifestyle—and a lot of misinformation. To make matters worse, the traditional paleo diet has broken off into sub-diets with different modifications depending on who you ask. 
In this extensive guide, we'll cover everything you need to know about the paleo diet, including the health benefits, what to eat and what to avoid, common misconceptions, and much more.
What is the Paleo Diet?
The paleo diet is based on the theory that the foods our ancestors ate during the Paleolithic Age (dating back 2.5 million years ago and extending until about 10,000 years ago) are the same foods that our bodies are meant to consume today. If animals' diets haven't changed much in the past two million years, why should humans'? 
Our hunter-gatherer ancestors not only lived off the land, but they only consumed what was local and available during each season. They didn't have fancy cookware like Instapots, rice cookers, or even ovens for baking bread. This meant that their diet would have consisted of whole foods that were readily available, along with whatever meat and fish they could hunt down and share with the tribe. 
Of course, the modern paleo diet looks a little different than it would have back in 10,000 B.C., with food in abundance and the benefit of advancements like cooking tools.
With that being said, the tenants of the diet hold true to what our ancestors may have come across in their daily lives. This includes foods like fish, meat, vegetables, fruits, nuts, and seeds. 
Grains and beans, on the other hand, are strictly off-limits for paleo dieters. While it's true that our ancestors likely had access to these foods, they wouldn't have had any way to cook them. Have you ever tried eating uncooked rice? It doesn't sound very pleasant. 
In addition, since animal domestication didn't begin until about 8,000 years ago, it was unlikely that hunter-gatherers consumed dairy. However, eggs do still fall under the paleo-approved category due to their high nutrient content.
Although you may find some packaged foods that are labeled paleo-friendly, for strict paleo dieters, processed foods fall squarely into the "off-limits" category. While we'll dig into a comprehensive list later on, it's important to recognize that all these dos and don'ts play into primary effects of the diet.
Health Benefits of the Paleo Diet
As you can imagine, when you cut out processed foods from your diet and replace them with whole foods that humans have been consuming for millions of years, your body tends to respond favorably. 
Along with low-quality packaged foods, paleo dieters also avoid the added sugars and artificial ingredients that come along with these products. Ingredients like artificial flavors, colors, dyes, and preservatives have no place in a paleo diet. 
Anecdotally, people claim to see a range of benefits when switching to the diet. While research can't back up every single claim, there are a wealth of studies that support a paleo lifestyle.  
Some of the research-backed benefits of following a paleo diet include:
Weight Loss
Many people find that when they switch to a paleo diet, they notice weight loss. While this isn't a sure thing for everyone, a few factors could contribute to weight loss when following a paleo diet. 
First, if you're someone who frequently consumed processed or high-sugar foods, by removing these items from your diet, you would likely see a drop in weight simply due to the low-quality nature of your old diet. Processed foods are significantly linked to weight gain, so when you cut the processed food, you'll likely lose some weight along with it.
In addition, the paleo diet tends to be higher in protein than most traditional diets. Protein is the ultimate weight loss macronutrient for a few reasons:
It has a higher thermic effect than carbohydrates and fat. This means that your body uses more energy (calories) breaking it down, and therefore, the net calories it contributes are lower. 

Protein is the most satiating macronutrient, keeping you full and satisfied for longer periods of time and helping you to avoid cravings. 

Protein is crucial for lean muscle mass, which is the most metabolically active tissue in your body. The more muscle you have, the more calories you burn every day. 
You may also experience a rapid reduction in weight (on the scale) when you switch to a paleo diet due to the lower carb count. Although you can still consume higher-carb veggies on a paleo diet, many people find that their overall daily carb intake decreases significantly. 
When you consume fewer carbs, your body starts to lose water because each gram of stored carbohydrate retains four grams of water. Therefore, as you use up your carbohydrate stores, you'll notice a reduction in water weight. 
Don't be discouraged if you notice your weight loss has slowed down after a couple of weeks. This is likely because you've lost a lot of water, and now your body is just working on losing fat. 
Reduced Inflammation 
Inflammation is said to be at the root of many (if not all) modern diseases. Heart disease, diabetes, autoimmune disease, and more.
The most well-known anti-inflammatory diet to date is the Mediterranean diet, with hundreds of studies backing its beneficial impact on inflammation markers. However, when researchers assessed the anti-inflammatory nature of the paleo diet, they found that it was right up there with the Mediterranean diet.
One of the primary markers for inflammation is C-reactive protein, a compound that rises in your blood in response to inflammation. In an animal model, investigators found that switching pigs from a cereal-based diet to a paleo diet resulted in a significant reduction in C-reactive protein, indicating a reduction in systemic inflammation.
The paleo diet's anti-inflammatory effect is likely why so many people switch to the diet when diagnosed with autoimmune disease. In fact, there are websites dedicated to a version of paleo called the "Autoimmune Paleo Diet," or AIP. 
Improved Insulin Sensitivity and Glucose Control
When your body is unable to use the hormone insulin properly, the result is uncontrolled blood sugar (aka blood glucose). In conditions like diabetes, your cells lose their sensitivity to insulin, which means that the sugar in your blood has no way of getting into your cells to be used for energy or stored for later. 
Even if you've never been diagnosed with diabetes or prediabetes, taking preventative measures to ensure that your insulin activity remains healthy is crucial. In fact, it's estimated that over 10% of the U.S. population is diabetic, and that number seems to be growing by the year. 
Traditionally, a diabetes diet includes high-fiber foods, like whole grains, and avoids refined carbs and high-sugar foods. This type of diet focuses primarily on the glycemic index of foods, which indicates how likely they are to spike your blood sugar. 
While low-glycemic diets work for many people, research shows that following a paleo diet can improve blood sugar control even more significantly than a traditional diabetes diet. 
How does it work? Although researchers haven't nailed down the exact mechanism, it's hypothesized that it's the combination of higher-protein foods and low-glycemic fruits and vegetables that may enhance insulin sensitivity. 
Reduced Risk Factors for Heart Disease 
Heart disease is one of the most common health issues that Americans face today. And much like diabetes, lifestyle factors play a significant role in the onset and progression of cardiovascular dysfunction. 
Research shows that following a paleo diet can improve several markers for heart disease, including: 
Lowered blood pressure

Lowered total cholesterol

Lowered LDL cholesterol (the bad kind)

Lowered triglycerides

Increased HDL cholesterol (the good kind) 
What's more, one study compared a traditional heart-healthy diet with a paleo diet and found that those who followed a paleo diet had even more significant shifts in their blood lipids and blood pressure than those following the traditional diet. 
Improvements in Metabolic Syndrome Markers
Metabolic syndrome is a cluster of conditions that increase your risk of heart disease, stroke, and type 2 diabetes. Generally speaking, metabolic syndrome is seen as a modern disease that arises from unhealthy lifestyle habits like inactivity and poor diet. As previously mentioned, the paleo diet may improve insulin sensitivity and reduce the risk for heart disease—which already gives it a leg up when it comes to metabolic syndrome.
In a review of the research linking the paleo diet to a reduced risk for metabolic syndrome, investigators found that the paleo diet resulted in greater short-term improvements when compared with any other dietary guideline protocol.
Measures such as blood pressure, fasting blood sugar, triglycerides, cholesterol, and waist circumference were all taken into account when assessing the outcomes.
Negatives of the Paleo Diet
At this point, you may wonder why everyone isn't already eating paleo. However, along with the many benefits that come with the paleo diet, there are a few things to be aware of before you jump in.
Missing Your Favorite Foods
Some people find it quite challenging, especially at first, to give up their favorite foods. You may not have realized how much you love white rice until someone tells you that you can't have it. There are also many people that have physical addictions to foods that contain high levels of sugar like cookies, cakes, and brownies. 
In the beginning, you can try to combat some of your cravings by making paleo-friendly alternatives, like the ones listed in the dessert section below. After a while, most people find that their cravings for foods subside significantly, and they are able to enjoy their paleo lifestyle with ease. 
Social Engagements 
Whether it's a happy hour with work colleagues or a dinner party with friends—unless your company is also paleo, you might find yourself in a tricky situation. 
When possible, bring a paleo-friendly dish or dessert to dinner parties, and if eating at a restaurant, try to scan the menu for options before you go. 
Expensive 
The paleo diet can become expensive due to the high-quality nature of the food you'll be eating. Instead of stopping for fast food on your way home from work, you may have to take a trip to the market to pick up some grass-fed beef and organic veggies. It's okay if you can't afford top-quality products in every category so long as you're conscious of your choices (more on that shortly).
Time-Consuming
Since fast food is off-limits on the paleo diet, you'll likely find yourself spending more time in the kitchen preparing your meals. If you love to cook, this can be a great excuse to hone your skills. However, if you're strapped for time as it is, this may be a turnoff.
There are a couple of ways to optimize cooking time if you're feeling overwhelmed:
Use paleo-friendly meal prep kits or frozen meals.

Prep your food ahead. This could entail pre-making meals for the week or chopping vegetables for later use. It's an excellent option if you want to save some money and get the benefit of making your meals from scratch.
Feelings of Guilt
One of the hardest parts of having a "cheat day" on paleo is avoiding the guilt that comes with "diet imperfections." In addition to the conscious choice, sometimes some grains sneak in or you find out a day later that there was dairy in the meal your friend prepared for you. It will happen, and to some, it can seem like failure.
In reality, you don't have to eat perfectly all the time to experience optimal health; it's more about making conscious choices most of the time. And luckily, unlike the keto diet, you won't go through some drastic metabolic shift if you have a cheat day or two on paleo. Unless you're following a paleo diet to avoid foods that cause you inflammation, you shouldn't have too much trouble getting back on track.
Paleo Food List and Meal Plan
Armed with a better understanding of the paleo diet and why you may or may not choose to eat this way, here are a few guidelines to set you up for success when starting out:
Quality is Key 
The quality of the food you eat on a paleo diet is just as important as the types of food you eat. From an ancestral perspective, your hunter-gather relatives wouldn't have had to worry about quality because everything they ate was naturally sourced off the land—no fillers, preservatives, or conventional farming practices. 
Today, however, the food landscape looks very different. In fact, you're much more likely to come across low-quality food options than high-quality ones. 
So let's dig into what "high-quality" actually means and how you can best determine if the foods you're filling up on fit into this category. 
Packaged Foods
To begin, you'll want to become intimately familiar with the nutrition facts label and ingredient list that lives on packaged food products. While it's optimal to go for whole foods (which don't require a nutrition label) on the paleo diet, you'll likely find yourself including some packaged food. Knowing what to select, then, matters quite a bit. 
Most nutrition facts labels and ingredient lists are found on the back of your packaged foods, but sometimes they can also be found on the side or (rarely) the front of the package. 
The ingredient list is pretty straightforward; it's just a list of ingredients ordered from highest to lowest in terms of predominance, or respective weight contained in the product. For instance, potato chips will likely have an ingredient label that reads "potatoes, sunflower oil, salt." Whereas potatoes make up the bulk of the product, then oil, then salt. 
The rule of thumb to remember when reading an ingredient label is:
Can I pronounce all of these words? 

Can I imagine these ingredients growing or living in nature?

Would my Paleolithic ancestors come across this food?
If your product passes all three tests, then it should be good to go. Unfortunately, many manufacturers throw in preservatives, colorings, flavorings, and so on that are lab-made and don't come from nature; these ingredients are strictly not paleo. 
While the paleo diet doesn't require that you stay within a certain macronutrient range, excess sugar is off-limits. The nutrition label also offers a table of the macronutrient makeup of the product, where you'll want to check to see how sugar-heavy the product is (in grams). 
The goal for sugar is to stay below seven grams per serving, generally speaking. However, some products contain more sugar due to natural sources like fruit or honey, which is why checking the ingredient list is always a crucial step.
Animal Products
In terms of quality, no food group deserves more attention than animal products. Why? Because conventional farmers can load up animals with antibiotics and hormones while feeding them low-quality genetically modified feed—all of which ends up in your body when you consume them.
There are a few things you always want to look for when buying animal products:
100% grass-fed

: This mainly applies to beef, but other animals that eat grass include sheep, bison, buffalo, deer, and elk. When an animal is grass-fed, it means that they are fed a diet of only grass, no fillers or other animal feeds. Unfortunately, most conventional farmers go for the cheaper option of feeding their cattle grains like corn or wheat, which make the animals grow faster but yields lower-quality meat. 
When animals feed on 100% grass, they have a higher portion of omega-3 fatty acids as well as antioxidants. What's more, you can rest assured that they aren't fed GMO crops like corn, soy, or wheat.  
Wild game like deer and elk aren't typically conventionally farmed, so they may not have the label of "100% grass-fed." That's only because they aren't being fed; they feed themselves. 
Free-range

: This is what you want to look for in your poultry products. Free-range means that the animals were allowed to roam on the land and graze for their food. Free-range poultry gets to pick up small bugs and plants that they wouldn't get if they were holed up in a coop or cage. This diet ultimately leads to healthier birds, and in turn, healthier meat.

Organic

: When it comes to animals, the word organic refers not only to the type of food that they're eating (typically, they are grass-fed or allowed to graze), but it also means that they aren't administered hormones or antibiotics. This is crucial—you

do not

want to consume meat that has been pumped with these substances

.

Non-GMO

: The non-GMO label on meat refers to the feed. GMOs, or "genetically modified organisms," are a hotly debated subject, with research showing inconclusive evidence. As the use of genetically modified foods has continued to grow, we just don't know what the outcome will be in the years to come for people who regularly consume these foods. To be safe, and to adhere to the tent of organic production, always go for non-GMO.
Plant Foods
Quality with plant foods is much less complicated than animal foods. Put simply, organic is best. When a plant food is grown non-organically, it can be sprayed with pesticides, and the soil that it's grown in may be very low-quality—meaning it will pick up fewer nutrients. 
Eating locally and in season is definitely something your Paleolithic ancestors would have done and is considered optimal on the paleo diet. Therefore, if you have a local farmers market, you may want to stop by and ask the farmers if they practice organic farming, even if they aren't labeled "certified organic." You may be surprised by how many small farms are actually organic even though they can't afford the label. 
Approved Food List
Protein
All types of meat and fish are allowed on a paleo diet; the only caveat is that you must watch out for ingredients that are added to some items like sausages and burgers. When in doubt, consult the buying guidelines for quality. 
You may also want to branch out and try some wild game—that is, after all, the only option your ancestors would have had. Bison, elk, and deer, for instance, are very nutrient-dense and offer a different flavor profile than what you're most likely used to.
Protein options for your paleo diet include:
Beef 

Elk

Deer

Pork

Chicken

Turkey

Lamb

Bison

Veal

Duck

Eggs

Salmon

Mackerel

Tuna

Swordfish

Mahi-mahi

Trout

Snapper

Shellfish

Sole

Cod

Sardines
Vegetables
All vegetables are a green light on the paleo diet, so make sure to fill up your plate with a variety of veggies. When possible, try to source your produce as locally as possible, just as your ancestors would have. Also, for optimal nutrient density and aforementioned quality, go for organic varieties. 
While this list is not exhaustive, some popular paleo-friendly vegetables (in no particular order) include:
Celery

Asparagus

Cucumbers

Broccoli

Cauliflower

Onions

Okra

Brussels sprouts

Cabbage

Eggplant

Tomatoes

Peppers

Lettuce

Bok choy

Turnips

Carrots

Sweet potatoes

Mushrooms 

Radishes

Beets 

Zucchini 

Summer squash

Parsnips

Cassava

Artichokes 

Acorn squash 

Butternut squash 

Spaghetti squash 

Kale 

Mustard greens

Seaweed 

Swiss chard 
Fruit
Like vegetables, there are no limits on types or amount of fruit you can eat on the paleo diet. But keep quality in mind and always choose organic when possible.
Some examples include:
Apples

Pears

Oranges

Grapes

Blueberries

Strawberries

Raspberries

Coconuts

Kiwis

Lemons

Limes

Figs

Dates

Peaches

Grapefruit

Bananas

Persimmons 

Plums

Peaches 

Melons

Pineapples

Mangoes 
Nuts and Seeds
Nuts and seeds make great snacks. You can also pair nut and seed butters with fruit or veggies. All nuts and seeds are generally welcome on the paleo diet, but here are some of the most popular options:
Almonds

Walnuts

Macadamias

Brazil nuts

Pistachios 

Cashews

Hazelnuts 

Pecans

Pine nuts

Pumpkin seeds

Chia seeds

Flax seeds

Sesame seeds

Sunflower seeds
Fat
Healthy fats play a key role in the paleo diet. While most vegetable oils are out of bounds, there are a few exceptions, along with some animal sources. 
These include:
Lard

Tallow 

Avocado oil

Avocados (yes, they're a fruit, but they fit better in this category)

Nut butters

Nut oils such as macadamia oil and walnut oil

Coconut cream and milk

Olive oil
Foods to Avoid
The list of foods that must be avoided on the paleo diet is much shorter than the list of foods you can enjoy. While many diets can be shockingly restrictive, for the paleo diet, it really comes down to going without:
Dairy
Butter 

Milk

Cheese 

Yogurt

Sour cream
Grains
Wheat

Cereal

Crackers

Bread

Pasta

Traditional flour-based cake

Traditional flour-based cookies

Rice

Quinoa

Corn

Chips
Legumes 
Peanuts

Beans

Lentils

Soy

Tofu

Tempeh
Vegetable Oils
Soybean oil

Canola oil

Corn oil
Added Sugar
Soft drinks

Fruit juices

Processed foods like brownies, donuts, granola bars, etc. 

Gummy snacks

Beef jerky made with added sugar
Keep in mind that there are many brands out there these days slapping a "paleo-friendly" label on their products. Some of these items are actually quite nutritious, but many of them are low-quality foods disguised as healthy. Always check your labels, and scrutinize the ingredient list before you add a product to your shopping cart. 
For a packaged food to be truly considered paleo, it must contain ingredients that would qualify as whole food. Here, remember the three rules of thumb for assessing a nutrition label.
Sample 5-Day Paleo Meal Plan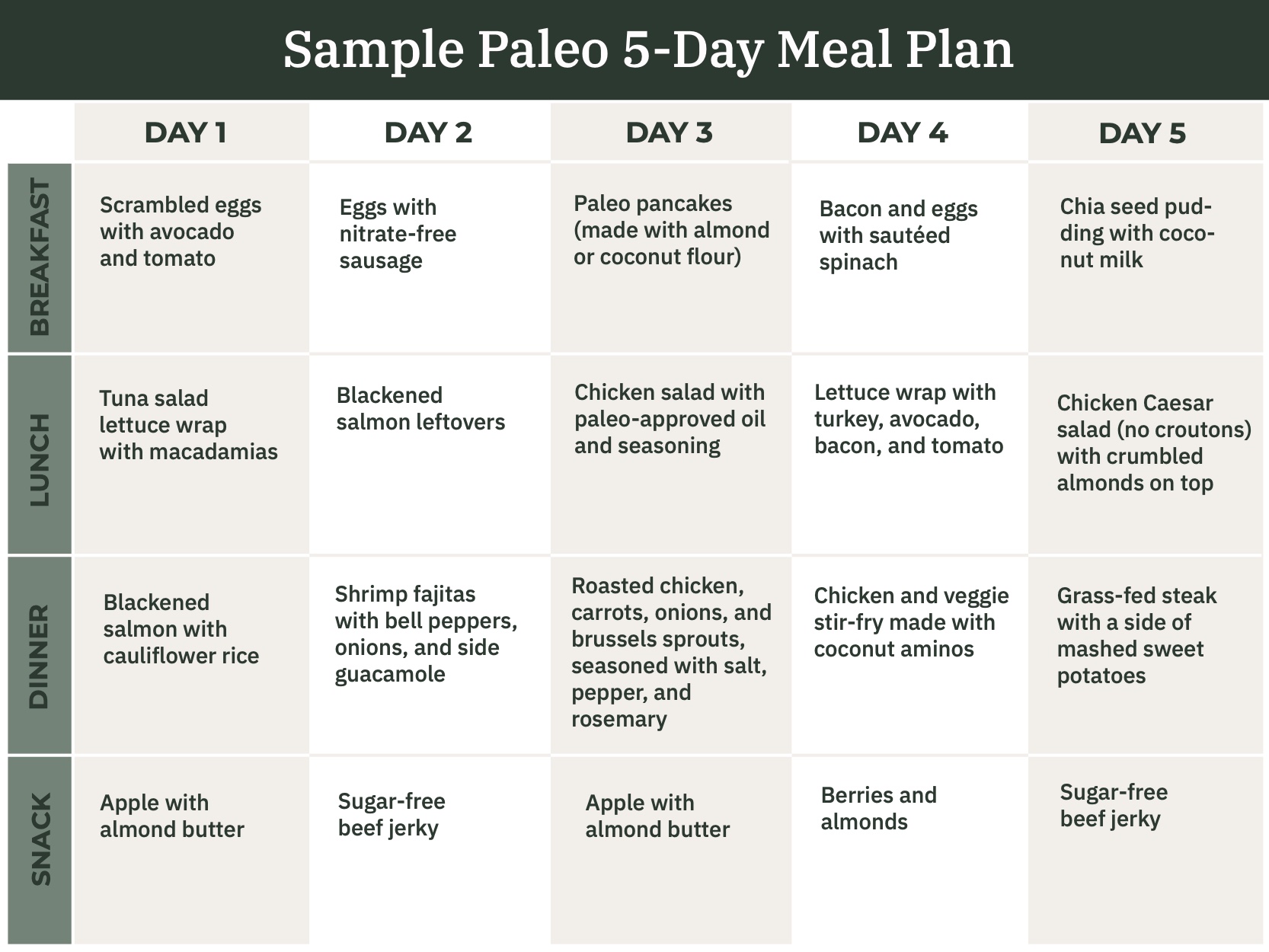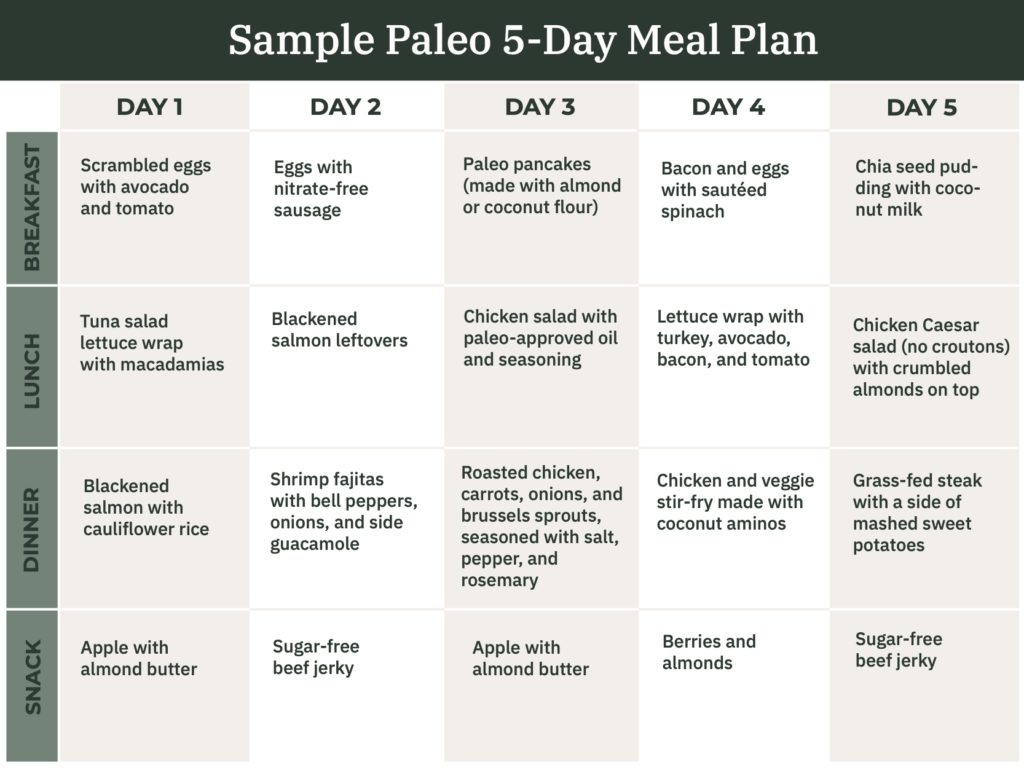 Day 1
Breakfast: Scrambled eggs with avocado and tomato 
Lunch: Tuna salad lettuce wrap with macadamias
Dinner: Blackened salmon with cauliflower rice 
Snack: Apple with almond butter
Day 2
Breakfast: Eggs with nitrate-free sausage 
Lunch: Blackened salmon leftovers 
Dinner: Shrimp fajitas with bell peppers, onions, and side guacamole
Snack: Sugar-free beef jerky
Day 3
Breakfast: Paleo pancakes (made with almond or coconut flour)
Lunch: Chicken salad with paleo-approved oil and seasoning 
Dinner: Roasted chicken with carrots, onions, and Brussels sprouts, seasoned with salt, pepper, and rosemary
Snack: Apple with almond butter
Day 4
Breakfast: Bacon and eggs with sautéed spinach
Lunch: Lettuce wrap with turkey, avocado, bacon, and tomato
Dinner: Chicken and veggie stir-fry made with coconut aminos
Snack: Berries and almonds 
Day 5 
Breakfast: Chia seed pudding with coconut milk
Lunch: Chicken Caesar salad (no croutons) with crumbled almonds on top
Dinner: Grass-fed steak with a side of mashed sweet potatoes
Snack: Sugar-free beef jerky
Modified Versions of the Paleo Diet
It may seem contradictory that some foods, like eggs, may be consumed on the paleo diet while dairy is excluded. However, the focus of this diet isn't merely to emulate what your ancestors ate during the Paleolithic era but rather to improve your health with more nutrient-dense foods. For this reason, you'll often find exceptions to the "rules," which are always made in favor of health. 
As this diet continues to gain popularity, some people have chosen to create their own modified versions to make it more doable for their particular goals and lifestyles. 
Some of the most popular paleo diet modifications include:
Allowing Dairy
Many paleo dieters decide that they'll allow dairy as long as it works for them digestively. The main caveat here is that paleo-friendly dairy should be of the highest quality. In this case, that means dairy that comes from organic, grass-fed cows. 
Most people that add dairy only do so in moderation. Products like butter, ghee, and kefir tend to be the main sources of dairy on this modified version, as opposed to cheese, sour cream, and yogurt. 
Adding in Gluten-Free Grains
Another modification that some people make is adding in gluten-free grains. Many report feeling better from excluding grains altogether, but gluten is a common culprit for the symptoms that come with consuming them. 
You can play with these modifications if you like, but it's best to start out with the traditional paleo diet and then modify as needed. This way, you can get a feel for which foods are really impacting your health and which you can add back in without a problem. 
Consuming White Potatoes
Ultra-strict paleo dieters restrict white potatoes for their high carbohydrate content and unfavorable position on the glycemic index. However, many paleo eaters point to the similar carb content of sweet potatoes as justification for inclusion. 
While there is no clear consensus, there is something to take into consideration if enjoying potatoes in the form of fries. Because french fries are often drenched in low-quality vegetable oils, most people consider them anti-paleo. If fries are something you wish to include, consider those fried in duck fat.
Including Paleo-Friendly Packaged Foods
Consuming a strictly whole food diet is excellent for your health, but it can get time-consuming and overwhelming if you're not a huge fan of cooking. While there are a lot of low-quality packaged foods out there, there are a handful of paleo-dedicated companies that are creating high-quality, paleo-friendly packaged foods.
Items like protein bars, protein powders, and even frozen meals may help to make your paleo diet more doable and enjoyable. 
As mentioned previously, if you decide to add in products like these, be sure to check the ingredient list first.
Where Do Desserts and Alcohol Fit In?
Beer and other grain-based alcohols like vodka (most varieties) and whiskey are strictly off-limits. And while grain-free alcohol and wine are technically paleo, you still want to enjoy them in moderation.
Related, when it comes to desserts, you shouldn't look to incorporate them as a core part of your diet. Keep in mind that the paleo diet is based on enhancing health, so you clearly wouldn't want to go overboard with booze or bake an almond-flour cake every night. With that being said, the occasional drink or two, or a generous slice for a well-earned treat, is no problem.
Plus, when the time comes, there is no shortage of sweet options on the paleo diet. Ten years ago, you may have struggled to satisfy your cravings, but due to the popularity of the diet, the internet is brimming with paleo-friendly dessert recipes.
Some examples include:
Paleo Brownies
Paleo Chocolate Chip Cookies
Paleo Ice Cream
Paleo Reese's Bars
Avocado Chocolate Mousse
Considerations
Who Shouldn't Try The Paleo Diet
While there is no research that shows that the paleo diet is harmful, some groups should consult with a doctor before trying it out; these include:
People who are underweight or have a hard time gaining weight

Anyone who is pregnant, trying to get pregnant, or breastfeeding

Anyone with a history of an eating disorder; although the paleo diet allows many different food groups, the restriction can be triggering for some 
Misconceptions Of The Paleo Diet
As the paleo diet has gained popularity, a few misconceptions have evolved over the years. 
The most common ones are:
It's a Low-Carb Diet
Although the paleo diet certainly can be low in carbohydrates, it isn't necessarily a low-carb diet. For instance, if you ate sweet potato and other starchy carbs every day on your paleo diet, it would keep you well within the normal carb range. 
It May Cause Heart Disease
Some sources warn that diets like the paleo diet will cause heart disease due to excessive saturated fat consumption. While healthy sources of saturated fat are certainly part of the paleo diet, it's far from the centerpiece. Foods like vegetables, nuts, seeds, and fruit make up a vast majority of what goes on your plate, complementing saturated fat-containing foods like meat. Furthermore, research around the link between saturated fat and heart disease is inconclusive at best. 
You Have to do CrossFit
Many people believe that part of the paleo diet includes high-intensity exercise like CrossFit or HIIT training. While these types of workouts may support your health goals, they are not intrinsically a part of the paleo diet. 
In truth, whatever exercise you do that makes you feel good is the type of movement you should focus on. 
You'll Automatically Lose Weight 
While weight loss is a common side effect of switching to a paleo diet, it's not a guarantee. For instance, if you've already been eating a relatively healthy diet, you may already be at a weight that's appropriate for you. Furthermore, since the paleo diet doesn't have restrictions on how much you can eat, it won't necessarily result in a caloric deficit. 
Takeaway
Like most things in life, the paleo diet isn't a magic bullet; you still have to put in the work and time if you want to reap the benefits of eating like your ancestors. 
Discipline is key, especially in the beginning stages, as you learn how to navigate this lifestyle. 
With that being said, there is a reason why this diet has gained so much popularity over the last 10 years. 
If you want to try out the paleo diet, start with the most common version, and then add in your modifications as you feel comfortable and get to know what your body does and doesn't like. 
And as always, incorporating a healthy fitness plan into your routine will serve to further support your dietary efforts.