When you're ready to get into calisthenics and bodyweight exercises you might be tempted to get the whole set up for your home.
Granted, for these types of programs, you won't need much in the way of equipment but one set of equipment that is worth getting is a set of free-standing gymnastic rings.
These rings are the same type that you'll see Olympic gymnasts training on or in the calisthenics gyms across the world.
These move freely and give you an added level of workout as you have to keep them steady throughout the movement.
But just like any type of equipment, some free-standing gymnastic rings are just better than others.
Take the time to evaluate exactly what you want and the space you have to set up a gymnastic ring set.
If you need something that's a bit more portable or something more permanent, these are important factors to consider when going out to do a little shopping for home gym equipment.
Pros:

Good Quality construction for the price

Cons:

Not a multipurpose contraption

Pros:

Allows for additional exercises with the added height

Cons:

Not a full stand alone, just an add on

Pros:

Use it indoors or outdoors

Cons:

Takes up a lot of space in your home or yard

Pros:

Extremely stable and strong throughout the system

Cons:

Wobbles and moves just a bit when swinging

Pros:

Durable and made of quality material

Cons:

Dip attachment that's included isn't well-made
10/02/2023 05:04 pm GMT
Unique Facets of Free-Standing Gymnastic Rings
Machines and free-weights will only train your muscles in very specific ways while the rings push your body to transition quickly and with great flexibility from one move to the next.
Instead of having only muscles for the show, you'll end up with excellent functional strength that can benefit you in every area of your life.
This tough set of transitions around on the rings also forces you to learn to be flexible and able to respond to the way they move.
Your strength and coordination will be bolstered by using the rings regularly. If you've been training with free-weights or machines, it may be difficult to adjust to the new challenge of free-standing rings.
Free-standing rings are also extremely portable and require only a little bit of space to get started.
Instead of investing in a huge home gym system or lots of little systems, working with a ring set can give you all the benefits of hitting the gym each day without needing it to take up all the space in your back bedroom.
Gymnastic Rings for Your Home
So you're convinced you need to get started on a bodyweight program and working out from home is the best way for you to stick with this new resolution.
While all the programs and schedules in the world will help you get started, good equipment will allow you to keep going when you reach the next progression for your program.
You can join a calisthenics gym or find other classes that focus on bodyweight movement but some of the best benefits of these programs, in general, is that they're simple to do at home.
With just some small pieces of equipment, you'll be able to easily get in a complete workout that challenges you in every way, shape, and form.
Before long you'll be flipping and spinning just like the Olympic athletes on the TV!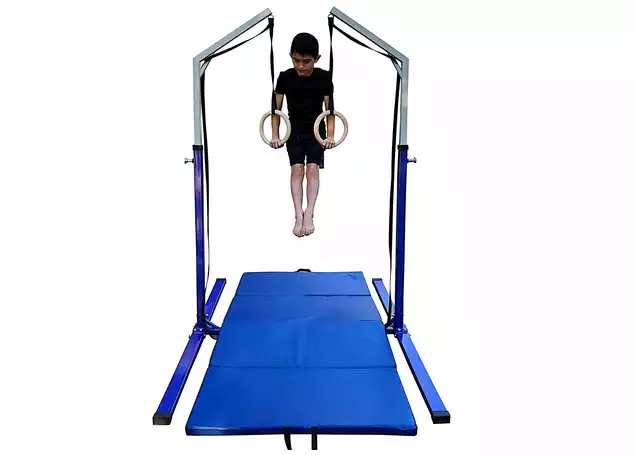 While you may not be ready to invest in the high-end professional models, this one is a high-quality version that won't set you back $6,000!
The entire set-up is geared toward children and budding gymnasts but has an upper weight limit of 400 pounds so adults can easily use it without fear of it collapsing.
One of the great benefits of this Ring Tower is that it can be easily adapted to suit those who are heavier when they're just starting.
Support is often placed between the two arms of the ring tower for extra stability during the workout.
All of the rings, mat, and crossbar are included in this kit. The tower will adjust from 5-7 feet so no matter how tall or short you are, it can easily be adjusted to fit your body type and height.
The nylon straps on the rings are also adjustable so the rings will always be at the right height for your desired exercise.
Everything comes together in just 15 minutes for assembly and can be easily taken apart for storage when not in use or to transport from place to place.
While many free-standing ring sets have you attach them to the ceiling, this one will keep your ceiling intact and without damage.
The entire set is made of heavy-duty steel and rings at just $375.
Pros
Good Quality construction for the price
Adjustable height for anyone to use
Extremely stable
Comes with a padded mat
Cons
Not a multipurpose contraption
Not as stable as others and may rock with kipping and swinging
User Reviews: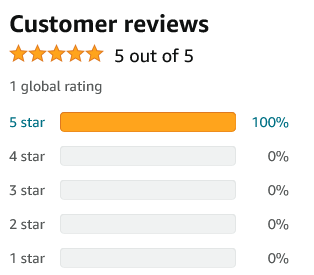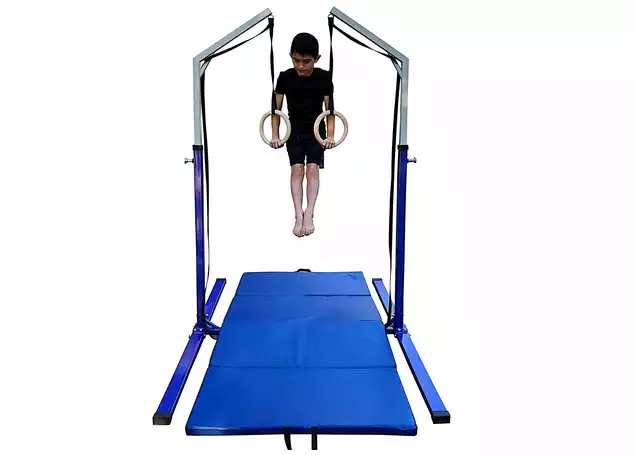 Olympia Pommel Ring Tower
Hanging Rings Free Standing Frame Stand and Mat
Supports up to 400 lbs
Adjusts from 5 ft - 7 ft
Perfect for Mens Gymnastics Training, Ring Workouts, Crossfit

With a name like Rage, it has to be good! If you're looking for an addition to your power cage with hanging rings, this is one of the best fits for your home gym and calisthenics routine.
This entire tower is a multipurpose unit that you can do gymnastic ring workouts, ring push-ups, pull-ups, muscle-ups, and other suspension exercises on.
The attachment that makes this work extends about 121" off the ground and goes out 43" from the cage itself.
While there's a lot of good things to be said for this ring tower, the rings themselves are sold separately.
So if you intend to add a free-standing ring set to your repertoire, this one might quickly start to accumulate and dent your pocketbook in a hurry.
The entire set comes in at only $225 but you'll need to budget for the rings if that's something you want to add.
The added height of the ring tower allows you to do different exercises as well. All in all, this is a great multipurpose machine that is well-built and very stable after mounting it to your power cage or rack.
Pros
Allows for additional exercises with the added height
Extremely stable and well built
Mountable to the power cage or rack
Cons
Not a full stand alone, just an add on
The height is not adjustable for the power ring
User Reviews: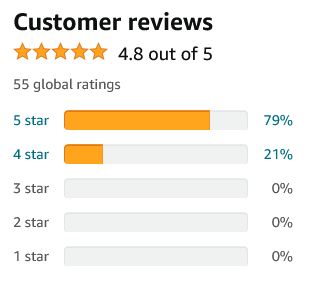 RAGE Fitness Performance Gymnastics Rings
Pair of multi-laminated, hardwood rings with break strength of over 1,000 lbs
Meets International Gymnastics Federation (FIG) specifications of standard 1.1"
Includes two adjustable 18' - 1½ nylon straps (making a 9' loop) with ¼' markers
Quick-release buckles features quick adjustments with single push of the levers
Ideal for ring-rows, muscle-ups, ring-dips, ring push-ups, ring pull-up, pikes and core movements
We earn a commission if you make a purchase, at no additional cost to you.
10/02/2023 05:04 pm GMT
With this, you'll soon be the young man (or woman) on the flying trapeze!
Well, maybe not quite that intense with this indoor trapeze stand but you'll be able to get in a great workout while still having fun.
If you have space, this makes for a great option. The entire thing is easy to set up and adjust and is still tall enough for all kinds of exercises and workouts.
It's designed with yoga trapeze, swing, hammocks, Olympic rings, heavy bags, and a pull-up bar in mind.
When you go to set this up, it goes up in three unique levels so it's easy to get put together with just one or two people.
Everything is provided to put this together so if you need to make it a quick set-up by yourself, there's little chance that you'll end up dropping the entire thing on your head!
One of the greatest things about bodyweight exercises is that you can do them either indoors or outdoors as they require little equipment or machines.
This trapeze stand will stand the test of time both indoors or outdoors and on uneven or level surfaces making it a great choice for anyone who wants to get fresh air while they workout.
The entire stand can support up to 600 pounds and is extremely stable and safe once assembled.
The price for this one is just a little bit high at $495 but there are lots of benefits that go with that price tag!
Pros
Use it indoors or outdoors
Can be easily adjusted for uneven or level ground
Tall mounts for rings to use
Lightweight and easy to assemble
Cons
Takes up a lot of space in your home or yard
User Reviews: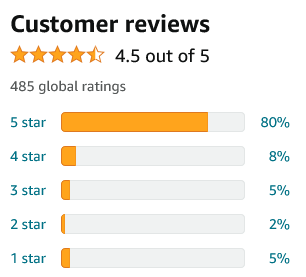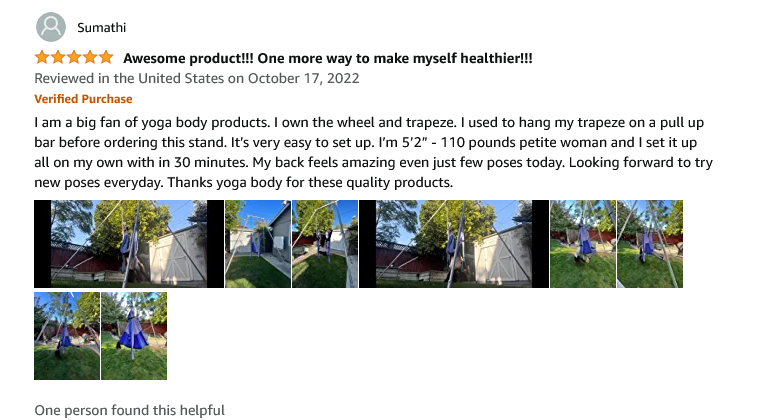 YOGABODY Trapeze Stand
A simple way to setup your Yoga Trapeze anywhere, anytime.
Supports up to 600lbs.
Perfect for back yard practice, parks, indoor and outdoor.
We earn a commission if you make a purchase, at no additional cost to you.
10/02/2023 05:21 pm GMT
Tactical Athlete Pull-Up System 2.0
While this system was originally designed as a free-standing ring system, many say it can easily be used for hanging rings as well.
The entire thing is stable enough to handle some of the more advanced and progressive moves but things like swinging and muscle-ups have led many users to advise caution.
The entire thing is made of steel and created and built in the US!
The system is sold exclusively by Tactical Athlete Training Systems, Inc. and they've created a stronger and more rugged unit that is easy to assemble and disassemble with just one person.
The system utilizes pull-knobs that give you easy, safe, and fast height adjustments for any move or workout.
You can also break the entire thing down to make it compact for transportation from place to place without compromising safety when you get there.
The large and stable base gives you a good foundation for doing pull-ups and weighted pull-ups in your next session.
The entire thing is durable and made for the team, military, and gym training so your workouts at home and the introduction of this to your home gym will still be efficient and easy to use.
The black powder coating that's all over the equipment prevents it from rusting so you can use it outdoors as well as indoors with your home gym set-up.
This is another system that's a little bit more expensive, ringing in at $595. You get a lot from this system though!
With the durable design and build, you could use this if you're working out on your own or thinking of starting your gym with lots of people using this throughout the day!
Pros
Adjustable height
Bar rack included with the set
Durable and long-lasting design
Cons
The system may move slightly when swinging
Expensive system to invest in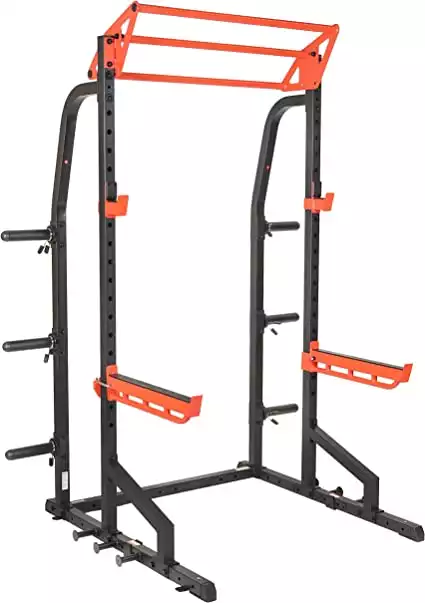 If you're looking for a system to hang rings from with great height, stability, and adjustable pull-up bars, look no further!
The bar rack is included as well as weight racks in the back that make it easy to go from move to move in your workout.
The first thing you'll notice about this system is that the weight limit is up at 1000 pounds so everyone can get in a good workout on this system. Each of the pull-up bars adjusts as well to fit your workout or your height.
The adjustments carry over to the J-hooks and spotter arms which offer up 18 different settings so you can more easily focus on your training instead of worrying about the safety of the set-up.
You're able to attach resistance bands to the pegs on this system which will give you the ability to do resistance training throughout your next workout.
The price on this system is definitely within reason too at just $499.
Pros
Extremely stable and strong throughout the system
Multipurpose
The Pull-up bar is at a good height for rings
Cons
Wobbles and moves just a bit when swinging
Assembly is more labor-intensive than other models
User Reviews: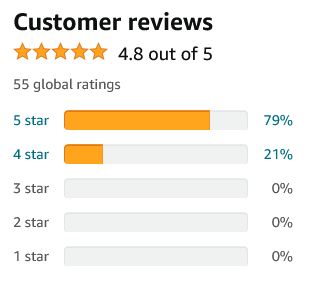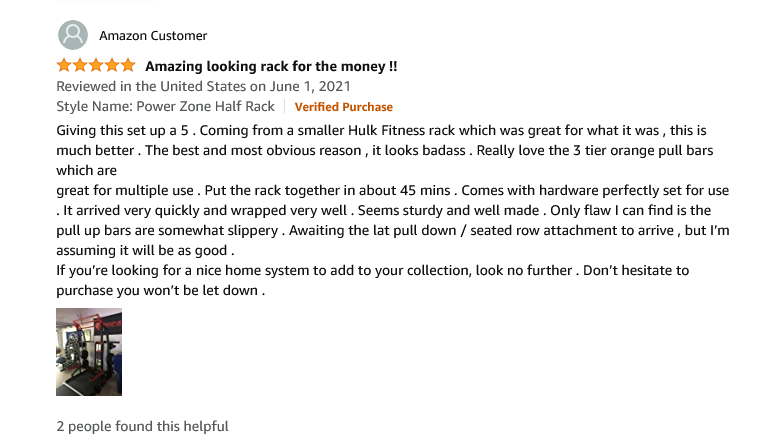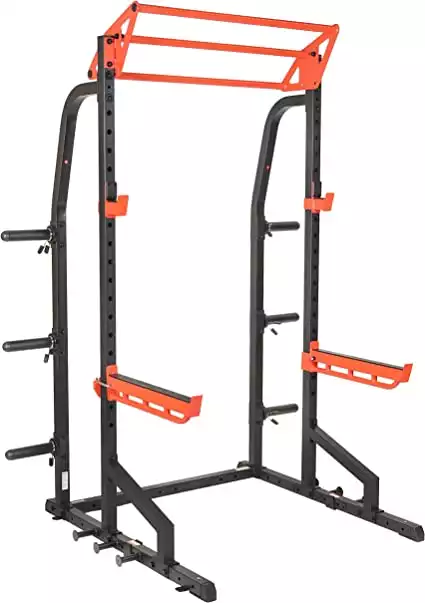 Sunny Health & Fitness Power Zone Half Rack
Heavy Duty Performance Power Cage
18 adjustable height settings
6 Olympic weight plate storage posts
6 resistance band pegs
Set of 3 height adjustable pull-up bars
Compatible with 7 ft. Olympic barbells
We earn a commission if you make a purchase, at no additional cost to you.
10/02/2023 05:44 pm GMT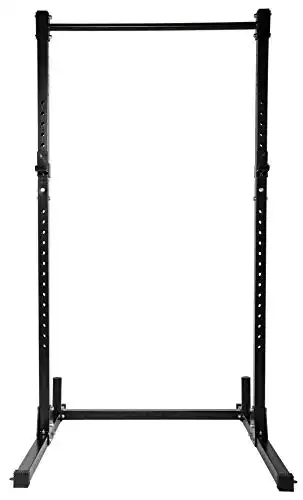 This makes for a good alternative for rings since the height and design will also give you lots of room for other exercises.
You may need to add some weights or sandbags to keep this model stable though.
Once assembled the multi-grip pull-up bar has hooks for resistance bands and bodyweight training in addition to spotter arms that also have dip attachments and j-cups.
The entire thing does have a 1000 pound weight capacity though and comes in at a respectable $416 for the price.
Pros
Cheaper than others on the list
Durable and made of quality material
Multipurpose and multiuse
Easy to assemble and install
Cons
Dip attachment that's included isn't well-made
Bolts may need to be re-tightened over time
User Reviews: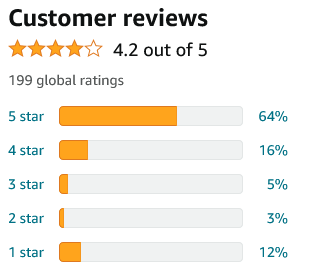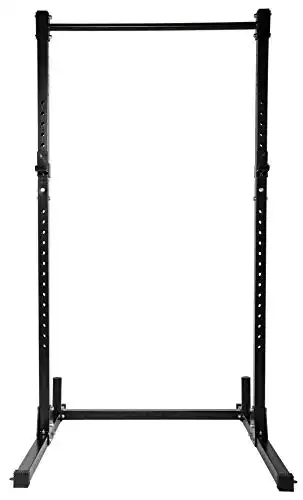 HulkFit Multi-Function Adjustable Power Rack Exercise
Pull up bar is include can be mounted at your preferred height. Two heavy duty J-Hooks are included too
Available in different colors, 2" spacing hold pattern, all holes are numbered for easy recognition
Two weight plate holders are designed for convenience and enhanced stability. Assemble tools are included in the package
500-Pound weight capacity. Heavy duty square steel frame construction with H-Shape base for max stability and safety
We earn a commission if you make a purchase, at no additional cost to you.
10/02/2023 06:00 pm GMT
Takeaway
Getting some free-standing gymnastic rings for your home gym is a great way to start incorporating different moves into your regular workouts!
With the added challenge that comes from the rings, you'll start to push your body in good ways that will develop into functional strength rather than just muscles for show.
Your new equipment will help you keep working on building that lean muscle mass that gives your body more energy and keeps you flexible and fit.
While it may take some time before you're flipping and looking strong like an Olympic athlete, today is the day to get started with a whole set of free-standing gymnastic rings!