The parallel bars are a great and versatile piece of workout equipment, that can be either portable, allowing you to train wherever you want, or stationary, to be used at your own home gym.
They are often ignored in detriment of their more popular cousin, the pull-up bar, but for no good reason since there are as many or more exercises that can be done in these bars.
In fact, there is a whole discipline in gymnastics dedicated to the parallel bars and some of the most advanced moves in this domain require this piece of equipment.
So without further ado, here is our guide to buying your own parallel bars.
Pros:

Sturdy

Adjustable Height up to 51"

Great customer Support

Great Design: Allows for wider range of exercises

Pros:

Foam Grip

Includes instructional DVD

Adjustable height up to 3" taller than standard (appropriate for people of all heights)

Lightweight

Cons:

Slightly above average price

Pros:

Sturdy

Affordable

Adjustable height up to 36"

Cons:

Distance between bars cannot be changed

Smaller range of exercises available

Pros:

Easy to install

Heavy duty (up to 300 lbs)

Most affordable in category

Cons:

Not indicated for 6"1′ and taller

Pros:

Super portable

Light

Affordable

Cons:

Parallettes offer a smaller range of exercises

Pros:

Comes with workout program included

Affordable

Thiner grip = easier on the wrists

Lightweight and portable

Cons:

Smaller distance to floor = less exercises

Made of steel rather than wood

Pros:

Quality build

Light but sturdy Affordable

Cons:

Smaller distance to floor
Best Parallel Bars for Home
Pros:
Sturdy, supporting up to 500 pounds
Adjustable height of 41 to 52 inches
Dimensions: 27. 95″ Wide and 29. 52" long
Design is simple and limits risk of injuries
Good value for money
Cons:
Customer support is not great
Some customers regard it to be too wide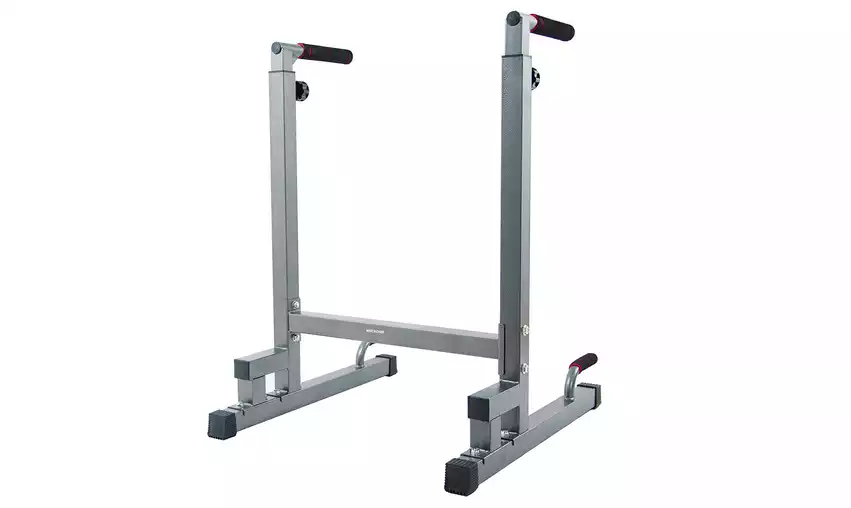 BalanceFrom Multi-Function Dip Stand
Dip Station Dip bar with Improved Structure Design, 500-Pound Capacity
Non-slip foot pads protect the floor and ensure your safety.
Foam padded grip handles increase friction and minimize your hand fatigue.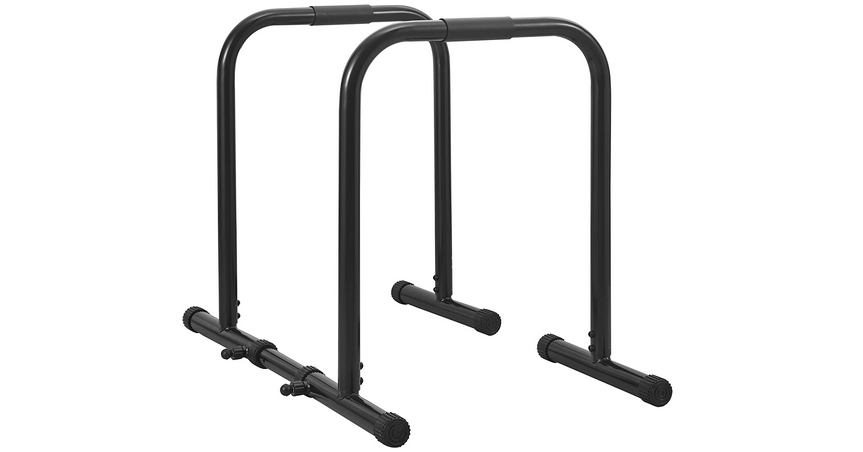 Pros:
Suction cups at the bottom makes it more stable
Comes with a body twister plate that rotates frictionless
Sturdy
Adjustable height between 39 to 51 inches in 2.6 inch increments
Good customer service
Cons:
Slightly more expensive than alternatives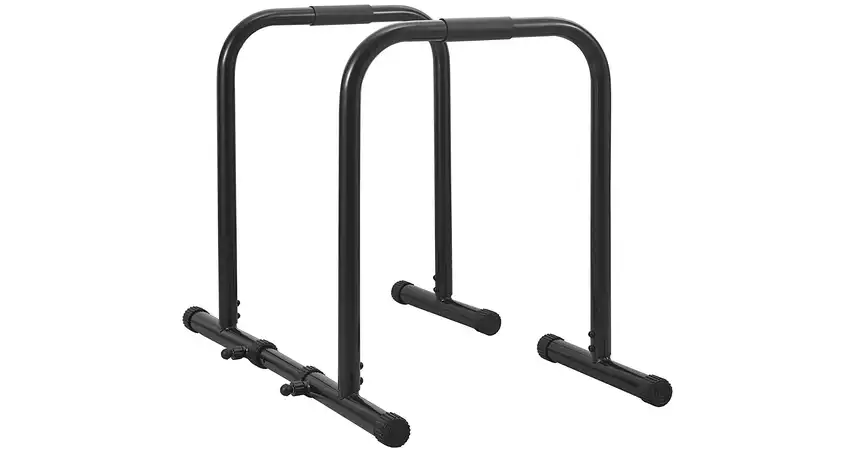 RELIFE REBUILD YOUR LIFE | Dip Station
Exercise Training
Parallel Bar Ab Workout Sports Equipment
Dip Stands for Home Gym
Best Portable Calisthenics Parallel Bars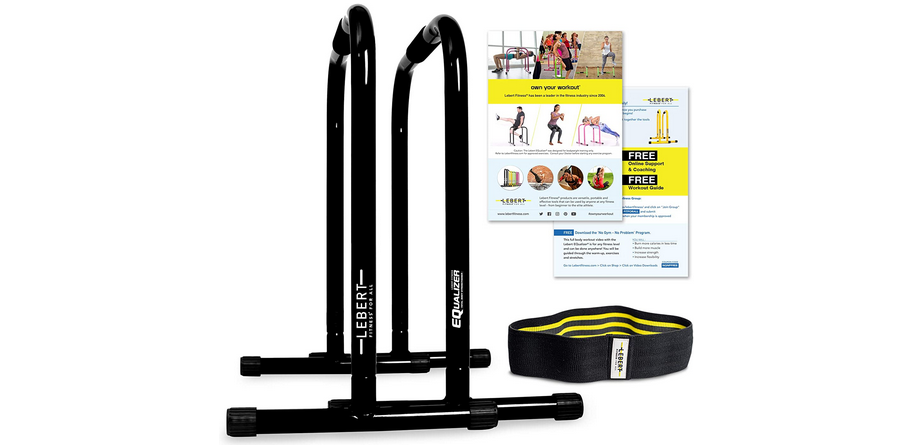 Pros:
Comes in different sizes: XL is recommended. The most common downfall with calisthenics dip bars is their height. This model offers a higher range of movements.
Strong build, good durability.
More stable than other versions of the dip bars.
Relatively Portable and easy to set up.
Comfortable grips
Height: 31"
Cons:
Height is not adjustable: If you're up to 6 feet, this bar should allow you to do all the major exercises without many problems. If you are taller, you might hit your knees on your floor when doing dips.
Price could be lower
In summary, this is a solid dip bar kit. It will cost you a bit more than other sets of bars listed in this article but will last longer.
Given the difference is at most 20 to 30 dollars, we consider this investment to be worthwhile.
OUR SCORE: 4.5/5
Lebert Fitness Dip Bar Stand
Original Equalizer Total Body Strengthener Pull Up Bar Home Gym Exercise Equipment Dipping Station
Hip Resistance Band, Workout Guide and Online Group
Pros:
Affordable
Height: 33"
Sturdy
Cons:
Less Portable than its peers
Distance between the bars is not adjustable. i.e. it is fixed with the structure
Smaller range of exercises. Australian pull-ups, for example, can't be done.
This option is great for a home gym setup that needs to be semi-portable.
It's main disadvantage is the diminished flexibility that the fixed distance between bars gives.
OUR SCORE: 4/5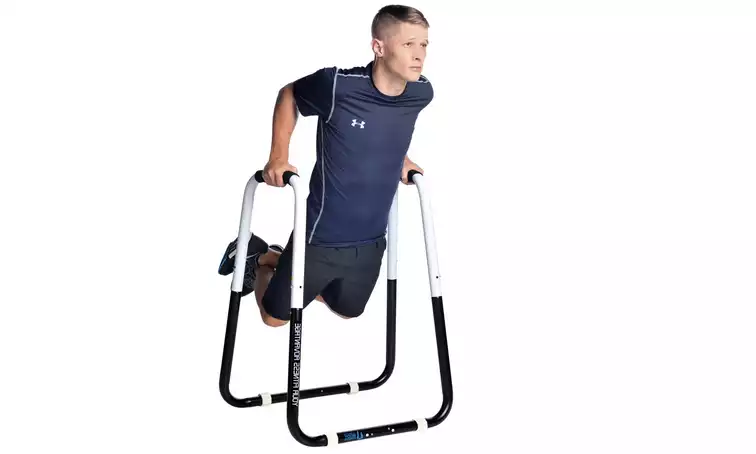 Ultimate Body Press Dip Bar Fitness Station
Will Accommodate Tall & Heavy Person | Knurled to reduce slipping
Rubber feet firmly position the barbell rack and to avoid damage to your floor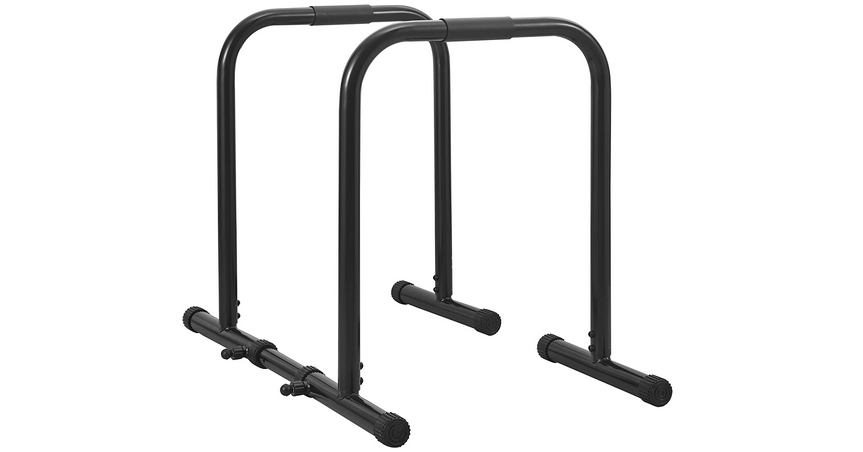 Pros:
Adjustable Height: From 30.31" to 34.25"
Very Stable
Cons:
Despite the adjustable height, even at its highest mode, it can still be too short. Users over 6"2′ might still struggle to do dips without hitting their knees on the floor.
Not as sturdy as the two previous options.
OUR SCORE: 4/5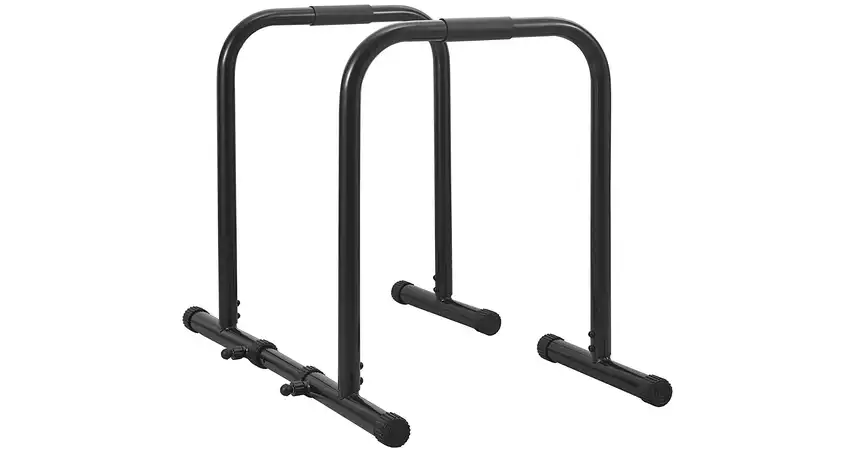 RELIFE REBUILD YOUR LIFE | Dip Station
Exercise Training
Parallel Bar Ab Workout Sports Equipment
Dip Stands for Home Gym
Best Portable Parallel Bars (aka Parallettes) for Calisthenics
Portable parallel bars offer a smaller range of exercises. The all-important dips, for example, can't be done with some of these smaller stands.
The best portable parallel bars are Parallettes that are at least waist high.
These allow for the biggest range of exercises, including dynamic ones such as the dip, russian dip, amongst others, and statis exercises such as planches, l-sits, and handstands.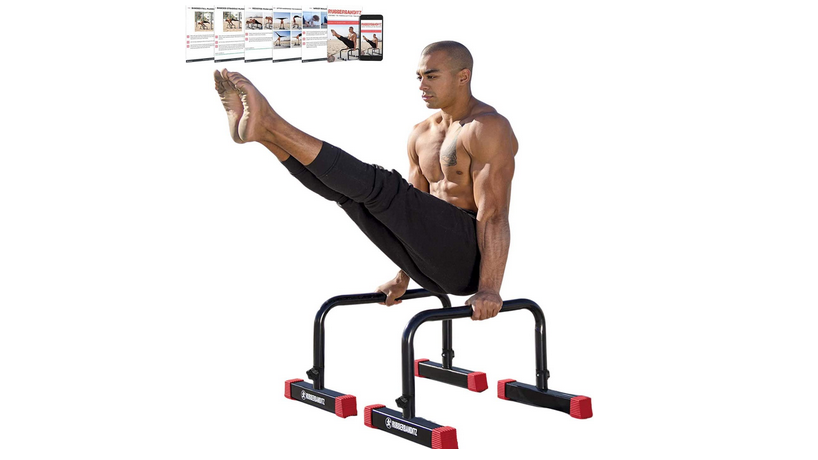 Pros:
Affordable
Extremely Portable
Strong and durable build
Very Stable
Cons:
No foam grip. This isn't necessarily bad as some people prefer the metal grips. Personally, we prefer metal grips.
Non-adjustable Height
OUR SCORE: 4.75/5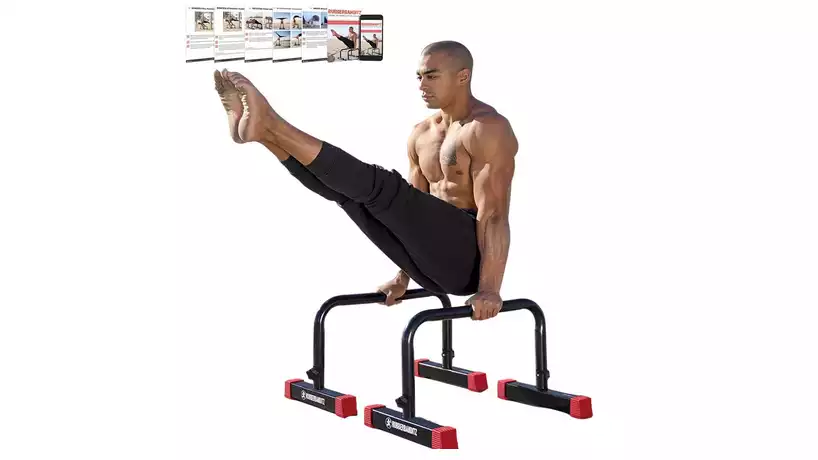 Rubberbanditz Parallettes Push Up & Dip Bars
Heavy Duty
Non-Slip Parallette Stand for Crossfit
Gymnastics
Bodyweight Training Workouts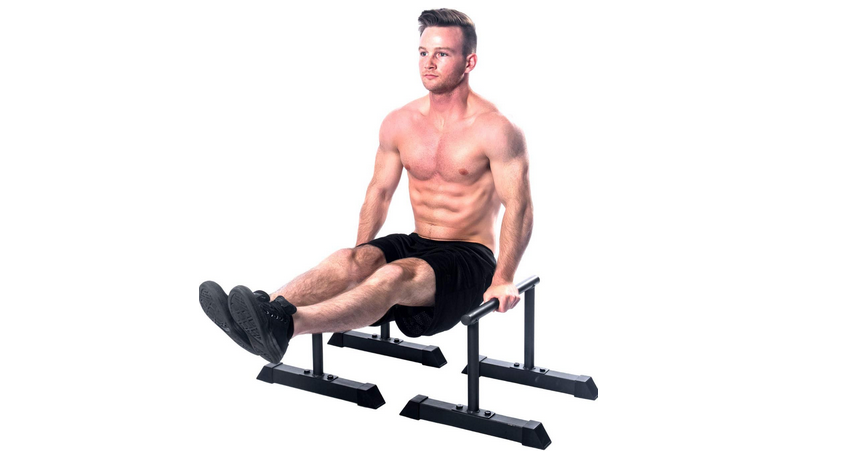 Pros:
Foam grips make it more comfortable for prolonged exercises.
Affordable
Cons:
Non-adjustable Height
Less sturdy than our #1 choice
OUR SCORE: 4.5/5
XL Parallette Bars, Versatile Push Up & Dip Bars
UPDATED STYLE - 9" or 11" Options - NEW Design Assembly, NEW Thicker Grips and Non-Skid Feet for Enhanced Push Ups
Multi Use & Versatile Calisthenics Equipment.
Heavy Duty & Sturdy Design
Convenient Work Out For Anyone
Safe And Easy To Use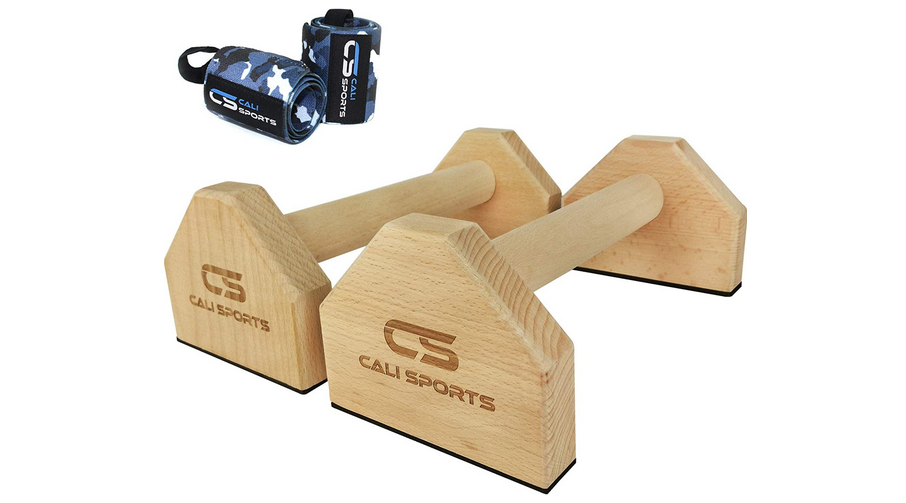 Pros:
Portable and easy to assemble
Nice design.
Cons:
Less affordable
No foam grips
Design is less sturdy
Less affordable than previous options
OUR SCORE: 4/5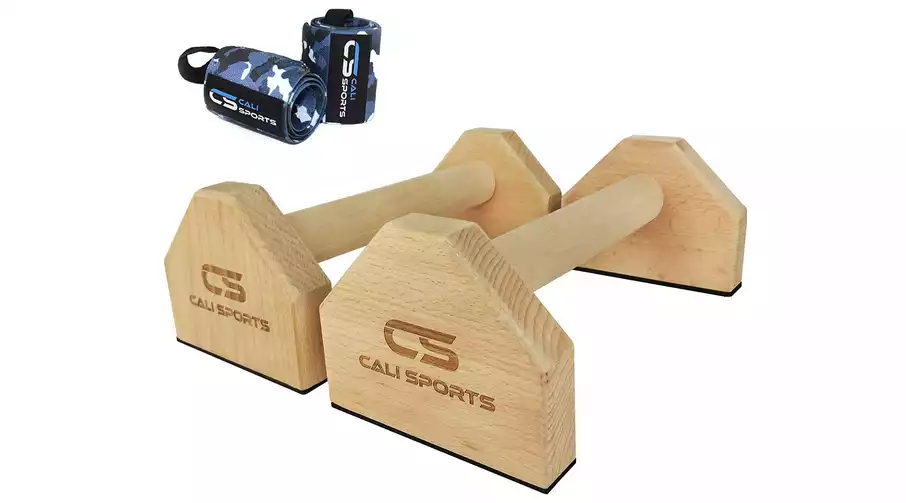 CALI SPORTS Wood Parallettes for Calisthenics
Gymnastics, Yoga, hand stand bars, press up handles
Solid beech wood
Non slip rubber foam pads
Freedom to practice on any surface
Absorb the sweat so you can maintain a solid grip.
Parallel Bars Workout Exercises:
L-sit:
Difficulty: Medium
The l-sit is one of the most demanding and complete core exercises you can do using the dip bars.
It consists of grabbing the bars with your hands aligned and elevating your legs until they form a 90-degree angle with your upper body.
One possible progression is, to begin with your legs tucked into your chest, then move to a 1 leg extended l-sit, then a normal l-sit, and when you've mastered that, move to the v-sit, which consists of elevating the legs even further.
Once again, our favourite video on the l-sit progression is by Antranik:
Push-ups and Dips:
Difficulty: Easy to Medium
Dips are the quintessential exercises for working on your lats.
If you're trying to get a V-shaped back, this is the exercise to obsess with.
The progression is quite simple: If you can't do normal dips in the parallel bars, you can do a series of floor exercises, as shown in the video below. Though personally, we recommend working on a dip progression based on resistance bands.
When you can do dips without resistance bands, just add a weight belt.
ThenX has a great video on these two exercises:
Handstands:
Difficulty: Hard
Warning: Doing handstands in the parallel bars is for advanced athletes only. Controlling the fall can be hard and can result in serious injury.
If doing handstands in the floor is no longer challenging, bar handstands are a great progression. They will put a much higher emphasis on wrist control and strength
Seth Travers has a good tutorial on this progression:
Planches:
Difficulty: Medium to Hard
The planche is another great core and upper body exercise. The recommended progression is: Tucked planche, where your knees go up to your chest, one legged planche, and finally the normal plance.
Once this is easy peasy, you can combine the planche with a handstand.
The youtube channel Calisthenicsmovements, which is great by the way, has a very good tutorial on this move:
Final Thoughts
We hope that this article has helped you in your calisthenics journey towards a more flexible, lean, and strong body and mind.
The dip bars will undoubtedly take your home training to another level, opening the doors to a universe of static and dynamic exercises.
If you want more info on a solid calisthenics routine to do a home, read our article on the subject, and as always any feedback or comments are appreciated in the box below!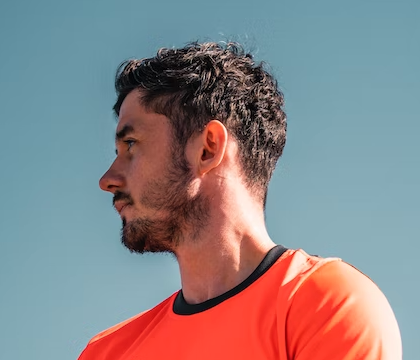 Chris is an experienced Calisthenics practitioner focused on isometric exercises and street workout. He founded thehybridathlete.com in 2017, which was subsequently acquired by theyhybridathlete.com
He is based in Portland and has been working out using solely his own body weight and bars for the past 6 years.