Getting fit and saving money?  Where do we sign up? 
Some of the best calisthenics programs offer codes to help you save some money on the apps that you love. 
We are talking about calisthenics coupon codes and promo codes galore.  The beauty of calisthenics is that by nature you don't spend a lot of money because you don't need a lot of equipment. 
It's just your own bodyweight that does the trick.  However, there are a lot of programs out there that help you through different exercises and workouts.  That's where we need to find some savings and we did. 
We'll go through some discount codes you can use to save on some of our favorite calisthenics apps. 
Save money so you can buy more workout clothes.  Right?
Calisthenics Programs and Promo Codes
When it comes to calisthenics, there are some programs that are better than others. 
If you haven't picked a calisthenics program or app to use yet, you've come to the right place. 
We'll break down each one a bit so you know what they have to offer.  Then we'll help you out with a promo code for each one since they can be hard to find, especially one that isn't expired.  
We are huge fans of the Fitbod app and we reviewed it in depth here.  Why do we love it? 
It's extremely versatile and allows you to personalize the app to your heart's content.  Based on some personal information that you input, it can find the exact program that will suit your fitness goals. 
If you have multiple goals you are working towards like weight loss and muscle gain, you can change the settings so that you use a different gym profile each day. 
You can even alternate between calisthenics and equipment use if you would like.  Literally, whatever you want, this calisthenics app has it.
In addition to bodyweight exercises and equipment, change any workout to exclude certain aspects you don't prefer. 
Fitbod will also give you a workout recovery percentage so you have an idea of how much rest time you need between workouts. 
Whether you are a beginner or advanced calisthenics athlete, change your exertion level with Fitbod to the right intensity. 
View upcoming workouts and get a report on your progress from the past week.  Seeing your progress leads to continued motivation. 
When you see results, you feel more confident and want to do more.
Fitbod
Get stronger, faster with a fitness plan that fits you.
Use Fitbod's training algorithm to build and try your personalized workout plan now!
Fitbod adapts to support you when your fitness goals evolve, gym equipment changes, or when you need some variety to stay motivated
See where you stand as Fitbod gets to know you better. See your muscle usage, exercise achievements and workout streaks to track your fitness progress
Pricing
We'll give you the coupon code, but before we do, we want to show you the usual pricing for Fitbod. 
First of all, Fitbod offers a free trial so jump on that before you try any calisthenics coupons. 
For three days you get full access to the Fitbod interface and can try the different calisthenics workouts. 
Once you decide you love it, get the Fitbod app for $9.99/month.  Commit for longer and get Fitbod Elite for $59.99/year. 
It's available on Android or iOS and it links to Apple Health.  
It's the moment you have been waiting for, people.  Save some money with the promo code "CAL45″.
With that coupon code, pay only $45/year, a savings of 25%. 
That's a fantastic deal for such a versatile calisthenics app that gives you a ton of variety in your workouts.
Pros:
Extremely versatile and personalized
Provides you with every option you can imagine
Excellent tutorials
Great variation of exercises
Cons:
Some of the workouts are too demanding
Some reviews stated the app uses too much battery life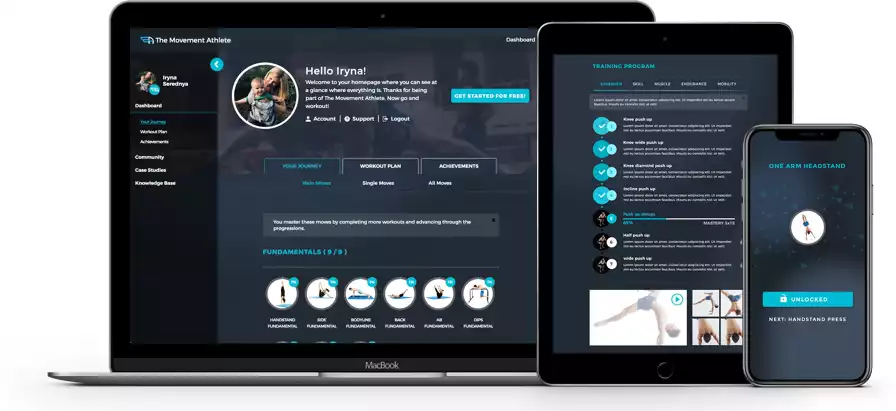 If you have been looking for a discount code for the Movement Athlete, we got you. 
We reviewed this program because it's an excellent calisthenics program that combines bodyweight training with gymnastics. 
It gives you step-by-step instructions on how to progress in your calisthenics training.  Forget the guessing game. 
This program has it all and a community of other Movement Athletes for full support.  Transform your body by gaining strength, flexibility, and mobility just like a gymnast. 
The online app is personalized to your calisthenics goals. 
Take advantage of personalized workouts that transform your body like never before.
Pricing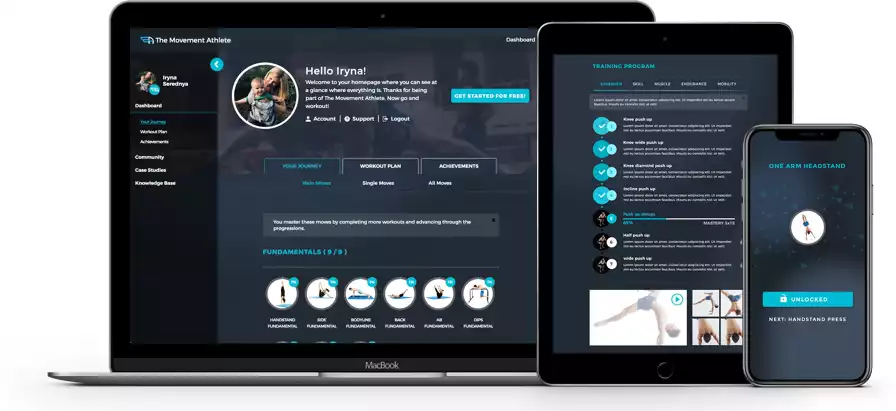 The Movement Athlete
LIFELONG, PROGRESSIVE, EFFECTIVE | BODYWEIGHT STRENGTH TRAINING PROGRAM
Adjust Your Training Based on Your Performance
Help You Make Lifelong Changes
USE THE DISCOUNT CODE calisthenicsgear30 for 30% off FOREVER!
The Movement Athlete has several subscription options and deals galore. 
They offer discounts all of the time.  While we are writing this, there is a Memorial Day sale that gives you a 50% discount. 
If you missed that sale, don't worry.  Input "Calisthenicsgear30" to save 30% on any of their subscriptions. 
Join their monthly subscription for only $17.48 instead of the normal $24.97.  This coupon saves you on quarterly and yearly subscriptions too. 
Pay only $32.90 quarterly instead of $47 and pay $109.90 yearly instead of $157.  We are loving these coupons! 
Ready for the best coupon?  If you want Movement Athlete for life, pay only $347.90 instead of the regular price of $497. 
That is a lifetime membership to this awesome app with our coupon.  Calisthenics just got a lot more fun, right?
Pros:
Fun and effective
Plenty of focus on mastering skills
Fantastic for learning new moves
Excellent for assessments
Cons:
Some reviews state there are poor progressions
No weighted calisthenics
Some complaints of bugs in the app
Caliverse is fantastic for a lot of reasons, but one of the main ones is that it is a free calisthenics app. 
No discount codes or coupons needed with this one.  It offers over 200 calisthenics exercises, a community of Caliverse users, allows you to build your own workouts and share them, and features live online sessions with expert trainers. 
While this calisthenics program is newer, it was developed in 2019, it fixes issues immediately and engages with the community quickly and efficiently. 
There are various programs to follow depending on your fitness goals and progressions for different calisthenics skills. 
Again, no calisthenics promo codes needed with this one.  Free is the word of the day.
Calisthenics for everyone | Caliverse
Customized calisthenics workouts- no gear necessary, right from your smartphone! The easy-to-navigate interface gives you access to workouts by text and videos so everyone can be successful. It is offered on both Android and iOS operating systems, and it's free to download.
Pros:
All made for you to know what exactly to do every day

Have a workout set for every day of your week
Pros:
Great for all levels of calisthenics
The interface is easy to use
Customizable
Free – no coupons required
Excellent app with lots of potential
Built-in timer
Cons:
Some reviews say you can't listen to music in the background while using the app
Various bugs, but the developer is quick to fix
Requires a strong internet connection
School of Calisthenics
Don't you want to go back to school?  You can go to the School of Calisthenics and receive a variety of calisthenics programs and training. 
They offer online coaching so you can get fit right at home with a program that works for your fitness level. 
If face-to-face is more your jam, you can attend a retreat with the School of Calisthenics and get more personalized training in person. 
Beginners and advanced calisthenics athletes will love this program.  Work on your progressions with the help of experienced trainers.  
School of Calisthenics Prices
The School of Calisthenics offers a variety of options from online coaching to in-person classes, retreats, and an online shop. 
Prices range from £99 (about $140.48 USD) per month for online coaching to £70-£150 (about $99-$212 USD) for workshops. 
There are a bunch of coupons that are offered for all of their different products to include their online shop. 
For a full list of coupons, promo codes, and discount codes, check out this website. 
There a lot of deals for shop items and the different training options.  Input the coupon to make sure it is active and enjoy some savings.
Coupons are our Favorite
Now that you know some awesome coupon codes, it's time to go shopping for calisthenics apps and merchandise. 
Save money while getting fit is our new motto. 
Contrary to popular belief, there is an assortment of calisthenics coupons to receive a much-needed discount on your favorite app.
Keep in mind that promo codes don't last forever so make sure you capitalize on the savings today. 
Tell your friends about the best deals and coupons you find.  Training is always more fun with a friend.