What is the BodyGym bar?
Bodygym is a resistance band exercise system that has handles and a rigid bar that attaches to the bands.
The bar makes the system ideal for simulating any sort of barbell exercise. Simply attach the bands to chairs or doors to get started. 
BodyGym Exercises
The BodyGym gives you the ability to do any exercise you would normally do with dumbbells, and more.
Most people find the most success with the following:
Upper body (lateral bent arm raise, alternating hammer curls, biceps curl)
Lower body (standing kickbacks, squat jacks, banded squats, lateral steps)
Cardio (using the cardio videos on the app)
Core (hip bridges, bicycles, torso twists)
Bodygym 2.0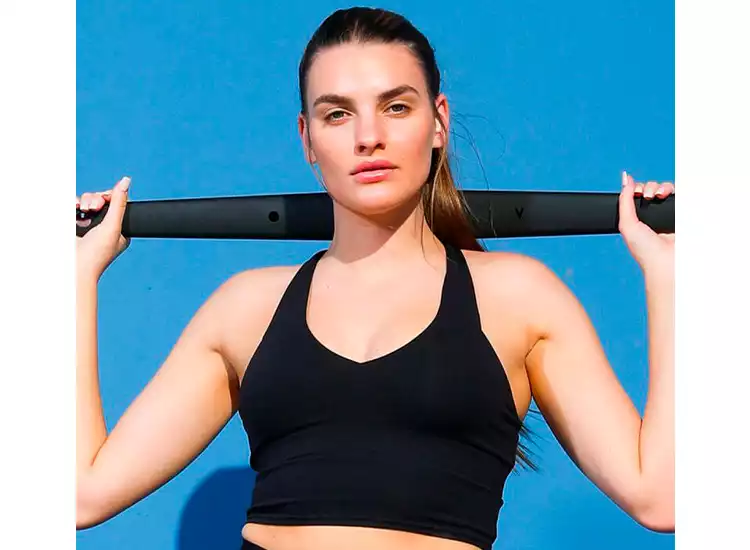 The BodyGym, 2.0 is one of the most popular resistance training tools.
It can be taken anywhere with you making it great for a home gym. Exercise your full body with a few key moves.
It's also perfect for physical therapy or beginners. 
The BodyGym allows you to stream entire workout videos through the app.
You can get free exercise plans or follow along to videos made by the BodyGym team and even Marie Osmond.
Exercises can be saved for later and viewed wherever you go. 
Does the BodyGym really work?
Yes. According to many user reviews, the Bodygym is effective for exercising.
This may apply more so to beginners, rehabilitation, and the elderly.
However, studies have shown that more advanced athletes can benefit from incorporating resistance bands into their weight training routine.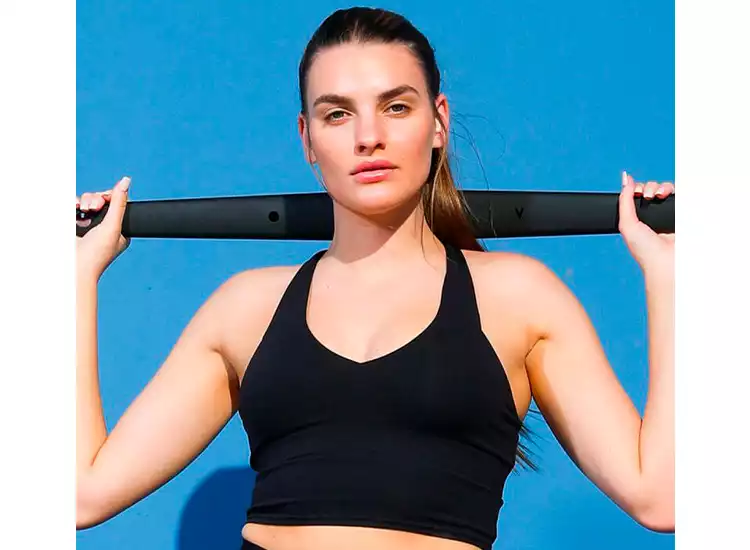 Portable Home Gym Equipment | BODYGYM Fitness
Over 1+ million sold worldwide our portable gym replaces thousands of dollars of gym equipment
It has great user reviews on Amazon and most people say they would recommend it to a friend.
Consider your fitness level before purchasing as it isn't highly recommended for advanced athletes. It's better for people beginning their fitness journeys. 
The product and workouts are of good quality and quite effective for most people.
There are a few complaints of bands snapping after a relatively short period of use, but this is not overly common.
Key Decision-Making Factors:
Price
Value and price need to be considered.
While there are many cheap options, they are likely not the best choice.
There are quality options for reasonable prices.
Durability
Resistance bands should last for quite some time before tearing or failing.
Durability is important for longevity and safety.
Resistance
The level of resistance must suit the user.
Being able to change the resistance for different exercises and also as the user gains strength is key.
Versatility
The main thing to consider is the number of movements and exercises that are possible with the system.
Resistance bands with attachable bars are great for simulating barbell exercises.
Best Elastic Resistance Products:
Bodygym is a resistance band system with built-in handles and a rigid bar.
These can be used in various positions and configurations to perform multiple different exercises. Includes everything you need to get a full-body workout anytime, anywhere.
Included
BodyGym Bar- Molded from a high-grade hybrid of plastic & glass for the most durable and lightweight on-the-go workout system you can buy. Finished with soft-touch painting for extra grip and comfort.
Level 2 BodyGym band- a perfect place to start and challenge you in your fitness journey.
Can also be bought with the Maris Osmond BodyGym Workout DVD for $120.00.
Details
Less than 3 lbs.
Dynamic resistance-simply roll the bar to increase or decrease resistance
60-day trial
Free shipping
1-year warranty
Additional details
Great BodyGym reviews
The bands easily attach to the bar and can also be secured to doors, chairs, etc.
Progressive stretch and instability can improve your workouts.
Portable gym.
The bar allows people to perform any variation of barbell exercises using resistance bands.
Great workout for beginner and intermediate levels.
Can be used alone or in conjunction with weight training, calisthenics, HIIT, etc.
Holds a 4.3 rating on Amazon with 3,800 user reviews.
Price
Pros:
Easy to set up and use
Effective weight alternative
Great for core and toning
Good for rehab
Works well for beginners and elderly
Cons:
Bands can be too stiff at the beginning
Some complaints about the durability of the bands
Best for:
Rehab
Quick and easy resistance adjustment
User Reviews: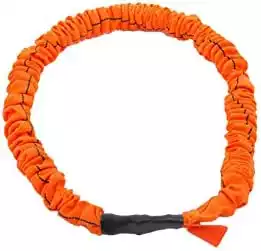 Stroops offer a variety of workout equipment utilizing their unique resistance bands.
The Slastix®, or sleeved elastic, is a staple in Stroop's training. This durable resistance band adapts to your training needs and the clips on each end make it easy to use any Stroop's attachment for your workouts.
The 36" Slastix is the standard length and provides the most training versatility.
Resistance levels
Very light- 10 lbs.
Light- 15 lbs.
Medium- 20 lbs.
Heavy- 25 lbs.
Very heavy- 30 lbs.
Lengths
Available packages
Bodyweight Gym

The Bodyweight Gym is a Slastix driven suspension trainer. The built-in Slastix increases your muscular stability by letting you train functional movements in an unstable environment. The Slastix can be removed when you want to train in a more stable environment.

Loop

The Slastix® Loop is a versatile tool that you can take anywhere. Use it for mobility, warming up, or to get a full-body workout.

Resistance 90

The Resistance 90 is a portable resistance training system. You can choose to use the Slastix resistance band with the collapsible bar or by itself. The Resistance 90 also comes with a foam door anchor or Spine Strap so you can easily work it out in your home.

VITL

The VITL kit is a versatile all-in-one resistance band training system. The kit comes with attachments to work your whole body.
Price
Pros:
Well-made and durable
Great for any exercise
Perfect for home gyms
Effective and versatile
Cons:
Some complaints about the comfort of handles
Best for:
Different levels of resistance
Versatility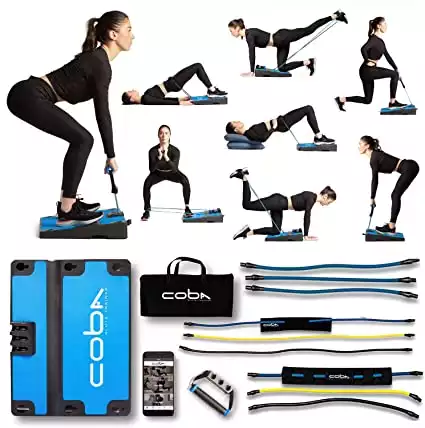 Pure Glutes LLC developed, tested, and patented a more effective way to build a better butt with the revolutionary COBA Board Glute Trainer.
The COBA Board's patented counterbalance and functional resistance help to shape, tone, and build difficult to activate glute muscles faster, safer, and more effectively than traditional methods.
It's also scientifically proven to hyper-target and activate your glutes faster and more effectively than regular squats. 
Included
(1) Main Handle
(3) Under-Board Bands (20 lbs. resistance)
(3) Glute Bridge Bands (30,40,50 lbs. resistance)
(1) Glute Bridge Nylon Strap
(3) Kickback Bands – (10,15,20 lbs. resistance)
(1) Kickback Nylon Strap
(1) Cloth Storage Bag
User Guide
Free on-line App
(4) Extra Light and Heavy Bands are included for a wide range of bridge and kickback movements
8 primary glute exercises
Coba Squat
Coba kickback
Coba donkey kick
Coba hip thrust
Coba glute bridge
Coba hip abduction
Coba lunge
Coba deadlift
Details
Increased muscle activation in glutes
Counterbalance system
Smartphone app available
Includes guided workouts and exercises
Over 50 detailed workouts
Recommended by physical therapists
Price and warranty
$199.00
30-day money-back guarantee
Lifetime Warranty
Pros:
Good quality and durable
Super-versatile
Great for legs and glutes
Lots of variable resistance
Perfect for home gyms
Cons:
Some complaints of straps staying attached
Best For: 
Facts & Figures / Studies:
Below are some studies done that show the benefits of elastic resistance training.
This study was conducted in 2018 with 12 female participants ranging in age from 16-17. The goal was to examine the effects of body elastic resistance band training in women who play handball.
The subjects did an 11-week control phase and a 9-week elastic training phase.  The resistance training was 6 exercises performed 3 times a week. 
Results
The elastic resistance band group had greater improvement for countermovement jump with or without arm swing (10% vs. –6 to –2%) and power output at lighter loads (10 to 12% vs. –6 to 0%)
For the 3 throwing velocity tests, there were tendencies towards increased velocity in the elastic resistance band group
For the repeated agility run, there was a reduction in the mean and fastest time (2 to 3% vs. –1 to 1%)
A brief, elastic resistance band training program, incorporated into the regular handball training sessions, improved explosive lower-limb performance in young female handball players more than handball training alone
A study from 2013 evaluates muscle activity during leg exercises using elastic vs. isoinertial resistance at different exertion and loading levels. Participants were 24 women and 18 men between the ages of 26-67.
Electromyographic (EMG) activity was recorded in nine muscles during several different exercises.
Results
Ballistic contractions always produced greater EMG activity than slow controlled contractions.
Hamstrings EMG amplitude increased at the more extended knee joint positions during lunges using elastic resistance.
Lunges performed using medium-load ballistic muscle contractions may induce similar or even higher leg muscle activity.
Lunges using elastic resistance appear to be equally effective in inducing high leg muscle activity as traditional lunges.
A study from 2016 examines using high loads of variable resistance as a part of a periodized training protocol to examine VRT.  Participants consisted of 14 male college basketball players. 
Rate of power development (RPD), peak power, strength, body composition, and vertical jump height were measured pretreatment and posttreatment. 
Results
A significant increase was observed in the rate of power development in the test group.
Significant effects were observed for all other variables including squat 1RM, bench press 1RM, deadlift 1RM, clean 3RM, vertical jump, and lean mass.
Athletes who add variable resistance to 1 training session per week may enhance their athletic performance.
Conducted in 2018, the main objective of this study was to compare the muscle activation levels induced by elastic resistance bands versus conventional resistance training.
All 29 participants (ages 23-29) attended two familiarization and strength assessment sessions. The level of muscle activation was measured with surface electromyography.
Results
Elastic resistance bands increased the muscle activation level substantially in perceived ancillary muscles. 
Elastic resistance bands induced slightly lower muscle activity in the pectoralis major and deltoideus posterior. 
Results show that elastic resistance bands can be considered a feasible alternative to dumbbells.
Bodygym Core System Portable Home Gym
Resistance Trainer All-in-One Band + Bar Kit, Full Body Workout: Improve Fitness, Build Muscle, Strength Exercises with Marie Osmond Workout DVD Included