For athletes that are looking to switch up the daily grind and add some creativity into their workouts, look into getting yourself a pair of body rings.
Body rings or gymnastic rings are affordable pieces of home gym equipment that can be used for a variety of different movements. 
Shocking the body into something new is a great way to keep workouts intense and force the mind to stay motivated.
Body By Rings is a hypertrophy focused program, the end result being muscle growth.
Unlike some calisthenic programs that focus on weight loss and fat burning, this program uses repetitive interval training to gain weight though building muscle size.
Body By Rings was constructed by Daniel Vadnal, founder of Fitnessfaqs and an experienced calisthenic coach with a background in physiotherapy and exercise science.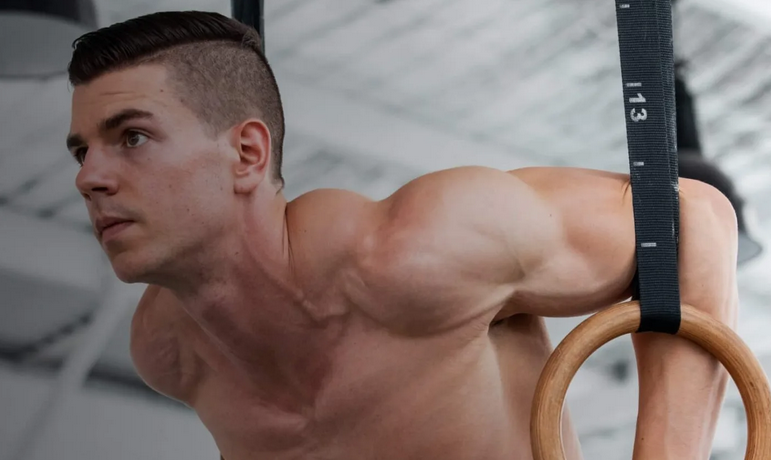 Daniel Vadnal – Fitnessfaqs Founder
He has multiple internationally acclaimed programs ranging in focus from beginner level calisthenics to advanced leg strength.
The 18- week ring training program builds in intensity, and is not limited to people with previous ring experience.
As body rings can be a bit of a challenge for someone brand new to any sort of bodyweight exercises, it is recommended that in order to get the most from the Body By Rings program you are able to complete the following pre-requisites:
– 5 Pull-Ups- 5 Dips- 10 Pushups
Note: if someone is only just able to fulfill these requirements, it is recommended that they take a few weeks and focus on these foundations.
Practice your push-ups and pull-ups until the numbers listed above are comfortable, and then move onto the rings program.
What are the benefits of using gymnastic rings?
Learning new movements
As we mentioned at the beginning of this article, it is important to continuously challenge the body in order to promote muscle growth.
Not only do we challenge it physically by increasing resistance, but we need to challenge it creatively to get our muscles to act in slightly different ways.
Unless you have a background in gymnastics training, it is highly unlikely your body will be adapted to using gymnastic rings and by putting it through a new learning curve, new muscles will be activated.
Compound Exercises
Gymnasts are often commended for being incredible all-around athletes, as many of the exercises they must perfect require a diverse set of muscles.
To become comfortable using gymnastic rings, we must balance ourselves using the entire core, and engage muscles to maintain stability.
It can be a bit of a learning curve, but our muscles adapt quickly. Becoming adept with the Body By Rings program will provide functional strength that can be used in many other body weight exercises and programs.
Portability
Portability is a common interest in the calisthenic community, the more creativity in training the better. Gymnastic rings are easily set up in the park, on a local playground, in the living room or at the local gym. Most can fit it in a simple backpack, and affordable options can be found all over the internet.
For some help in choosing your rings and how to set them up, this list of options might prove helpful.
Body By Rings Review
Who is it for?
This program was constructed for anyone who has basic practice with simple bodyweight exercises and is looking to challenge themselves with a new angle that's technical and fun.
What do you need?- Set of gymnastic rings.- Access to an overhead object (tree, home gym, playground)- Basic knowledge of push-ups, pull-ups and dips.- Computer or smart device.
What to expect?
The program consists of an 18-week training program encompassing 40 exercises.
Information on modifications for each exercise is provided to ensure adaptability to your current level of training.
Exercises may seem overwhelming at the beginning and some users have shared that they needed to follow along with video tutorials several times before it was comfortable. However, after the first few weeks, exercises become second nature and technique improves.
Workouts are broken up into "push" and "pull" days, and progress in difficulty throughout the program. Four days per week is recommended (2 push and 2 pull days).
Daily warm-ups are included, but leg workouts are NOT. Those wishing to add legs into this program can do so independently or check out Limitless Legs another program by Daniel Vadnal.
A structure diet plan is not included with this program, but nutrition advice is littered throughout to give customers a nudge in the right direction.
Results and Conclusion
For those who follow through for the full 18- week program, there is a noticeable increase in strength and muscle tone on the new muscle groups being worked.
Many noted a significant increase in their ability to do non-ring movements such as pull-ups and one-arm push-ups with ease.
For those who do not go through and complete the entire program, they seem to still see the value in building gymnastic ring fundamentals.
Incorporating these basics in your weekly routine can help to keep the body sharp, challenging those dormant muscles. And with a set of gymnastic rings in your home gym, it adds another tool to keep your workouts energetic and creative.
There are plenty of resources to learn new body ring exercises to challenge yourself further.
We recommend the Body By Rings program to anyone who has a passion for calisthenics and wants to increase muscle and inject some creativity into their workouts.
It's a versatile program that will challenge your muscles in new ways, build stability and core strength, and spark a child-like sense of fun.
As either a standalone 18-week course or a great resource to learn a new set of exercises to incorporate into your own routines, this program is worth the small investment.
Body By Rings Alternatives
If you have a set of gymnastics rings, Body by Rings is a great choice.
However, before we conclude, we thought we'd include a few programs that do not require rings.
Here are our favorite:
Investment:

Under 200$ (weekly payments and free trial available)

Whats Included:

1000+ Videos
MobileProgression BasedApp
Online Portal
Personalized workoutsbased on initial assessment
Mobile and Desktop

Investment:

Under 200$ (weekly payments and free trial available)

Whats Included:

100's of Bodyweight Exercises
100% Mobile
Free Trial Available
Ability to Toggle Between Bodyweight and Weight Training Seamlessly

Community:

Facebook Group
Sub-reddit - Extra paid "family" community

Whats Included:

17 Core Classes+ Extras
Hundreds of Videos
Online Portal
Desktop preferred
Supporting Contenton Nutrition, Motivation, and More.

Whats Included:

Bodyweight, Kettlebell, and Dumbbell Options Available
Videos
Online Portal
Mobile and desktop
Supporting Content on Breathwork, Motivation, Warm-ups, and More!

Duration:

Infinite / Set Your Own Pace

Investment:

14.99$ / month (1 month free trial)

Whats Included:

Over 2500 full workouts–Hundreds of 7 to 15 minute workouts.
Topics include: Bodyweight training Running, Elliptical, Strength Training, Cycling, and more
Mobile focused
Personalized workouts based on assessment– Mobile focused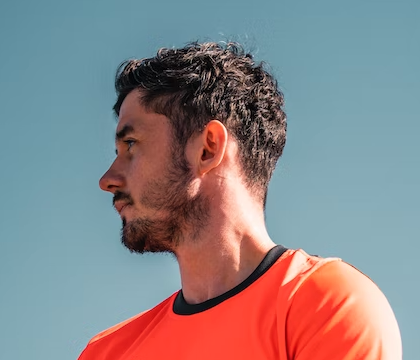 Chris is an experienced Calisthenics practitioner focused on isometric exercises and street workout. He founded thehybridathlete.com in 2017, which was subsequently acquired by theyhybridathlete.com
He is based in Portland and has been working out using solely his own body weight and bars for the past 6 years.