There is a new tool available for you to rehabilitate muscles from injury or surgeries. 
It's called the Bodyblade. 
Not only is it used for rehab, but it also builds core strength and stability and improves functional movements throughout the body. 
There are several different versions of the Body Blade and we'll dive into all of them to compare their various attributes. 
By the end of this article, you'll understand why the Bodyblade is essential to rehabilitation and promotes increased athletic performance for everyone. 
You need this kind of calisthenics equipment in your life.
What is the Bodyblade?
The Bodyblade was developed by a physical therapist, Bruce Hymanson, in 1991. 
He created the product to engage deep spine stabilizers and provide a device that worked for rehabilitation, sports performance training, increasing overall fitness, and personal training. 
Studies have shown that the Bodyblade was instrumental in helping those in physical therapy for rotator cuff or other shoulder-related injuries. 
Going even further, a study that looked at the Thera-band, cuff weight, and Bodyblade for scapular activity during fitness training showed that Bodyblade was more effective than all other competitors at providing the most effective resistance training for the scapular.
The Bodyblade is a long, flexible staff that moves back and forth.  The blade itself varies in size depending on what version you purchase. 
The Bodyblade works by using vibration and inertia.  Using both, it contracts muscles up to 270 times per minute.  That's a whole lot of contracting! 
By doing so, it stimulates your nervous system and transforms your body by building strength and stability throughout your body. 
The amount of intensity will depend on how fast you drive the blade back and forth. 
The harder you go, the more the blade will flex, which causes more resistance.  To make it easier, push the blade slower to decrease the Flex Intensity. 
Many reviews claim that they developed bigger muscles with the Bodyblade, especially in their arms. 
Physical Therapist Bruce Hymanson wanted to create something that checked all of the boxes regarding rehabilitation and overall fitness.  We like to think he did well.
Bodyblade Products
Now that we piqued your interest, it's time to show off physical therapist Bruce Hymanson's creation. 
There are several different Bodyblades that you can purchase.  We'll get this party started by describing them all in detail.  
The longest Bodyblade coming in at 60 in (152 cm) and weighing 2.5 lbs (1.13 kg), the Bodyblade Pro is the best option if you are already strong and mobile and looking for the most significant challenge. 
The Bodyblade Pro provides variable resistance depending on how much Flex Intensity there is in the blade as you move it back and forth. 
The Flex Intensity is how hard the blade is flexing as you move it.  The more it bends, the more resistance is provided and the harder you work. 
If it feels like too much, just decrease your Flex Intensity by slowing down how quickly you drive the blade back and forth. 
Adjust to your level no matter what that is and contract over 600 muscles at once while using the Bodyblade.
With your purchase, you receive one Bodyblade Pro, a Super 6 / Power 10 Training DVD, and a wall chart that features 30 dynamic exercises you can utilize with the Bodyblade. 
The Super 6 / Power 10 Training DVD was also created by our favorite physical therapist Bruce Hymanson. 
This DVD features two workouts, the Super 6 and Power 10, that are short and powerful to deliver results. 
The great thing about the videos is they help you with your posture and stance while using the Bodyblade.  Correct form is essential in any workout.  
Buy the Bodyblade Pro for $159.00. 
With that, you get everything we mentioned above and a one-year warranty on the product. 
Bodyblade Pro Kit
Includes: Bodyblade Pro (1-34 pounds of resistance), Super 6 / Power 10 DVD and Exercise Wall Chart
Pros:
It gives you a better workout than the Bodyblade Classic
Exceeds expectations
It is an excellent tool for rehabilitation and injuries
Practical and fun to use
Cons:
Not great for a full-body workout
User Reviews: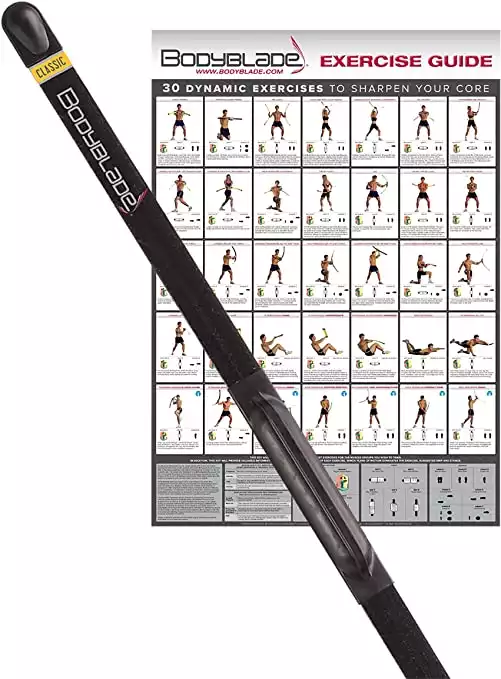 The Bodyblade Classic doesn't like to brag, but it is the most popular product that Bodyblade offers. 
At 48 in (122 cm) long and weighing 1.75 lbs (.80kg), the Bodyblade Classic kit is versatile and still gives you the variable resistance and Flex Intensity. 
Since this one is slightly shorter than the Pro, it is not as intense with its flex.  It does provide the most resistance range of all three, so there's that. 
If you are looking for something that has more resistance than the Bodyblade CxT, this is your jam. 
You might not want to jump to the Pro just yet, but we guarantee that you will get there once you enjoy the Bodyblade Classic for a bit.
In the Bodyblade Classic kit, you receive the blade in black, a 30 Dynamic Exercises wall chart, and access to free online workouts and instruction. 
This version is $99, and it comes with a one-year warranty.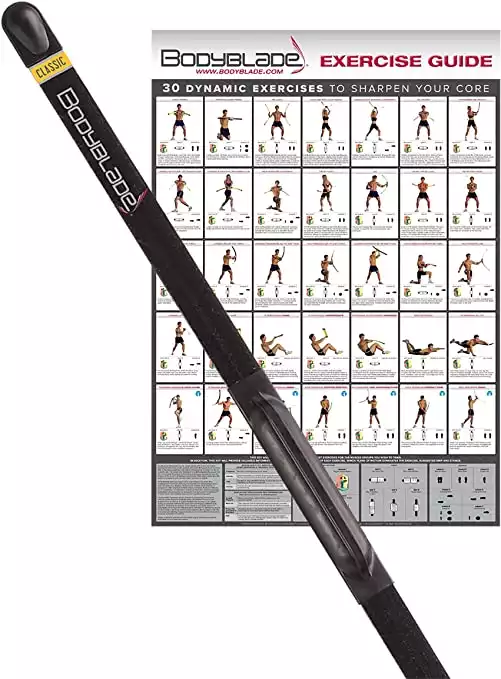 Bodyblade Classic Kit
Includes: Bodyblade Classic, exercise wall chart, and a complete online exercise library including upper body, lower body, core, and total body workouts.
Pros:
Great for elderly people
Excellent for improving joint mobility and strength
Fantastic tool for rehabilitation and physical therapy
Efficently works the core
Cons:
User Reviews: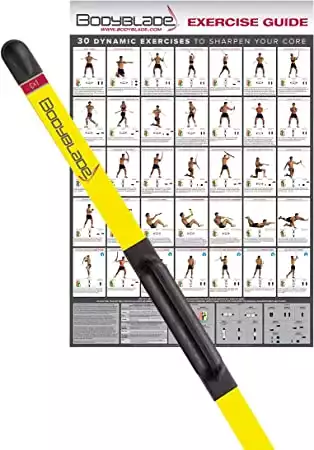 Don't let the size fool you!  Even though the Bodyblade CxT is the smallest version, it still packs quite a punch. 
It is 40 in (102 cm) long and weighs 1.5 lbs (.68 kg).  It has the same variable resistance and Flex Intensity when moved back and forth. 
The resistance is less because it's lighter and shorter than the other two versions.  However, it's essential to note that it also provides a neurological factor when you use the Bodyblade CxT. 
A person recovering from a stroke might find the CxT perfect for rehabilitation. 
Being lightweight and portable enables a person with less fine motor skills and decreased body awareness to use the Bodyblade CxT and become successful in working multiple muscle groups.  
This lightweight and portable Bodyblade comes with an exercise wall chart to increase your success. 
The wall chart features 30 different exercises to practice. 
The Bodyblade CxT is $69 and comes with the one-year warranty.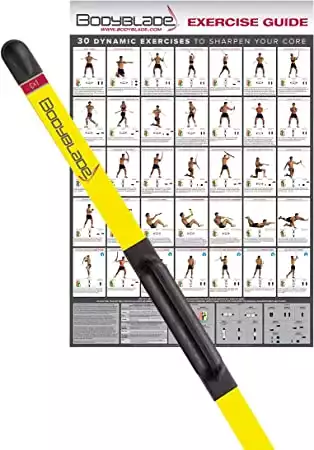 Bodyblade CXT Kit
Includes: Bodyblade CxT, exercise wall chart, and a complete online exercise library including upper body, lower body, core, and total body workouts.
Pros:
Excellent tool for rehabilitation and building strength
Effective at home solution
Lower resistance than other models
Improves core stability and balance
Cons:
Some prefer the models that have more resistance
Some reviews stated that the motion was too fast due to the light resistance
User Reviews:
Bodyblade Review – A Physical Therapy Dream
From an exercise wall chart to a training DVD, the Bodyblade models give you rehabilitation and training that increases your overall functional fitness. 
Our favorite physical therapist, Bruce Hymanson, provided us with a versatile and easy-to-use tool at home. 
There is a blade for everyone as you work on core strength and stability.  The older community members can thrive using the Bodyblade to increase fine motor skills that deteriorate with age. 
Following the exercise wall chart is simple and helps engage the right muscle groups and improves upper body strength.  
Physical therapists everywhere use the Bodyblade instead of weights to lift shoulders after rotator cuff injuries or surgeries.  Plus, the only drawback to the Bodyblade is that it's expensive. 
How often do we buy things that aren't expensive and then we are unhappy with the product?  Maybe it's time to pay a bit extra money for a quality product like the Bodyblade.
You can use it with other fitness apps like Fitbod and the Movement Athlete.  Trust us.  It's worth the money and your major muscle groups will thank you.
Bodyblade Pro Kit
Includes: Bodyblade Pro (1-34 pounds of resistance), Super 6 / Power 10 DVD and Exercise Wall Chart