Are you tired of pull-ups being your kryptonite? We all know you are a superhero, so what are you stressing about?
Pull-ups are a multi-functional workout.
They strengthen your abdominals, trapezius or traps (a muscle that extends up into the neck and down through the shoulder blades), latissimus dorsi or lats (large V-shaped muscles that attach your arms to your spinal column), rhomboids (upper back muscles that support the shoulders and shoulder blades), triceps, biceps, deltoids (shoulder muscles), and glutes.
Whoa! You can work all of those muscles just by doing a pull-up? Absolutely you can. That is the beauty, and the beast, of the pull-up.
See what we did there?
We already reviewed the Pull Up Mate for you and showed how versatile it is to gain your upper body strength.
Who doesn't want a free-standing pull-up bar that will give us brute strength?
The Pull Up Mate provides us with an alternative to a pull-up bar in the door frame, especially when we constantly hit our head on the door frame.
Ouch!
With a Pull Up Mate, you can change the design to do anything from pull-ups to leg raises to push-ups.
That's the beauty of a free-standing pull-up bar. Versatility is the name of the game, and the Pull Up Mate is the winner.
But are there good alternatives to the Pull Up Mate?
A good question, and the answer is yes.
Pull Up Mate alternatives bring some competition to the original Pull Up Mate, and we love it.
A little competition is good, and some of these Pull Up Mate alternatives are really stepping up the pull-up bar game.
First things first, Is the Pull Up Mate Worth the Price?
We think so, and here's why.
As we said, the Pull Up Mate is versatile, allowing you to do multiple exercises on one apparatus that targets all areas of your body.
This free-standing pull-up bar is super easy to assemble and disassemble, so you can store it while it's not in use. Say goodbye to all of that huge gym equipment that can never be broken down or put away.
Using only your body weight for the exercises, no plates or weights are lying around for you to trip on or stub your toe. C'mon! We have all done it and man, does it hurt.
Depending on how you want to workout, you just change the pull-up bar's assembly and get going.
You are always in control of how hard your workout is.
Hi, I'm New. Which Pull-up is the Easiest?
Now easy might be a stretch as doing any kind of pull-up takes a lot of strength.
You are using your back and arms to lift your entire body weight. A chin-up is usually the easiest type of pull-up to start with because while utilizing the traps, there is also a lot of emphasis on the biceps.
One of the main reasons for the extra bicep work is that a chin-up is done with your hands facing you.
Holding the pull-up bar, you have an underhand grip and retract your back muscles and biceps to bring your chin up and over the pull-up bar.
While you are initiating with the biceps, research has shown that the key to performing both chin-ups and pull-ups is activating the scapula.
Basically, you need to focus on pulling your shoulder blades back and down and really engage your major back muscles.
Those muscles, lats, traps, and rhomboids are activating, which will lead to your pull-up or chin-up success.
Using Inverted Rows to Guide You
The good news is there are many ways to build up those back muscles, so you are up for the challenge.
One of the best ways is to do an inverted row. An inverted row is different from a pull-up because it is done horizontally as opposed to vertically.
By angling your body, you focus on the back muscles in a different way than you would a pull-up or chin-up.
While a chin-up focuses more on the rhomboids and traps, the pull-up focuses more on the lats.
To do an inverted row, begin by walking your feet out while holding onto the bar or straps with an overhand or an underhand grip while hanging horizontally.
Pulling your elbows back, you row your body up, pushing your chest towards the pull-up bar.
This will engage your rhomboids and traps and promote that scapula retraction of pulling your shoulders back and down.
Without engaging those major back muscles, you can't do a pull-up properly without risking injury to your arms and neck.
How Many Pull-ups Should I be Able To Do?
100 pull-ups are the average number you should be able to do. Did we scare you? We're kidding!
In all seriousness, on average, a man should be able to do 8 pull-ups. If you can do 13-17 pull-ups, you are considered strong and fit.
On average, a woman should be able to do 1-3 pull-ups. If you can do 5-9 pull-ups, then you are powerful and fit. That said, the United States Marine Corp requires their enlisted soldiers to perform 3 pull-ups to pass their fitness test.
Here's what we decided. If you can do just one pull-up, you are pretty awesome.
You can lift your entire body weight while hanging and gravity pulling on you.
I mean, you are basically stronger than gravity. See? We told you that you were a superhero. We don't lie.
What about Muscle-ups? Can I do those on a Pull Up Mate?
Unfortunately, muscle-ups (a combination of a pull-up followed by a dip) are not recommended on the Pull Up Mate.
Since the Pull Up Mate is designed to be portable, the amount of weight it can withstand is limited to only 220 pounds (100 kilograms).
Muscle-ups involve a lot more swinging, making it harder to utilize a Pull Up Mate for that kind of momentum. Don't fret, though.
The new Pull Up Mate 2 is larger and sturdier, which allows you to do muscle-ups.
It does come with quite a hefty price tag, though.
The Best Pull Up Mate Alternatives
While we have learned quite a bit about the Pull Up Mate, let's now look to some Pull Up Mate alternatives that you can buy to give you the same great workout.
We've done the research to have you getting buff in 2021 right at home.
All of these options are excellent choices when it comes to perfecting a pull-up, chin-up, dip, or simply building upper body strength.
Remember, the best part about these products is utilizing your body weight for a powerful workout.
Let's get to listing the best Pull Up Mate alternatives in 2022!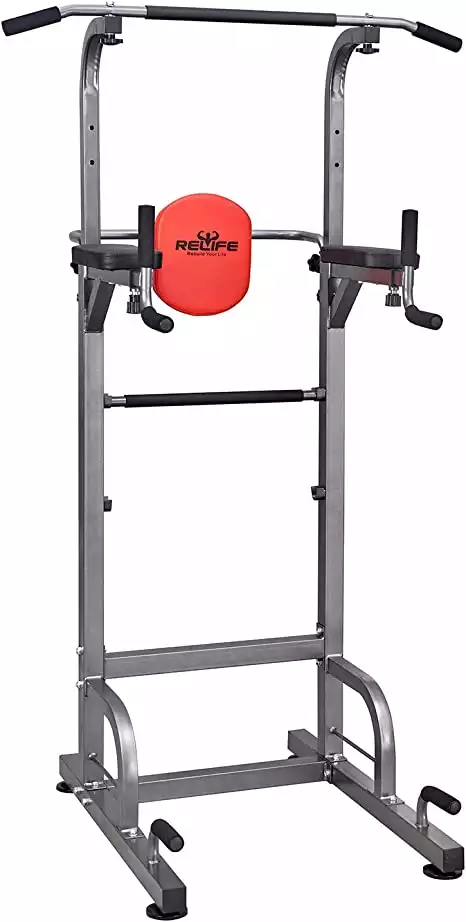 RELIFE REBUILD YOUR LIFE | Power Tower Workout Dip Station for Home Gym
The dip station can support many kinds of exercise routines. Build triceps, chest and shoulder muscles along with incredible upper body strength.
We earn a commission if you make a purchase, at no additional cost to you.
12/09/2023 09:30 pm GMT
Did we say "dip station?" Anyone else get really excited about chips and dip?
While it's not that kind of dip station, it is just as exciting.
This dip station is adjustable in height from 58" to 89", which means even your kids can get in on the action. Made with extremely durable steel, this free-standing pull-up bar is strong and can hold up to 330 pounds.
To add to its stability, there are suction cups at the bottom which help anchor it to the floor.
It also supports all kinds of different exercises, so be ready to work!
Pros:
Nearly all major parts are adjustable: backrest, armrest, etc. with the simple twist of a knob
30-inch range of height adjustment for the pull-up bar
Clean, Stylish look – dark grey looks good in gyms and home environments
Rated #2 Best Seller for dip station on Amazon Best Sellers
Lifetime warranty on accessories and one year warranty on frame
Cons:
It can be disassembled but requires tools and does not come with a bag
Some of the advertisements have misspellings, which makes us nervous about customer service
The padding is bright pink, which some may not like
User Reviews:
Health Gear CFT2.0 Functional Fitness Gym Style Training Power Tower & Adjustable Workout Bench System for Pull Ups and Dips
Multi-station functional fitness tower with bench delivers over 13 comprehensive home gym workouts.
We earn a commission if you make a purchase, at no additional cost to you.
12/10/2023 06:20 am GMT
This multi-functional gym is ranked in the top 100 on Amazon of all exercise and home gyms.
This free-standing pull-up bar is the mack daddy from a pull-up bar to a dip station to a weight bench.
It gives you everything you need to get a complete workout done, and it has a 300-pound weight capacity. Plus, we are digging the name "functional fitness."
Being able to strengthen your body so that every day life's chores are easier is the name of the game!
Pros:
Has all power tower features and a weight bench included
The price is good especially considering the weight bench is an additional feature
Has loops at the base, top, and middle to utilize stretch bands
Hooks for a barbell bench rest
The weight bench can be removed for solo use
Cons:
It's large
The forearm rests and back pad are not adjustable
Not easily portable
Few bad reviews about instructions missing or parts missing
Bright pink padding is not a good color for everyone
User Reviews: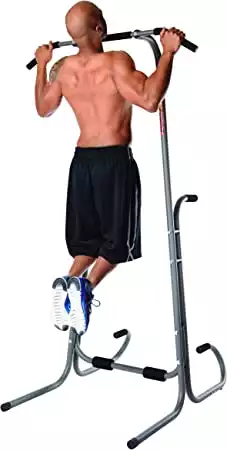 Stamina Power Tower Sporting goods
The versatile Stamina Power Tower 1690 can be used for pull-ups, dips, push-ups, chin-ups, sit-ups, vertical knee raises and more.
We earn a commission if you make a purchase, at no additional cost to you.
12/09/2023 09:39 pm GMT
Ranked in the top 50 by Amazon of best dip stations, the Stamina Power Tower is basically your all in one workout system.
The comfortable and sturdy foam hand grips serve as your pull-up bar, making pull-ups even more fun. See? You didn't even know that was possible.
Not only that, this versatile, free-standing power tower gives you the availability to do pull-ups, leg raises, dips, knee raises, chin-ups, and sit-ups.
Non-slip grips protect your flooring and more sturdiness for the structure itself.
Pros:
Easy to assemble – only a few parts
Only 4 feet by 4.5 feet – perfect for a small apartment with limited space
Can remove one piece and get it through a doorway
Able to transport it in a small truck or SUV
Two color options
Reasonable price
Cons:
Weight is limited to 250 pounds
A limited number of exercises available
One review mentioned it wasn't very sturdy and needed something at the base to weigh it down
User Reviews:
soges Power Tower Pull Up & Dip Station Multi-Function Home Strength Training Fitness Workout Station Height Adjustable, PSBB005-N
With this kind of equipment, you can easy to Chin up, Dips, Vertical Knee Raises, Push-ups and Reverse grip chin up whenever and wherever possible. Perfect for adults or children to grow workout, fitness enthusiasts and the elderly exercise.
We earn a commission if you make a purchase, at no additional cost to you.
12/09/2023 09:44 pm GMT
The Soges Power Tower is perfect for everyone.
This awesome free standing pull-up bar is ranked in the top 25 on Amazon in strength training dip stations from kids to adults.
Watch me dip! The heavy-duty steel frame and wide base make it ultra-sturdy and durable to do all of your exercises.
Are you really tall? No problem. The height is adjustable to suit everyone. Yay!
Pros:
Adjustable height knobs
Large metal tubing at the base
Instructions available in helpful graphics on the Amazon product page
Cons:
User Reviews:
Are You a Pull-up Maniac Yet?
So be honest, how many of you just pushed your kid off of the jungle gym so you could try a pull-up?
We know you are excited to go out and buy one of these free-standing pull-up bars.
Whether it's a Pull Up Mate or one of our best of 2021 Pull Up Mate alternatives, you can't go wrong.
Now let your kid get back to the jungle gym. You have a pull-up bar on its way.