If you can't get to the gym, you might want to start looking for a portable gym or home gym setup.
Portable gyms are also great for those who want to travel and don't have access to normal gyms. 
Best Portable Gym
Portable gyms are usually small pieces of equipment that you can bring with you when you travel.
Some devices are great for upper and lower bodies and may include a mat or soft surface to include exercises on.
Other devices will target the whole body and are better for those who want to do dynamic exercises.
The portability will also depend on where you want to bring your gym as some are much easier to carry around than others.
If you plan to fly with it or bring it with you on vacation, it will need to be as small as possible. If you're keeping it at home or throwing it into the car, larger ones could still be considered.  
Bowflex® Home Gym Series
Unlike traditional machines, Bowflex® home gyms utilize advanced resistance technology that doesn't rely on gravity.
Bowflex is a great company that offers a fantastic home gym setup. It's not for traveling or super portable though.
It's best for those who want a home gym in their extra room or garage. It can be used to perform more than 50 different strength training exercises. 
It uses a power rod resistance system instead of cables and pulleys. This makes the transition between exercises and movements easier and takes less time.
You can start with as little as 5 pounds if you are new to resistance training or working out. Once you have some experience, you can work up to 210 pounds. 
The machine can also be upgraded to 310 pounds if you feel you need more weight.
It's 157 pounds and easy to set up and begin using.
This is a full portable gym that comes with a foldable platform and multiple hooks.
You can clip one of the included brands onto the platform and use it as a resistance exercise by pulling or pushing away from the platform.
If you're looking for an especially versatile option, this is probably the best choice. 
The platform, bands, bar, ankle straps, and handles make almost every exercise possible. It also comes with a door anchor if needed.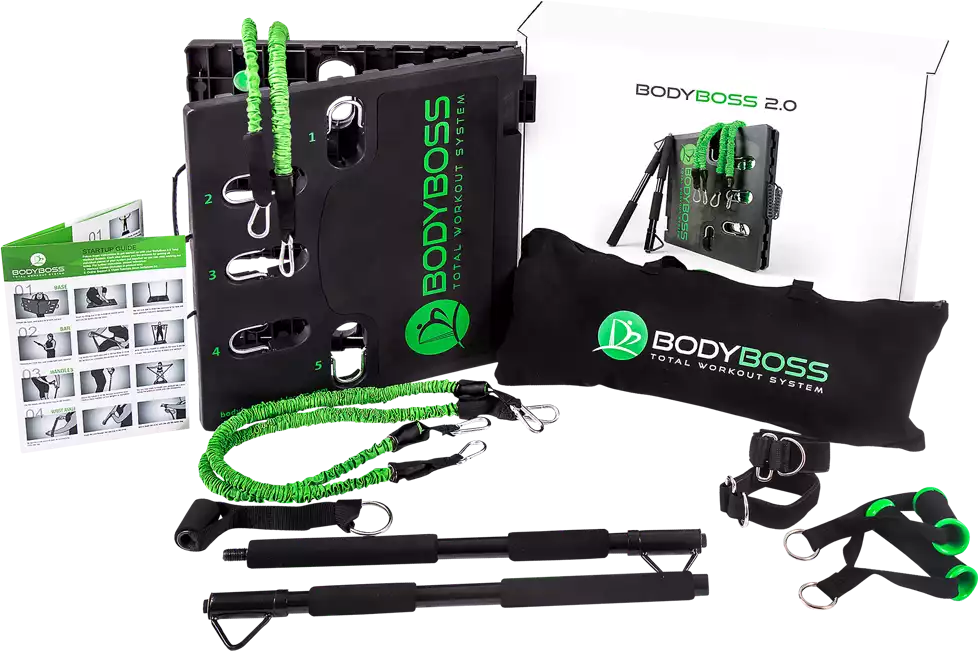 BodyBoss 2.0 System
$179.00 $255.00
See why 125,000+ people worldwide choose BodyBoss to reach their fitness goals!
It's also one of the cheaper options and could be a good choice if you're fitness journey is just beginning. That way you aren't handing over too much money at the beginning. 
This system was designed to simulate the machines you find at a gym but in a smaller and more flexible setup.
It's 15 pounds, so it's not ideal for flying or traveling around too much. However, with the foldable setup, it's easy to put in the car and bring with you on a road trip.
The handles also make it easy to carry and move before and after workouts.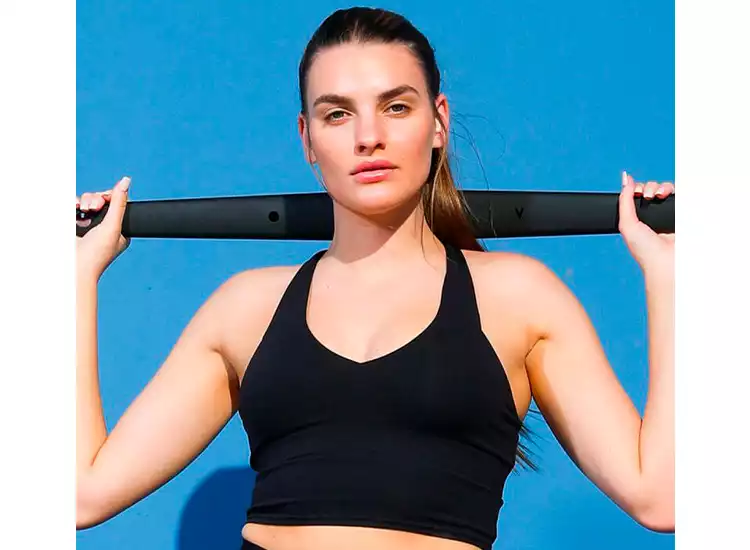 Portable Home Gym Equipment | BODYGYM Fitness
Over 1+ million sold worldwide our portable gym replaces thousands of dollars of gym equipment
The BodyGym can be assembled in just seconds. It's just one long single resistance band and a lightweight plastic bar.
It also has a pair of foot loops and a padded foam middle section. This makes it much easier to use than other portable gym kits. 
The company also gives you two DVDs to help you create workout plans and ensure that you are targeting the full body or just the body parts you want to use.
It's one of the smallest and lightest options for a portable home gym at just 1.3 pounds. 
However, with the small size and the easy assembly, you will have limited exercises.
It's made slightly cheaper than others which means it's less durable and won't last as long as other home gyms. 
The single resistance band means it's hard to adjust the level.
Some people choose to wrap it around the bar to increase the resistance. Be careful when doing this as you don't want to risk it snapping or breaking.
Bodyblade Pro Kit
Includes: Bodyblade Pro (1-34 pounds of resistance), Super 6 / Power 10 DVD and Exercise Wall Chart
BodyBlade is another great resistance training portable gym system.
It's best for spine stabilization and rehabilitation purposes. It's also great for sports performance training, fitness enhancement, and personal training systems. 
Most users say they have improved wellness, function, and muscle definition.
The BodyBlade comes in three different options including the BodyBlade Pro, the BodyBlade classic, and the BodyBlade CXT. 
BodyBlade uses vibration and the power of inertia to contract your muscles rapidly, even up to 270 times per minute. It also stimulates the nervous system and will transform your body.
It's not especially useful for strength training or muscle building, but it's perfect for recovering from injuries or getting back into fitness after taking some time off. 
It offers core stability shoulder and pelvic stabilization, and vibration to keep your muscles fit and stable. The different kits all have their own pros and cons.
The basic one is the best seller and people find it a great tool for beginners and intermediate users. 
Key Decision-Making Factors for Choosing a Portable Gym
Size: When looking for a portable gym, then size is one of the first things a person wants to look at. If a person is planning to travel with their equipment, then it is important to consider a set that is more mobile. The set should ideally also come with a carry bag, as this makes it easier to keep the equipment organized and in one place while traveling.
Functions: Always take a look at the specific functions that the equipment offers. Some portable gyms are specifically made for certain functions – such as resistance training or cardio. These functions should comply with the preferences and requirements of the user.
Included Items: Consider the items included with the package too. Some options offer more versatility – by allowing the customer to choose specific hardware that should make up their home gym. Other systems come with a pre-selected range of equipment pieces.
Price: It is also important that a customer take a closer look at the price of the set. When considering the price, the individual should consider the value – a lower price does not necessarily mean the person gets a better deal. Consider the items included in the set, the overall quality of the equipment that comes with the portable gym, and compare that to other similar options on the market.
Quality: Determining the overall quality of the system is also helpful. A person should ensure they look at the specific materials used in the construction of the gym equipment. Steel materials can often provide better support for heavier weights compared to gym systems that are made from plastic.
Grip: An often-overlooked factor is the grip offered by the equipment. It is important to consider the grip features – foam padding helps to reduce pressure on the hands, while also ensuring the person's hands do not slip when they are working out.
Portable Gym Reviews- Our Top 4 Choices
A brand that focuses on providing the customer access to a wide variety of home gym equipment.
The company is well known among the general population and equipment sold by the brand are even used by some well-known figures. 
There are different categories of equipment that people can choose from – including all-around trainers that help to target multiple muscle groups in the person's body at a time.
Apart from the Max Trainer, the company also offers a selection of treadmills that are ideal additions to the customer's home gym setup. 
Detailed guides are provided to help the individual understand which equipment they need to achieve specific goals.
Bowflex® Home Gym Series
Unlike traditional machines, Bowflex® home gyms utilize advanced resistance technology that doesn't rely on gravity.
Pros:
Wide variety of home workout equipment to choose from
Excellent customer support
Cons:
Primarily focuses on cardio activities
Best for Cardio Workouts
User Reviews: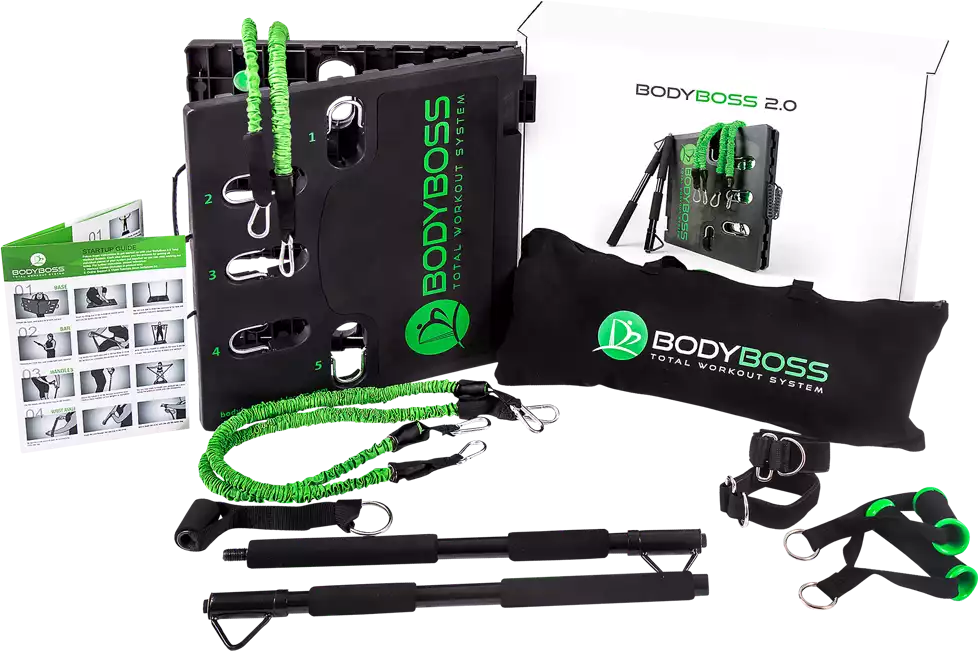 The BodyBoss 2.0 system was developed for those people who travel frequently.
The entire system fits into a conveniently sized carry bag, which also comes included with the package. 
The system consists of various equipment that can be used to keep fit and work out at home. The project was started out on Kickstarter but has since become quite a popular option for people who want to get fit at home.
Everything needed for overall fitness is included, such as resistance bands, weights, and more.
The system also comes with a convenient calendar that helps a person to keep track of their progress.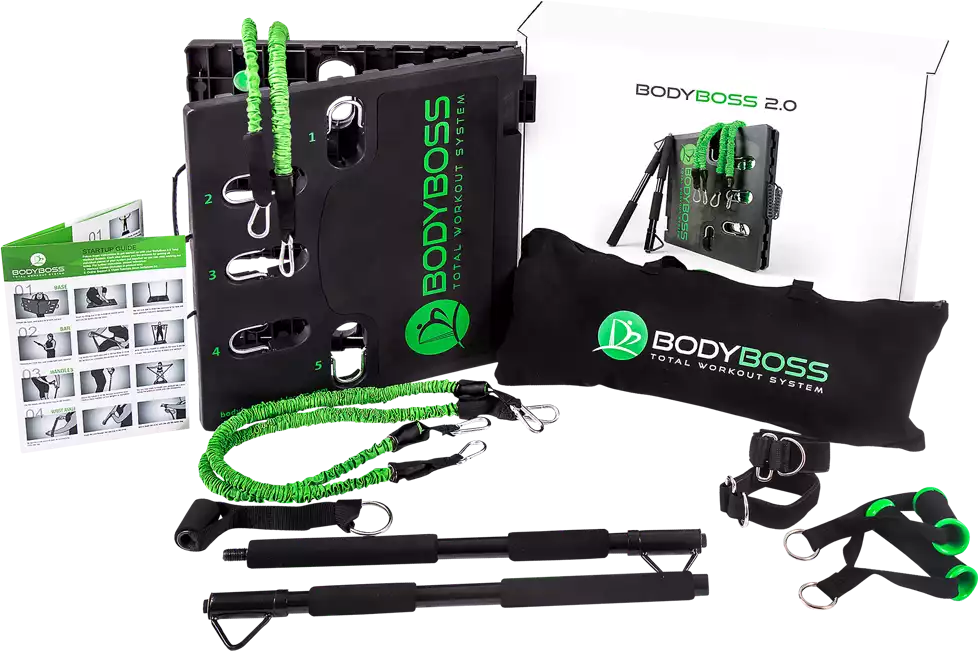 BodyBoss 2.0 System
$179.00 $255.00
See why 125,000+ people worldwide choose BodyBoss to reach their fitness goals!
Pros:
Travel-friendly design
The set comes with a carry bag
Lightweight
Solid base
The bar is well padded
Cons:
Limited variety of activities to perform
Resistance bands have awkward ends
Best for: Traveling
Customer reviews are almost completely positive. Users also say it's easy to assemble and use. The set provides great value for the price.
Stay creative and motivated when looking for new exercise options as the platform can be hard to adjust between sets. 
If you are used to larger gyms or more equipment, this set may disappoint you.
However, as a beginner home gym, it gives you everything you need to begin working out.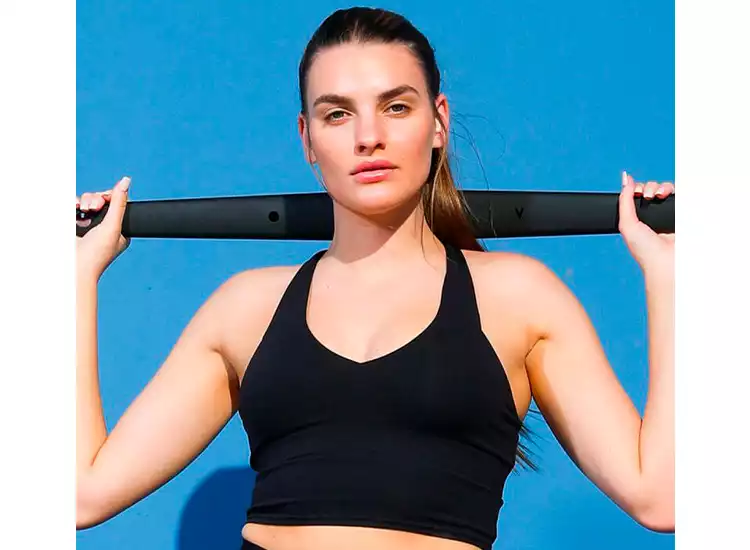 Portable Home Gym Equipment | BODYGYM Fitness
Over 1+ million sold worldwide our portable gym replaces thousands of dollars of gym equipment
A compact kit that was developed to provide an all-in-one solution.
One specific device serves as whole-body training, giving the user access to a wide variety of exercises.
The company also provides the user access to a range of different workout videos. 
These can be accessed without extra charges on the brand's official website – and introduces the user to exercises that will help them target all muscle groups throughout the body.
The resistance trainer system is ideal for preserving lean mass, burning calories, and contouring the body. The small size of the system makes it a good option for people who travel frequently. 
Pros:
Easy to fold up, store, and travel with
Adjustable resistance levels for a customized workout
Cons:
Limited number of accessories included
Best for Resistance training
The BodyBlade system was first developed in 1991. Since that time, the system has developed significantly and is now presented as a highly effective system for promoting whole-body fitness.
The BodyBlade device can help improve muscle definition, which makes it a great option for people who are looking to contour their bodies. 
Overall wellness and bodily functions can also be improved with the use of this device. There are three BodyBlade models available.
These include the BodyBlade Pro, BodyBlade Classic, and BodyBlade CXT. Each model has a different design and size, which gives the user the ideal opportunity to find an option that fits their needs.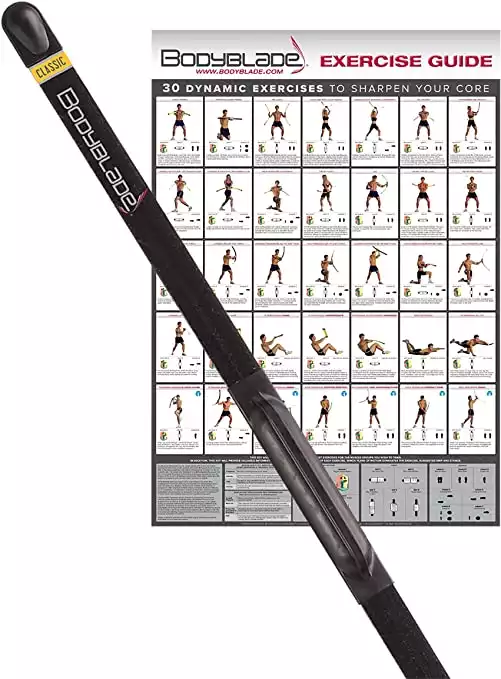 Bodyblade Classic Kit
Includes: Bodyblade Classic, exercise wall chart, and a complete online exercise library including upper body, lower body, core, and total body workouts.
Pros:
Easily customizable to fit the user's body type and goals
The system has been around for three decades
Cons:
Not good for people who want to build muscle mass
Best for: A Universal Solution
If you don't like resistance bands or the feeling of rubber bands, the OYO personal gym might be a better choice for you.
It's made with the same technology as Bowflex with crisscrossing cables and pulley systems. 
The movements are smooth and consistent making the workout mechanisms perfect for beginners.
The straps are not latex and are made to work even with very high tension. This means you don't have to worry about it snapping back and injuring you when you're using it. 
The gym requires little to no setup and is very compact and portable. It only weighs 2.5 pounds and has a door anchor, two 10-pound resistance packs, and one 5 pounds resistance pack. It also comes with ankle straps.
OYO Personal Gym
Full Body Portable Gym Equipment Set for Exercise at Home, Office or Travel - SpiraFlex Strength Training Fitness Technology - NASA Technology
Pros:
Very portable and lightweight
Great for small exercises during short breaks
Perfect for reps at a lower weight
Cons:
Has a learning curve
Only gets up to 25-pound resistance
Best for: Those who want low weight options
User Reviews: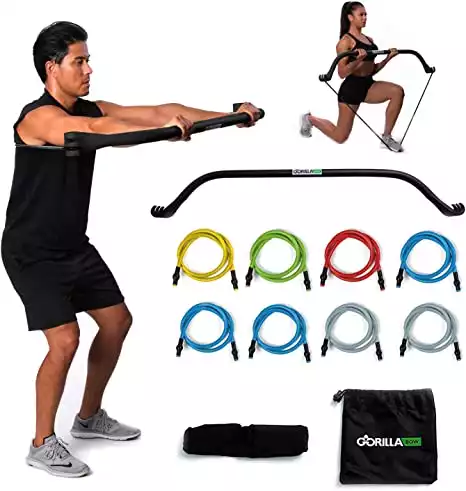 This is one of the best portable bows on the market for a home gym. They sell kits up to 340 pounds and you can also add additions as you get stronger.
This makes it a great choice for beginners and those you want to continue adding on resistance. 
It's also a great choice if you want to progress in strength and movements. The bow is very durable and simple to use.
It doesn't require much time to swap between bands and pieces, so the Gorilla Bow can be used for short increments of working out. 
It weighs 5.6 pounds making it lightweight for travel.
However, the awkward shape makes it easier to travel within cars than in planes. It's also a small workout system that can be done in your garage or any room of your house. 
The Gorilla bow gives you many exercise options, but chest presses and smaller motions are a bit difficult.
Make sure to read the instruction booklet fully or watch videos to ensure you are using the bow correctly. 
If you want to travel with a bow, they do have a smaller option that they can break into three pieces.
The set comes with a bow and 4 bands. The bands come with 10, 20, 30, and 50 pounds.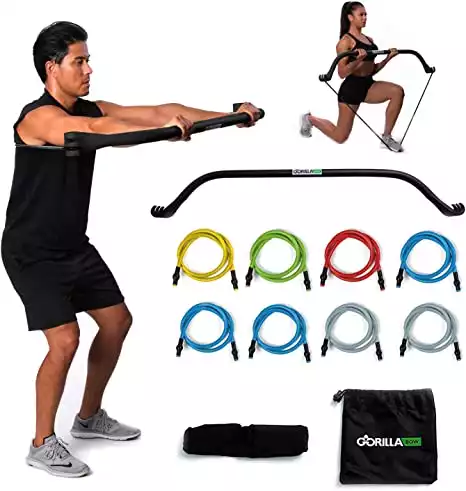 Gorilla Bow | Portable Home Gym
Resistance Bands and Bar System for Travel, Fitness, Weightlifting and Exercise Kit, Full Body Workout Equipment Set
Pros:
Simple to use
Tough and durable to last for years
Resistance range in small increments
Cons:
Limited exercises
Small movements are very difficult
Best for: Beginners and low resistance
User Reviews:
This portable gym by INNSTAR has some additions to standard gyms that make it unique.
It also is missing some standard home gym setups, so it really depends on personal preference if this one will work for you or not. 
The system comes with a thick band with multiple and short resistance bands. They are primarily used for chest exercises but can be used for other training exercises as well.
This home gym seems to be much more well-built and durable than other portable gyms. 
The carabiners are also very well-built and help you save time when switching bands and exercises. The whole set can be put into a small and lightweight bag. This makes it ideal for bringing with you wherever you go.
The set only weighs 7.8 pounds and is inexpensive compared to others. The only major flaw is that the bench press band is much shorter than what most companies offer.
If you are working at constant resistance levels and have a solid workout plan, this could be good for you.
INNSTAR | Home Workout Set
With Bench Press Device, Resistance Bands, Workout Bar, Handles, Foot Straps, Door Anchors, Portable Full Body Workout Equipment for Home Fitness, Training, Slimming, and Muscle Building
Pros:
More exercise options than other brands
Good construction and features
Interchanging components is very simple and quick
Cons:
The bands are limited and don't reach high resistance 
The bench press strap is awkward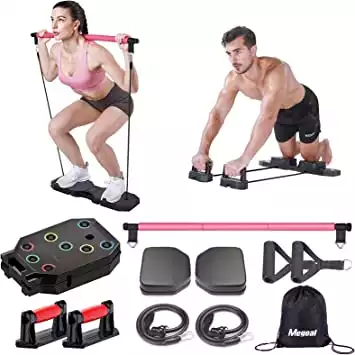 This gym comes with a baseboard which may lead you to believe that it's heavy and not as easy to port around. Users say this portable home gym is very lightweight and compact despite the board. 
It comes with many additional equipment pieces such as pop-out ab rollers, moveable push-up handles, a maze of pegs to help with resistance building.
The bands can be wound around the pegs to customize the band length and resistance. 
With the inexpensive price though, you get a cheaper quality of products.
If you are a beginner to resistance training or working out, this could be a good choice so that you don't spend too much money before you know if you enjoy it. 
The system is also pretty small so it's not as versatile as other options. Winding the bands around the pegs can take some time, especially if you are new to the practice. However, at only 6.1 pounds, it's easy to bring places with you.
The entire set comes with baseboards, a bar, a single set of resistance bands, push-up handles, knee pads, ab rollers, and handles.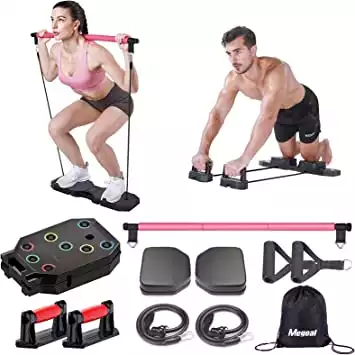 Megoal Portable Home Gym
Muscle Build Workout Equipment for Men and Women, Exercise Equipment with Resistance Bands, Abdominal Wheels and Pilates Bar, Fitness Equipment for Indoor Outdoor Travel
Pros:
Less expensive than other options
Very lightweight and compactness
Many components
Cons:
The base is not extremely stable 
Durability and design are not as durable as other sets
Resistance options are limited and are hard to adjust
User Reviews:
If you want an exercise band that costs less, this could be a better choice. It breaks into three smaller pieces making it easy to travel with.
The bow is much larger than the Gorilla one and has more padding in the middle which can be much more comfortable. 
You can add more resistance bands with the purchase to add 70 pounds.
The kit also comes with gloves to help you be able to work out easier. The resistance bands are pretty easy to stretch and feel very durable.
NYPOT Bow Portable Resistance Bands
Home Gym Workout Kit - Travel Workout Equipment Set - 4 Resistance Bands - Full Body Training Kit - Weightlifting & Exercise Kit for Men & Women
Pros:
Simple and easy to use
Less expensive than other bows
Breaks down into smaller pieces
Cons:
Bands feel weaker than other models 
Construction is slightly less stable
User Reviews:
Frequently Asked Questions
What is the best portable gym?
There are a few portable gym solutions available. To determine which one is best, a person will need to take a closer look at their own personal factors. The individual should consider what their goals are – a person who wants to build muscle mass has different needs compared to someone who is looking to burn fat.
The BodyBlade is a good option for people who need a universal solution. The system combines different methods, including vibration, to promote enhanced health and help a person improve their muscle definition.
People who want something that will help them enhance their overall cardiovascular health and aerobic exercises might rather want to look at an option like the BodyBoss 2.0 or the Bowflex Home Gym system. Both of these are ideal. The Bowflex Home Gym system also offers a wide variety of equipment that can be used together.
What is the best compact home gym?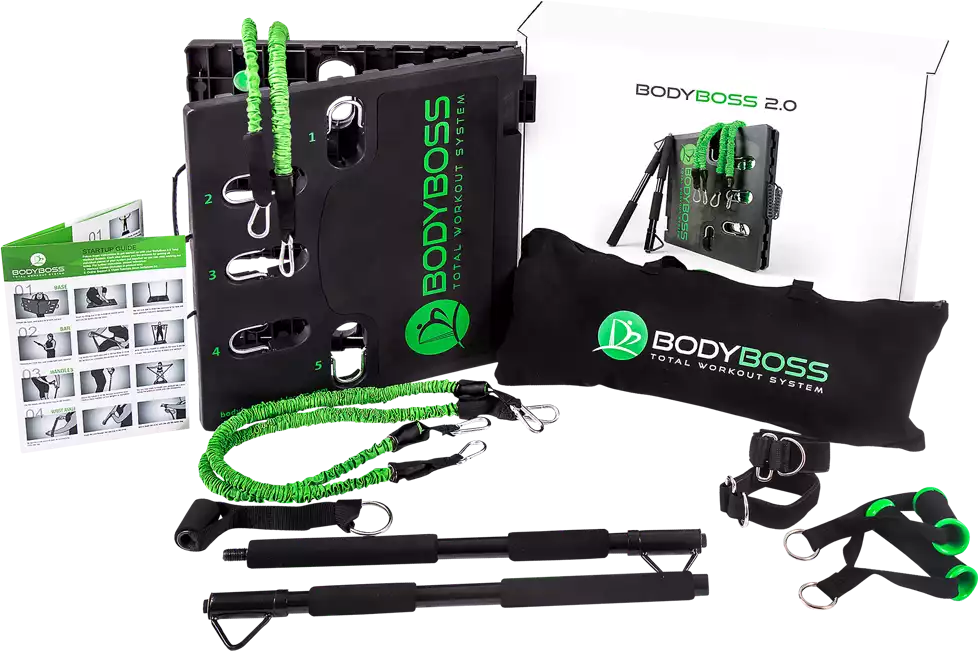 BodyBoss 2.0 System
$179.00 $255.00
See why 125,000+ people worldwide choose BodyBoss to reach their fitness goals!
People who travel frequently will find that the BodyBoss 2.0 system is an ideal option. This system offers resistance training that is great for enhancing muscle definition, while also ensuring the person can reduce their body fat percentage. 
The entire system comes in separate pieces and a convenient travel bag is included. The travel bag has sufficient size to fit all of the exercise equipment that is included. 
Is BodyBoss portable gym worth it?
Whether the BodyBoss system is worth it depends on the individual's needs. The system does not give a person access to treadmills or multi-purpose trainers. Instead, a variety of portable equipment is included. The equipment is easy to carry due to the smaller size. 
Exercise options may feel a bit limited, but the set is good for people who want to maintain their fitness while they are traveling. 
Those who are looking for a solution that can burn a lot of calories during each session or build large muscles might want to consider some of the other available options. 
What should a portable home gym include?
This really depends on what kind of exercises you want to do and how often you plan to work out.
Some home gyms will need to include more items than others depending on your preferences. 
There are a few things to look for when it comes to purchasing home gyms:
Resistance bands
Stability balls
Jump ropes
Pull-up bars
Small weights
Larger home gyms may include other items. If you are traveling, you can also bring your jump ropes and resistance bands from your large gym and leave the other items behind.
Final Verdict
There are some amazing home gyms and portable gyms to keep you fit no matter where you are.
Keep in mind that you will need to stay creative to make sure you are doing new exercises and working out the whole body. Many portable gyms come with calendars or apps to help you find workouts. 
Portable gyms are an easy way to get moving and stay moving.
The best part is that they come with only a few materials that won't take up space in your home or garage.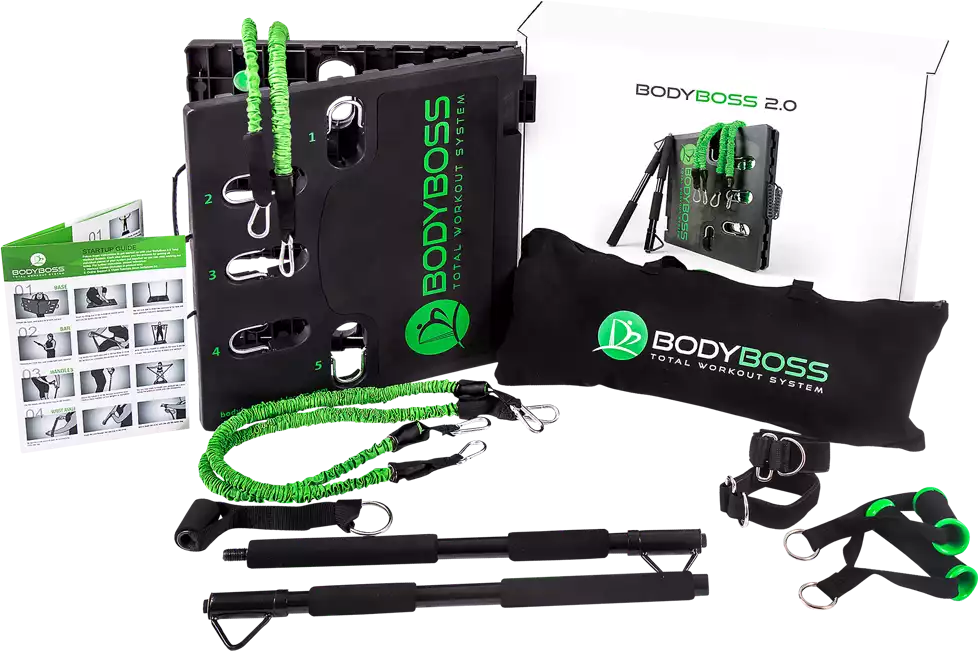 BodyBoss 2.0 System
$179.00 $255.00
See why 125,000+ people worldwide choose BodyBoss to reach their fitness goals!