Want to get a sauna right at home? Before you start breaking down walls and worrying about the expenses, take a look at what we have to offer.
Infrared sauna blankets are here, and they are magical. Well, technically, they don't do magic, but it's close. Forget having to run to the gym just because you need the sauna for recovery.
Now you can train in your home gym and then have the benefits of a sauna right at home.
We all know that recovery is essential to our workouts.
An infrared sauna blanket is one of the best workout recovery tools, similar to the Normatec pulse and the percussion massager.
It brings relief to those overworked muscles and relaxation.
We all need to relax more these days. Before we get to the best infrared sauna blankets, let's take a look at how they work and some of their benefits.
Benefits of Infrared Sauna Blankets and How They Work
Chances are you have been to a traditional sauna before at the gym or maybe even a spa.
A conventional sauna heats the air around you, making you sweat, relieves muscle soreness, and eases tension.
An infrared sauna is different in that it heats your body directly using infrared light without warming the air around you. The health benefits of infrared sauna therapy are similar to that of a conventional one.
Muscle soreness relief, tension relief, relaxation are all part of the package.
However, infrared light can penetrate your body to your tissues, giving you many more benefits like reducing inflammation, clearing skin issues, improving digestion, weight loss, and easing anxiety.
Pretty cool, right? An infrared sauna blanket works the same way.
Wrap the blanket around you, and the heating coils work to heat your body with a controller box.
The heat causes your blood vessels and capillaries to dilate, leading to muscle relaxation. It's like the blanket you never knew you needed, but you do.
Are Sauna Blankets Safe?
When used correctly, infrared sauna blankets are safe for healthy individuals.
Keep in mind that these blankets will promote sweating and shouldn't be used for longer than the manual recommends.
Because of that, you need to make sure you are fully hydrated before you use one and rehydrate after you finish. In general, use them 3-5 times per week for about 40-50 minutes per session.
Now for anyone taking medications, has a medical device implanted, has a medical condition, or is pregnant, you must consult your doctor before using one of these blankets.
It's always important to seek medical advice before trying a new kind of treatment.
If you are approved to use it, make sure you ask the doctor for how long. It might be different from the recommendation above for healthy individuals.
Are Sauna Blankets suitable for you?
Infrared sauna blankets are good for you.
We talked about some of the benefits, but let's dive a little deeper, shall we? Science always shows us the facts, and we love some fantastic facts.
Rheumatoid arthritis, or RA (a chronic inflammatory disorder that affects your joints), and ankylosing spondylitis, or AS (an inflammatory disease that can cause the bones of your spine to fuse), are two diseases that might find benefits from an infrared sauna blanket.
A study performed on patients with both disorders looked at the effects infrared sauna blankets had on their symptoms.
After being treated for four weeks and receiving eight treatments in an infrared sauna, both pain, stiffness, and fatigue were drastically reduced in all of the patients who participated.
The researchers noted that infrared therapy might have short-term benefits for individuals with RA and AS without enhancing the disease in any way.
Looking at healthy males in another study showed that infrared saunas impacted recovery after strength training sessions.
The participants performed strength training for 60 minutes and then underwent muscle recovery in an infrared sauna.
The researchers found that the infrared sessions may help the neuromuscular system to recover from strenuous activity and provide a comfortable, relaxing experience after a workout.
Does a Sauna Blanket help with Weight Loss?
While there need to be more studies done to discover if infrared sauna blankets lead to weight loss, some studies have shown this benefit.
One study found that after six weeks of infrared therapy in obese Korean women, there was a significant reduction in body weight, waist circumference, body fat mass, and visceral fat (fat that wraps around your organs in your abdomen).
This proves infrared light could have a positive effect on weight loss.
One thing to consider with this is that people visiting infrared saunas are usually pairing it with workouts.
Using an infrared sauna blanket aids in muscle recovery. Sometimes using a sauna encourages individuals to work out to reap the benefits of a sauna.
Best Infrared Sauna Blanket
Depending on your size and budget, the best infrared sauna blanket will vary. Always check the dimensions and reviews before purchasing one.
Check that the blanket offers an appropriate temperature, low electromagnetic field (EMF), and has an automatic shut-off feature.
Now that you know what you are looking for, we will show you some of the best blankets you can buy.
Don't you feel all warm and cozy already?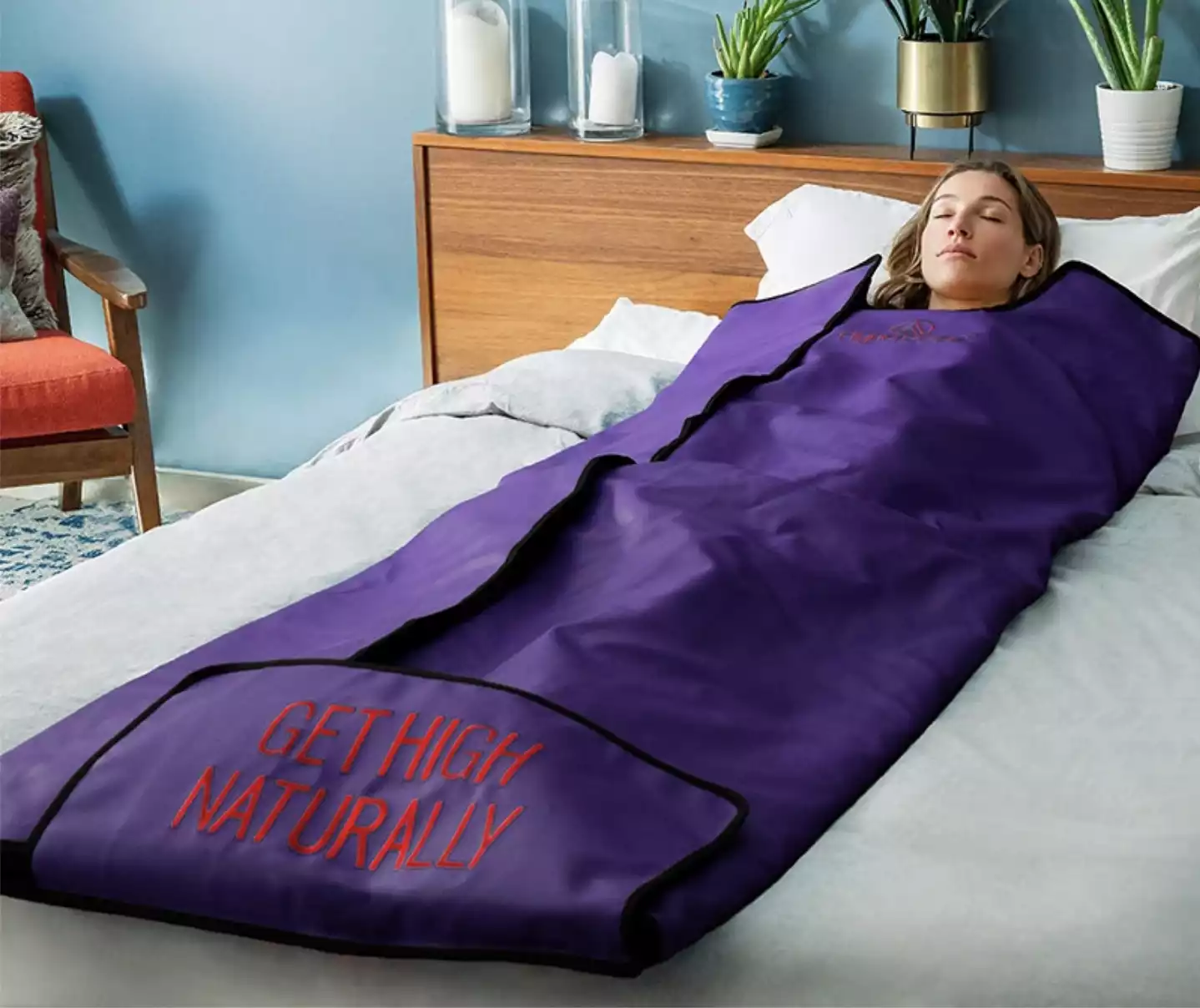 HigherDose Infrared Sauna Blanket
Heat Zones: One heating zone
Display: 1-8 level
Control: White color handle held controller
Voltage: 100-120 Volt (US/Canada model); 220v (UK/EU models)
Timer Settings: 1 hour
Electrical Field: Low EMF
Warranty: One-Year limited warranty.
Size: 71 x 71 inches (180 x 180 cm), unfolded.
We earn a commission if you make a purchase, at no additional cost to you.
We are increasing the dosage with this sauna blanket that will have you in full relax mode. All the celebrities are all in on this blanket with low EMF heating and constructed with amethyst, tourmaline, and charcoal layers. The combination of those minerals makes you feel completely relaxed. Bring it on!
The HigherDose sauna blanket increases your blood flood to bring relief to sore muscles and joints.  Measuring at 71 inches by 71 inches, wrap yourself in a cocoon of recovery after intense workouts for muscle relief.  As your body temperature rises, you get a good sweat session with this blanket.  This helps release unwanted toxins from the body and burn calories too.  Your skin will have a nice, healthy glow. 
They recommend using a face mask while using the blanket since your pores will be open from the heat.  It will feel like you just left a high-end spa when you are done.  Not too shabby.
With a one-year warranty, you know you are getting a product that will last. Customers can return any unopened blankets for a full refund within 14 days. Once opened, the blanket can be returned only if it malfunctions.
It only takes ten minutes to heat up, and you can change the temperature settings with a simple controller. Temperature settings range from 20 degrees Celcius to 70 degrees Celcius (68 degrees Fahrenheit to 158 degrees Fahrenheit). The blanket is lightweight, which makes it easy to store or bring with you on a trip. Never miss your recovery sessions. Clean it with an antibacterial wipe after each use. It couldn't be easier.
Pros:
Made with non-toxic materials known for their relaxation abilities
Session create a sense of euphoria
Easy to clean and store
Reviewed on many high-level media outlets like Men's Health, Elle, Bazaar, and more
Cons:
At $499, it's expensive, however, there is a payment plan option
Might be too short for some people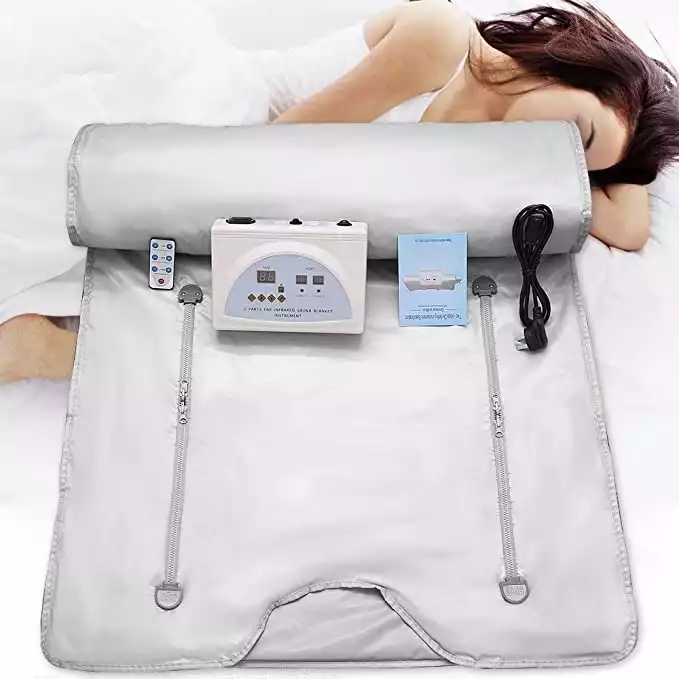 INLOVEARTS 2 Zone Digital Far | Infrared FIR Oxford Sauna Blanket
Weight Loss Body Shaper Professional Detox Therapy Anti Ageing Beauty Machine
We earn a commission if you make a purchase, at no additional cost to you.
A high-quality infrared blanket priced at $119.99 has seven layers, a zipper design, made with oxford cloth, and is waterproof.
Its flexible stretchability allows you to stretch or bend it without worrying about damaging it. If for some reason, the blanket heats to over 85 degrees Celsius (185 degrees Fahrenheit), an alarm will sound, and the blanket will automatically shut off.
Advertised to help with weight loss, this sauna blanket temperature range is from 35 degrees Celsius to 75 degrees Celsius (95 degrees Fahrenheit to 167 degrees Fahrenheit), initiating sweat which can eventually lead to fat loss.
With its timer, you can set the blanket for the time you want, and it will automatically go off once completed. Use this blanket anywhere to relieve stress and get the benefits of muscle recovery too.
With dimensions of almost 80 inches long and 31 inches wide, get this two heating zone blanket going and reap the benefits.
Pros:
Easy to use
The right amount of warmth for a sauna session
It helps to relax and relieve pain
Excellent quality for the price
Cons:
It may not fit larger people
Some complaints of malfunctions
User Reviews:

ETE ETMATE Sauna Blanket | 2 Zone Digital Heat Sauna Slimming Blanket
Upgraded Zipper Version Controller Body Shaper Anti Ageing Beauty Machine(Silver)(Shipped from USA)
We earn a commission if you make a purchase, at no additional cost to you.
Made with top-grade oxford cloth and flexible, waterproof PVC on the inside, this sauna blanket, priced at $139.99, works for any sleep position.
The blanket comes with a double zipper so you can use your hands to read or check your phone while you are getting your infrared therapy.
The infrared rays will promote better blood circulation and help rid the body of toxins while relaxing those hard-working muscles. It comes with two heating zones and a timer to set your therapy from 15-60 minutes.
Adjust the temperature anywhere from 35 degrees Celsius to 75 degrees Celsius (95 degrees Fahrenheit to 167 degrees Fahrenheit) using a remote.
Keep in mind you should never heat it when folded. Because safety is the number one priority, this blanket will automatically shut off if the temperature exceeds 80 degrees Celsius (176 degrees Fahrenheit) and trigger an alarm.
This sauna blanket is 70 inches long and almost 32 inches wide. Let the detox begin!
Pros:
Easy to use and clean
Excellent customer service
Great for before and after workouts
Armholes are convenient
Cheap in comparison to others
Cons:
Some complaints of malfunctions
User Reviews:
TOPQSC Sauna Blanket | Oxford Cloth Upgraded Version 2
Zone Far-Infrared (FIR) Digital Heat Sauna, Body Shaper Weight Loss Professional Detox Therapy Anti Ageing Beauty Machine
We earn a commission if you make a purchase, at no additional cost to you.
Whether you want to detox, loosen those overworked muscles, or lose that unwanted weight, this sauna blanket is for you.
For $125.99, get some much-needed relief for joint pain and recovery from any shoulder, back, hip, or leg injuries.
The oxford cloth and the inside's safety material are soft and comfortable while allowing for stretching and bending.
Use the remote control to regulate the temperature between 35 degrees Celsius to 75 degrees Celsius (95 degrees Fahrenheit to 167 degrees Fahrenheit) and set the timer anywhere from 15-60 minutes.
The sauna blanket will immediately shut off if it reaches a temperature of over 85 degrees Celsius (185 degrees Fahrenheit), and it will trigger an alarm to let you know.
Always make sure you completely cool off your sauna blanket before folding it. It should never be folded while it is heated.
At 70 inches long and 63 inches wide, it will work for almost any body type.
Pros:
Heats up fast
Great to sweat out toxins
Peaceful and relaxing
Durable and easy to use
Cons:
May need to wear clothes as it gets very hot
Complaints of malfunctions
User Reviews:
Get ready for a super soft feel that is waterproof and flexible.
An infrared sauna blanket that has heated wiring designed to be bent and stretched, so any position you are in, the blanket will still work for you.
It also comes with fifty plastic sheets that you can use for body wraps. Use this sauna blanket anywhere and reach ultimate relaxation for your body.
Ensure the sauna blanket lies flat as it heats up to avoid it from sticking to itself. Again, never fold a blanket that is heated.
Completely cool the blanket before storing it. This sauna blanket is 70 inches long and 31.5 inches wide and has a timer and heat settings up to 80 degrees Celsius (176 degrees Fahrenheit).
At $145.79, you get a 30-day money-back guarantee and a one-year manufacturer warranty. Not too shabby!
Pros:
Includes plastic sheets
Durable and easy to use zippers
Great to relieve aches and pains
Better than a portable sauna
Cons:
If temperature is set too high, the controller box can fail
No manual in some deliveries
User Reviews: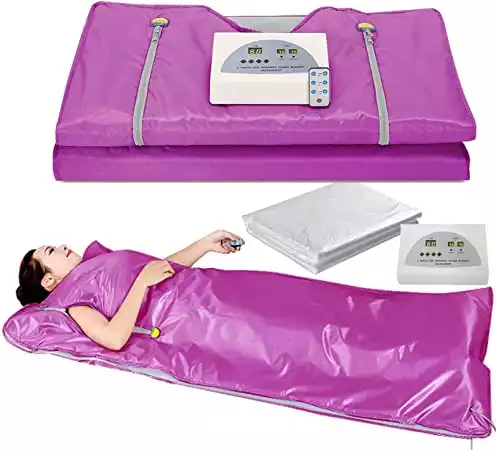 Vanell Sauna Blanket Infrared
Upgraded Heat Far Infrared Blanket Digital Body Sauna Heating, Portable Wrap Home Sauna Blanket W/50pcs Plastic Sheetings Weight Loss Home Beauty
We earn a commission if you make a purchase, at no additional cost to you.
05/28/2023 12:21 am GMT
Another top-of-the-line far infrared sauna blanket with oxford cloth on the outside and waterproof PVC on the inside, this blanket will stretch for all sleep positions.
For $166.29, get your relaxation and muscle relief with this fabulous blanket.
It comes with a safety switch that will detect any issues and automatically shuts the blanket off if it reaches over 85 degrees Celsius (185 degrees Fahrenheit) and sounds an alarm.
With two heating zones and plastic sleeves, this infrared sauna blanket is all you need to relieve your aches and pains. The blanket is almost 71 inches long and 31 inches wide.
Regulate the temperature from 30 degrees Celsius to 80 degrees Celsius (86 degrees Fahrenheit to 176 degrees Fahrenheit) and set the timer from 15-60 minutes.
This sauna blanket is a perfect recovery tool for your workout.
Pros:
Quality product
Well worth the money
Very effective and hot
Easy to use
Armholes are convenient
Cons:
It may not fit tall people
More expensive than some alternatives
User Reviews: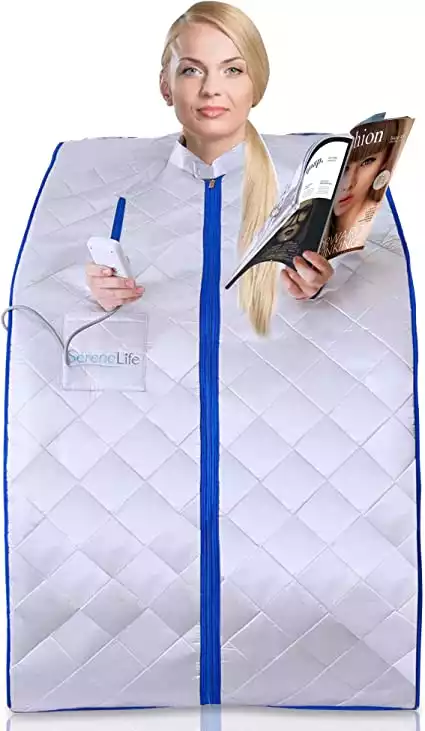 SereneLife Portable Infrared Home Spa
One Person Sauna, Heating Foot Pad and Chair, Silver (SLISAU10SL)
We earn a commission if you make a purchase, at no additional cost to you.
05/28/2023 12:52 am GMT
Bring a spa into your home with this infrared home sauna. It even comes with a chair. Can you say relaxation? It's portable too.
Pick it up and bring it with you for work trips or anywhere you need to relax. The dome fits right over you with zippers so you can keep your hands free to read while relaxing.
There's even a foot heating pad. Doesn't everyone need some tender loving care for their feet? We thought so.
It is wired for temperature control, with a maximum temperature of 60 degrees Celsius (140 degrees Fahrenheit), and comes with a timer.
At only $199.99, this is a steal. You never need to go to the spa again and pay too much money. Detox right in your home.
Pros:
Great for larger people
Effective and great results
Excellent for pain relief
Heats up quickly
Quick and easy setup
Cons:
The footpad gets too hot
Can't lay down
User Reviews:
Far Infrared Sauna Blanket to Avoid
It's not often we tell you to avoid a product, but we definitely recommend staying away from the Gizmo Supply Far Infrared Sauna Blanket.
We stress this because some other articles have recommended this product.
When we did our research, we found that it got horrible reviews and often malfunctioned right out of the box.
While there are other products we have listed that have malfunction issues, this particular product has terrible customer service.
Reviews on all of the other products we listed stated that either credits, money back, or a new blanket were sent when there were malfunctions.
However, Gizmo's reviews noted that the customer service was terrible and the people were rude.
When you are paying $449.99 for a sauna blanket (yes, that's how much it costs), you expect to get a blanket that works or at least quality help when it doesn't. Steer clear of this product!
Get Your Sauna Blanket Today!
You've done the reading. You know what you need to do.
Get a recovery tool that will bring muscle relief and detox your body.
Aches and pains are a thing of the past with an infrared sauna blanket.
Plus, in the dead of winter, nothing sounds better than a cozy sauna. Are we right?