Do you like to work out but are tired of just solid weight training? Do you like to move but also want to push yourself to your limits? Then we have the perfect solution for you- let us introduce you to free calisthenic programs!
There are plenty of free online calisthenics programs available nowadays and to help you get started, we researched and tested for you nine of the best programs on the market to offer you the best experience for your journey. In this article we rounded up the pros and contras, so you can see, which one is the best fit for you.
These calisthenics programs will help you build strength, increase flexibility and achieve your fitness goals without breaking the bank. Whether you're a beginner or an advanced fitness enthusiast, these programs have something for everyone. You can start right away- from your home, in the garden, or in the park. All you need is you and your motivation.
Let's do it!
What it is:
This self-called online school gives you a 7-day free trial, a free course, that will give you the tools and knowledge to transform your body and mind through calisthenics. The platform of the ¨School of Calisthenics¨- course is loaded with interactive content and videos that will guide you on your journey to becoming a calisthenics pro.
They give you an option for a monthly or annual membership if you want to continue after your trial.
Pros
The course is free to access.
The instructors, Tim and Jacko, are knowledgeable and deliver their material in a humorous and energetic way. They also have a team of seven people, each coming from different categories and bringing in their own knowledge.
The course is suitable for complete beginners, as they start and explain the basic exercises of calisthenics.
Topics which are covered: Bodyweight basics, learn to handstand, frog stand to handstand, ring muscle-up, bar muscle-up, human flag, back lever, nutrition for health and performance, training education
Cons
Accessing the course was not so simple and the landing page was confusing. Also, the initial video shown on the front page is without audio.
The course contents area had many clickable links, but none of them were functional.
The program may not be suitable for intermediate or advanced students looking for a more challenging workout, but in this case, you have the option to sign up for a membership, which provides you with more challenging routines.
What is it:
The Bodyweight Training Arena: Ultimate Full Body Workout is an intense, no-nonsense workout that will push your limits and leave no muscle untouched. This powerhouse routine features 8 exercises that will leave you feeling like you've been put through the wringer, but don't worry, the results will be worth it.
Pros
The workout is suitable for an intermediate level.
The workout is a 75-minute workout that is effective in targeting certain muscle groups.
You can get a free personalized calisthenics training plan if you do a free assessment.
Cons
Joining the Bodyweight Training Arena newsletter is not necessary to access the workout, as the only additional information in the PDF is links to YouTube videos.
The technique guides provided in the PDF may not be as comprehensive as those found on YouTube.
The workout is demanding and requires 120 pull-ups, which may not be suitable for people who are not already in good physical shape.
What is it:
Bar Brothers Groningen can offer you good information as a beginner and you will see some exercise routines right on their page, without signing up for anything. Whether you are a beginner or a seasoned pro, the blog offers a good amount of information on calisthenics workouts, routines, diet tips, and training motivation.
The website is complex and leads you to different offers, whether to sign-up for a free e-book, watch a video explaining calisthenics, or sign up for their 12-week program.
Pros
They use MadBarz workout images, which provide you with good exercise routines if you want to give it a go right away.
You can get a free E-book for signing up with your email address. This e-book is dedicated to beginners.
Cons
The Website is a little bit confusing as it opens a new window every time when you click a link.
The 12-week program actually seems to be a PDF guide that is full of "fluff and sales speak" and not providing any useful workout information.
Mostly focused on promoting an affiliate sale and the "Bar Brothers 12-week program¨ which has a high sales commission.
What is it:
It is a free-to-download app that packs a punch with eight different workout plans and a library of exercises to follow. If you want to challenge yourself by learning the correct movement and making your exercise fun and also to show off new abilities in your overall strength, it is praised as one of the best programs. It is a system that helps everyone to learn calisthenics.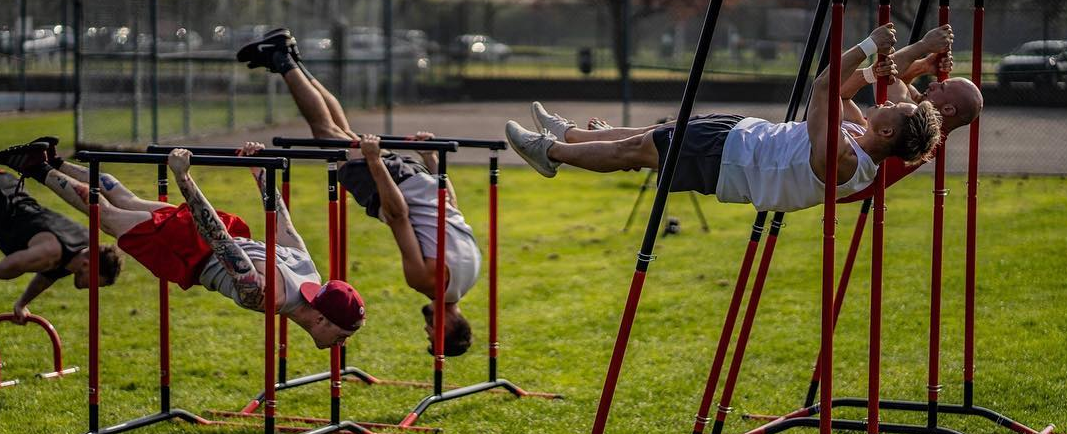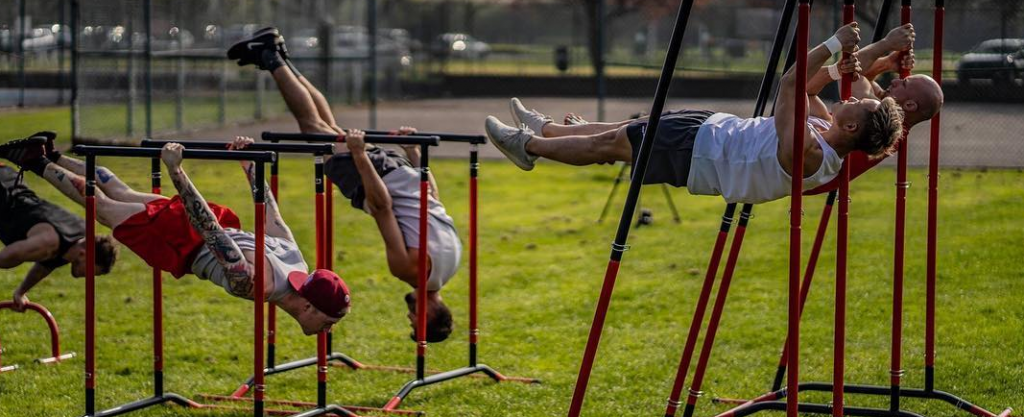 Pros
It is free and accessible to anyone and contains 100+ bodyweight workouts and 300+ calisthenics exercises with professional videos and descriptions, 10+ training plans, monthly challenges with prizes, and a great community.
The developer, Daniels Pitkevics, is actively adding new features and improvements to the app, such as live classes and the possibility for you, to be featured as a trainer to upload your workout plans for the community.
The app offers different levels of workout plans for users' convenience.
It is the best free option available.
Cons
Speculation: The developer may create a premium membership and restrict features in the future, but as of now, there is no mention of it.
What is it:
Here we also have an extension toward Yoga and stretching exercises available. using bodyweight exercises and yoga. He is also involved in holistic body knowledge and gives information about anatomy, physiology, nutrition pr pharmacology.
This is not your average workout routine, it's a 3-6x/week powerhouse program specifically designed for those who want to level up their bodyweight training game. With minimal equipment, get ready to surprise yourself with the amazing results you can achieve in no time.
Pros
Antranik is a respected and genuine person in the bodyweight fitness community.
His programs are knowledgeable and effective and are linked with his own YouTube videos for explanation.
The workout is well-structured and includes clear progressions.
He provides a large range of information about the body, movement, and nutrition apart from the exercises.
Cons
The delivery of the programs lacks professionalism compared to other programs on the market.
The workouts are text-heavy and delivered using basic formatting on his website, but the website itself is easy to navigate, without. Having to subscribe to see information.
The lack of high-level production values and interactive approach may not appeal to everyone, especially those who are new to fitness.
What is it:
The hardcore routine put together by the warriors of the Bodyweightfitness Reddit Community, where true grit and determination reign supreme. Dubbed as the 'RR', this calisthenics program will test your strength, endurance and willpower, but the rewards for those who complete it are undeniable. They offer a big variety of articles, community schedules to train, and also mentioned diet tips.
This community also offers information about other topics and gives you the possibility to interact with other like-minded members.
Pros
The resource has been developed and improved over time by a large community of over 3.4 million subscribers since 2012.
Many of the contributing community members are experts in the bodyweight fitness field.
The resource is free and there are no financial incentives for anyone involved.
Supporting resources such as follow-along videos, cheat sheets, and logbooks are provided by community members, and the routines are openly criticised and improved upon by the community.
The routines have been translated into many different languages by community members and are designed for newcomers and aim to help them develop a foundation for their own workout plans.
Cons
The website itself may be text-heavy and complicated for newcomers to navigate at first, as there is a lot going on on the homepage.
The routine is designed for newcomers and may not be as helpful for more advanced calisthenics practitioners who are looking for more advanced workout plans.
Printable Cheat Sheet that a community member put together (credit to /u/scienner).
What is it:
Here you can find new workout ideas, as well as strategies for how to organize your training schedule and exercise planning. This is not your average workout log, it's a powerful PDF template specifically designed for those who want to elevate their training and track their progress like a pro. Say goodbye to messy and disorganized workout notes, and hello to streamlined and efficient tracking with ¨The White Coat Trainer¨ aka a couple with doctor degrees who are active in the world of fitness and share their knowledge.
Pros
A printable PDF workout log allows for easy tracking of exercises, reps, and sets for each session.
Some value in being able to record and track progress.
Cons
Not a structured workout or plan, requires effort to create own workout, but possible with the given information from the website.
Not a comprehensive program, may be seen as a lead magnet to sell the WCT – Home Workout Program.
Not spoon-fed, the user needs to put in the effort.
Start Here – The White Coat Trainer
8. MadBarz Workouts
What is it:
MadBarz Workouts is like your personal trainer in your pocket! The app has 60+ workouts, plus a bunch of free calisthenics workout infographics. It's the perfect way to switch up your routine and reach your fitness goals. It also calculates the burned calories and gives you insight into your progress. Your dedication is visible on graphs to motivate you towards your transformation.
Pros
It has a well-designed app with a wealth of content, as it has over 60 free workouts that you can try and also newly added 65+ recipe ideas.
There are a bunch of infographics that MadBarz has put together with all kinds of fun-to-follow workouts are free.
If you are intermediate or advanced level, the app can be great to give you some variety to your routine.
Cons
All the workout plans are only accessible to premium users (£11.50 per month / £79.99 per year).
The free workouts are unstructured, you are simply choosing a random workout for the day without the structured progression path that you would expect from an actual calisthenics workout plan.
The workouts in the infographics are pretty hard.
What is it:
A challenging and rewarding bodyweight training program that focuses on building muscle, increasing muscle endurance, burning fat, developing mental toughness, and building lean muscle using only bodyweight exercises. It is a hybrid training plan that targets multiple physical qualities. It offers you a 68-page PDF on training and muscle growth when you sign up with your email address for their newsletter.
Pros
The program is designed for intermediate-level fitness but also provides options for beginners with a PDF guide.
It suggests a beginner program for those who are starting out on their fitness journey.
The program includes an 8-week course for beginners to get them up to speed and learn basic movements.
Suggestion to challenge a friend to do the workout with them to increase the likelihood of finishing the program and getting results.
Cons
The program can be too challenging for those new to fitness.
The program is not specifically tailored to individual needs and fitness levels, as it only suggests one other workout plan as an alternative, which may not be suitable for everyone.
Conclusion:
In general, all these websites and apps offer you free programs, but with a slight twist. Usually they ask you to sign up by providing an email address, so they can also contact you for further information and special offers, some of them are also interested to hear about your feedback on their programs to improve their services.
Most of them have a trial period connected with a sign-up membership to keep you as a client, but also you have the choice if you want to continue after your trial or cancel.
All in one, there are plenty of different styles of teaching calisthenics with a broad selection of trainers, each program has its own charisma to it and gives you the possibility to experiment due to their free programs or trial periods.
Choosing the Right Program for You
Choosing the right calisthenics program depends on several factors, including your current fitness level, your fitness goals, and any injuries or limitations you may have. Here are a few things to consider when choosing a calisthenics program:
Fitness level: Start with a beginner program that focuses on building a foundation of strength and proper form if you start this fitness journey. As you progress, you can move on to more advanced programs and have fun along the way as you also see reasonable results.
Goals: Consider what you want to achieve through calisthenics, whether it's building muscle, losing weight, or improving your overall fitness.
Injuries: It's important to choose a program that accommodates injuries or limitations and also get professional advice upfront when you start after a recent recovery.
Time and Equipment: Make sure you have the resources to commit to the program before you start.
Research and Reviews: Research different programs and read reviews from other people who have tried them.
FAQs
What is the best calisthenics program?
That is up to you! As the best calisthenics program is the one that fits your personal fitness level, goals, and schedule. It's also important that you are comfortable with the exercises and the program should be suitable for your current physical condition, but here you have a good selection to choose from and start right away.
Can you get ripped with just calisthenics?
Yes, you can definitely get ripped with just calisthenics! Calisthenics exercises like pull-ups, push-ups, squats, and dips are incredibly effective for building muscle as you use your own body weight in different positions which makes it harder to work against the impact of your weight and gravity. It also burns fat, as you repeat the excersises and have a good sweat going. With consistent training and proper nutrition, you can achieve a lean and toned physique through calisthenics.
Is it OK to do calisthenics every day?
It's generally okay to do calisthenics every day as long as you are allowing your body to recover and not overworking the same muscle groups. Also, it's important to make sure you are not doing the same workout every day, which can lead to muscle imbalances and increase the risk of injury.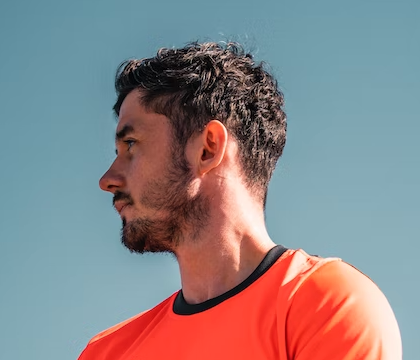 Chris is an experienced Calisthenics practitioner focused on isometric exercises and street workout. He founded thehybridathlete.com in 2017, which was subsequently acquired by theyhybridathlete.com
He is based in Portland and has been working out using solely his own body weight and bars for the past 6 years.