If you've ever done any kind of bar exercise, you're probably familiar with the excruciating pain that results from the intense and explosive friction between palms and rusty bars in the absence of gloves.
You might have bled, formed bubbles, or simply had that first layer of skin peel off, but that feeling of dipping your hand in disinfectant after a training session is one that we don't wish upon our worst enemies.
For that reason, we bring you our latest buying guide, showing you the best calisthenics gloves and grips on the market.
This might seem like an easy call – Maybe you'll just go for the cheapest pair of gloves you can find and if they don't work, well at least you didn't lose much money.
However, we urge you not to do this. It will almost definitely be a waste of money.
Choosing the best calisthenics gloves is a balance between protection and friction.
You want to maximize the latter whilst minimizing the latter. Therefore the material and quality of the gloves are paramount for your training performance.
With that in mind, we conducted our own first-hand research and as a result, we bring you our favourite bar gloves:
Pros:

Allows Hand to "Breathe"

Durable and High Quality Material

Affordable

Less Friction than Rubber Counterparts

Cons:

Must be Washed in Cold Water

No Thumb Protection

Still Produces Some Friction

Pros:

Thumb Protection

Good amount of friction

Wrist Protection

Perfect Thickness Pads

Ventilated

Cons:

Beware of sizing: Users have complained about some gloves being too lose

Some doubts regarding material

Pros:

Easy to Wash

Allows Hand to "Breathe"

Wrist Protection

Cons:

No Thumb Protection

Material is Not the Best

Pros:

Full hand protection

Durable Material

Cons:

A little bit too much friction in our opinion

Sweat accumulates easily
Ignoring the poor naming choice of including "Cross" in the title, which could have you confused to think that these gloves are exclusively for use in the pseudo-sport known as crossfit, this pair of calisthenics gloves is actually pretty solid.
We were expecting the leather to slow us down considerably, but we found that it is the perfect compromise for pull-ups and similar exercises. It also didn't wear out as much as we thought it would.
If you're doing street workout routines involving several bar swings, these might not be the best calisthenics gloves though. Our #2 choice would be more appropriate.
Pros
Leather causes less friction than rubber
Protects palms, allowing the rest of the hand to "breathe"
Durable material
Affordable
Cons
No thumb protection. If you grip the bar with the thumbs down, you'll be exposed.
Not ideal for bar routines consisting of consecutive swings.
Must be washed in cold water, preferably by hand.
WODner One Size Fits All Handsavers
Premium Leather Grips Cross Training Gloves for WODs, Gymnastics, Olympic Weightlifting, Calisthenics & Gym, Great Protection Against rips and blisters.
Soft leather interior to take care of your palms
tough leather exterior to guarantee they will last WODs for a long time
The battle for editor's choice was tight, and the DYNAM calisthenics gloves could have well taken the first spot, if not for the slightly higher price.
We can't attest for the durability either, as we haven't received that kind of feedback yet, but one thing is certain: These grips perform really well.
The friction is much smaller than it's leather counterparts and you won't even notice you're using them.
Additionally, they offer wrist support, which is crucial in preventing wrist injuries.
Pros
Less friction than leather models, good for pull ups.
Can be washed in the same batch as the rest of your workout gear.
JerkFit WODies Hand Grips with Wrist Wraps
For Weightlifting, Pull-Ups, Cross Training, WODs, and Gymnastics, Prevent Blisters and Rips, for Men and Women.
Full Palm protection and Wrist Support combined in one product
Heavy-Duty built-in supportive wrist brace gives you the extra confidence to push harder
There was a bit of an internal debate on whether we should include this model in the list. It's more "barebones", which doesn't particularly suit some of our team's taste, but we can understand the appeal.
It covers key areas, whilst leaving a good portion of skin exposed, which can then be protected with tape or magnesium.
Pros
Less cloth = Less friction.
Affordable.
Cons
The wristband can be intrusive for compound movements such as muscle-ups and pull ups.
Must be complemented with tape for full coverage.
Bear KompleX 2 Hole Leather Hand Grips
Best Hands Protection for Cross-training, Weight Lifting, Gymnastics, Bodybuilding - Alternative to gym gloves - Improve your fitness without hand rips! LIMITED TIME OFFER!
Manufactured from genuine leather
Custom wrist strap
Grips will NOT dig into your wrist
Durable triple stitching
Reduce slipping on the bar
We've included this pair as a full finger alternative for athletes who really don't want to leave any skin exposed.
We're personally not huge fans of this type of glove as it will add a lot of friction and isn't very hygienic as a lot of sweat tends to accumulate in the inside, but we have learned that a lot of our readers use this kind of glove, and as such, we thought we'd give our opinion on the best calisthenics gloves within this category.
Pros
Full protection: No part of the hand will be left exposed.
Material is easy to clean
Cons
Some friction will limit bar swing momentum
Quality of material could be better
Lack of ventilation in hands means sweat will accumulate fast
No wrist support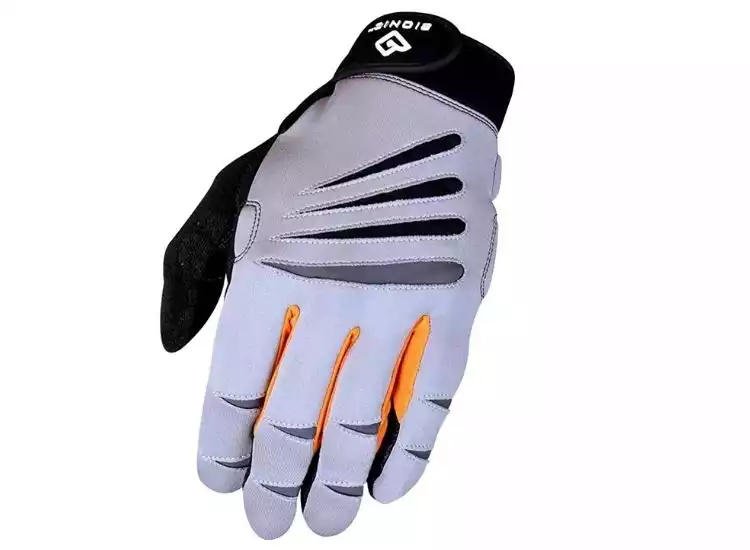 BIONIC Gloves Mens Premium Full Finger Fitness Gloves
With Natural Fit Technology, Gray/Orange (Pair)!
The Bionic Glove pre-rotated finger design adapts to your hand's natural curving motion.
Strategically placed relief pads even out the surface of your hand displacing the pressure from your workout.
We've decided to include this set in our ranking for the best calisthenics gloves as we thought it was important to provide a choice for those with calluses in the inner region of the thumbs.
This is the only model that provides protection to that area, and for that reason, it gains access to the list.
In terms of actual performance, it does ok. The material grips well, but causes a lot of friction and will wear out relatively fast if you do a lot of bar swings and exercises.
Pros
Full hand coverage
Allows sweat to release
Not too padded: offers protection without incurring in too much friction.
Cons
Sizing issues- Check hand size before buying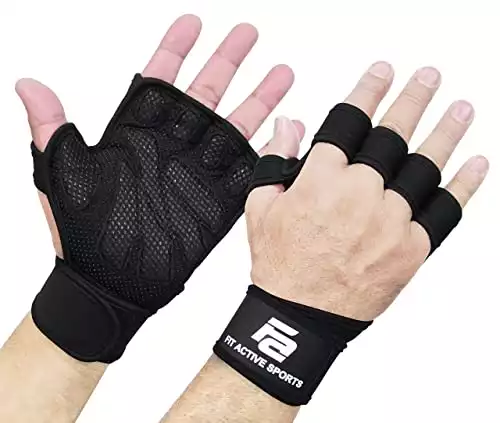 Fit Active Sports | New Ventilated Weight Lifting Gloves
With Built-in Wrist Wraps, Full Palm Protection & Extra Grip. Great for Pull Ups, Cross Training, Fitness, WODs & Weightlifting. Suits Men & Women
Final Thoughts
There are alternatives to gloves. Namely, magnesium and tape are a less effective measure to combat palm burns. However, these aren't really designed for this purpose.
Magnesium is meant to dry up the sweat so that you grip the bar tightly, and tape can, to a certain degree, protect existing wounds, but only up to a certain point.
Unless you use miles and miles of it, it will fall out of place and expose/create wounds.
That being said, we hope you enjoyed this article and that we have helped you choose the best gloves for calisthenics.
Please note that as a final alternative, you can choose to ignore the recommended use of gloves and go barehand, which will break down and build up your hand skin resistance until eventually, you develop a thick skin that is immune to the calluses caused by bar exercises.
However, this can take a whole lot of time and if you don't train frequently it might never happen.
For that reason, we recommend going for an affordable and high-quality pair of calisthenics gloves.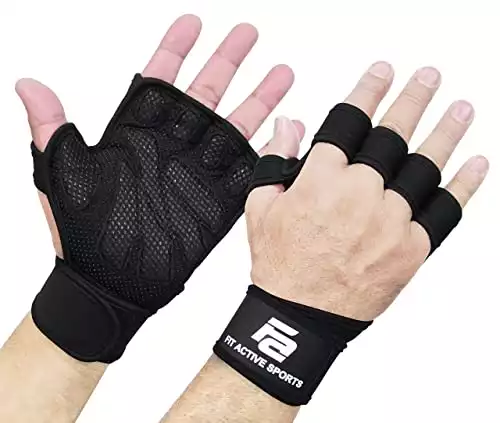 Fit Active Sports | New Ventilated Weight Lifting Gloves
With Built-in Wrist Wraps, Full Palm Protection & Extra Grip. Great for Pull Ups, Cross Training, Fitness, WODs & Weightlifting. Suits Men & Women
As a final tip, if you're currently struggling with open wounds in the palms of the hands, dipping a pair of normal gloves in moisturizer and using them overnight will do wonders for your skin, you'll most likely wake up with your hands ready for another round.
If you have any feedback, please leave it in the box below.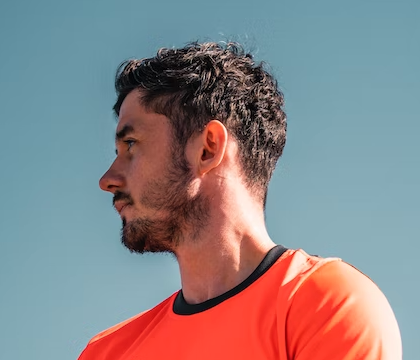 Chris is an experienced Calisthenics practitioner focused on isometric exercises and street workout. He founded thehybridathlete.com in 2017, which was subsequently acquired by theyhybridathlete.com
He is based in Portland and has been working out using solely his own body weight and bars for the past 6 years.