One of the main advantages of Calisthenics training is that you need literally no gear to get started.
That might seem like an odd way to start an article about the best calisthenics equipment, but here's the thing: Investing as little as 100$ can completely change the way you look at this form of training.
Having a straight bar and a pair of dip bars opens the door to street workout routines, static holds, and many more tips of exercises.
For that reason, we have gathered 8 pieces of gear that are, in our opinion, essential for your workout, recovery, and progress in your calisthenics workouts.
If you want to skip the meat of the article, here's a table summarizing our favorite calisthenics equipment:
Good For:

Upper Body
Core
Essential Calisthenics Exercises

Good For:

Handstands
Static Holds
Core

Good For:

Core
Dips
Handstands
Upper Body
Static Holds

Good For:

Handstands
Static Holds
Core

Good For:

Progressions
Pull-Ups,Muscle-Ups and Dips
Stretching
Flexibility

Good For:

Progressions
Pull-Ups,Muscle-Ups and Dips

Good For:

Pull-ups,static holds,muscle-ups.
12/03/2023 11:44 pm GMT
#1- Pull-Up Bar
The pull-up bar is perhaps the most essential piece of calisthenics equipment in any home gym.
With it, you can do a wide variety of exercises and work on all major muscle groups. Our tip: finish all your workouts with a set of maximum repetitions of pull ups. This will ensure that you're building muscle in every single session.
If we were to start our Calisthenics journey all over again, the first piece of calisthenics equipment we would invest would undoubtedly be the pull-up bar.
Simply put, this relatively affordable piece of equipment will allow you to do some of the most important bodyweight exercises, such as the muscle-up, the pull-up, the front and back lever, as well as many other exercises and progressions from these exercises.
The door frame model is one of the most popular versions of the pull-up bar. It's easy to set-up, safe, and cheap.
For that reason, and based on our experience, our #1 recommendation is the Iron Pull-up Bar: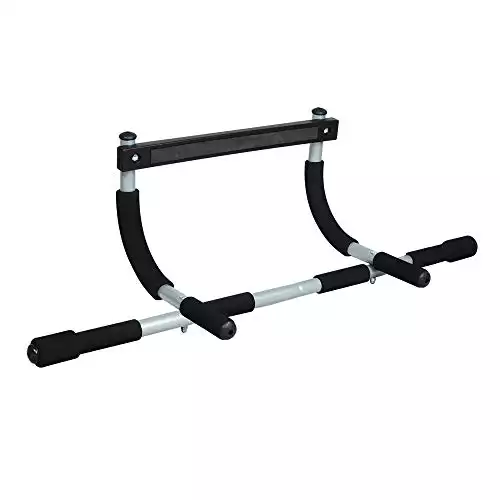 Iron Gym Pull Up Bars
Plan your home workout regime with Iron Gym Pull up bars
It instantly attaches to or removes from your door frame and the heavy-duty steel construction supports up to 300 pounds
Iron Gym Pull Up Bars is an ideal upper body exercise equipment
We earn a commission if you make a purchase, at no additional cost to you.
12/03/2023 11:44 pm GMT
A Doorway pull up bar is a great solution for home gyms- They allow you to get a sturdy bar without having to drill holes in the wall or floor.
We particularly like this model made by Iron Age as it comes with a padded grip that will save you money on gloves and has both a straight bar and an angled grip that is easier on the wrists.
Besides that, it's pretty durable and sturdy and can take up to 200kgs.
It fits a door width of 22.83″ – 36.22″(58-92 cm) and depth of 8.27″(21 cm).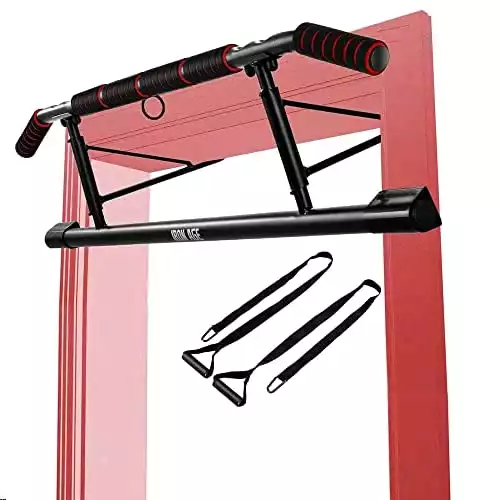 Iron Age Pull Up Bar For Doorway
Ergonomic angled end to help protect wirst.
Ideal for latissimus.
Preimum silicone door protectors can prevent damage to your door frame.
We earn a commission if you make a purchase, at no additional cost to you.
12/03/2023 04:49 am GMT
#2- Gymnastic Rings
An alternative, or complement, to the pull-up bar are the gymnastics rings.
This simple piece of gear will add an even greater variety of exercises than the pull-up bar and, in our opinion, it's an even better piece of equipment to progress your muscle-ups.
Once again, rings are fairly affordable and easy to setup. All you need is a beam to tie them to and they are ready to go. They can actually work well in conjunction with the pull up bar as they can be attached to them.
These are our favorite set of gymnastic rings.
Firstly, because they look really cool. The classic wooden models are also nice, but there's something about this set that really caught our attention.
Measurements for gymnastic rings are standard at 1.1" of thickness and 7.1" in circle diameter, so there will be no variance here.
It's important to note that these are made of plastic, rather than wood, though in our experience they are just as durable.
They can take up to 300 lbs.
If you prefer wooden gymnastics rings, pacearth's set of heavy duty rings with a padded area is our recommendation.
These are particularly good for beginners are they are slightly thicker than the standards set by the Fédération Internationale de Gymnastique. The standard is 1.1", whilst this set is 1.5".
This will allow for a bigger contact surface which in turn allows you to exert more force into the rings and makes exercises easier. In addition, these rings come with a set of taps that when used will give you more traction and will avoid slipping.
It also comes with a scale in the straps to make sure that both rings are at the same height.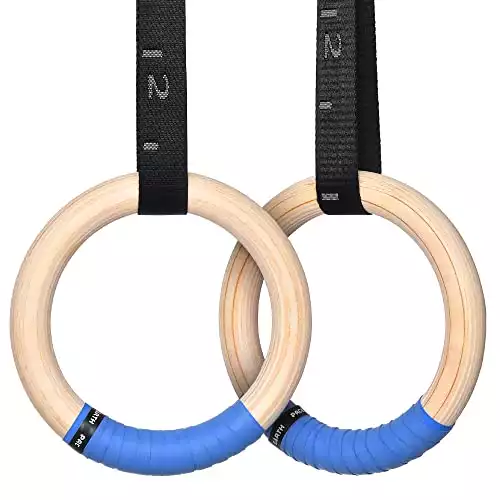 PACEARTH Gymnastics Rings Wooden
The gym rings are perfect exercisers for students, office workers, the elderly, etc. for home and gym use.
Heavy duty solid wood rings
Threaded design on the surface
Non-slip & Anti-sweat design
Little touch fasteners
Polyester strap with scale
We earn a commission if you make a purchase, at no additional cost to you.
12/03/2023 09:25 pm GMT
#3- Dip Bars / Parallettes
To finalize our core workout equipment recommendations, we advise you to get a piece of gear that will allow you to train handstands and dips in the bar.
If you have a low budget, then a couple of parallettes are enough.
However, if you're willing to invest a little bit more, you can choose to purchase a pair of dip parallel bars, which will allow you to do way more exercises.
With that in mind, our first recommendation is the Lebert Dip Bars:
Lebert Fitness Dip Bar Standping Station
With over 100 workouts available for beginners to advanced athletes.
Sturdy and stable dip stand works great as a pullup bar, dipping station, push up bar for arm exercises.
Lebert EQualizer Bars are available in two sizes and tested rigorously to ensure the right fit for you and your safety.
We earn a commission if you make a purchase, at no additional cost to you.
12/03/2023 05:05 am GMT
If you want to keep your investment under $100, then a pair of parallettes is more than enough to open up the exciting world of handstands and static holds.
These are a great alternative to parallel bars though they do restrict the number of exercises that can be done. Dips, for example, are out of question, though you can work on your l-sit, handstands, grip strength, push ups, and other strength training exercises.
They also won't take much space- perfect if you have a small home with limited space.
We personally prefer the wooden versions, but metal parallettes are also fine.
Anclle Parallettes
Charcoal wood is Solid and durable, mothproof and rugged, sweat-absorbent and non-slip with buffering effect.
Easy assembled and disassembled without any tool in a few seconds.
Fits even in a small bag pack and does not weigh much.
We earn a commission if you make a purchase, at no additional cost to you.
Resistance Bands
Resistance bands will mostly help you progress through the most important Calisthenics exercises.
By adding them to the bar, you can focus on the improvement of a certain exercise, even if you don't have the necessary strength to complete the exercise.
They can also be used for stretching and mobility drills.
Due to their low price and variety of uses, we strongly recommend buying a set of bands. The ones produced by INTEY have suited us fine and are durable.
You can also buy on an individual resistance band basis, though we recommend buying a set and experimenting until you find the perfect resistance level for your fitness level.
Resistance Band
Resistance bands made from 100% high-grade natural rubber to prevents bands snapping and provide longer durability.
Perfect for Physical Therapy, Yoga, Pilates, Rehab & Home Workout
Superior material, no latex, no powder, no scent, durable and comfort
Exquisite colors selected and matched by our colorist, the beauty bands make you more enjoy exercise
We earn a commission if you make a purchase, at no additional cost to you.
12/03/2023 05:34 am GMT
Weighted Vests
Weight vests do basically the opposite of resistance bands.
They add difficulty (i.e- resistance) to the exercises.
This piece of gear is most indicated for intermediate to advanced athletes who have reached advanced stages of the pull-up, muscle-up, dip, push-up, etc, progression.
Prices vary depending on the extra weight required, but we recommend getting at least up to 50lbs.
Due to the fact that you can almost always find a harder exercise to progress to, we only recommend buying this piece of equipment if you are an advanced athlete or if you want to work on a very particular set of muscles for which there are no progressions.
The RUNmax pro is our weight vest of choice, you can choose the weights included which range from 12lbs to 60lbs. You can also choose to include shoulder pads or not.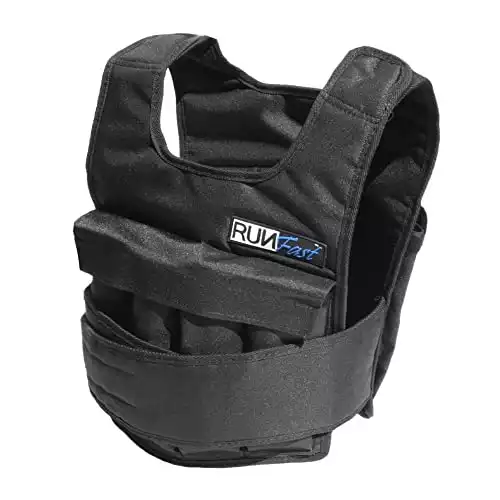 RUNmax Pro Weighted Vest
Weights can be added or removed at any time for any workouts.
Phone Pocket and Water Bottle Holder included for your convenience.
The option to add extra shoulder comfort if needed.
With pockets located front and back of the vest.
We earn a commission if you make a purchase, at no additional cost to you.
12/03/2023 07:50 pm GMT
Foam Rollers
Foam rollers are the most important piece of gear for recovery.
We naturally have certain muscles that are stronger than others.
When you're a beginner, for example, you'll have weak wrist muscles, which will usually become soar and weak faster than your biceps, chest, and the rest of the major muscle groups.
Rolling your forearms in the roller is a great way to accelerate recovery, which will allow you to train more frequently and efficiently.
We don't recommend stretching before working out, but once you're done with the workout, it is a great idea to do a small stretching and "auto massage" session using the foam roller.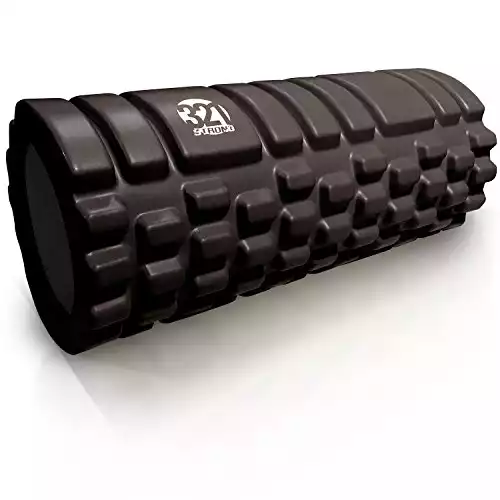 321 STRONG Foam Massage Roller
The 321 STRONG solid core, medium density foam roller uses patented technology to deliver a therapeutic self massage comparable to a professional massage from a physical therapist.
Better flexibility, joint mobility, and range of motion
Great for use before and after workouts
Reduce muscle pain and injury recovery time with regular use
Prevent injuries and pulled muscles
We earn a commission if you make a purchase, at no additional cost to you.
12/03/2023 08:45 pm GMT
Wrist Wraps
Finally, we reach what is probably the least important piece of gear in Calisthenics: the wrist wrap.
Of course, this is a highly subjective matter, as some people do have serious wrist issues for which this item can be very helpful.
However, for the most part, we find that these wraps can actually interfere in the form for some exercises such as the muscle-up and handstands.
Having said that, for some exercises the wrist wraps do not interfere and can even be useful.
With that in mind, here are our favourite pair of wrist wraps:
Wrist Wraps
The 18" brace will provide much needed wrist support and stability to your wrists when lifting weights.
No need to worry the inside stitching will poke into your wrists.
Instantly assist in preventing wrist injury and relieve joint paint with the ability to adjust tension to fit your needs.
We earn a commission if you make a purchase, at no additional cost to you.
Power Tower / Calisthenics Cage
For many, this is a central part of their calisthenics home gym. It consists of set of bars that can range from a very simple pull-up bar, to a complete setup featuring monkey bars, dip station, and several other grips.
We advise for a simple pull-up + dip bar as the one shown below, which is super affordable and durable- perfect for your garage gym.
F2C Adjustable Height Power Squat Rack
Enjoy your workouts in your personal home gym with high quality equipment.
Ideal for home gym setup, perfect for total body exercise
29 Levels adjustable barbell rack height 12" - 76"
3-Step steel powder-coated finish for exceptional durability.
We earn a commission if you make a purchase, at no additional cost to you.
Final Thoughts
We hope that this article has you set up your own home gym. If you've gone through our list and realised that such a setup is way out of your budget- worry not. The best thing about calisthenics is that a basic upper body and legs workout can be done with no gear at all. However, if your willing to invest a few hundred dollars, a universe of possibilities opens up- right in your backyard.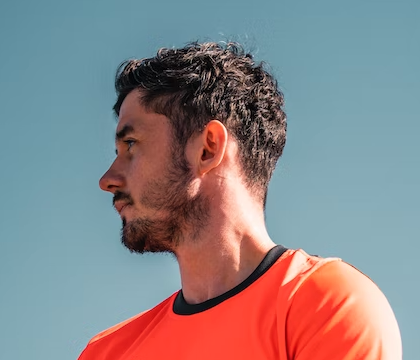 Chris is an experienced Calisthenics practitioner focused on isometric exercises and street workout. He founded thehybridathlete.com in 2017, which was subsequently acquired by theyhybridathlete.com
He is based in Portland and has been working out using solely his own body weight and bars for the past 6 years.