Calisthenics training is a safe, effective and increasingly popular way to develop your fitness.
Calisthenics can improve strength, body composition, and posture. Using a calisthenics app can be a great boost to your fitness plan. It can teach you new exercises, create fresh routines, track progress and get personalized content. Choosing a specific calisthenics app can be a challenge, however. The app store is flooded with choices.
Investment:

Free Trial and Monthly or Yearly Subscription

Features:

Progression based app
Great for unlocking new calisthenics skills such as handstands, levers, planche, and more
Great UI and UX

Features:

Calisthenics focused app
Adaptable to goals and level: Choose exercises you can do, get workout recommendations based on your skill and strength level.
Very intuitive UI

Features:

36 workouts and modules
Progression based approach
Community Forum
Scholarships Available

Features:

Courses on calisthenics, flexibility, nutrition, and more
Follow along workouts, with a big focus on theory and learning
No workout tracking features
Available on iOS through the teachable app
Separating the best calisthenics app from the mediocre ones can be tough, that's why we've put together a quick guide of the best calisthenics apps of 2022 so you have the proper information to make your decision.
The Movement Athlete takes a different approach than most of the other calisthenics apps.
The particular app mixes calisthenics exercises with gymnastic moves, creating a unique training experience.
There is a clear focus on movement and not just static exercise.
It also combines physiologist research with participant trials to create their comprehensive approach.
Artificial intelligence is also used in the app's development to help with the personalization of your workout plan.
It combines specific skills training with a progressive response to your workout activity.
The Movement Athlete features an academy model, with a focus on both step-by-step exercise progressions and the connection of thousands of members.
There are some free resources and a blog that brings the participant community together.
It also includes a searchable database where you find written articles on select workout and fitness questions.
This app does require a weekly user fee. Learn even more about this particular app with this in-depth review.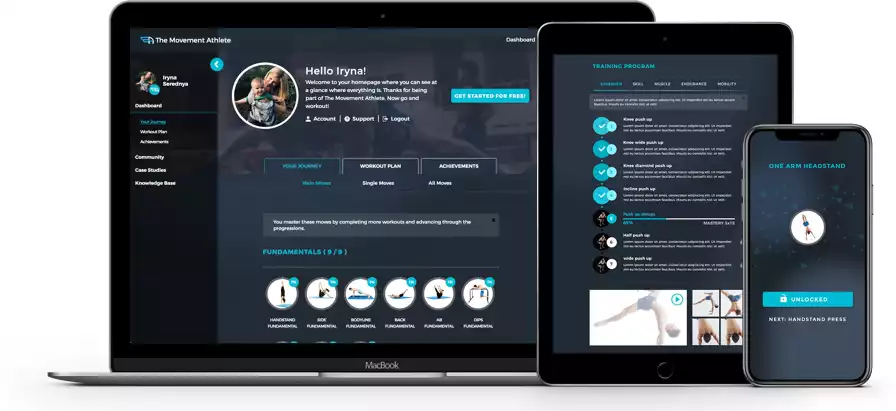 The Movement Athlete
LIFELONG, PROGRESSIVE, EFFECTIVE | BODYWEIGHT STRENGTH TRAINING PROGRAM
Adjust Your Training Based on Your Performance
Help You Make Lifelong Changes
USE THE DISCOUNT CODE calisthenicsgear30 for 30% off FOREVER!
Pros:
All exercises focus on safety. The step-by-step workout progressions blend well with a focus on progress and a game-like application.
Interface is simple and easy to use. It is informative about the specific blend of skill being developed in each exercise.
Top-rated coaches helped in the development of the app, enhancing credibility.
Cons:
The weekly fee can be very inconvenient, particularly when compared to other free apps or those with more traditional fee structures.
Free assessment is very limited.
No desktop version
Free membership is limited to only a few features

Available only as a mobile app (at the moment iPhone only).
For those needing step-by-step guidance, the instructional resources are functional, yet minimal.
No personal coach to guide you through (yet).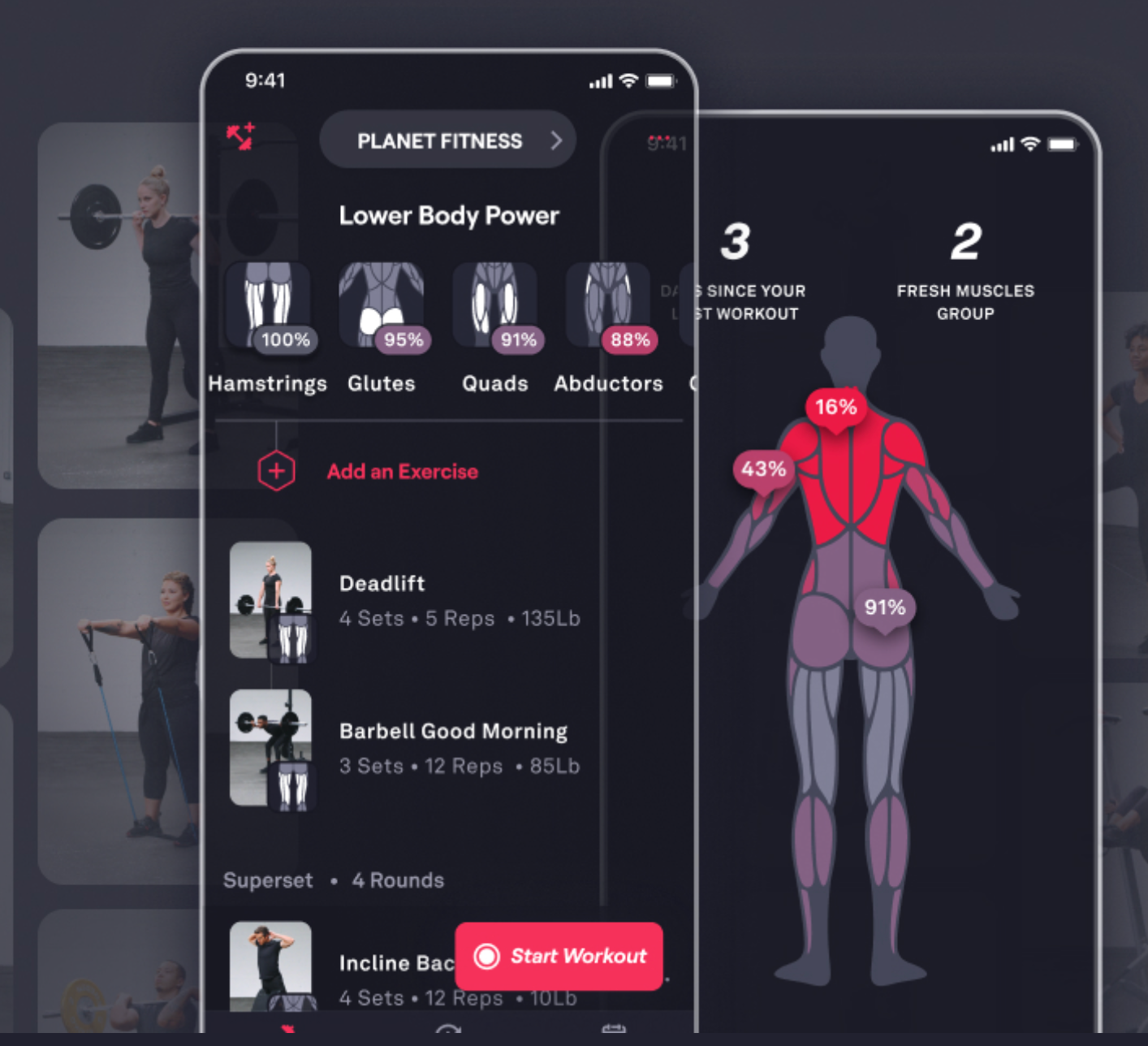 Fitbod sits high on our list of best Calishenics apps for one main reason- balance.
Many fitness apps adopt a "silver platter" mentality, giving beginner level customers plenty of resources and tutorials. While some may enjoy the extra attention, others find it unecessary.
Fitbod is designed for independent athletes looking for professional guidance, yet not willing to sacrifice flexibility. Fitbod is an app that adapts with you and uses smart technology to personalize your workouts.
It's easy to use, intuitive, and addictive. And you can trust us when we say that it works. Many of our writers here at calisthenics-gear swear by this app.
Fitbod
Get stronger, faster with a fitness plan that fits you.
Use Fitbod's training algorithm to build and try your personalized workout plan now!
Fitbod adapts to support you when your fitness goals evolve, gym equipment changes, or when you need some variety to stay motivated
See where you stand as Fitbod gets to know you better. See your muscle usage, exercise achievements and workout streaks to track your fitness progress
Pros:
Allows ultimate flexibility in workouts, with users able to customize sets, increase reps and weights, and track their progress easily.
Provides users the option of adding in any equipment they have on hand. This app has an incredible bodyweight exercise list, but it's so much more than just calisthenics.
App is easy to use, and has plenty of optional features to tailor to taste.
Perfect for beginner to intermediate bodyweight athletes who seek guidance, yet don't want to have their hands held during the process.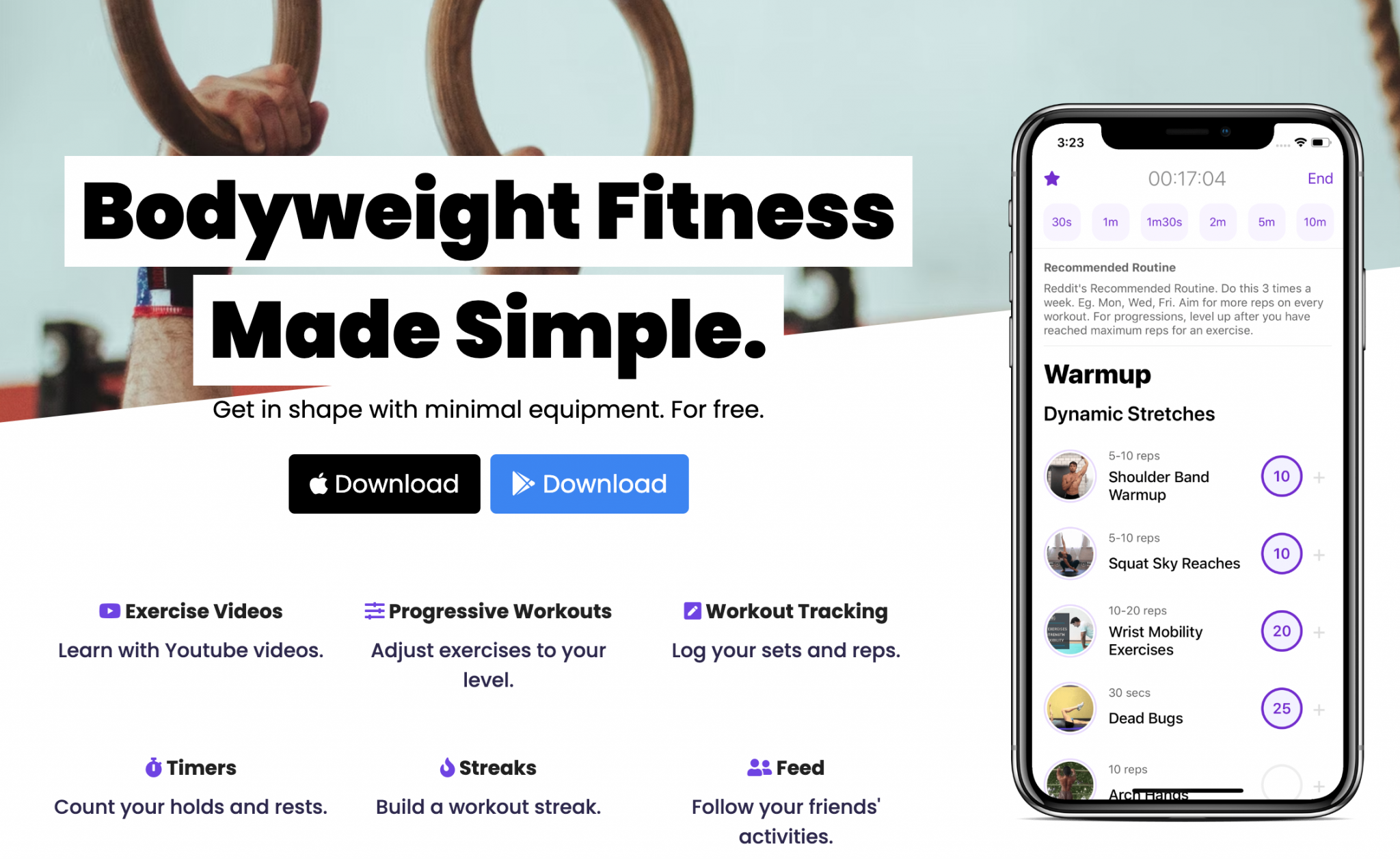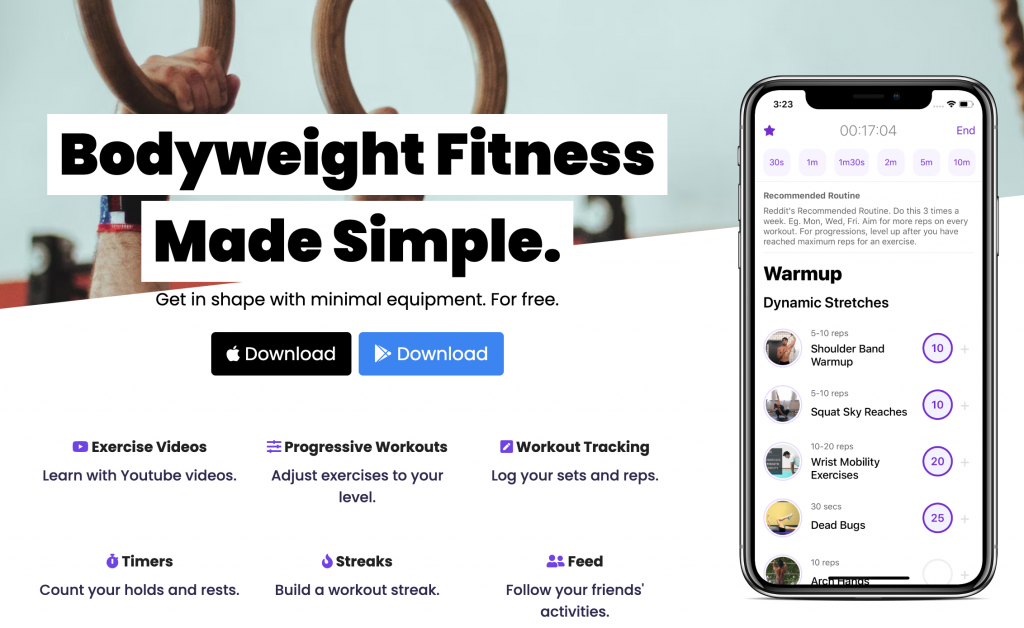 Fitloop was one of the first apps in the market for tracking bodyweight workouts.
It was heavily influenced by the reddit bodyweight fitness community and was initially meant to work as a companion app for their recommended routine.
Since then, it has evolved to include a huge library of workouts, with videos, timers, and workout logs and calendars.
Together with fitbod, its one of the smoothest experiences we've seen on mobile. Whenever you want to workout, simply open the app and follow the instructions.
We highly recommend this app if you want a simple click and workout solution.
Discount Code: calisthenicsgear for 10% off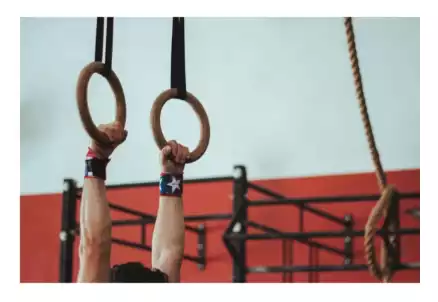 Fitloop- Bodyweight Fitness Made Simple
The Fitloop app is one of the best bodyweight training apps available. Choose from various workouts that the community shares. Most of the workouts build on each other each day and involve a warm-up and then a bodyweight training progression. Fitloop is a fan favorite due to its minimal equipment requirements.
Pros:
Choose from hundreds of bodyweight workouts

Calendar-based, logging features, and follow allow workouts with videos

Focused on calisthenics and bodyweight training
We earn a commission if you make a purchase, at no additional cost to you.
Pros:
Hundreds of options, all bodyweight and calisthenics focused
Includes reddit's recommended bodyweight routine, which is one of our favourite routines.
Very affordable pricing
Can create your own workout routines based on preferences
Includes videos and timers.
Get fit with a free app that brings calisthenics to the entire universe. Available on Android or iOS, Caliverse gives you the best bodyweight workout while learning the proper form to get the most out of your fitness routine. Started in January of 2019, developer Daniels Pitkevics worked hard to create a workout app that is universal and made for everyone. New to bodyweight training? Caliverse is ready to teach you the right way to engage your muscles and get the most out of your training. Experienced at bodyweight training? Caliverse shows you more challenging workouts like around the world pull-ups or the back lever to get your bodyweight fitness entering beast mode.
Calisthenics for everyone | Caliverse
Customized calisthenics workouts- no gear necessary, right from your smartphone! The easy-to-navigate interface gives you access to workouts by text and videos so everyone can be successful. It is offered on both Android and iOS operating systems, and it's free to download.
Pros:
All made for you to know what exactly to do every day

Have a workout set for every day of your week
Caliverse offers over 200 exercises that are taught to you by trained professionals with a quality video. This app provides full-body, split, and specific muscle group workouts. Also, choose from different training sessions available like cardio, at home, hypertrophy, rings, strength, and more. No matter what you are looking for, Caliverse has you covered. Use the app to set up your weekly workout plans to meet your goals. There is also a weekly schedule to utilize, so you have every day broken down for you. If you write it down, it gets done.
Do you need a training plan to guide you through a specific bodyweight training exercise or meet your fitness goals? This app offers many training programs based on your needs. Want to learn how to perfect the planche and front lever? Caliverse has a four-week training program for you. Maybe you want a workout that requires no equipment at all. Caliverse comes through once again with a training program that requires just bodyweight and nothing more. Also, for those who enjoy live classes, there are live sessions available with trainers so you can work out with others. It's time you found a fitness program that has you training calisthenics and enjoying your workout routine. You won't get bored with Caliverse. We promise.
Pros:
Free app with over 200 exercises to choose
Choose from specific workouts like cardio or strength training
Video tutorials and live sessions available
Social networking and mentoring available
Cons:
Some issues with sound via the app


Bodbot is a free mobile workout app that comes with built-in artificial intelligence technology.
The app was designed to help you set customized goals. It has algorithms that adapt exercises and workouts to your pace.
If you outperform the average rate of progress for your fitness plan or come up short of your training goals, it will adapt your workouts to your results.
It also includes fitness tests to provide feedback and assistance on stability, flexibility and posture. This app also features a meal tracking element that provides nutrition insights.
Bodbot will adapt specifically to your profile, goals and usage, making it a truly personal guide.
The app also works on your schedule. Whether you have just 20 minutes or over an hour to workout, the app is responsive and personalized.
Bodbot will fit your workouts into any combination. This feature alone makes it a contender for the best calisthenics app on the market.
Pros:
Uses the latest in AI technology to customize workouts. It adapts to your progress as you continue on your fitness plan.
Easy to modify existing workouts with an instantly reworked schedule. The app selects exercises and progressions based on your goals and time available to workout.
Offers a nutritional module to help the user eat healthier. Nutrition targets also update based on your workouts.
Cons:
The nutritional information provided seems basic compared to the workout features. It will give you a list of foods, but not necessarily personalize meals.
The app doesn't allow the user to choose specific exercises they prefer. This is a drawback of the AI customization in the app.

Thenx is a calisthenics app with a clean, simple layout that gives you quick access to any feature.
It is one of the most visually impressive of the calisthenics workout apps on the market. The interface is responsive and very user-friendly.
This app features exercises, single workouts, full programs, and also features technique guides to enhance your experience.
It also separates workouts into beginner, intermediate, and advanced fitness plans.
There are also workout plans with weights, and "no-equipment" calisthenics workouts to choose from. No matter your current level of fitness, Thenx has a workout or plan to take your fitness to the next level.
There are over two million people already using the app to help them with their daily calisthenics workouts, creating a vibrant user community.
Thenx is available on both Google Play and the Apple App Store. It does require a membership fee, however there are both monthly and yearly options.
This app also includes a blog for extended learning. It contains quality videos and new routines that can be used no matter how much workout time you have.
There is also a store that sells apparel and equipment to supplement workout plans of any type.
This is truly one of the most comprehensive calisthenics apps.
Pros:
Accessories are available to maximize performance. From apparel to weighted vests, wrist wraps to duffle bags, you can find the right item to enhance your workout and style.
Available on Android and iOS, making it compatible across popular platforms.
Affordable plans at less than $10 per month.
Cons:
Personalized program customization options are limited. It requires you to self-select workouts from their existing fitness database.
Shows many videos that can otherwise be accessed on YouTube without the app.
With Calisthenics Mastery you are given access to a large library of exercises, videos, and informational content to help with your workout plans.
There are over 150 exercises across 16 different categories to choose from.
The list of exercises specifically targets 27 different muscles in the body.
The layout of the Calisthenics Mastery app is simple and basic, particularly compared to other calisthenics app options on the market.
You can search by exercise or by muscle group based on your desired goals.
For example, search by regular or one-legged squats or by upper front or upper back.
Each exercise link describes exactly what muscles are involved and has a written description of how to execute the movement.
Most exercise descriptions also feature an accompanying video tutorial.
They also include progression ideas, suggesting sets and reps if you identify as a beginner, intermediate or master at the exercise.
Pros:
Wide collection of bodyweight exercises. Exercise database is updated regularly.
Browse exercises by category or muscle. It is very easy to use.
Free and paid versions available, to best meet the needs of your budget.
Cons:
App and website have a confusing layout. Not as intuitive as other options.
Even though the database is large it does not have as many exercises as some of the other apps.


Calisthenics Parks is the app for you if outdoor exercise is something that you prefer or desire as a fitness option.
The app allows you to find the best workout locations for performing calisthenics outside in parks and other outdoor spots. It provides a comprehensive set of listings and maps in a large number of countries.
With thousands of archived locations, Calisthenics Parks provides outdoor options whether you are at home, on vacation, or traveling for work.
Type in a city like Sydney or a state like Colorado and you receive an instant list of trails, parks and other outside spots to train.
Each location notes what exercise or workout options are accessible, like parallel bars or jump platforms or rope climb stations.
This unique format makes it a one-of-a-kind street workout app. Because it is international, support in some locations is still limited.
Users are invited to join their online community and add training spots to their database.
This is also a totally free app.
Pros:
Lists over 14,000 calisthenics spots and is growing as users add locations.
Can be used in various countries. Whether at home or on the road, for work or vacation, you can search for great outdoor options in your area.
Use on web or app.
Cons:
There are still some countries missing from the app. Until users add more there will be some location limitations.
Support in some areas may be very restrictive.
Madbarz is a comprehensive training app that provides extensive video content for various exercises.
The primary purpose of this app is to provide exercises that use your body weight, meaning the app is an ideal addition to any calisthenics program.
It features a robust blog where you can access workout and nutrition ideas.
It includes exercise challenges like a burpee challenge or best pushup test.
There are meal planning and recipe articles, and those focused on specific nutrients like protein or carbohydrates. There is also a shop.
You can purchase a single training ebook or even lifetime access to their entire ebook library.
The e-books are dedicated to select topics like pistol squats or handstands.
There are also fee-based premium workout and nutrition plans available.
The app can be downloaded on Google Play and Apple's App Store.
Pros:
Can choose muscle groups to target. Add a variety of exercise options based on what body part is a goal for your program.
Used by more than one million people. Success stories are featured.
Full video guidance provided.
Cons:
No free version, only a trial to try it out. Premium content must be paid for.
Limited fitness tracking features and limited ability to personalize your exercise program.
Al Kavadlo We're Working Out is a mobile app designed by Al Kavadlo, a fitness expert and author of multiple books and resources in the industry.
The app has a simple layout and is compatible with both iOS and Android devices. The primary purpose of this app is to make exercises, workouts, and programs challenging and fun at the same time.
The app has a philosophical focus on positivity, action, and meeting you where you are on your fitness journey.
It features a blog where you can search by exercise. You can also find articles that detail yoga exercises, weights, and bodyweight only exercises.
There are also supplemental resources for inspiration or specialty topics like the mind/body connection.
A variety of Al Kavadlo workout options include specific training for the outdoors, stretching in particular, and even a program for aspiring fitness trainers.
You can also purchase books and full exercise programs in the online shop.
Pros:
Makes every workout fun. A clear philosophy on finding what fits for you.
Comes with a comprehensive exercise library.
Fitness expert behind the development of the app. Positive, motivating philosophy.
Cons:
Animations not as clear as real video guides. Other apps have more developed options that instruct exercises better.
There are no tracking or monitoring features in the app, limiting your ability to personalize or customize your exercise routine or workout plan.
FREQUENTLY ASKED QUESTIONS
Is Calisthenics Training Safe?
Calisthenics demonstrates a lower rate of injury compared to other sports and activities with similar demands.
Fitness participants at all levels from beginners to competitors can benefit.
With a focus on bodyweight and ground-based exercises, calisthenics is considered among the best fitness options for safety.
Physicians, athletes, and trainers should be familiar with calisthenics exercises as a viable and trustworthy training option.
Calisthenics are a viable injury prevention strategy as well as a beneficial part of injury treatment or recovery plan.
Is Calisthenics Training Effective?
Calisthenics has proven to be effective at improving body composition, strength, and posture. Calisthenics has also been shown to provide enhancement in muscle mass and performance.
One of the best features of a calisthenics training plan is the ability to create and follow your own fitness plan.
With calisthenics, you can focus on your personal fitness and trust that effective gains will be made.
They are a great option for almost any fitness goal.
Is Calisthenics Popular?
An estimated 25 million people in the United States alone choose calisthenics as their primary fitness plan.
10 million of those were new to a calisthenics program in just the last five to ten years!
As more participants have joined in the calisthenics fitness movement, an abundance of related resources and support has emerged as well.
The calisthenics fitness community continues to grow.
Participants will find an extensive and engaged calisthenics community.
Is Calisthenics Affordable?
Calisthenics does not require expensive equipment or memberships.
While there are indeed fee-based apps and programs in the calisthenics fitness market, countless free options are available.
These include a variety of platforms and interface designs, with many options to choose from.
Few fitness plans can compete with calisthenics when it comes to affordability.
Can You Really Build Muscle with Calisthenics?
Calisthenics is proven to enhance muscle mass.
Further, calisthenics has been shown to prevent a loss of muscle mass when implemented as part of a medical treatment plan.
Implementing a consistent, personalized calisthenics training program can positively impact fitness progress.
The volume of workout routines available in the calisthenics training space ensures that you will find one that builds muscle mass according to your goals.
Who Is the Best at Calisthenics?
While there are no established criteria to determine who is the best at calisthenics training, a great number of established athletes and trainers are out there.
The best calisthenics trainer for you will depend on your goals and your budget.
Beginner, intermediate and advanced calisthenics participants will find that there are high-quality calisthenics athletes and trainers to learn from.
Is Calisthenics Better Than the Gym?
In studies comparing calisthenics to gym training programs, significant changes were identified when participants followed an individualized calisthenics training plan.
Gym memberships can be expensive. This is particularly true when program design or personalized training is involved.
Calisthenics offers easy-to-use workout programs for all fitness levels.
The variety of exercises, bodyweight design and training programs available make it a viable option when compared to a gym.
Is 20 Minutes of Calisthenics Enough?
20 minutes of calisthenics training is a great place to start.
For a beginner in particular, 20 minutes is enough to benefit from the body weight and gravity-based exercises that are a core element of any calisthenics regimen.
As your fitness level increases or your fitness goals change, so should the intensity and or length of time that you train.
What is the Best Calisthenic App?
The seven calisthenics apps featured above are a great place to start. Since each has unique features, you can select the one that fits you best.
Some feature personalized plans, while others offer exercises according to muscle groups or movements. Some are free, some are paid.
Some have supplemental nutrition and community access, and others focus on getting outside.
No matter your goals, there is a great calisthenics app for you. If interested in even more in-depth information, check out our feature on the best calisthenics programs.
When to Start Performing Bodyweight Tricks?
Start with and master the basics. True fitness isn't about instant results and flashy performance.
However, getting in better shape and achieving your fitness goals doesn't have to be boring either! There is no perfect answer to when you can start performing bodyweight tricks.
The timing depends on your fitness level and ability. Be intentional about your fitness plan.
Use an app, follow a training plan, and let that be your guide to bodyweight tricks appropriate to your level.
What are the Easiest Bodyweight Tricks for a Beginner to Learn?
Bodyweight tricks look cool and can be fun to perform. Tuck levers from a bar are popular for beginners.
Other popular bodyweight tricks are elbow levers, frog stands, and even one-arm push-ups.
However, be sure you have a good fitness baseline and are following a specific training procol to make sure you are safe.
Doing too much too fast is a recipe for injury.
What Should I Do Next?
Just start! The most difficult part of any fitness journey is the first step. Identify your goals, know your budget, and get to work.
Armed with the information provided here, select the calisthenics app that looks best for you.
Download it and try it.
Be consistent with your initial plan, adjust as needed, and enjoy the fitness progress that you make!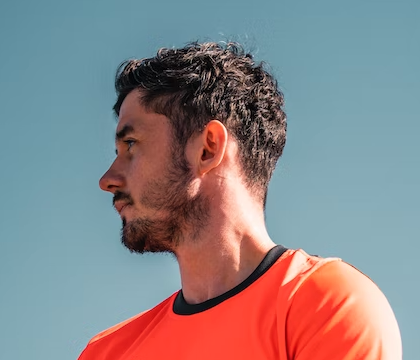 Chris is an experienced Calisthenics practitioner focused on isometric exercises and street workout. He founded thehybridathlete.com in 2017, which was subsequently acquired by theyhybridathlete.com
He is based in Portland and has been working out using solely his own body weight and bars for the past 6 years.